Wimbledon 2010: Ranking the Last 25 Women's Finals
In the past 25 years, the All England club has hosted an incomparable number of incredible women's tennis players, rivalries, and matches.
From Martina Navrátilová and Steffi Graf dueling three times in the late 1980s to the Williams sisters' frequent meetings in the finals in the 2000s, Wimbledon has been the backdrop to history for women in the Open Era.
While the dominance of the four women mentioned above led to some forgettable finals—such as when the other top players were upset and a lowly-ranked opponent was led to the slaughter—their clashes with each other often carved their way into tennis fans' permanent memory banks.
Which matches stand the test of time? Can Serena and Vera Zvonareva play their way to the top of this list on Saturday?
As you'll see, it'll take nothing short of an epic showdown to replace the top matches played at Wimbledon in the past 25 years.
No. 25: Steffi Graf defeats Monica Seles, 1992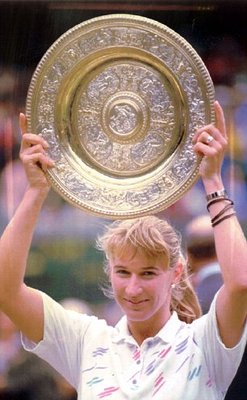 Match score: 6-2, 6-1
Graf entered Wimbledon having just lost the French Open to Seles in a 10-8 third set. Needless to say, she got her revenge at Wimbledon.
In the third and fourth rounds, Graf's opponents extended her to three sets, surely raising questions about whether the No. 1 seed would go down. She ended that conversation with convincing straight set wins in the quarterfinals and semifinals, and clearly carried that momentum through to the finals.
Graf simply dominated Seles on this day at Wimbledon, only allowing Seles to win three games total. At the time, this was the fourth Wimbledon title Graf won in the past five years.
No. 24: Martina Navrátilová defeats Zina Garrison, 1990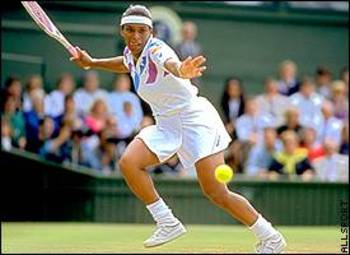 Match score: 6-4, 6-1
Garrison became the first African-American female to make it to a Grand Slam final since the 1950s by upsetting heavy favorites in Monica Seles and Steffi Graf.
But when she met Navrátilová, she couldn't pull off the three-peat.
Garrison hung around in the first set, but Navrátilová, the eight-time Wimbledon champion, simply overpowered Garrison in the second for yet another title at the All England club.
Navrátilová still holds the record for most Wimbledon singles titles (by either gender), and this win was the final Grand Slam victory in her incredible career.
Unfortunately, no YouTube footage for this one. That'll happen less often than not in here...promise.
No. 23: Martina Navrátilová defeats Hana Mandíklová, 1986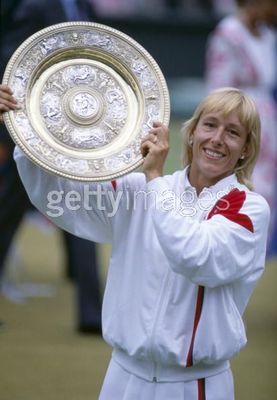 Match score: 7-6 (7-1), 6-3
This one goes down as one of the more forgettable Wimbledon finals of the past 25 years, as Navrátilová made Mandíklová another one of her six straight Wimbledon victims.
Mandíklová raised some eyebrows in the first set, extending the four-time defending champ to a tiebreaker. But Navrátilová took control from there.
After hammering Mandíklová in the tiebreak 7-1, Navrátilová cruised in the second set to take home her fifth straight title.
Mandíklová, on the other hand, was on the losing end of a Wimbledon final for the second time since 1981, when she lost to Chris Evert in straight sets, 6-2, 6-2.
Sorry, no video for this one. Told you it was forgettable.
No. 22: Venus Williams defeats Marion Bartoli, 2007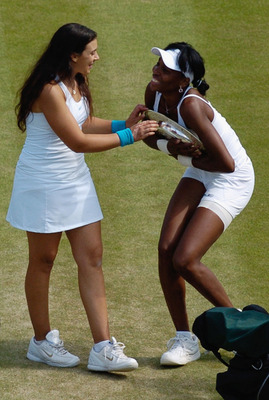 Match score: 6-4, 6-1
Of all the matches with the Williams sisters over the years, this will be the least heralded Wimbledon final, without question.
The incredible part about this title for Venus is that she entered Wimbledon as the No. 23 seed, yet hacked her way past Maria Sharapova and Svetlana Kuznetsova to advance to the final.
Bartoli pulled a bit of her own magic, upsetting the No.1 seed, Justine Henin, in her semifinal match to book a date with Williams.
Williams, who was one point away from defeat in the first round of Wimbledon this year, blew by Bartoli in the second set to capture her fourth Wimbledon championship of the decade. Any questions about Williams' chances of returning to the top of tennis were officially silenced.
No. 21: Steffi Graf defeats Arantxa Sánchez Vicario, 1996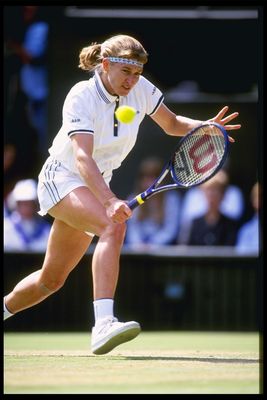 Match score: 6-3, 7-5
After facing off against Graf at Wimbledon and the French Open in 1995 (and losing in both cases), Vicario was back for more in 1996. Graf squeaked out a win over Vicario in the French Open, beating her 10-8 in the third set, and setting the stage for a fantastic Wimbledon rematch.
While Vicario swept her way through her quarterfinal and semifinal matches, she once again met her match against Graf in the final.
Unlike their epic French Open encounter, Graf made quick work of Vicario this time around. Once she took the first set 6-3, Vicario had too much of an uphill battle to climb against the six-time Wimbledon champ.
This ended up being Graf's seventh and final Wimbledon championship, but many of her previous Wimbledon finals will end up on ESPN Classic Tennis before this one.
No. 20: Martina Navrátilová defeats Steffi Graf, 1987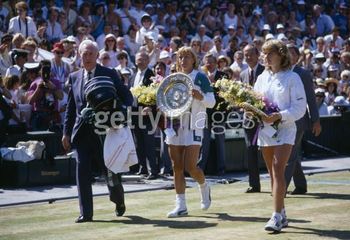 Match score: 7-5, 6-3
In 1987, the Navrátilová-Graf rivalry finally became two-sided.
While Navrátilová had dominated Graf in 1985 and 1986, Graf broke through in the 1987 French Open and upset Navrátilová in the final, 6-4, 4-6, 8-6.
Navrátilová, the world No. 1 at the time, clearly didn't take kindly to that.
As the tournament's No. 2 seed, Graf crushed Pam Shriver in a straight-set romp in the semifinals, while Navrátilová battled Chris Evert in a three-set thriller on the other side of the bracket.
Graf smelled blood and did her best to hang around in the first set, but Navrátilová earned the break and took down the first set.
From there, Graf couldn't keep up with the five-time defending champion. Navrátilová's tailor-made grass game proved too much for the younger Graf, and she fell in the second set 6-3. This match only foreshadowed what was to come between them…
No. 19: Serena Williams defeats Venus Williams, 2009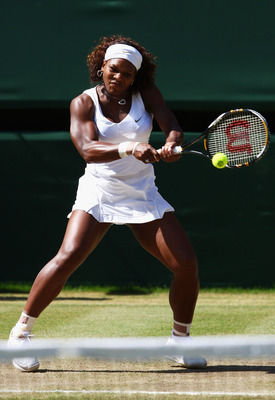 Match score: 7-6 (7-3), 6-2
For the fourth time in the 2000s, Serena and Venus Williams squared off in the final of Wimbledon.
Up to this point in their careers, Serena held a 2-1 advantage over Venus in Wimbledon finals matches, but Venus held five Wimbledon singles titles to Serena's two.
Coming into the match, a gambler's money probably favored Venus—she had just obliterated world No. 1 Ana Ivanović in the semifinals, 6-0, 6-1, and hadn't lost a set at Wimbledon dating back to 2007.
Serena made quick work of that record, edging her big sister in a first set tiebreak. From there, it was all Serena, as she coasted to her third career Wimbledon title—with all three coming at the hands of Venus.
Of all four of the sisters' matches this past decade, this one goes down as the least climactic.
No. 18: Jana Novotná defeats Nathalie Tauziat, 1998
Match score: 6-4, 7-6 (7-2)
After a disappointing three-set loss to Martina Hingis in the 1997 Wimbledon final, Novotná didn't want to end up on the wrong side of a Wimbledon final for the third time in a decade in 1998.
When Novotná dropped Hingis, the tournament's No. 1 seed, in a straight-set victory in the semifinals, she knew that 1998 would be her best opportunity to win Wimbledon, as only the 16th-seeded Tauziat stood in her way.
While Tauziat kept the match competitive, the third-seeded Novotná would not be denied this time around.
Novotná hammered Tauziat in a second-set tiebreak, earning herself her only career Grand Slam title.
This would be another example of those "Lost and not on YouTube" type of Wimbledon finals.
No. 17: Lindsay Davenport defeats Steffi Graf, 1999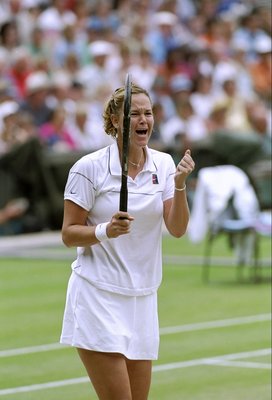 Match score: 6-4, 7-5
After a few years of battling injuries in the late 1990s, Graf advanced back to the Wimbledon finals (which once seemed like her birthright), only to meet up-and-comer Lindsay Davenport, who had just won the 1998 U.S. Open.
Graf had just trumped Martina Hingis in a three-set final at the French Open earlier in 1999 herself, but announced that she'd played in her last French Open following the final.
The Wimbledon field was Graf's to lose after Hingis lost in the first round of the tournament. Graf (the No. 2), battled through two three-set matches in the quarterfinals and semifinals, while Davenport (the No. 3) cruised through two straight-set matches to set up the showdown in the final.
Graf, the seven-time Wimbledon champion, could not match up against Davenport on this day, and this match ended up being her last Grand Slam match in her storied career.
No. 16: Venus Williams defeats Serena Williams, 2008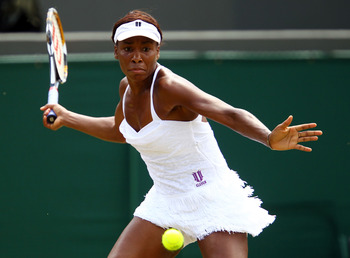 Match score: 7-5, 6-4
Back in the early 2000s, a Venus-Serena Wimbledon final seemed all but a lock on a yearly basis, as the two sisters faced off in 2002 and 2003. (Venus also appeared in 2000 and 2001.)
After the 2003 final, the two sisters never faced off in a Grand Slam final again…until 2008.
Serena held a 2-0 advantage over Venus in Wimbledon finals, having won back-to-back over her big sister in 2002 and 2003, and came into the match as the higher seed. (Serena was sixth, Venus was seventh.)
Yet, big sister held one huge advantage—she hadn't dropped a set yet in the tournament—and kept right on marching with a straight-set victory over Serena to defend her championship.
Venus hadn't defeated Serena in a Grand Slam final since 2001; needless to say, the "it's probably safe to call this a comeback" talk continued for Venus after her second straight Wimbledon championship and the fifth of her career.
No. 15: Maria Sharapova defeats Serena Williams, 2004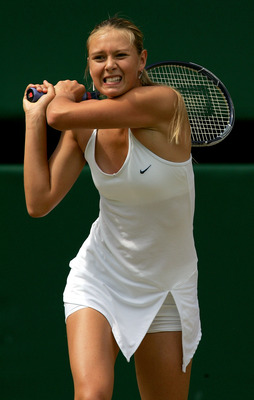 Match score: 6-1, 6-4
This one gets ranked a bit higher on the list than the lopsided score might suggest, largely because it was such a stunning upset.
Williams, the two-time defending champion, couldn't have figured she'd be threatened by the tournament's No. 13 in Sharapova. But the 17-year-old Russian had other plans in mind.
Sharapova's upset of Williams earned her the title of the third youngest woman to win the Wimbledon title, and she broke into the top 10 after the victory.
No. 14: Venus Williams defeats Lindsay Davenport, 2000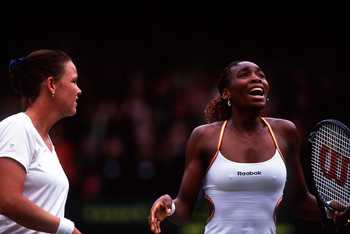 Match score: 6-3, 7-6 (7-3)
This was the match that began turning Venus Williams into a household name for even non-tennis fans.
After missing the first four months of the season with tendinitis in her wrists, Williams returned for Wimbledon, where she faced an insanely difficult draw in the final eight.
Williams upset world No. 1 Martina Hingis in the quarterfinals and had to advance past sister Serena in the semifinals, only to set up a matchup with Davenport, the defending champion who had beaten Graf the year before.
As quick as Davenport's career seemed to be on the rise, Williams brought it down like a lead balloon.
Venus swept through Davenport in straight sets at Wimbledon, and also went on to beat her in the finals of the U.S. Open that year. Little did we know at the time, Williams was paving the way for a decade of domination for both she and her sister Serena.
No. 13: Venus Williams defeats Justine Henin, 2001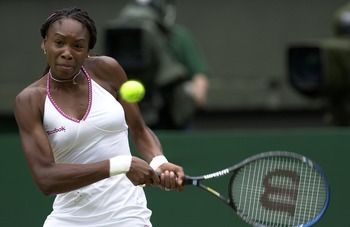 Match score: 6-2, 3-6, 6-0
The 2001 Wimbledon contained two of the more hotly contested semifinal matches in recent history, as both women needed three sets to advance past their opponents.
Williams found herself in a rematch of the 2000 Wimbledon final in her semifinal matchup against Lindsay Davenport, yet emerged from the match with the same result.
In the final, she locked horns with the eighth-seeded Henin from Belgium, looking to become the first back-to-back Wimbledon champion since Graf in '96.
Henin stole the second set from Williams, but that appeared to only awaken the inner beast in Venus. A six-game sweep in the third set meant Williams had gone back-to-back at Wimbledone.
No. 12: Serena Williams defeats Venus Williams, 2002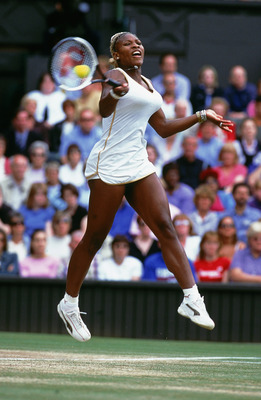 Match score: 7-6 (7-4), 6-3
This was the first of the sisters' four Wimbledon final matches in the 2000s, and the best two-set match they played against each other.
Venus entered the match as the two-time defending Wimbledon champion, having beaten Serena in the semifinals of 2000; Serena had just won the French Open in 2002 (beating Venus in the final), and cruised through to the Wimbledon final against Venus without dropping a set.
Much to Venus' chagrin, Serena carried over her domination over her big sister from Roland Garros to the All-England club, as the results were shockingly similar (Serena won 7-5, 6-3 at the French that year).
Serena trudged on to win the 2002 U.S. Open and the 2003 Aussie Open, completing the career Grand Slam in four consecutive Grand Slam events.
No. 11: Steffi Graf defeats Martina Navrátilová, 1988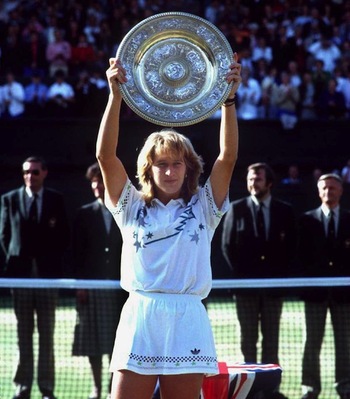 Match score: 5-7, 6-2, 6-1
After being swept in straight sets by Navrátilová in 1987, Graf made it back to the finals in 1988 for a rematch with the six-time defending champion. With Graf coming off victories at the Australian Open and French Open, Navrátilová wasn't so lucky this time around.
The match started off well enough for Navrátilová—she came back from being down 3-5 in the first set by winning the final four games, 7-5. Navrátilová broke Graf again to open the second set—the fifth game she won in a row—and after holding serve, she was four games away from a seventh consecutive Wimbledon title.
From there, Graf took over. Graf swept Navrátilová through the rest of the set, and the shell-shocked Navrátilová could never recover in the third. Graf finished her off, 6-1, en route to her first career Wimbledon title.
Graf went on to win the U.S. Open in 1988, completing her "Golden Slam" and cementing her place as the best women's player in the world at the time.
No. 10: Steffi Graf defeats Martina Navrátilová, 1989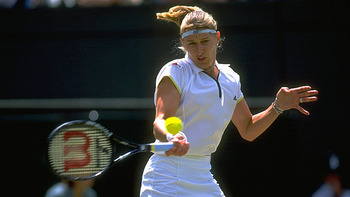 And so, we get to the rubber match between Graf and Navrátilová.
Graf entered 1989 winning her fifth straight Grand Slam at the Aussie Open, and then finally saw the Slam streak snapped at the French Open by 17-year-old Arantxa Sánchez Vicario.
Graf avenged her loss to Vicario by pounding her in straight sets in the quarterfinals, and one-upped herself in the semifinals with a 6-2, 6-1 smothering of Chris Evert. Navrátilová similarly swept through the quarters and the semis, and as the No. 2 seed going into Wimbledon she was looking to reassert herself as the best woman tennis player on tennis' biggest stage.
Navrátilová got off to a rough start this time around, as Graf easily took the first set, 6-2. Then, with her tournament life on the line, Navrátilová battled her way into a tiebreaker against Graf in the second, before dominating the tiebreak, 7-1.
In the third set, Navrátilová could only win one game, and fell to Graf without much of a fight. Graf won her sixth Grand Slam event in the past seven, and Navrátilová appeared to be on the downswing after dominating the courts at Wimbledon in the mid-1980s.
No. 9: Martina Navrátilová defeats Chris Evert, 1985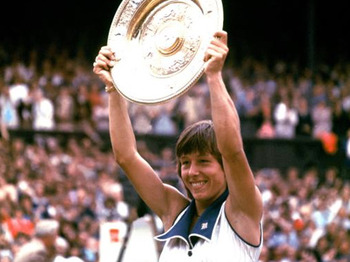 Match score: 4-6, 6-3, 6-2
By 1985, Navrátilová and Evert had a good thing going in tennis: Evert would beat Navrátilová at the French Open, and Navrátilová would beat Evert at Wimbledon. And that would be that.
Evert won the French Open seven times; three of those came in three-set matches against Navrátilová. Likewise, Navrátilová had already beaten Evert in the Wimbledon final four times since 1978, and had a chance to get a fifth here.
Navrátilová started off in danger, but the older Evert eventually began to cave against her grass court nemesis. By the third set, Navrátilová had removed most of the suspense from the match, and Evert fell quietly, 6-2.
Evert never returned to the Wimbledon final; this was the fourth of Navrátilová's six straight Wimbledon championships.
Not surprisingly, YouTube didn't come through with any videos of a Wimbledon women's final from 25 years ago. There's only so much you can ask.
No. 8: Amélie Mauresmo defeats Justine Henin, 2006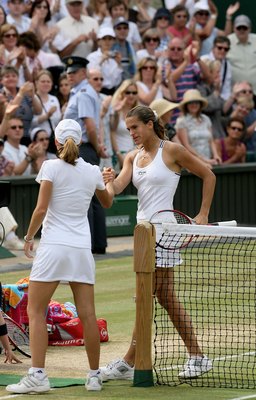 Match score: 2-6, 6-3, 6-4
This speaks to Venus and Serena Williams' dominance more than anything else: This is the only women's singles Wimbledon final from the 2000s without either Venus or Serena.
While Mauresmo, the No. 1 seed, needed two three-set matches in the quarterfinals and semifinals to earn her berth to the finals, Henin, the No. 3 seed, hadn't dropped a set at Wimbledon going into the match against Mauresmo.
Henin kept that trend going in the first set, dominating Mauresmo to the tune of 6-2. Mauresmo turned her luck around in the second set, beginning to counter Henin's strong net play, and took the second set down 6-3.
Mauresmo escaped in a thriller of a third set to deny Henin in her second chance at a Wimbledon title. To date, all Henin needs to complete a career Grand Slam is a championship at the All England club.
No. 7: Conchita Martinez defeats Martina Navrátilová, 1994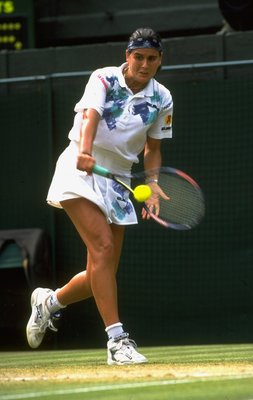 Match score: 6-4, 3-6, 6-3
This match will go down as one of Wimbledon's best women's finals, largely because of the stature of Navrátilová at the All England club.
Incredibly, at the age of 37, Navrátilová battled her way back into the Wimbledon final after hammering Jana Novotná in the final two sets of their three-set quarterfinal match.
The magic couldn't carry Navrátilová to her 10th Wimbledon championship, as the much younger Martinez outlasted the once-unflappable Navrátilová in the third set.
This ended up being Martinez's only Grand Slam championship, and she's the only female Spaniard to have ever won the title. Soon after this match, Navrátilová decided to retire.
No. 6: Martina Hingis defeats Jana Novotná, 1997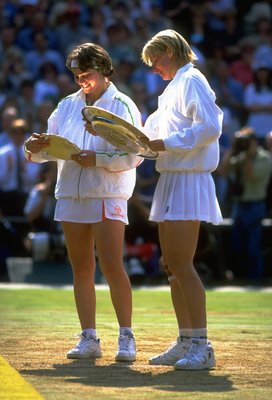 Match score: 2-6, 6-3, 6-3
The year 1997 was the year of Hingis, the 16-year-old Swiss superstar who grabbed hold of the world No. 1 ranking.
Novotná, on the other hand, was hoping that the young Hingis would prove less of an impediment than Steffi Graf was in 2003.
Novotná blistered Hingis in the first set, and looked on pace to lock down her first Wimbledon championship. But Hingis, who'd already won the Australian Open to date on the year, struck back with a phenomenal 6-3 second set to set up a winner-take-all third set.
The third-seeded Novotná could not complete the task against Hingis, who entered the tournament as the No. 1 seed. Hingis posted another 6-3 set, and took down her first and only Wimbledon championship at the expense of Novotná.
Hingis went on to beat Venus Williams in the final of the U.S. Open in 1997—she was a French Open title away from a Golden Slam in '97.
This was too funny not to include…Novotna steals Hingis' title:

No. 5: Steffi Graf defeats Arantxa Sánchez Vicario, 1995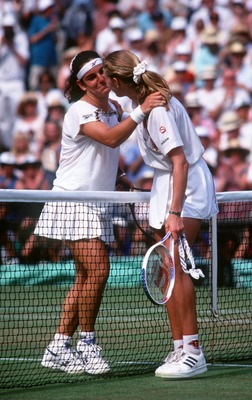 Match score: 4-6, 6-1, 7-5
Graf was coming off a rough year at this point.
She'd lost in the first round of Wimbledon in 1994 (the first time she lost in the first round of a Grand Slam in 10 years) and missed the 1995 Australian Open due to injury.
Vicario, winner of the '95 women's doubles title at Wimbledon, jumped out to a great start against Graf, taking the first set 6-4. At setbreak, it appeared that the five-time champion could be on the ropes.
Then Graf returned to her championship form and blasted Vicario 6-1 in the second set. The two dueled back and forth in the third set, but when Graf broke Vicario to make the score 6-5, it was all but over.
Vicario put herself away with a lob that fell long, and Graf could celebrate her sixth Wimbledon championship.
No. 4: Steffi Graf defeats Jana Novotná, 1993
Match score: 7-6 (8-6), 1-6, 6-4
Chances are, 1993 will be most remembered for the year that one of Graf's crazed fans jumped on the court at Hamburg and stabbed Monica Seles, cutting their burgeoning rivalry short for the time being.
Graf, ever the opportunist, couldn't help but take advantage, as she swept the next three majors of the year—although Novotná provided Graf with the assist at Wimbledon.
In the third set, Novotná had an opportunity to go up 5-1 on Graf, the two-time defending champ, and all but put her away. Instead, Novotná dropped the next five games and remarkably lost the match to Graf.
Her win in 1998 likely vindicated her (at least somewhat), but in 1993, Novotná was readily labeled a "choker."
Just search YouTube for it.
No. 3: Serena Williams defeats Venus Williams, 2003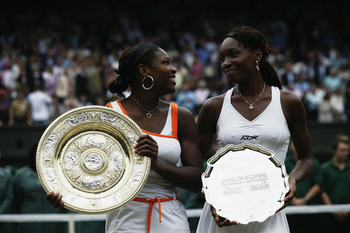 Match score: 4-6, 6-4, 6-2
Now this is what we're talking about when we're talking about a Venus-Serena matchups in the Wimbledon final.
We've got the grudge match element: Serena beat Venus in 2002 for the French Open and Wimbledon titles, and went on to trump her in the 2003 Aussie Open to complete her career Grand Slam. We also had the "has Venus lost her edge?" talk, as the former No. 1 player entered Wimbledon as the No. 4 seed, and couldn't seem to figure out her younger sister.
What we didn't know, at the time, was that Venus had suffered an abdominal injury against Kim Clijsters in the semifinals that would eventually make her withdraw from the rest of the events that year.
Regardless, after Venus pounced on her little sister in the first set, Serena struck back with the killing blow in the second and third sets, and Venus was relegated to second place once more.
No. 2: Steffi Graf defeats Gabriela Sabatini, 1991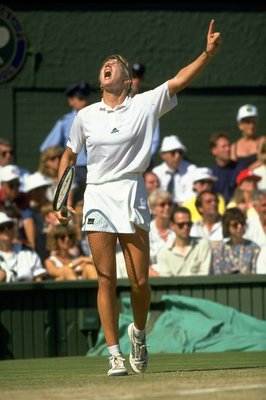 Match score: 6-4, 3-6, 8-6
It's tough to get much more dramatic than this scene: Sabatini, in the third set, serving for the match against Graf—the woman she'd beaten the past three times she had faced her that year.
Sure enough, Graf, in search of her third Wimbledon title in four years, fell behind in the third set, enough to allow Sabatini to serve for the match multiple times.
Sure enough, Graf, showing the heart of a Wimbledon champion, battled Sabatini back to a 6-6 draw, and took advantage of Wimbledon's "no tiebreak in the final set" rule.
One broken service game of Sabatini's later, Graf had overcome her year-long adversary, and triumphed once more at Wimbledon in one of the most epic women's finals in the tournament's history. The two battled in a 127-minute match—the longest at Wimbledon since 1970.
Amazingly enough, while YouTube came through with videos of most of these ladies' finals…Graf-Sabatini comes up short.
No. 1: Venus Williams defeats Lindsay Davenport, 2005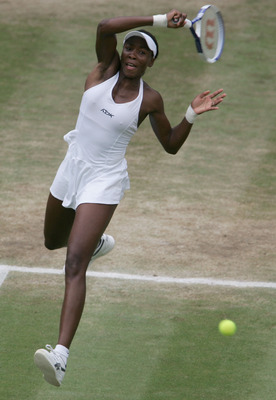 Match score: 4-6, 7-6 (7-4), 9-7
When ranking these, admittedly, there was no question in my mind which match would come first.
In 2005, Williams and Davenport put on the female version of Isner-Mahut in the finals. Their match broke the Open Era record for longest female final, clocking in at 166 minutes total as they continued to battle in the tie-break-less third set.
Davenport entered the tournament as the No. 1 seed (Williams was the 14th), and when the finals matchups were set, Davenport had to flashback to the 2000 finals, where the lesser-heralded Williams beat her in straight sets.
This time, Williams didn't have it so easy. In fact, Davenport held match point before Williams erased it with a backhand winner.
When Williams won, she became the lowest-ranked (16th) female player to ever win the Wimbledon title. After the questions about whether or not she'd ever return to this stage, especially with Serena's recent dominance over her, Venus could finally call herself Wimbledon champion once more.
Keep Reading