10 Underachievers in Tennis Over the Past Decade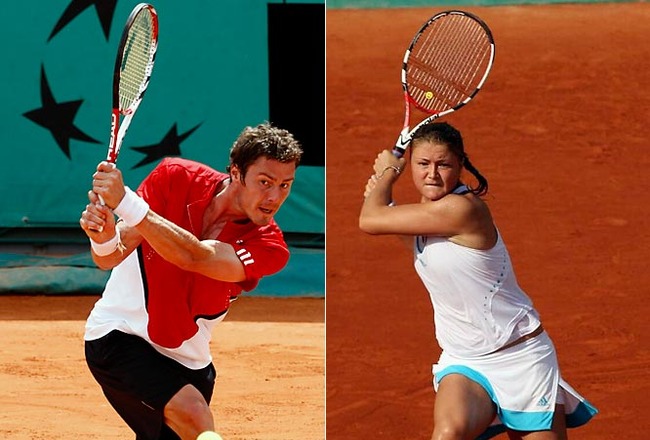 Underachievers are basically players who had the talent but never played to their full potential. You can find them in any sport but tennis is certainly the most common place of underachievers. Here is a look at 10 underachievers in tennis over the past decade arranged in no particular order.
David Nalbandian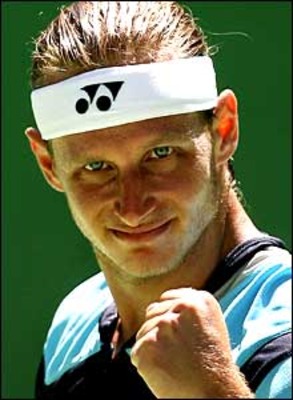 Despite being one of the players to reach the semifinals of all four Grand Slams, Nalbandian has never won one. In fact, he has only won one of his five Semifinal games at a Grand Slam and that was at 2002 Wimbledon. Sadly, he lost in the final to Lleyton Hewitt.
He has reached the ATP Masters Finals six times and converted only two of them into a victory.
His only big achievement could be the 2005 Year End Championships win against Roger Federer at Shanghai.
He is still active but the chances of him coming back and winning at the top level are remote.
Nadia Petrova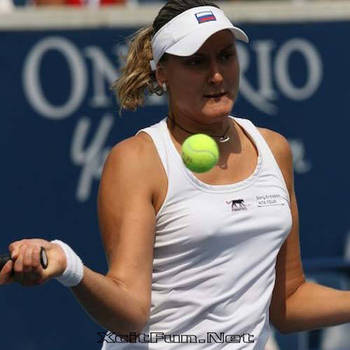 Nadia Petrova has a very impressive WTA record with nine singles and 18 doubles titles. She is very consistent during Grand Slams as well making the fourth round and quarterfinals so very often.
Some people may not consider her to be an underachiever but she truly is one. Nadia has the chronic habit of choking when playing against top players.
Once she was playing against Serena Williams and won the first set 6-1. Then she managed to choke historically and lost the match 1-6 7-5 6-5. This could tell you the story.
Like Nalbandian, she is still on the tour but doesn't really have any hopes of making it big now.
Richard Gasquet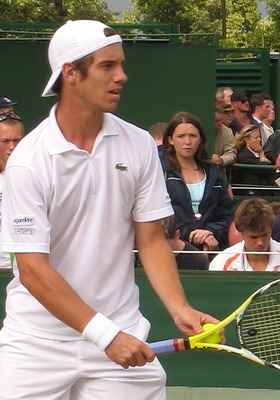 Not the greatest underachiever but Gasquet finds a place on this list.
There are not many days when you see a fast, shot-making all court player with charm and flair. Gasquet was that type of player. He was naturally talented with a jaw-breaking backhand. In spite of all this, he never really fared well at the top level.
Taking out his 2007 Wimbledon semifinals, he had never made it past the fourth round of a Grand Slam. He made it to the year-end masters in 2007 but lost in the round robin stages. However, he has a doubles Grand slam title that he won with Tatiana Golovin in 2004.
Amelie Mauresmo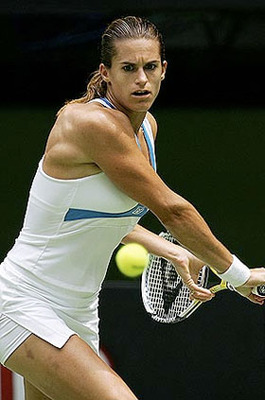 Mauresmo's statistics say that she was a former world No. 1, winner of two Grand Slams and was a top player for nearly a decade. If you think that this is not underachieving then you are wrong.
Well, underachievers are players who did not reach their full potential so Mauresmo certainly belongs on this list.
Mauresmo was never underrated for her abilities. She was the only player after Martina Navratilova to come to the nets willingly. Her forehand was lightening and her shot power was nearly unrivaled.
But it was her poor nerves and her ability to choke historically that put her on this list.
Mauresmo is now retired but it seems like it will take many more years for us to find a player like her.
Novak Djokovic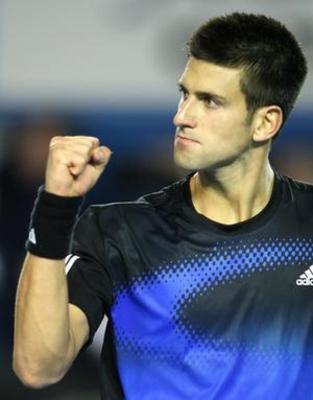 Yes, he is still young and still winning. But Djokovic should have won multiple Grand Slams by now, and who knows, he could have even reached the World No. 1 spot.
Djokovic has the most perfect and well-balanced game in modern tennis history. Great speed, ability to volley, ground strokes, forehand, backhand and everything relating to tennis can be seen in Djokovic's game.
Yet he has won only one Grand Slam and has been lying in the World No. 3 spot for an atrociously long period of time. If anyone was affected by the dominance of Federer and Nadal, it should be Djokovic.
Djokovic is frank. He admits the superiority of Federer and Nadal openly but never lets them win easily. But his negative point is the fact that he loses confidence very easily.
He has made it to the semifinals of all four Grand Slams. If he fails to win more grand slams, he will become the biggest underachiever in sports history. Let's hope that it doesn't come down to that.
Dinara Safina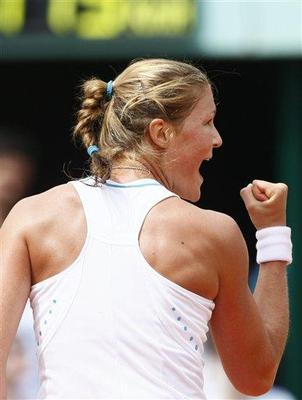 Safina could very well be the yardstick for underachieving.
She was no more than Marat Safin's younger sister prior to 2008. Then she rose to prominence and became the world No. 1 even without winning a Grand Slam. She enjoyed partial success till 2009 and now she is out of the top 20.
Safina has great sense of court and raw power when compared to the majority of her contemporaries. She played three Grand Slam Finals between 2008 and 2009 and lost all three of them. She was a great clay court player reaching the Roland Garros Finals twice in back to back years.
Her temperament is what let her down, similar to her brother. She lost her cool often and served awfully. She is still on tour and I hope she will win a major one day.
Fernando Gonzalez
A consistent player at the Grand Slam level, Gonzalez has reached the quarterfinals of all the four Grand Slams and was the runner up at the 2007 Australian Open.
He has a distinctive record of winning all three Bronze, Silver and Gold medals at Olympics for Chile. In the 2004 Olympics, he won bronze at the singles and gold in the doubles. In 2008, he won Silver in the singles.
He is regarded as the "Legend Killer" for defeating all top players such as Sampras, Agassi, Federer and Nadal during their prime.
Gonzalez has a very solid serve and a great forehand. He was good in all departments of the game but never great.
At 29, there are very little hopes for him to win a major.
Nikolay Davydenko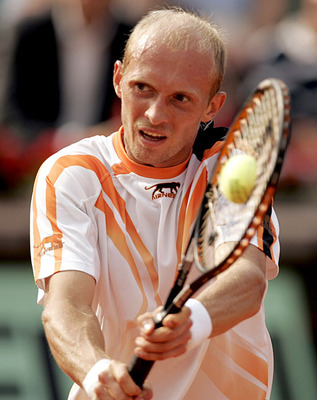 Davydenko's wide ground strokes are truly remarkable. His ability to place the ball in the wings of the court with that kind of pace cannot be rivaled. He is the only player on tour today to produce shots at that kind of angle.
But Davydenko has struggled a lot due to his inability to close games. He has lost many games in spite of leading the first set. One instance is the 2010 Australian Open quarterfinals where he lost to Roger Federer in spite by leading by a set and dominating the game.
Davydenko has won one year end championship in 2009 and was the runner up in 2008. He was one of those players who played well as the year closed. But he never really fared well at Grand Slams in spite of making four semifinals.
A friend of mine once told me that Davydenko was like wine and he gets better with age. Let's hope that this is the case.
Elena Dementieva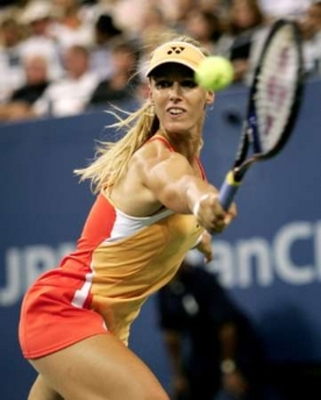 Dementieva is the perennial underachiever of women's tennis over the past decade. She is extremely fit when she plays and hardly losses stamina.
There are certain statistics about her that might amuse you. She has been in the top 20 for the whole decade. She reached a career high third rank in 2008 when she won the Beijing Olympics—which turned out to be the highlight in her career.
She has made it to the year-end championships eight times in the last nine years, which is the best by any WTA player during that period. She has won 16 WTA titles and lost 15 of them in the finals. In spite of all these statistics, she has never won a grand slam.
She has made her way into two Grand Slam finals but lost both to fellow Russians Anastasia Myskina and Svetlana Kuznetsova.
She has set the yardstick for athleticism and court speed in women's tennis. Her running forehand is a delight to watch. Her service was one of the worst prior to 2008. She often commits double faults but after 2008, she has been kind of consistent.
She is currently the "greatest player to have never won a Grand Slam."
Marat Safin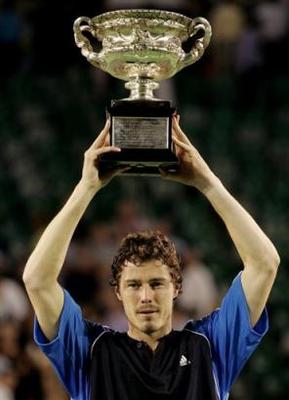 When we hear the name Marat Safin only two things come to our mind: he breaks rackets and he is the greatest underachiever in men's tennis over the past decade.
Safin himself has said that he had broke over 700 rackets during his career, which spanned from 1997 to 2009. He was well known for his outbursts during the game and his raw ability.
Sadly, he was never able to cultivate that raw ability into something great. He was widely regarded as the most naturally talented player of the 2000s.
Safin's serve is his biggest asset. He can very easily serve out his service games without even playing a few rally. He hit the ball hard and at the same time he was very smooth in the nets.
He has won two Grand Slams out of the four finals. He undoubtedly should have won more given his ability. Maybe Federer's dominance took the shine out of many players and sadly Marat was one.
Marat once said that everyone was an underachiever in tennis. He was never worried about what others called him. While departing he said, "I can't complain, I've managed to do pretty well in my career." He added "tennis saved me from a life of picking up bottles in Moscow."
Marat Safin will remain a Champion despite of being on this list!
Keep Reading