NBA Free Agency 2010: Top Destinations For John Salmons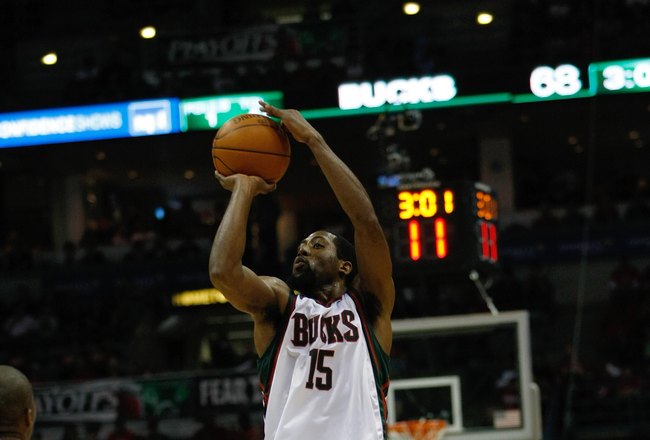 On Tuesday, John Salmons opted out of the last year of his contract with the Milwaukee Bucks to become a free agent.
The move came as a surprise to no one. Salmons was going to make $5.8 million if he had played out his final year but wanted to get a new contract during free agency.
The talented guard/forward has taken longer than most players to develop his game in the NBA but has been a quality player for the past several seasons.
Salmons attended the University of Miami and was selected with the 26 overall pick in 2002 by the San Antonio Spurs. He never played for the Spurs; instead, his rights were immediately traded to the Philadelphia 76ers.
It wasn't until his sixth season in the NBA that Salmons averaged over ten points per game. Salmons' best stint on one team was during his two seasons with the Chicago Bulls from 09-10 when he averaged 15.5 ppg.
Salmons is 30 years old but he isn't playing like it. Salmons has a good skills set that will have several NBA teams asking for his services.
What John Salmons Brings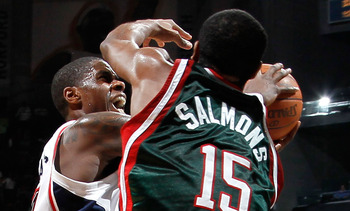 This 6'6" 207 lb guard/forward is a utility player on the court. Salmons can be lined up at PG, SG or SF but he usually plays SG.
Like a fine wine, Salmons has gotten better with age and averaged a career high 19.9 ppg this past season with Milwaukee. Also impressive are his last two playoff appearances ('09 & '10) where he averaged 17.6 points.
Teams will be scared to sign him long term because of his age, but again, his game does not reflect his age. Salmons has only been in the NBA for eight seasons and has been able to avoid major injuries.
This slasher can go hard to the rim but prefers to pull-up for a mid-range jump shot. One of Salmons' best qualities is his man-to-man defense. At times no one can get past him and he forces his opponents to settle for difficult shots.
Salmons will be an instant impact on offense and defense for whoever signs him. Let's take a look at the top potential destinations for John Salmons.
San Antonio Spurs
The San Antonio Spurs are old. The average age of their starting five is 31.8 years-old. The average years in the NBA for their starting five is 10.6 seasons.
Salmons is the youngest 30 year-old you will ever find. He is in his prime and is coming off the best season of his career.
The Spurs drafted Salmons but immediately traded him. Maybe it's destiny for Salmons to return to San Antonio and help them compete for another title.
New York Knicks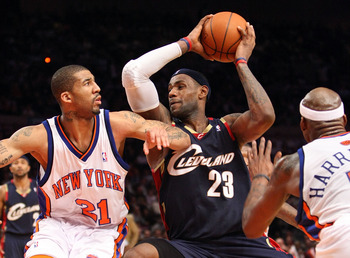 Every time there is talk about where a free agent will go, the New York Knicks are brought up. Why? Because they have money to blow.
Salmons going to New York only makes sense if Lebron James and a big-man (either Amare Stoudermire or Chris Bosh) go along as well. Salmons would primarily focus on being a shutdown defender on the perimeter and getting the ball to the All-Stars.

But if no King James, no John Salmons.
Orlando Magic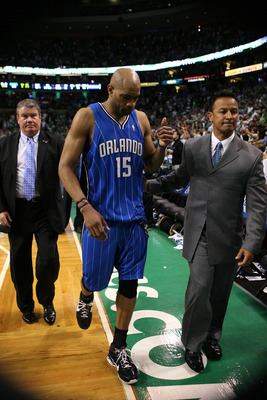 This choice may get me in trouble.
Question: Who was the biggest disappointment for the Orlando Magic during this year's post season?
Answer: Vince Carter
Vince Carter was brought into Orlando for his offense and to help the Magic win the East and finally defeat the mighty Lakers. Vince and the Magic failed miserably. Statistically the 09-10 playoffs were the worst in Vince Carter's career.
Besides not getting it going on the offensive side of the ball, Vince was unreliable on defense.
Bringing in Salmons could be a potential solution for the lack of Vinsanity.
Atlanta Hawks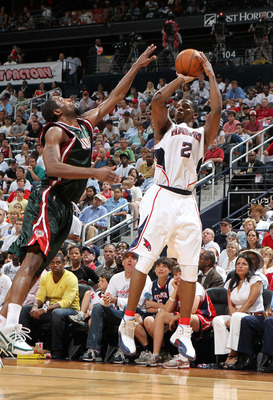 If Salmons is going to leave Milwaukee, Atlanta makes the most sense for a change of scenery.
The Hawks could very well lose Joe Johnson to free agency and the likely replacement would be Salmons. The two had an epic seven game battle during this year's playoffs so the Hawks know what they are getting.
Milwaukee Bucks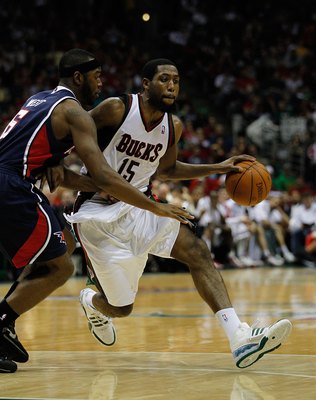 Free Agency is almost always a bunch of talk. The media makes a big deal about where these players will go and then the players re-sign with their old teams.
John Salmons will be doing the same. He is coming off his best career statistically in Milwaukee and almost led them out of the first round of the playoffs.
All indications point to Salmons remaining with Milwaukee— but not before getting a nice raise in salary.
Keep Reading