Jenny Thompson: The Details of the Attack on the Olympic Legend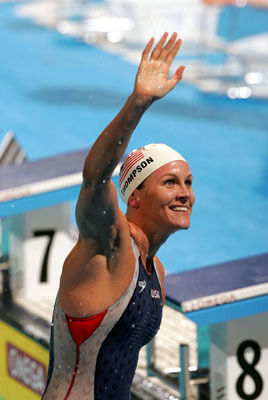 One of the all-time winningest Olympic athletes was attacked while on her scooter Monday night.
Twelve-time medalist Jenny Thompson was assailed while riding just outside Boston.
The 37-year-old put up a strong fight in the attack.
Here's the details on what happened.
Riding In Brookline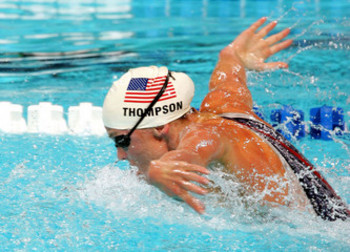 Thompson told WBZ-TV that she was riding her scooter outside Boston when a vehicle stopped behind her with its headlights out.
Thompson said two people got out, punched her, pushed her down and tried to grab her scooter.
Putting Up the Good Fight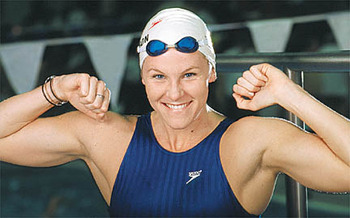 Thompson said she was able to hold on to the scooter and yell for help. That made the would-be thieves flee the scene.
Thompson suffered a cut on her nose and several scratches from the attack.
"I fought them off and was screaming at the top of my lungs and people came out of the houses," Thompson, 37, told WBZ-TV. "I was screaming so loud, I didn't know I could scream so loud. I was screaming 'Help! Help me! I'm being attacked!' and I think that helped."
A Scooter-Stealing Ring?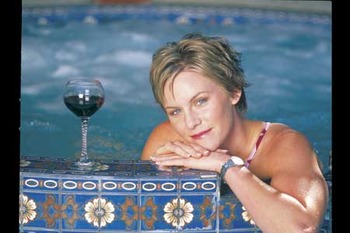 Boston police officials said they arrested three teenagers late Monday night.
The trio were carrying stolen scooters. Police are investigating whether the teens were linked to the Thompson attack.
"I felt lucky there were people around who were willing to help and call the cops," she said. "If I had been somewhere more isolated, I think it could have been a lot worse."
A True Olympic Hero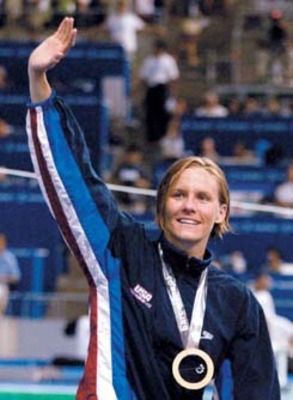 Thompson is one of the most successful American Olympians, with 12 medals overall. Her most recent medals came in the 2004 Athens Games.
Eight of her 12 medals are golds won in relay races. She competed and medaled in the 1992, 1996, 2000 and 2004 Summer Olympics. The total is the most for any female Olympian in history.
Causing a Stir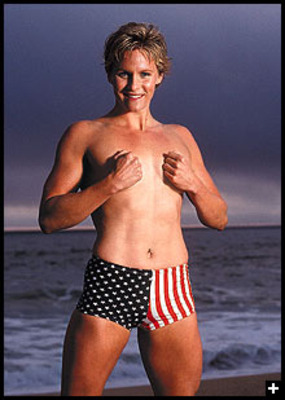 Thompson caused a stir when she posed for Sports Illustrated with just her hands over her naked breasts in a USA-themed bottom.
The photo showed off her physique and was widely criticized by both feminists and men who thought she looked too manly.
It was a representation of pride for representing the US and strength in my athletic body. There was no 'come hither' look on my face; it was more "'look out, here I come!'," Thompson told WineX Magazine.
"I think that women have made great strides in the world of athletics and showing bodies -- the essential element in athletics -- is part of that. It's not about sex, it's about strength."
A Full List of Honors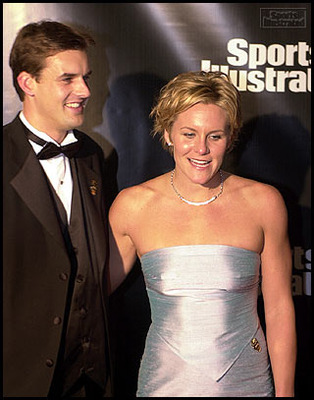 Thompson is a native of Dover, N.H., where there is a pool named after her.
She was the 1993 and 1998 Swimmer of the Year as named by USA Swimming.
Thompson also was recognized as the No. 62 greatest female athlete of all time in a 1999 Sports Illustrated poll.
She was also named the Female World Swimmer of the Year by Swimming World magazine in 1998.
Life After the Spotlight
Thompson initially cashed in on her Olympic fame with a focus to use the earnings for life after athletics.
She earned a medical degree from the Columbia University College of Physicians and Surgeons in 2006.
From there, she did an internship at Memorial Sloan-Kettering Cancer Center in New York City.
She is currently the resident anesthesiologist at the Brigham and Women's Hospital in Boston.
Keep Reading