Final Day of MLB All-Star Voting: Three Players Who Most Need Your Votes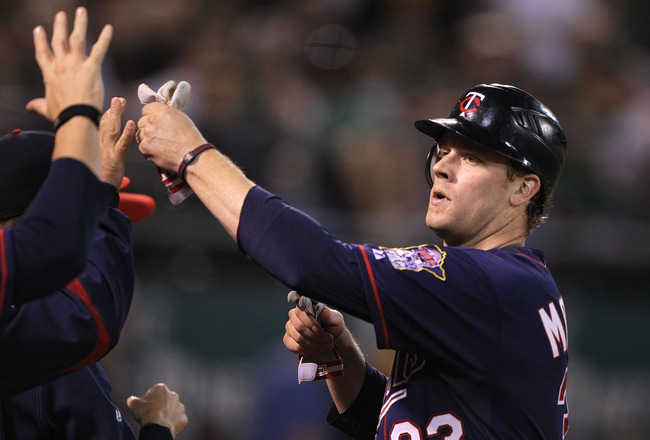 Voting for the 2010 MLB All-Star Game ends tonight at 11:59 p.m. That means this is our last chance to make a stand against the popular yet inferior big-name players who infiltrate the Midsummer Classic every year.

It's too late for some of these races. Adrian Gonzalez and Joey Votto have no chance of catching Albert Pujols, for example, and there's no way Shin-Soo Choo and Alex Rios will gain enough ground on Ichiro Suzuki by end of business today.
But there's still time for some close races to be won for those who truly deserve them.
Two of the three players listed here were in second place at their respective positions at the last update. The third is already winning his race, but is facing a potential challenge from a clearly inferior rival.
Just remember as you flip through this slideshow remember that, if you support undeserving players, you're going to be stuck watching them.
No. 3: Brian McCann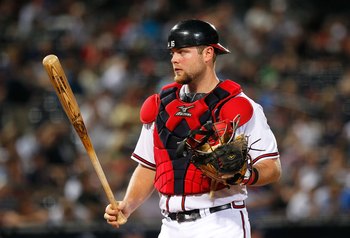 The race for the NL's starting backstop is one of the tightest in all the voting—fewer than 200,000 votes separate current leader Yadier Molina from runner-up Brian McCann.
Our job is to bridge that gap.
Many Cardinals fans swear by Molina, calling him the best defensive catcher in baseball. I won't even try to say McCann is the superior fielder, given that he's allowed 20 more bases this season.
Unfortunately for St. Louis fans, Molina's arm isn't nearly enough to make up for McCann's superiority in almost every other facet of the game.
McCann owns a .robust 260/.377/.439 triple-slash (.816 OPS) with nine homers, 33 RBI, and 2.4 WAR. Molina, meanwhile, is posting a putrid .235/.313/.312 slashline (.625 OPS) with just three homers, 30 RBI, and 0.8 WAR.
That gives McCann a ridiculous 78-point edge in wOBA. That's the difference between Albert Pujols and James Loney, and even if Loney channeled Spider-Man in the field no one would dare proclaim him better than The Machine.
No. 2: David Wright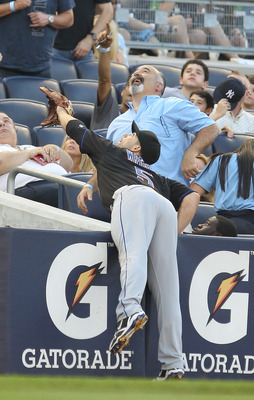 Winter import Placido Polanco is having a nice little season for himself in Philadelphia, and fans have rewarded him by handing him the lead in the NL third base voting.
Unfortunately, the vote standings are not an accurate reflection of the candidates' performances in 2010.
The clearly superior Scott Rolen is languishing in fourth place, several hundred thousand votes behind Polanco. Legitimate MVP candidate Ryan Zimmerman doesn't even crack the top five.
But no matter who you think the starter should be, our best chance to overthrow Polanco is David Wright, and I think we can all agree that he would be an improvement.
To date, Wright has posted a .941 OPS with 14 long balls and an NL-best 63 RBI, good for a .425 wOBA. According to WAR (3.5), he's been the best player in the National League.
Polanco, on the other hand, has a .782 OPS to go along with five homers and 27 RBI, worth only a .346 wOBA. He's a better fielder, but the difference (4.5 UZR to 0.4) isn't nearly enough to bridge that gap.
Polanco's lead was less than 23,000 votes as of the last update. Come on, guys, we can do this.
No. 1: Justin Morneau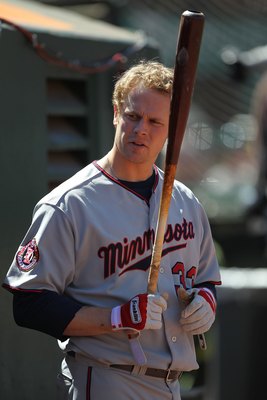 Justin Morneau isn't just the best first baseman in the league; he's been the best player in all of baseball. His .446 OBP, 1.063 OPS, .452 wOBA, and 4.7 WAR are all tops in the MLB.
In this instance, Morneau actually is the current vote leader—but not by much. As of Monday, his margin of victory was only about 250,000 votes.
People who prefer RBI to WAR will argue that Miguel Cabrera deserves to win this spot over Morneau. The problem is, that's creating a false dichotomy, as Miggy isn't the current runner-up.
It's Mark Teixeira.
Yes, that Mark Teixeira, the one who posted 7.3 WAR in 2008 and inked a $180 million contract with the Yankees 19 months ago.
The man who was supposed to carry the Yankees for years to come is hitting a miserable .231. He's got a mediocre .754 OPS, and even his vaunted glove has been bad (-6.5 UZR/150).
There is simply no excuse for Tex getting this far. We can't let him unseat the best player in baseball.
Now go vote!
Don't forget:
Justin Morneau
David Wright
Brian McCann
Keep Reading

Minnesota Twins: Like this team?