B/R's Mock NL MVP Vote: Is Adrian Gonzalez Better Than Albert Pujols?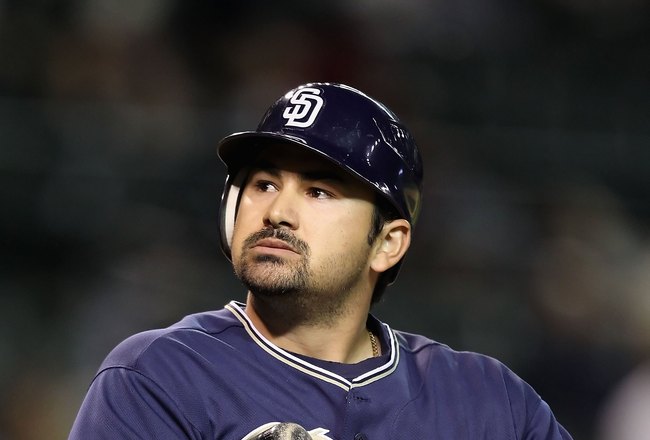 Yesterday, Bleacher Report's Featured Columnists celebrated the turn to July—a symbolic midpoint of the MLB season—with the results of a mock AL MVP vote.
Today we take a look at the most valuable players in the National League.
If you thought the AL results were close, this race was even tighter. In a system where a first-place vote is worth 14 points, the top two finishers were separated by only three points.
Meanwhile, the third-place finisher actually got the most first-place votes, yet finished only four points ahead of the fourth-highest vote-getter.
The top 10 finishers are highlighted in this slideshow, complete as always with commentary from a different FC for every player.
If your favorite player isn't among the leaders, be sure to click through to the full results. A whopping 37 players were named on at least one of the 23 ballots, so chances are he got at least a couple votes.
Thanks to everyone who voted and submitted commentary!
Note: I sent this survey only to the Featured Columnists who have been active in previous polls. If you are a new FC or you have changed your mind about wanting to participate, send me a message and I'll be sure to keep you in the loop for next time!
Before the results...
I asked each voter to guess who would end up winning the poll. The actual results were close, but our predictions sure weren't:
Albert Pujols—70%
Ubaldo Jimenez—13%
Adrian Gonzalez—9%
Ryan Howard—4%
Joey Votto—4%
10. Martin Prado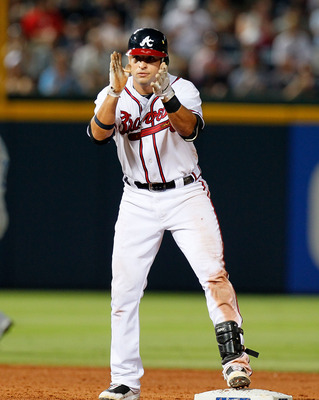 Featured writer: Brett Kettyle
When the Braves elected to let Kelly Johnson leave last offseason, they placed a vote of confidence in Martin Prado.
And coming off a 2009 season in which he hit .307, Prado has rewarded his team's faith in him with an even more impressive campaign in 2010.
His .334/7/33 line (which also includes 55 runs scored) speaks for itself. Prado is leading the NL in batting average and hits (110), while scoring the second-most runs.
But the reason that Prado deserves MVP consideration is that he filled a huge void at the top of the Braves lineup.
In his 39 games batting first, Prado has hit .432 leading off the game, and has an impressive 1.191 OPS.
Prado's leadoff success has played a key role in the Braves turnaround (remember they lost nine in a row in May) and he has been among the NL's most consistent hitters all year.
9. Ryan Howard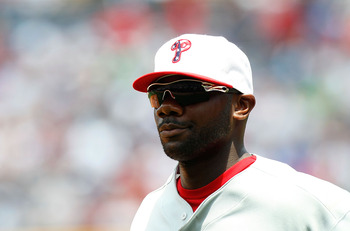 Featured writer: Brandon Williams
Ryan Howard belongs in the MVP conversation for one simple reason: Without him, the Phillies aren't smelling a whiff of the NL East.
Philadelphia has a chance to win its third straight NL pennant during a season in which SS Jimmy Rollins has missed all but 16 games, 2B Chase Utley endured a prolonged slump, and OF Raul Ibanez began to show his age.
Yet, the Phillies remain the hunt thanks to Howard, who has boosted his batting average (.295) to its highest mark since hitting a career-best .313 in 2006.
There's every reason to believe that Howard's slugging (.517) and OPS (.870) will return to their career range of .577 and .950, respectively, but his ability to change his game at a time when his team needed him merits MVP consideration.
8. Scott Rolen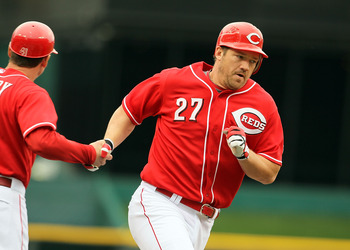 Featured writer: Bob Warja
Scott Rolen is an MVP candidate?
Don't laugh—this is a player who is is playing very good baseball and providing valuable veteran leadership for a contending Reds team that has a legitimate chance to win the NL Central.
We all knew he would play terrific defense at third base, but the way he's revitalized his offensive game has been impressive.
At 35, Rolen has seemingly found the fountain of youth; he's on pace for 36 homers, 112 RBI and a .303 batting average. And he has hit exactly half of his 16 homers on the road, so the Great American Ballpark is not the reason for his resurgence
He leads the NL in slugging (.582) and ranks third in OPS (.951) and fourth in homers (17). Sounds like MVP numbers to this writer.
7. Troy Glaus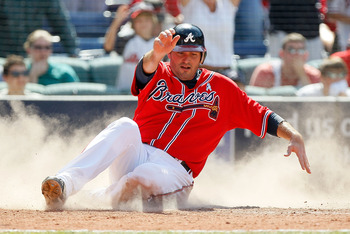 Featured writer: Cameron Britt
Since a horrid first month (.194/.310/.292 with two homers and only nine RBIs in the month of April), Troy Glaus has been one of the best run producers for the team with the second-best record in the National League.
Sporting a .289 batting average with 12 dingers and 47 RBIs since the first day of May, Glaus has been the driving force behind the NL's second-best scoring team.
MVP stands for "Most Valuable Player," and to me it's obvious what Glaus' value to the Braves has been: when he hits, Atlanta wins. When he doesn't, the Braves are a fifth place team (as they were when they were sitting at 9-14 at the end of April).
The bad month might turn some people off of the NL's second-best RBI man. But for me it further exemplifies his value.
6. Andre Ethier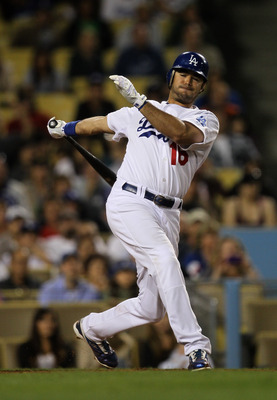 Featured writer: Dennis Schlossman
Before fracturing his right little finger on May 15, Andre Ethier led the National League in batting average, home runs, RBI, slugging percentage, and OPS.
As part of the pre-injury streak, Ethier added to his highly esteemed walk-off accolades with a game-ending grand slam against LaTroy Hawkins and the Milwaukee Brewers on May 6.
Although still not feeling 100 percent from the broken finger, Ethier is impressively lingering around the .320 mark in batting average. His 12 homers and 47 RBI are still very respectable power numbers, despite being on the shelf for 15 games.
Even with the injury he hopes to surpass his career high of 31 homers and 106 RBI, which were recorded in 2009.
5. David Wright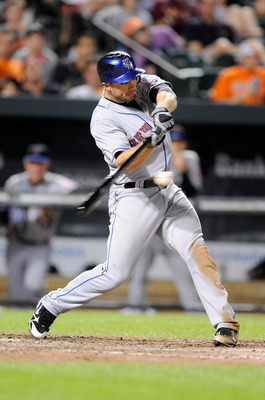 Featured writer: Matt Esposito
The first half of David Wright's 2010 has seen him drastically return to form.
Despite attracting criticism for his occasional impatience and high strikeout numbers, Wright is putting together a stellar comeback season.
He has already surpassed his home run total of 10 in 2009, having blasted 14 so far this year.
Additionally, his 22 doubles and 61 RBIs lead all National League third basemen. His OBP (.392) and batting average (.310) both rank amongst the top three in starting National League third basemen.
Wright demonstrates the best speed amongst NL third basemen as well. He's leading his position with 13 stolen bases.
What helps him stand out from other third basemen is his all-around game. He brings speed, power, and reliable hitting to the Mets lineup as their keystone hitter and the best all-around third baseman in the NL.
4. Joey Votto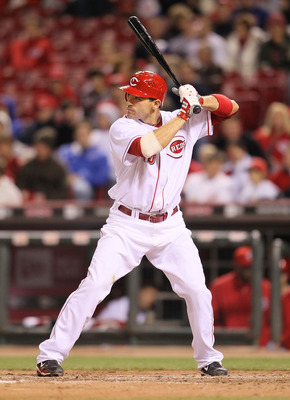 Featured writers: Asher Chancey and Aaron Hooks
The best first basemen in all of baseball currently has his team in first place in the NL Central.
He leads all NL first basemen in batting average (.312) and wOBA (.424) while placing second amongst NL first basemen in on-base percentage (.415), slugging percentage (.567), OPS (.982), and runs scored (49).
But Votto's contributions to the Reds lie in places not as easily measured—like seven stolen bases for a guy that weighs more than Prince Fielder.
Or how about stellar defense for a guy that's been knocked around by the Fielding Bible since his call up. Or the way he's overcome personal demons to win the respect of everyone in his clubhouse and uses that respect to influence hard play and a winning attitude.
Rolen might get the press, but take a vote on the Reds and Votto is your MVP.
3. Ubaldo Jimenez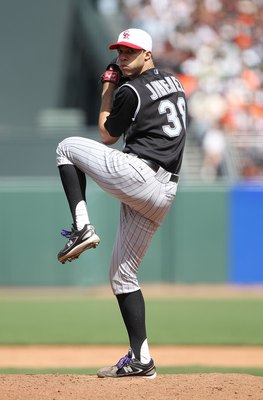 Featured writer: Lewie Pollis
I know I've gained sort of a reputation as being anti-Ubaldo, and I fully stand by my repeated declarations that Jimenez's success is largely due to luck.
But even if he's not the best pitcher in the baseball, his performance to date has been more valuable than that of any other player.
Right now, Jimenez' ERA-based WAR is 4.2—the best in the league and tops among MLB pitchers. When we cast our ballots, Jimenez was 13-1 with a 1.15 ERA; every single outing he pitched had been a quality start. That means that every single time he's taken the rubber, he's given his team an odds-on chance of winning that night.
He's given up 10 runs in his last two starts, perhaps indicating that his luck is souring. But the ridiculous unsustainability of his performance in no way diminishes the value of what he's done.
2. Albert Pujols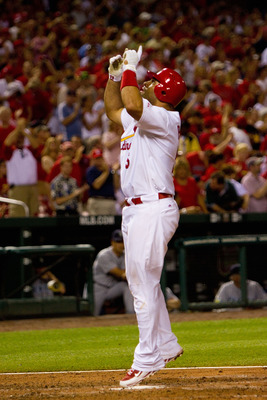 Featured writer: Samantha Bunten
Already a three-time National League MVP, Pujols is once again putting on a performance worthy of accolades in 2010.
Pujols may not be leading the NL in most major statistical categories so far this season, but he's firmly entrenched in the top ten in average and in the top five in HRs (18) and RBIs (57), and he does have the league's top OPS (.994). His defensive skills and off-field reputation only strengthen his MVP case.
The only hitch? If his Cardinals don't make the playoffs, he's going to need bigger numbers at the end of the season than he has at the moment to take home that trophy. But I wouldn't bet against him.
1. Adrian Gonzalez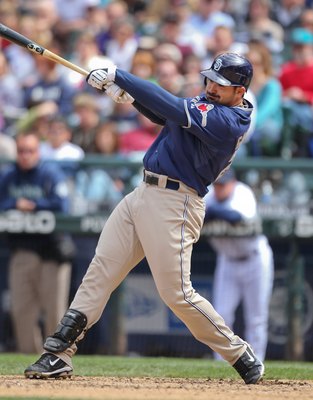 Featured writer: Andrew Brining
San Diego is MLB's biggest surprise, largely because of first baseman Adrian Gonzalez.
The two-time and reigning Gold Glover is superlative in every sense of the word. You could point to his numbers as proof—.302 BA, .931 OPS, 42 R, 16 HR, 51 RBI, 44 BB, and just 57 K in an anemic offense whose home is a cavernous yard.
But I'm not a pure numbers guy—most valuable means subjectivity enters the picture via individual import to overall success. That's where Gonzalez walks away with the award.
His 3.3 wins above replacement lead NL hitters (minimum 10 AB); nobody else on the Fathers is inside the top 40.
Every other squad that's over .500 puts at least two players on the list except the Dodgers (who'd have three if Andre Ethier and Matt Kemp were playing to form). Meanwhile, Adrian stands alone and the Friars boast the NL's best record.
Full Results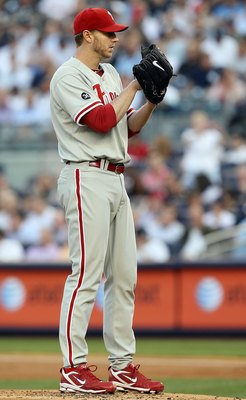 1. Adrian Gonzalez—199 (6)
2. Albert Pujols—196 (6)
3. Ubaldo Jimenez—152 (7)
4. Joey Votto—148 (1)
5. David Wright—93 (1)
6. Andre Ethier—67
7. Troy Glaus—64 (2)
8. Scott Rolen—51
9. Ryan Howard—46
10. Martin Prado—43
11. Roy Halladay—35
12. Ryan Braun—31
13. Aubrey Huff—26
14. Ryan Zimmerman—25
15. Corey Hart—21
16. Adam Wainwright—20
17. Josh Johnson—18
18. Marlon Byrd—17
19. Matt Holliday—15
20. Jonny Gomes—13
21. Jason Heyward—12
22. Jayson Werth—10
23. Mike Pelfrey—9
24. Chase Utley—7
T25. Andrew McCutchen—6
T25. Jose Reyes—6
27. Troy Tulowitski—5
T28. Adam Dunn—3
T28. Casey McGehee—3
T30. Carlos Gonzalez—2
T30. Tim Lincecum—2
T30. Angel Pagan—2
T30. Colby Rasmus—2
T30. Brian Wilson—2
T35. Brandon Phillips—1
T35. Hanley Ramirez—1
T35. Justin Upton—1
Voting on a 14-9-8-7...etc. basis. First-place votes are in parentheses.
Recent FC Polls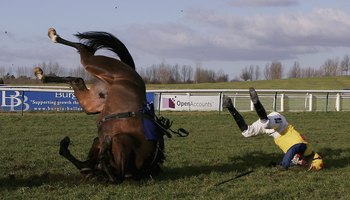 Keep Reading

San Diego Padres: Like this team?