2010 NFL Preview: Predicting the QB Depth Charts of All 32 Teams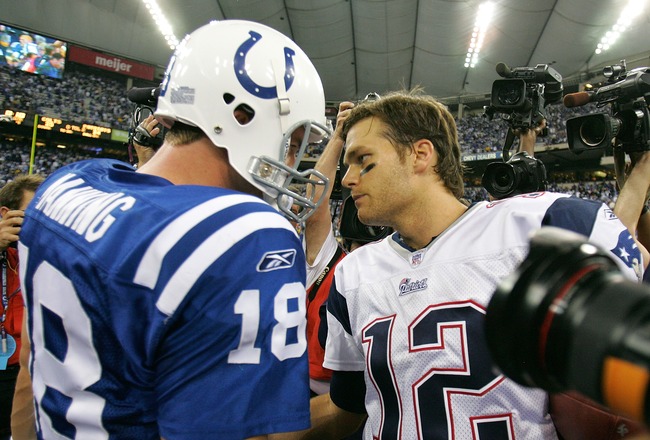 With training camp and the 2010 NFL season just around the corner, it's about that time when position battles will begin to heat up, not only for the starters, but for the backups as well.
The quarterback is arguably the most important position in football, as he is not only relied on for calling the plays, but also for being a leader. While it's easy to predict the starting quarterback for most teams entering training camp, there are many questions that remain unanswered for some teams as far as who will fill the backup roles.
With the number of intense hits from defenses, it's no surprise when starting quarterbacks experience injuries during the middle of the season—forcing their coaches to call on the backups. A backup never knows when his time to shine may come and has to be prepared to fill in at any moment—just look at Chad Henne.
It's important for teams to consider quarterbacks for their roster who can be relied on at any time—which is why the selection process is so important during training camp. Here's a prediction for the quarterback depth charts of all 32 teams.
Arizona Cardinals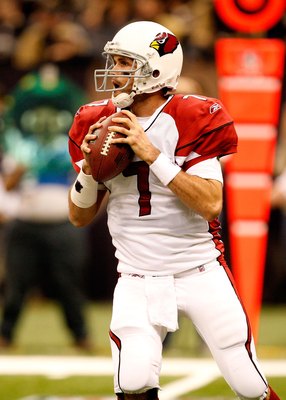 With Kurt Warner out of the picture, Matt Leinart's job as the starter appeared to be safe—that is, until the Cardinals signed Derek Anderson.
Prediction:
1. Matt Leinart
2. Derek Anderson
3. John Skelton
Atlanta Falcons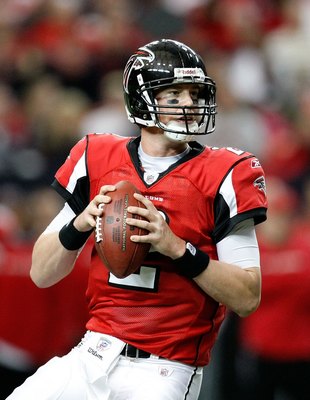 No debate here on who the starting quarterback will be for the Falcons in 2010.
Prediction:
1. Matt Ryan
2. Chris Redman
3. John Parker Wilson
Baltimore Ravens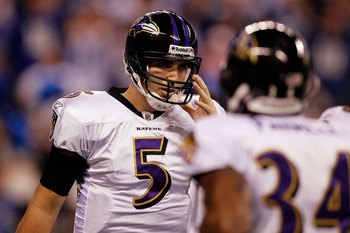 Yes, Joe Flacco's job in Baltimore is safe for years to come, but the future of Troy Smith is yet to be determined.
Prediction:
1. Joe Flacco
2. Marc Bulger
3. John Beck
Buffalo Bills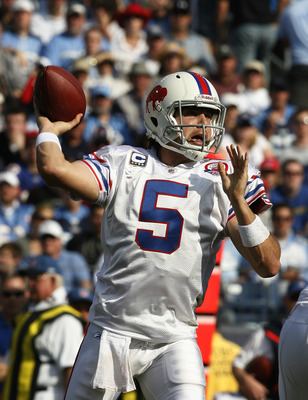 The starting job seems to be up for grabs in Buffalo, which should make for an interesting training camp.
Prediction:
1. Trent Edwards
2. Ryan Fitzpatrick
3. Brian Brohm
Carolina Panthers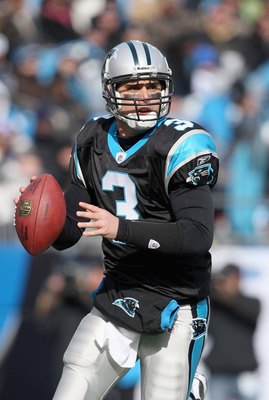 Jimmy Clausen may be the face of the future in Carolina, but after a strong 4-1 finish last season, the Panthers will see what Matt Moore can do as a full-time starter.
Prediction:
1. Matt Moore
2. Jimmy Clausen
3. Hunter Cantwell
Chicago Bears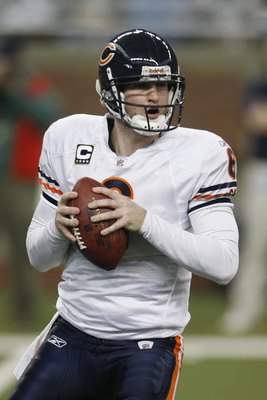 After his first full year in Chicago, expect Jay Cutler to have a big year with the Bears in 2010.
Prediction:
1. Jay Cutler
2. Caleb Hanie
3. Dan LeFevour
Cincinnati Bengals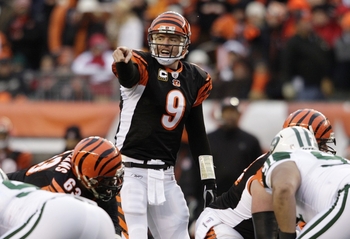 The Bengals added key weapons on offense during the offseason to improve last year's 26th-ranked passing unit—and they will go as far as Carson Palmer is willing to take them.
Prediction:
1. Carson Palmer
2. J.T. O'Sullivan
3. Jordan Palmer
Cleveland Browns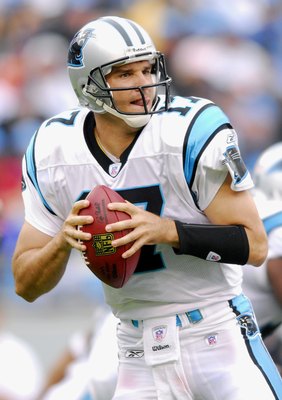 While Colt McCoy may be the future quarterback of the Browns, Jake Delhomme appears to be the leading candidate for at least 2010.
Prediction:
1. Jake Delhomme
2. Seneca Wallace
3. Colt McCoy
Dallas Cowboys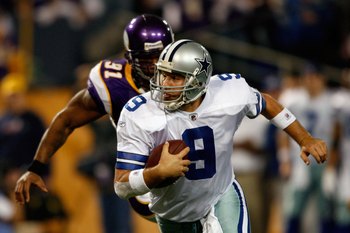 Tony Romo set numerous individual records with the Cowboys in 2009 and could be listed as a 2010 MVP candidate.
Prediction:
1. Tony Romo
2. Jon Kitna
3. Stephen McGee
Denver Broncos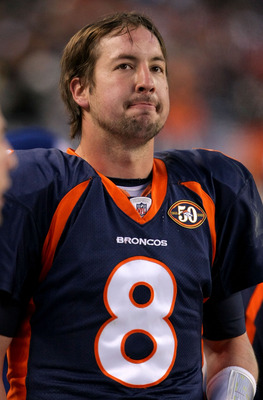 Expect an intense battle at quarterback during Broncos training camp one month from now. The job is Kyle Orton's to lose—for now, he appears to be the favorite.
Prediction:
1. Kyle Orton
2. Brady Quinn
3. Tim Tebow
Detroit Lions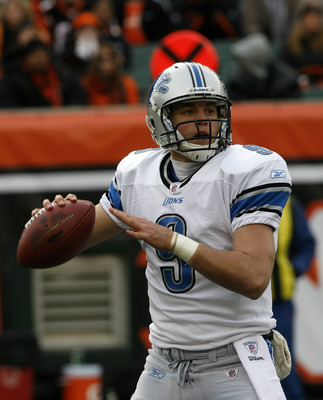 No longer a rookie, many are excited to see the type of connection Matthew Stafford can establish with Calvin Johnson in 2010.
Prediction:
1. Matthew Stafford
2. Shaun Hill
3. Drew Stanton
Green Bay Packers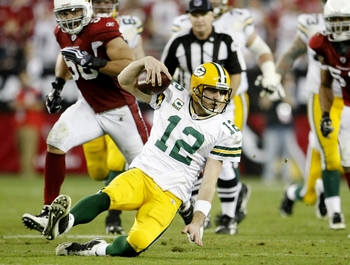 In his first two full seasons as the starter for the Packers, Aaron Rodgers has thrown for a combined 8,472 yards and 58 touchdowns.
Prediction:
1. Aaron Rodgers
2. Matt Flynn
3. Graham Harrell
Houston Texans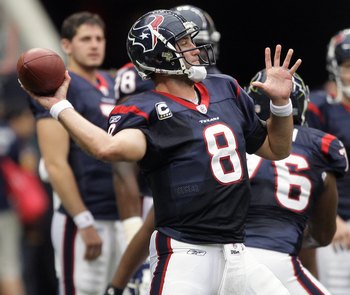 Last season proved that Matt Schaub has emerged as one of the top quarterbacks in the NFL.
Prediction:
1. Matt Schaub
2. Dan Orlovsky
3. John David Booty
Indianapolis Colts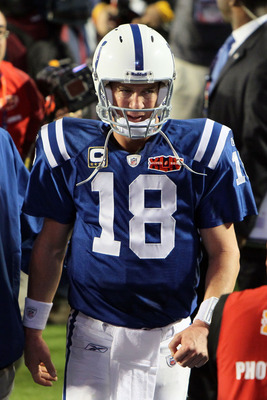 After the Colts' loss to the Saints in the Super Bowl, Peyton Manning's job as the starting quarterback in Indy may be in jeopardy.
Just kidding.
Prediction:
1. Peyton Manning
2. Curtis Painter
3. Tom Brandstater
Jacksonville Jaguars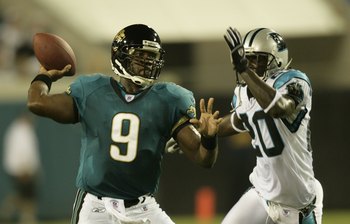 This season could be the deciding factor on whether or not David Garrard is the starting quarterback for the Jaguars beyond 2010.
Prediction:
1. David Garrard
2. Luke McCown
3. Trevor Harris
Kansas City Chiefs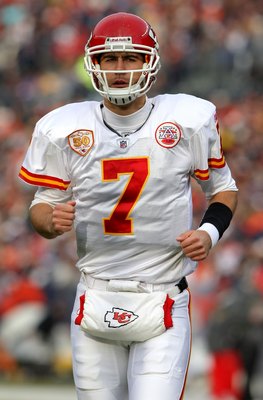 Even if Brodie Croyle believes he has what it takes to be the starter in Kansas City, the Chiefs have invested too much money in Matt Cassel not to make him their number one quarterback.
Prediction:
1. Matt Cassel
2. Brodie Croyle
3. Tyler Palko
Miami Dolphins
It's hard to believe that, not too long ago, Chad Pennington was the hero in Miami. After his third shoulder surgery, his future with the Dolphins is unclear.
Prediction:
1. Chad Henne
2. Pat White
3. Tyler Thigpen
Minnesota Vikings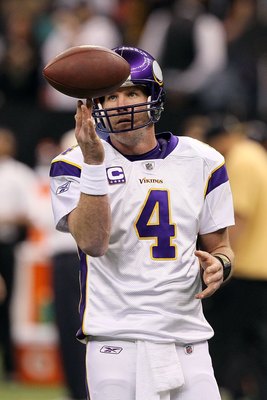 Come on, everybody knows Brett Favre's coming back—no matter what he says. Unfortunately, Sage Rosenfels may be on his way out of Minnesota.
Prediction:
1. Brett Favre
2. Tarvaris Jackson
3. Joe Webb
New England Patriots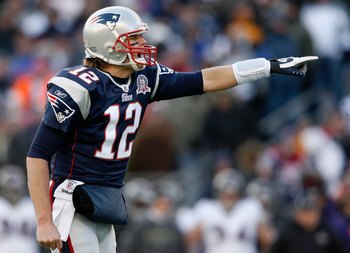 As long as Tom Brady is healthy, there's no competition for the starting job at quarterback in New England.
Prediction:
1. Tom Brady
2. Brian Hoyer
3. Zac Robinson
New Orleans Saints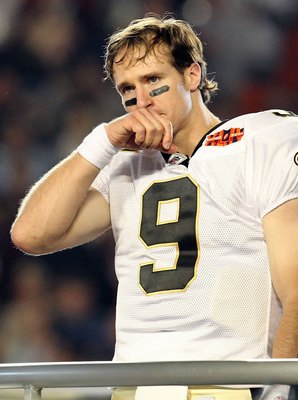 Drew Brees—enough said. The battle for backup will be more interesting in training camp, as the Saints appear to be interested in signing free agent quarterback Patrick Ramsey.
Prediction:
1. Drew Brees
2. Patrick Ramsey
3. Chase Daniel
New York Giants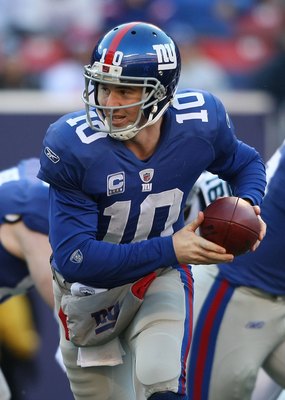 Instead of backing up Peyton in Indianapolis, Jim Sorgi will now be the backup to Eli in New York.
Prediction:
1. Eli Manning
2. Jim Sorgi
3. Rhett Bomar
New York Jets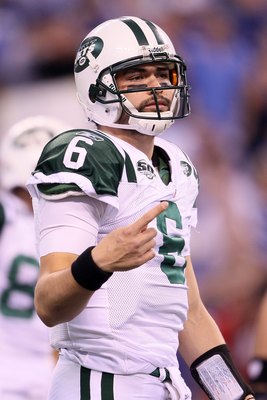 With one year of experience under his belt, expect Mark Sanchez to continue shining as quarterback for the Jets.
Prediction:
1. Mark Sanchez
2. Kellen Clemens
3. Erik Ainge
Oakland Raiders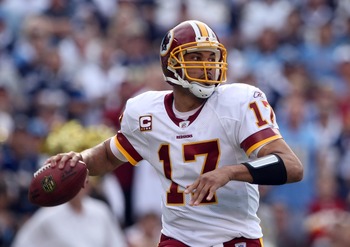 Finally, a quarterback situation in Oakland not involving JaMarcus Russell. The acquisition of Jason Campbell is what Raider Nation calls a "major upgrade" at quarterback.
Prediction:
1. Jason Campbell
2. Bruce Gradkowski
3. Kyle Boller
Philadelphia Eagles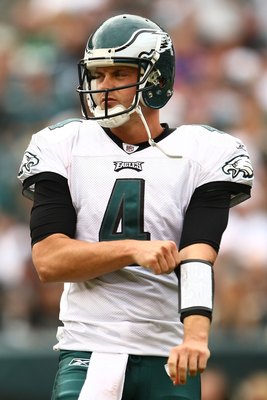 Kevin Kolb may be the player with the most to prove in 2010 now that the Eagles have fully invested in him as their quarterback of the future.
Prediction:
1. Kevin Kolb
2. Michael Vick
3. Mike Kafka
Pittsburgh Steelers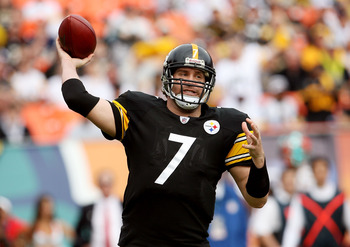 Byron Leftwich appears to be the favorite at quarterback until Ben Roethlisberger returns from suspension.
Prediction:
1. Ben Roethlisberger
2. Byron Leftwich
3. Dennis Dixon
4. Charlie Batch
San Diego Chargers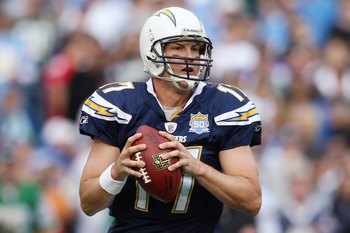 As long as Philip Rivers is around, there's no quarterback competition in San Diego.
Prediction:
1. Philip Rivers
2. Billy Volek
3. Jonathan Crompton
San Francisco 49ers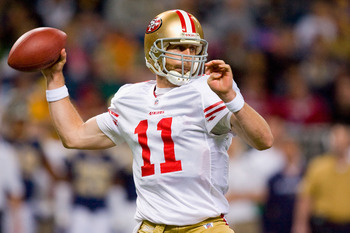 Despite the 49ers signing former No. 1 pick David Carr in the offseason, the starting job is Alex Smith's to lose.
Prediction:
1. Alex Smith
2. David Carr
3. Nate Davis
Seattle Seahawks
Don't be surprised if J.P. Losman outperforms Charlie Whitehurst in training camp to obtain the backup spot.
Prediction:
1. Matt Hasselbeck
2. J.P. Losman
3. Charlie Whitehurst
St. Louis Rams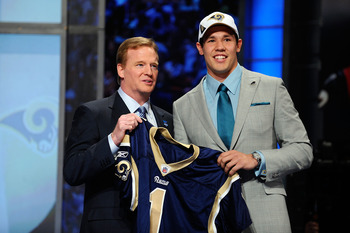 The smart move for the Rams would be to let Sam Bradford sit for a year and learn from A.J. Feeley.
Prediction:
1. A.J. Feeley
2. Sam Bradford
3. Keith Null
Tampa Bay Buccaneers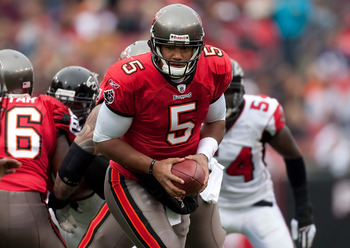 Josh Freeman saw some unexpected playing time in 2009 as the starter for the Buccaneers, and now, it's his time to shine in Tampa Bay.
Prediction:
1. Josh Freeman
2. Josh Johnson
3. Rudy Carpenter
Tennessee Titans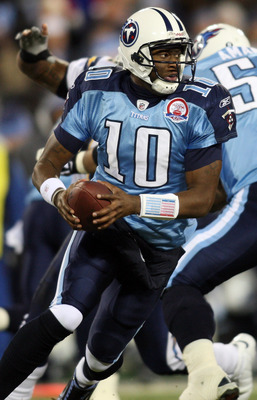 After a disastrous 0-6 start last season, Vince Young was a key factor to the Titans finishing 2009 8-8, falling just shy of the playoffs.
Prediction:
1. Vince Young
2. Kerry Collins
3. Chris Simms
Washington Redskins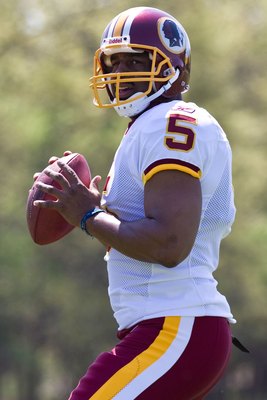 Who would have thought—Donovan McNabb in a Redskins uniform? With all due respect, there's not much quarterback competition on this roster as long as No. 5 is healthy.
Prediction:
1. Donovan McNabb
2. Rex Grossman
3. Colt Brennan
Keep Reading