Top 15 Candidates to Inherit the Complaining Crown from 'Sheed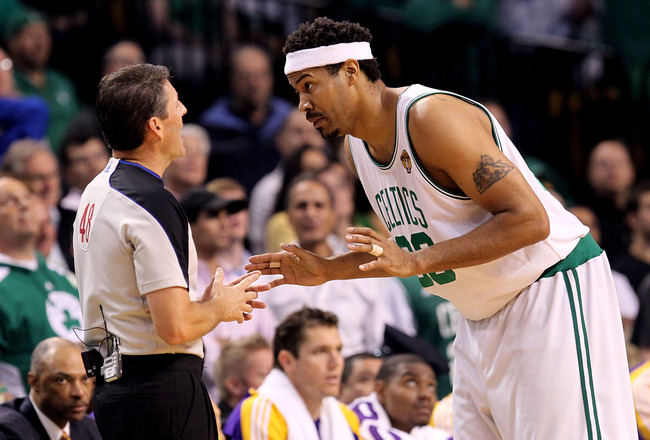 He is the NBA's all-time leader in technical fouls. He is the only player ever to be ejected from the McDonald's High School All-American Game. He received 41 technicals in a single season. He is Rasheed Wallace, and he is the king of complaining. He may not have invented the art of whine, but he certainly perfected it.
With rumors spreading that Wallace has picked up his last T, it appears that the throne will be vacated. It is time, then, to decide who will take his exalted place as a referee's biggest headache.
There are 15 worthy candidates for the throne. Some have a history of accumulating technicals at a Rasheedian pace, while others do their complaining a bit more subtly. Truth be told, there are far more than 15 possible heirs to the whining crown, because, as Jeff Van Gundy notes, no NBA player ever thinks that he just committed a foul.
As the NBA tells us, "there can only be one." Top complainer, that is.
15. Manu Ginobili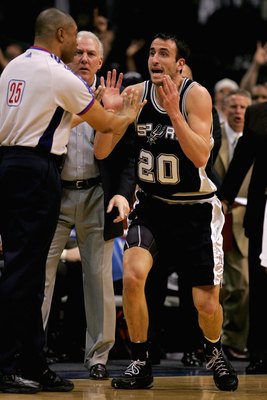 If this were a list of the NBA's greatest floppers, Manu would certainly have a claim to the top spot. Alas, this is not the case, and the Spurs' sixth man will have to settle for the 15th spot. Hopefully he doesn't complain about it.
Like most of the Spurs, Ginobili has gained a reputation as a chronic whiner. His whining takes place most often after a failed flop. As one of the more prolific floppers in history, he is appalled when his top defensive move fails.
Manu is among the more successful complainers in the league, as his tirades rarely result in technicals. This is what separates him from the men who will follow him on this list: he complains, but he doesn't let it go too far. Anyone who is not willing to go too far can not be a worthy successor to Rasheed's throne.
14. Joakim Noah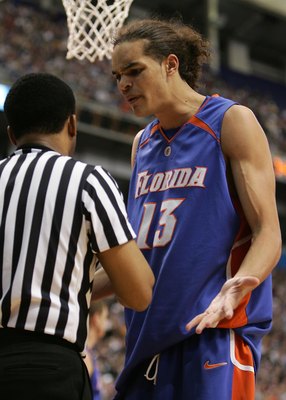 Ah yes, the first player on the list that other teams love to hate. Noah gets booed in every NBA arena, and one of the major factors in this nationwide hatred is his incessant whining.
Some players whine about calls on offense, and others on defense. Noah is among the latter. As a player who brings little to the table offensively, he rarely encounters a whine-worthy situation on offense.
However, as a person who prides himself on defense and rebounding, the other end of the court provides him an opportunity to showcase his real talent: complaining.
13. Dwight Howard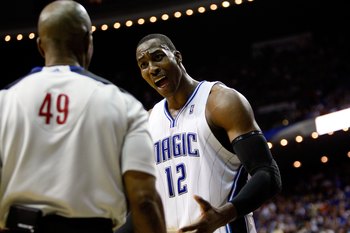 You wouldn't think that a player who does not cuss could possibly match Rasheed technical-for-technical. That's what makes Dwight Howard so impressive. His complaining is so extreme that it warrants T's even without using Rasheedian language.
Howard is the first person on the list who lets his complaining on one end of the court affect his game on the other. When Howard doesn't get a call on offense, he often spends so much time whining to the referee that he never gets back on defense.
For a two-time Defensive Player of the Year, this would seem to be criminal.
The next time you watch the Orlando Magic, count the number of times that Howard fails to get back on defense due to his whining and allows an opposing layup as a result. Only then will you truly appreciate his commitment to complaining.
12. Paul Pierce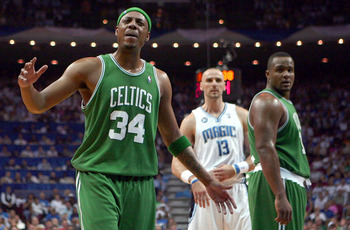 Just as Manu would likely top a list of best floppers, Paul Pierce would almost assuredly top the list of most dramatic, Vince Carter-esque reactions to fouls. Remember, this is a player who was taken off the court in a wheelchair, only to later jog out of the locker room like he were suddenly 10 years younger.
Unlike the previous four entries on this list, Paul Pierce has a special whining face. You see it every time he approaches a referee. His face scrunches up while his back hunches down to reach the referee's height, and Paul starts in with another complaint.
Pierce is the first player on this list who played with the legendary Rasheed. You have to wonder what happened in practice when one fouled the other. It must have been a sight to see, two of the best whiners in the game attempting to out-immature each other.
11. Chris Paul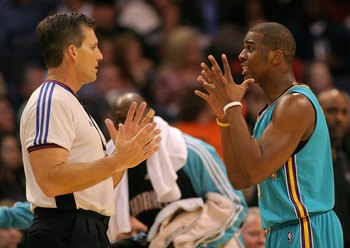 Perhaps one of the more underrated whiners in the NBA, Chris Paul can do it with the best of them. Like the greats, he has the complaining face. He also has an advantage that few whiners before him have had: his six foot height.
Among the all-time great complainers, only Danny Ainge was able to look right at a referee while whining. It is an advantage that can not be overstated, because it is far easier to get the attention of an official when he doesn't have to look up to see your face.
This subtle advantage for Chris Paul may not seem like much, but it is what separates him from everyone else on this list. Every time Paul complains during a game, while looking directly into an official's eyes, Danny Ainge is somewhere at a Boston Celtics game. And make no mistake—he's smiling.
10. Amar'e Stoudemire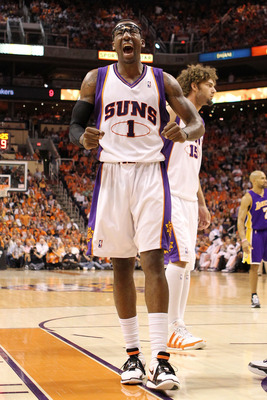 We begin the top 10 with a most interesting player: Amar'e Stoudemire. Now, it should be noted that Amar'e is not an extreme on-court complainer. Indeed, he is just above average in that area. Where he does excel, however, is in his conduct off the court.
One of the staples of Rasheed's whining was that he carried it all the way to the locker room and to postgame press conferences. 'Sheed didn't stop complaining about his last foul until he got the next one. Stoudemire, while certainly not on Wallace's level, carries on his legacy.
You have to appreciate a guy who can not only get a ref going while on the court, but who can also continue to make an enemy of him after the game. This staple in Rasheed's legacy lives on through Amar'e.
9. Sasha Vujacic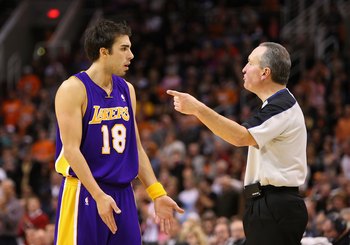 He is one of the most hated people in the NBA—this despite the fact that he is a very minor role player. Maybe it's because he named himself "The Machine," or maybe it's because he whines like you wouldn't believe.
Sasha Vujacic probably leads the league in whines per minute. For someone who is rarely on the court, The Machine certainly finds time to complain. The next time you watch a Laker game, count the number of times that Sasha runs up to a referee to plead for a call. Then, at the end of the game, look at the box score. I'm willing to bet that you will have counted more whines than the box score counted minutes played for Vujacic.
Somebody please tell Sasha Vujacic that role players are out there for just a few minutes, and their only goal is to keep a game from getting out of hand before the Kobes and Gasols return to the game. They certainly aren't out there to complain like they're fighting for their freedom.
8. Dwyane Wade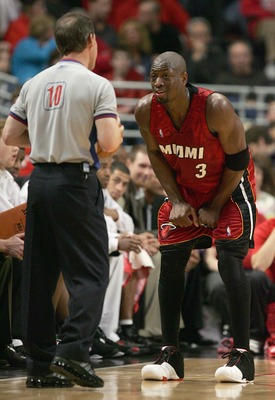 While Mark Cuban would make the case that Wade never has an opportunity to whine, because he gets every call, I see it differently. Like Paul Pierce, Wade has a special complaining face. When his features get all scrunched up, referees beware.
"Flash" is of that rarest breed of players who consistently complain at both ends of the court. Unlike Amar'e Stoudemire and Dwight Howard, who tend to do their whining on offense, and Joakim Noah, who handles his complaining on defense, Wade is an equal-opportunity complainer.
It is this ability to complain consistently at both ends of the floor that makes Dwyane Wade one of the NBA's marquee whiners. He may not be as extreme in his complaining, but his nice balance of whining and his tendency to complain for all 48 minutes put him firmly in the top 10.
7. Kendrick Perkins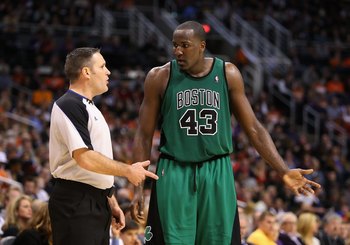 Like Pierce, Kendrick Perkins is another natural whiner who had the good fortune of learning from the best. With his signature throw-your-hands-in-the-air move after every foul, Kendrick is an easy pick for a potential heir.
The master of the double technical, Perkins is quite similar to Noah in that almost all of his complaining is done at the defensive end. But Perkins doesn't allow that one-dimensional complaining to hinder his level of proficiency.
With a year of training from the master, there is no question that we are in store for some major Kendrick complaining over the next few years. It is just a shame that Rasheed only had one season with this man; with a couple of more years in the "Rasheed Wallace Complain Until Every Referee Has A Bounty Out On You" school, you would be looking at your number one.
6. Anderson Varejao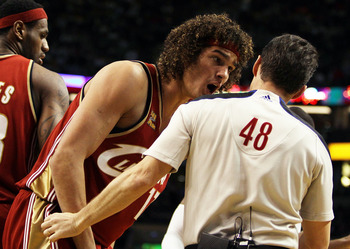 He is the only person who opposing fans love to hate more than Sasha Vujacic. Not coincidentally, he is also a bigger whiner than The Machine. When this defensive-minded, floppy-haired Brazilian gets it going in a referee's face, it is a sight to see.
If LeBron James leaves Cleveland for greener pastures next season, then the only reason that I'll be watching the Cavs is to see Varejao. I can only imagine the level of whining that he'll reach if the Cavaliers start to lose without James.
In spite of his prolific complaining and hate from opposing fans, Anderson Varejao is not even the worst whiner on his team. As you'll see later, there is a notable Cavalier who tops even this whiniest of role players.
5. Kobe Bryant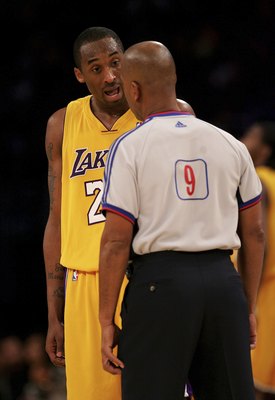 As we enter the top five whiners, we begin to notice a trend: nearly every great player is on the list. The game's greatest player is no different. While Kobe may not whine to quite the same degree as many others below him on the list, it is the forcefulness of his complaining that puts him near the top.
Every NBA player who has played for at least one season can be called a whiner. However, not every NBA player has the ability to pick up technical fouls at as fast a rate as Kobe. And why not—if he's going to be the best at most everything, why not include T-inducing complaining?
For all young players who are studying and copying Kobe's game, watch for his favorite technical-drawing move: the giant clap. It often occurs when he gets stripped going to the basket, or when he is called for an offensive foul. The second Kobe smacks his hands together with the volume of a Phil Jackson whistle, referees are right there making that " T" with their hands.
4. Pau Gasol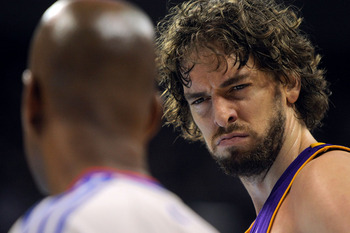 Here is a man with a true advantage to accompany his natural gift for whining; he speaks another language. Pau Gasol could unleash the most vulgar, disgusting, offensive words known to man on a referee, and nobody would know it.
While you could argue that teammate and fellow complainer Kobe Bryant has this same advantage, since he speaks Italian, I believe that Pau uses it more often. Kobe unloads that big clap, followed by some good ol' English expletives, and he picks up technicals.
Pau does not pick up these T's, although not for a lack of effort. The only reasonable explanation is that he is sending some Spanish the way of the referee.
It should also be noted that Pau is the second of three players on this list who allows his whining to directly affect his play. Like Dwight Howard, he is just as likely to follow a no-call with complaints as he is to get back on defense.
3. LeBron James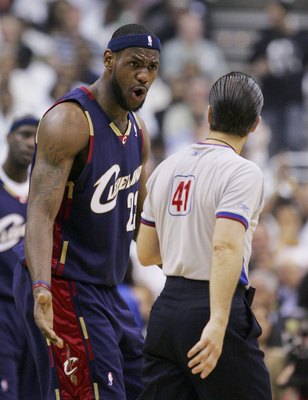 Yes, the game's most talented player has followed contemporary greats Kobe Bryant, Dwight Howard, and Dwyane Wade as prolific complainers. It's almost like it's in the genes of every great player today.
LeBron lacks a truly recognizable complaining face. Maybe that's a consequence of him being such an easy-going guy. However, he follows up that disappointment with a different, more original signature move: jumping up and down. A lot.
I guess when you can get higher in the air than any NBA player before you, then you show that talent off whenever you can. Even when complaining. When LeBron gets called for a foul, especially on defensive, he tends to react by pogo-ing up and down while screaming at the referee.
Such originality overcomes LeBron's lack of a complaining face, and it gives him a spot in the top three.
2. Tim Duncan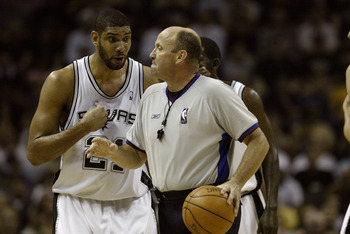 They call Tim Duncan boring because his game is so simple yet so effective. You always know what's coming, but you can't stop it. However, that description applies to another part of Timmy's game: his complaining.
If death, taxes, and Lady Gaga doing something stupid are the most sure things in life, then Tim Duncan's signature whining moves come in a close fourth. You've all seen the moves: Timmy throws his arms out to his sides, parallel to the ground, and makes the legendary "Duncan Face."
You know you've made it as a memorable whiner when they name your complaining face. So congrats, Tim, on being the game's second greatest whiner. However, even a legend of cry like Tim Duncan doesn't come close to our number one...
1. Josh Smith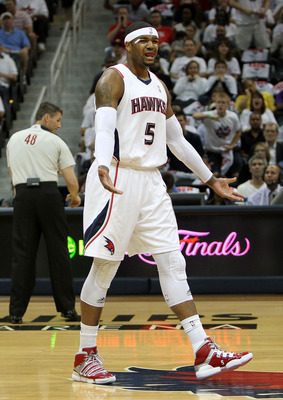 I give you the NBA's greatest complainer, and the heir to 'Sheed's whining throne, Josh Smith.
Smith puts together the entire complaining package in a way only Rasheed and Bill Laimbeer have before. He has the special face reserved just for whining. He is a constant threat to collect a technical. And he is also the captain of the Allen Iverson "Complain So Much Running Up the Court That You Blow Your Defensive Assignment" All-Stars.
It's easy to look at Smith's too-early entrance into the NBA from high school and call him just another whiny little kid. He's much more than that. While his offensive game and his man-to-man defense are far from polished, his ability to push any referee over the edge is as mature as anyone's.
Ladies and gentlemen, please stand and recognize the man most likely to claim a throne previously inhabited by such legends as Danny Ainge, Bill Laimbeer, and Rasheed Wallace: Josh Smith.
Keep Reading