Black Hole No More: Why the Oakland Raiders Will Make the 2010 Playoffs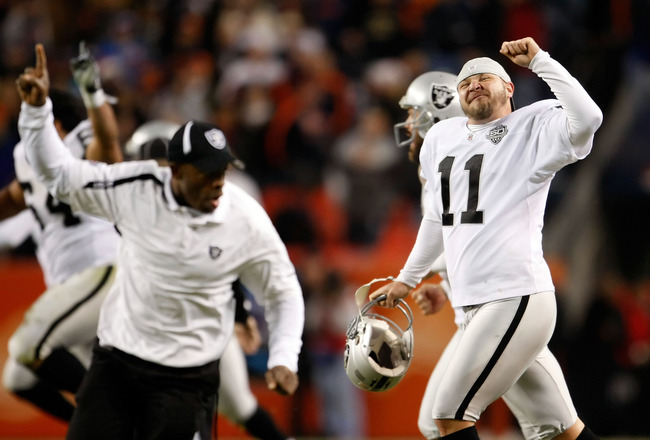 If you are going to read this article I need you to stop laughing right now. I know what you are thinking, "Here we go again, the Raiders added some players and just like every year the fans think they are back."
Others might be saying, "Seriously? It's the middle of the day and you are already drunk?."
After a seventh consecutive season of losing 11 games or more the Raiders need a perfect storm to get back in the playoffs. Well that storm is developing and here are a few reasons why the Raiders will be playoff bound in 2010.
Jason Campbell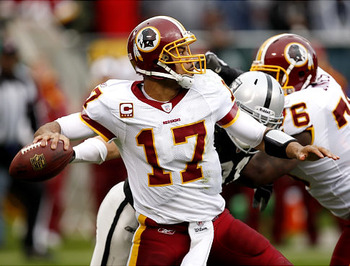 I know what everyone is saying: Jason Campbell is not Peyton Manning, Brett Favre or Tom Brady. He alone can't lead his team to the playoffs.
I don't care that he isn't Manning or Favre, I just like the fact that he isn't JaMarcus Russell.
I supported Russell while he was a Raider and even today I believe Russell has what it takes to be a starting quarterback in the NFL.
Russell never had an offensive line, a true number one receiver and never had consistent coaching.
Luckily for the Raiders they picked up a guy who had the same problem but put up better numbers.
We don't need Manning or Brady numbers, we need Campbell numbers which are far better than anything the Raiders have had.
Defense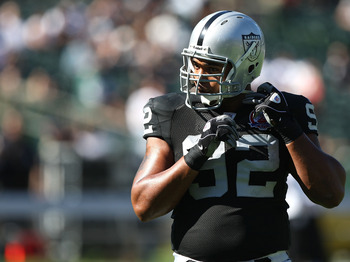 The Raiders' offense last year was offensive.
They had too many three and outs last year and that made it hard on the defense. When your punter is on the field more than your than your field goal kicker it's not a good sign.
If Jason Campbell and company can keep the defense rested then the the Raiders will have a top ten defense.
This is a unit that is very talented and has the ability to keep teams in check. Stopping the run was an issue last year, but the Raiders have added key additions to address the situation.
Their secondary is solid with Nnamdi Asomugha, Michael Huff, Tyvonn Branch, Mike Mitchell and Chris Johnson.
Their linebacking group will be built to stop the run and get to the quarterback. Rolando McClain, Kamerion Wimbley and Trevor Scott should be a major upgrade over last years unit.
The defensive line will be the biggest key to the defense and should be the most improved unit. The Raiders have a good mix of veteran guys and young players.
Richard Seymour, Tommy Kelly, John Henderson and Chris Cooper will be the veteran players on the line. Each player still has plenty of gas left in the tank to get the job done.
Matt Shaughnessy, Desmond Bryant, Jay Richardson and Lamar Houston are the young guys on defense that are learning on the job. These guys will bring competition and energy to the defensive line.
Offensive Line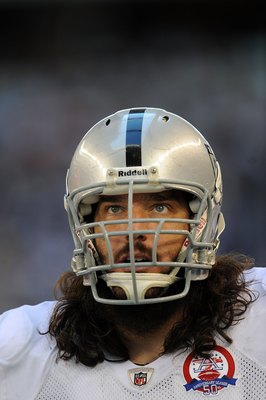 This unit was dismantled early in the season by injuries. Khalif Barnes who was supposed to start at one of the tackle positions was injured before the season even started.
Robert Gallery—the Raiders' best lineman—missed eight of the first 10 weeks of the season. The Raiders were not very deep on the offensive line, and it showed.
This year the Raiders have kept their strongest players along the offensive line and have drafted two pieces who will help with depth today, and help solidify their strength in the future.
The Raiders' offensive line should be much improved in 2010.
Running Game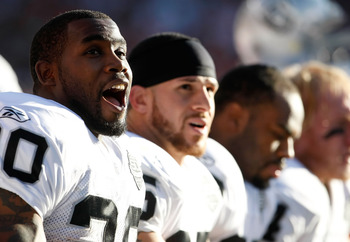 With a better quarterback and better offensive line the Raiders' running game should improve.
The Raiders have decided to go with a two back system instead of a three back system. This will prove to be a great move for them.
Michael Bush and Darren McFadden can be a tough tandem to stop. They both have the size, speed and strength to help the Raiders offense move the ball.
Run DMC and Jam Master Bush will make life hard on opposing defenses.
Receivers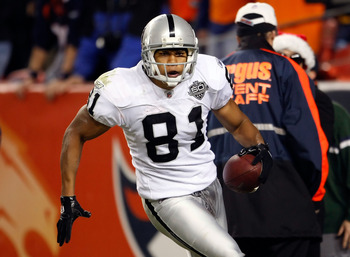 The Raiders will have a better quarterback, better offensive line and a mean running game. The receivers don't have to catch 100 passes each to get the Raiders to the playoffs.
If Darrius Heyward-Bey, Chaz Schilens and Louis Murphy can all be in the 40-60 catch range then the Raiders have all they need.
The Raiders will have a tough defense and a strong running game, they don't need to be the Colts or Saints.
Their receivers are young and hungry, and their production will be strong enough to get the Raiders in the playoffs.
Hue Jackson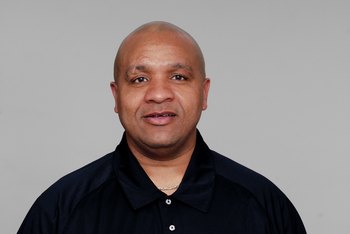 The man in charge of making this offense move will be Hue Jackson in 2010. I shouldn't have to say much more than that. Some people might say "who?" but I think Raider fans will be very excited about this.
Tom Cable was calling the plays last year and it wasn't pretty. Going from Cable to Jackson is like going from basic cable to Direct TV with the NFL Season Pass.
The Raiders will have on offensive in 2010 that will get them into the playoffs.
Josh McDaniels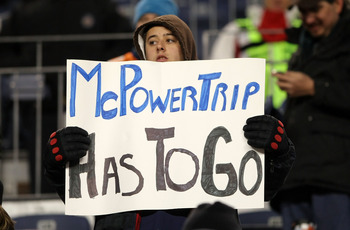 Perhaps the Raider Nation's favorite coach isn't on the Raiders. Josh McDaniels deserves plenty of thank you letters from Raider fans.
Come on guys, lets be honest here. Two years ago the Broncos had a top five offense and needed a defense to be a Super Bowl contender.
If the Broncos had last year's defense with Mike Shannahan's offense, they could of been Super Bowl bound already.
Two years ago Raider fans and players had to stop Jay Cutler and Brandon Marshall. In 2010 we have to stop Kyle Orton and...Eddie Royal?
On the Broncos website they have a link to email the team suggestions: suggestions@broncos.nfl.net . I say every fan of the Chargers, Chiefs and Raiders should suggest that they keep McDaniels as long as possible maybe upgrade him to GM.
San Diego Chargers Losing Players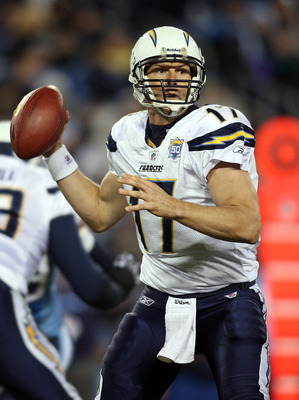 As long as the Chargers have Phillip Rivers they will always contend for the AFC West Title. It won't be as easy without LaDanian Tomlinson, Vincent Jackson and Marcus McNeill not playing in San Diego this year.
The Chargers are hoping Ryan Matthews can step up big time, but he'll have his rookie moments. The Chargers may be in danger of losing their charge in 2010.
Because of all the question marks in San Diego the AFC West is up for grabs and it's a three team race. The Chargers, Raiders and Chiefs could all claim the AFC West Title in 2010. Sorry Bronco fans, but hey, at least you have Tim Tebow to help you sell more jerseys.
For more NFL news and notes follow me on Twitter: http://twitter.com/NFLWorldWide
Keep Reading

Oakland Raiders: Like this team?