The Top 10 Quarterbacks in SEC History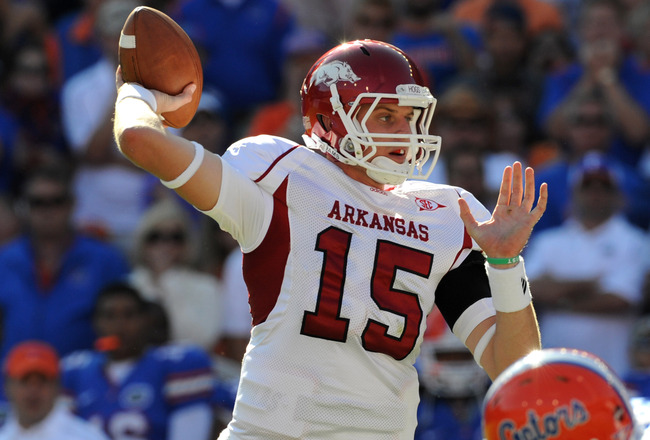 Football season in the Southeast is on the horizon. In about two months, legendary programs will take the field to bring glory to their school and conference.
The SEC has won the last four national championships, and Alabama and Florida are favorites to make repeat runs this year. SEC teams mostly win with defense and speed (see Alabama last year), not with great pro style signal callers.
However, in the 77 year history of the conference, many quarterbacks have shone on the college gridiron and at the next level.
Here's a picture of the SEC's best QB this year: Ryan Mallett of Arkansas.
10. Bert Jones LSU 1970-1972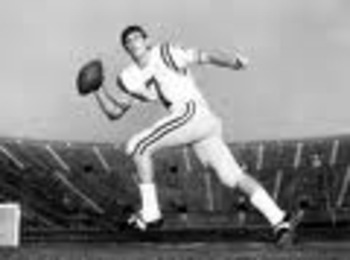 Son of NFL tailback and LSU legend Dub Jones, Bert Jones had a lot of pressure on him when he arrived at Baton Rouge in 1970. Jones was a frat boy (Kappa Sigma) and rode the bench until the end of his junior year. After that, he didn't miss a beat and led the Tigers to previously unknown levels of greatness.
He only threw for 3,225 and 28 touchdowns in his 17 game career, but Jones put LSU football on the map with a top ten finish in 1972 and a 28-8 thrashing of Ara Parseghian's Fighting Irish on ABC. He was LSU's first All-American quarterback that year and was named Sporting News College Football Player of the Year.
His stats weren't jaw dropping, but contemporary journalists described Jones' passes as "thunderbolts," and he's a living legend at LSU. He played ten years in the NFL, mostly with the Baltimore Colts, and was described by Bill Belichick as the best quarterback he had seen.
9. Babe Parilli Kentucky 1949-1951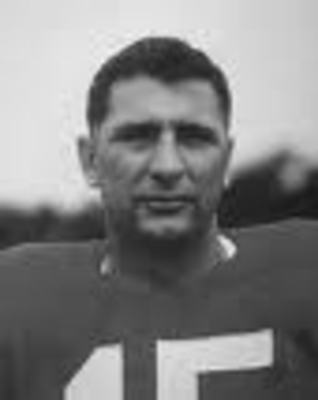 The oldest player on this list, Parilli was one of the best football players at the basketball crazy University of Kentucky.
One of the first running quarterbacks, Parilli ran the Bear Bryant's T formation perfectly. The offenses he ran averaged over 30 points a game in 1950 and 1951. However, he didn't just rack up the numbers, Parilli won big games for the Wildcats that led to a level of success that hasn't been matched.
He won the Orange and Cotton Bowl, including a win over number one Oklahoma, and led the Cats to their first SEC championship in 1950. Bear Bryant's greatest weapon at Kentucky took his speed and creativity first to the NFL and finally to the AFL where he was named to three Pro Bowls as a Boston Patriot.
8. Steve Spurrier 1963-1966 Florida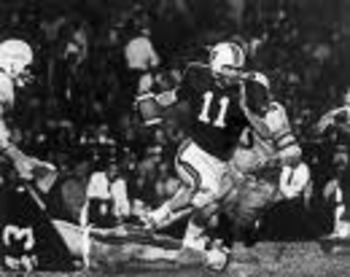 I had to dig through the Ol' Ball Coach's mom's attic to find this picture. Before he was a national championship winning coach and millionaire, Spurrier dominated the SEC at the University of Florida.
He will go down in history as the first SEC quarterback to win the Heisman Trophy, which helped him earn a high spot on this list. Highlights of his senior year also included an Orange Bowl win over Georgia Tech and a road victory against arch rival Florida State.
His career stats of 4,848 yards in 31 games are phenomenal for that run heavy era in the SEC when the forward pass was a swear word.
Spurrier went on to play ten years in the NFL for the 49ers and Buccaneers. He has found success coaching major college football at Duke, where he won an ACC title in 1989, Florida, where he won six SEC titles and a national championship in 1996, and South Carolina, where he currently coaches. His career record is 177-68-2 and this Heisman winner continues to impact the SEC.
7. Joe Namath Alabama 1962-1964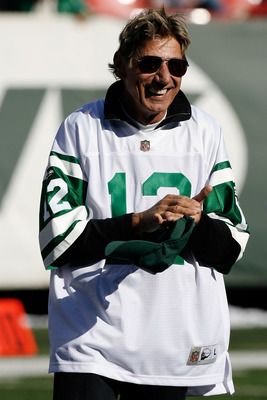 Joe Namath's NFL career overshadows his college success under the legendary Bear Bryant, but he was true winner during his time in Tuscaloosa. More modern players have eclipsed his stats (3,368 total offense in three years), but he led the Crimson Tide to a 29-4 record in three years as starting signal caller.
The easygoing Namath clashed with the famous disciplinarian Bryant, but exactly a season after his two game suspension, he led Alabama to win the 1964 national championship even after losing to the Texas Longhorns in the Orange Bowl.
He also went 3-0 against Alabama's bitter rivals, the Tennessee Volunteers, and edged Heisman winner Steve Spurrier in a 17-14 win over Florida in 1964.
Because of his success in Tuscaloosa, Joe Namath was drafted by the New York Jets and played 12 seasons there. He won Super Bowl III after guaranteeing the win over the heavily favored Baltimore Colts and was inducted into the Pro Football Hall of Fame in 1985 despite having more interceptions that touchdowns.
6. David Greene Georgia 2001-2004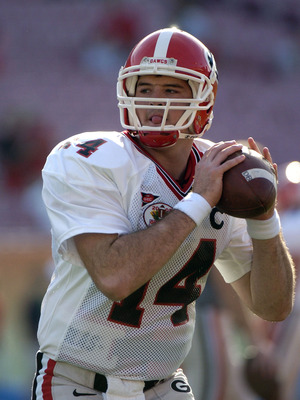 David Greene was an integral part of former Florida State defensive coordinator Mark Richt's rebuilding of Georgia' s football program. He excelled from his freshman year, being named SEC Freshman of the Year and throwing for over 2,700 yards, including a last minute touchdown to beat SEC East champion Tennessee.
As Greene improved, the Bulldogs continued to win, and he led them to their first SEC championship in 20 years in 2002. David Greene finished his career as the all time SEC lea,der in total offense with 11,270 yards and won 42 games which stood as the all time NCAA wins record for starting quarterback.
His 2002 to 2004 Georgia teams won three New Year's bowl games and finished in the top ten AP Poll. Greene may not have had the physical skills of guys above him in this list, but he won football games and utilized the talent around him including future NFL receivers Reggie Brown and Ben Watson. His NFL career was a bust, as Greene bounced around four NFL teams, not playing a down of pro football.
5. Pat Sullivan Auburn 1969-1971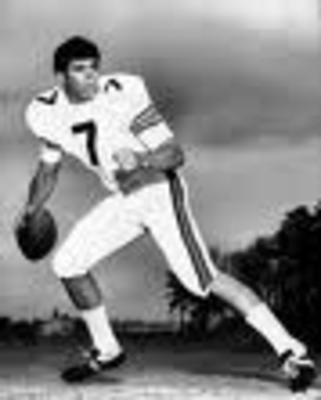 As soon as he set foot in Cliff Hare Stadium, Pat Sullivan was a star, beating Florida, Georgia, and Alabama his sophomore year. His pinpoint passing and uncanny abliity allowed him to lead the Tigers to two wins over Iron Bowl rivals Alabama, and he finished with 53 career touchdown passes, a SEC record at the time and still a school record.
Sullivan was a two time SEC player of the year and All-American. He even defeated SEC top ten quarterback Archie Manning in the 1970 Gator Bowl. However, his greatest achievement was being the first Auburn Tiger and second SEC quarterback to win the Heisman Trophy in 1971.
Sullivan played six years in the NFL for Atlanta and Washington before becoming Auburn's football commentator and quarterback coach. His success as an assistant coach helped Sullivan become the head coach at TCU, leading them to a bowl game. Pat Sullivan is currently head coach of the FCS Samford Bulldogs.
4. Archie Manning Ole Miss 1968-1970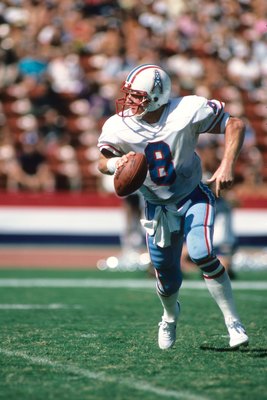 Archie Manning was so popular at Ole Miss that a song "The Ballad of Archie Who" was written about him, and Oxford, Mississippi native John Grisham used him as a character in his 1992 novel Pelican Brief.
However, he had game to back up his accolades. A four sport athlete in high school, Manning was the most athletic player and virtually a one man team at Ole Miss. This was exemplified by his 540 total yard performance in a one point loss to Bear Bryant's Alabama in 1969.
Manning built on his game that day and went on to become a two time All SEC performer and Heisman finalist. His stats don't begin to tell the story of his impact on Southeastern football and Ole Miss. Bear Bryant said he was the best quarterback of all time in the SEC, and his number 18 was retired by Ole Miss.
Manning continued to be cursed by playing on bad teams, breaking .500 only once (8-8), as a twelve year starter for the New Orleans Saints. Archie Manning went on to father two NFL and SEC quarterbacks, Peyton and Eli Manning, and he is a radio analyst for the New Orleans Saints.
3. Tim Tebow Florida 2006-2009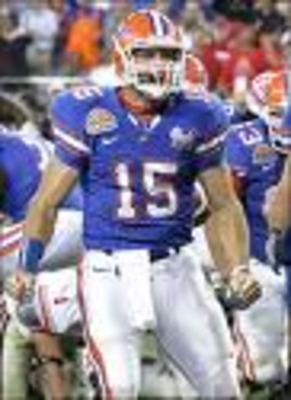 The most modern player on this list, Tim Tebow clobbered the NCAA record book. A versatile player with many weapons in his arsenal including the deep ball, option toss, shovel pass, and a straight ahead fullback like run, Tebow finished his career at Florida as their all-time leader in total offense amassing 12,233 total yards and 145 touchdowns rushing and passing.
He showed his ability as a runner from his freshman year when he converted a key fourth and one in a comeback win against Tennessee and scored two touchdowns in the BCS National Championship game against Ohio State.
After that magical season, Tebow became the big man on campus, and after scoring 55 touchdowns, he became the first sophomore to win the Heisman.
Other awards earned by Tebow included the O'Brien award for QBs, All American, AP Player of the Year, and First Team All SEC, but he disappointingly lost to Michigan in a close bowl game.
Tebow was an All-American his junior year, and he won the national championship a second time as a starter for the Gators. His numbers went down as defenses keyed on him, but he used the athletes around him including future NFL players Percy Harvin, Louis Murphy, and Aaron Hernandez to continue to succeed. His senior year, Tebow broke Herschel Walker's record for career rushing touchdowns and showed some pocket passing ability in a 482 yard game against Cincinnati in the Sugar Bowl.
This past spring, Tim Tebow was drafted in the first round by the Denver Broncos, and he has become a cultural icon for not only his football ability, but his outspoken evangelical Christian beliefs, which have garnered him both praise and ridicule.
2. Danny Wuerffel Florida 1993-1996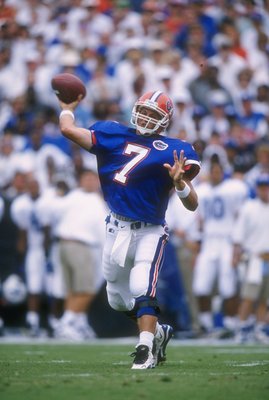 Danny Wuerffel was winning SEC titles and countless awards while Tim Tebow was in elementary school. He was winner from his freshman year when he threw for over 2,200 yards and 22 touchdowns, leading the Gators to an SEC championship. Later, in his career, Wuerffel beat future Colts Super Bowl winner Peyton Manning head to head three times. He finished his career with 10,875 passing yards despite missing part of his sophomore.
The Gators won the SEC title every season during his time in Gainesville. 1996 was a banner year for the Florida program and Wuerffel. He won the Heisman, SEC Offensive Player of the Year, and Maxwell Trophy to commemorate a season he threw for over 3,600 yards and 39 touchdowns. With the help of star tailback Fred Taylor and future NFL receivers Jacquez Green, Reidel Anthony, and Ike Hilliard, Florida went 13-1 capturing the SEC title and winning their first national title over hated rivals Florida State.
Wuerffel was a journeyman in the NFL, playing six seasons mostly with the New Orleans Saints and winning World Bowl III with the Rhein Fire. He is now the founder of Desire Street Ministries which seeks to improve spiritually and physically a poor area of New Orleans.
1. Peyton Manning Tennessee 1994-1997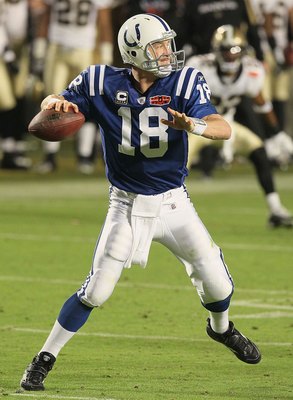 While at Tennessee, Peyton Manning was the ultimate tragic hero. He was the school's best quarterback finishing with over 11,000 passing yards and 89 touchdowns, but he could not beat archrival Florida's Steve Spurrier and Danny Wuerffel or win the Heisman, losing to defensive player Charles Woodson.
However, his contributions turned Tennessee into the powerhouse of the 90's. Manning was 39-6 at Tennessee and won a SEC title his senior year in 1997. He was the only player named Citrus Bowl MVP twice and was a two time All-American and Maxwell Trophy winner. Unlike Tebow or Wuerffel, Manning didn't have a great tailback to hand off to until super freshman Jamal Lewis in 1997. His favorite targets were Marcus Nash and Joey Kent who barely sniffed the field in the NFL.
Despite the lack of talent, Manning persevered to succeed at Tennessee even though the Vols won a national title the year after he left.
Even if he had shortcomings in college, Manning has had the most success of any player on this list in the NFL. He is a four-time NFL MVP and has won one Super Bowl and appeared in another. Manning is a ten time Pro Bowler and hasn't missed a game in his twelve year career. He holds various NFL records including highest passer rating in a season (121.1), number of 4,000 yard seasons (10), and largest career TD/interception difference. He will go down as the greatest quarterback of all time in the NFL, and he built a strong foundation for his professional success while playing for Phil Fulmer at Tennessee.
Keep Reading

Tennessee Volunteers Football: Like this team?