2010 FIFA World Cup: The Top Eight Quarterfinals In World Cup History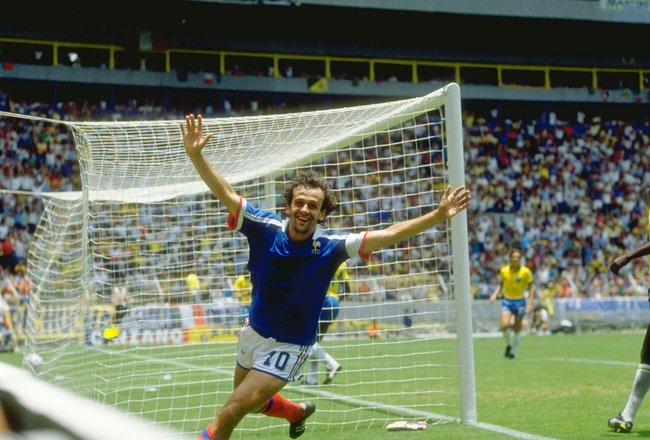 The 2010 World Cup has reached the quarterfinal stage and there are some mouth-watering games in store.
Fans eagerly await the clashes of Germany vs. Argentina and Brazil vs. Holland and hope these encounters can live up to the best quarterfinal meetings of the tournament's history.
As we count down to Friday we rate the top eight games from the last eight stages of previous World Cups.
Will any of the 2010 World Cup quarterfinals make this list?
No. 8: Hungary 4 Brazil 2 (1954)
They called it the Battle of Berne and it would go down as one of the most shameful games in World Cup history.
Well, at least for those people who like to get morally indignant about this kind of thing.
The rest of us would have loved to have been in Berne for the 1954 World Cup quarterfinal clash between Brazil and Hungary.
It featured six goals, three red cards, an on-pitch brawl and, after the final whistle, a pitched battle in the dressing room.
And all from the two sides regarded as the best in the tournament.
Some previews had referred to this quarterfinal clash between the Magnificent Magyars of Hungary and the runners-up of the 1950 tournament, as "the unofficial final."
Hungary was missing its inspirational captain Ferenc Puskas, but still took an early lead through Nandor Hideguti, who headed home despite having his shorts torn off him by a Brazilian defender.
After Sandor Kocsis made it 2-0, the brutal tackling and fighting began.
Brazil pulled a goal back through a Djalma Santos penalty but the foul play and violence halted the scoring until the second half.
A Mihaly Lantos penalty extended Hungary's lead on the hour mark, but Julinho cut the lead back to one five minutes later.
After that, a vicious fight broke out between Nilton Santos and Hungary's Josef Bozsik. Both were sent off.
As Brazil continued to push for an equalizer, Humberto kicked a Hungarian player and he too was sent off. After that, Kocsis sealed a 4-2 win for Hungary with two minutes remaining.
After the game, the Brazilian team broke all the lights leading to the locker rooms and ambushed the Hungarian players in the darkness. The ensuing brawl left Hungary's manager Gusztav Sebes needing stitches.
And to think we make such a fuss made about offside decisions and whether or not a ball has crossed the line.
No. 7: England 3 Cameroon 2 (1990)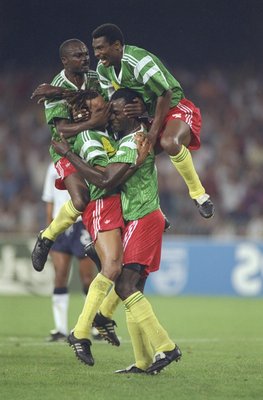 Cameroon was the surprise team of the 1990 World Cup, becoming the first African nation to reach the quarterfinals.
The Indomitable Lions very nearly made it to the semifinals in this pulsating encounter with an England team that was slowly playing itself into top form.
The Africans started brightly but England's defense soaked up the pressure before a counter-attack saw David Platt open the scoring with a header.
At halftime, Cameroon coach Valeri Nepomniachy decided to bring on 38-year old striker Roger Milla, who had become the toast of the tournament with his four goals from the bench.
It was an inspired move as Milla helped win a penalty that Emmanuel Kunde converted and then set up Eugene Ekeke who put Cameroon up 2-1.
Milla almost provided a third for Francois Oman-Biyik, but the hero of Cameroon's sensational opening day victory over holders Argentina could not find the target.
The English response was immediate when striker Gary Lineker won a penalty, which he converted.
England goalkeeper Peter Shilton saved a superb shot from Oman-Biyik just before the game went into extra-time.
Cameroon continued to dominated the first half of Extra time, but in the 105th minute Lineker earned another penalty for England. Once more, he stepped up to score.
The goal seemed to shatter Cameroon who could not summon up another equalizer and the Indomitable Lions' spirit was finally broken.
No. 6: Portugal 5 North Korea 3 (1966)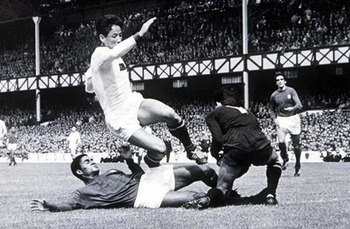 The 2010 World Cup meeting between these two sides also produced a flurry of goals, though far less drama than the teams' 1966 World Cup quarterfinal.
North Korea had caused a sensation by eliminating Italy in the group stages and looked like it would repeat the feat by racing to a three-goal lead against Portugal.
At this point, Portugal's best player Eusébio stepped forward to rescue his team from humiliation and produced one of the greatest individual performances in a World Cup match.
He pulled one goal back on 27 minutes and, two minutes before halftime, converted a penalty to make it 3-2 to North Korea.
The Black Panther completed his hat-trick on 56 minutes. After being fouled in the penalty area, he slotted home a second spot-kick to finally give Portugal the lead.
A José Augusto goal ten minutes from time ended North Korean resistance. The team, and Eusébio—the player North Korea inspired to greatness—had already sealed its place in World Cup history.
No. 5: Brazil 3 Holland 2 (1994)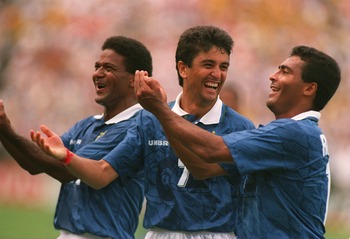 After a goalless first half, Brazil started the scoring in this 1994 World Cup quarterfinal match against Holland.
Bebeto crossed into the box, which Romario finished brilliantly with a running half volley. Both players had a number of opportunities to add a second before Bebeto finally made it 2-0 with a fine solo effort.
A minute later, Dennis Bergkamp pulled Holland back into the game with a great finish from a tight angle.
Aaron Winter completed the Dutch comeback when he headed home from a corner on 76 minutes.
However, Brazil was not to be denied and Branco sent his team through to the semifinals with a stunning 30-yard free kick.
Brazil went on to win the World Cup.
No. 4: West Germany 3 England 2 (1970)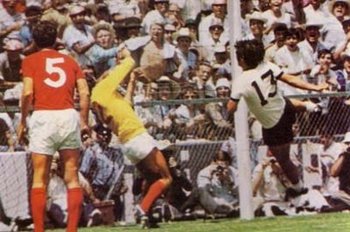 It is a tale all too familiar to modern day English fans—cruising to a victory until a goalkeeper error allows your opponents back into the game.
Ahead of a quarterfinal clash with West Germany—a repeat of the 1966 World Cup final won by England—English goalkeeper Gordon Banks suffered food poisoning.
His place in the team was taken by Chelsea's Peter Bonetti.
England did not appear to miss their usual number one as Martin Peters added to Alan Mullery's first-half opener to give England a 2-0 lead with 40 minutes remaining.
Twenty minutes later, Franz Beckenbaur tried a shot from the edge of the penalty box, which Bonetti allowed to pass under him.
Germany was back in the match.
As the heat of the Mexican day took its toll, England coach Alf Ramsey substituted the team's key midfielder Bobby Charlton and Germany began to dominate the game.
With just under quarter of an hour left, a speculative header from Uwe Seeler looped over Bonetti to take the game to extra-time.
England was struggling to cope with the driving midfield runs of Beckenbaur, and a third German goal was inevitable.
Emerging young striker Gerd Muller was on hand to volley home a fine winner in the second period of extra-time and send Germany to the semi-final.
No. 3: Holland 2 Argentina 1 (1998)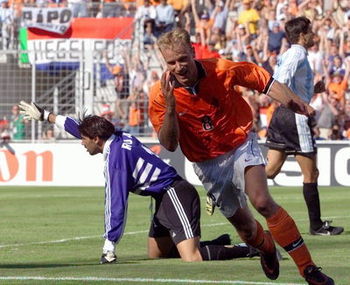 Two of the best attacking teams at the 1998 World Cup met in an extraordinary quarterfinal won by one of the best World Cup goals of all time.
Holland dominated early proceedings and took the lead when Patrick Kluivert converted a brilliant headed pass by Dennis Bergkamp.
Argentina's response was swift. Claudio Lopez beat the offside trap and equalized after 17 minutes.
The game remained at 1-1 until the final minute, though both teams attacked and counter-attacked with ferocious speed.
Tackles were mistimed, and Holland's Artur Numan received his second booking for the match. He was sent off with 14 minutes remaining.
10 minutes later, Argentina's playmaker Ariel Ortega dived in an attempt to win a penalty.
As the referee waved play on, Holland goalkeeper Edwin Van Der Sar confronted Ortega, who responded by head-butting the Dutchman.
The referee showed him the red card and it looked like it would ten versus ten in extra-time.
That is, until Dutch defender Frank DeBoer broke up an Argentina attack and played a superb 40-yard pass right into the path of Bergkamp.
The striker's control was immaculate and two sublime touches later he stepped inside Argentine defender Robert Ayala and put the ball in the back of the net.
It was one of the greatest goals scored at a World Cup and decided one of its greatest quarterfinals.
No. 2: Italy 3 Brazil 2 (1982)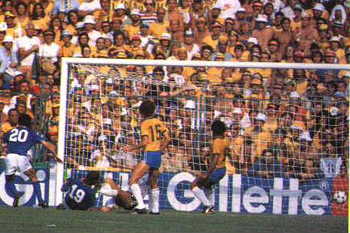 The 1982 World Cup didn't have a quarterfinal per se, as the end of the first round saw the qualifying teams enter another group stage.
But as this clash between Italy and Brazil was the final and decisive match in Group 2, it was practically a quarterfinal.
Besides, it is one of the greatest World Cup matches of all time, so it would be remiss to exclude it.
Brazil was the best side at the 1982 World Cup and its team featured some of the game's greatest players including Socrates, Zico and Falcao.
Italy scraped through the first round with three draws but seemed to be coming to life after a 2-1 win against Argentina in its first game of the second round.
The game was a classic meeting of Brazilian attack versus Italian defense. However, Italy's Paolo Rossi was about to explode at this World Cup.
Rossi opened the scoring after five minutes, but Italy was quickly pegged back by a Socrates finish.
Rossi put Italy ahead again when he blasted a fierce shot home after intercepting a poor Brazilian pass.
Brazil pressed hard for an equalizer, and finally got it when Falcao finished from the edge of the area with just over 20 minutes remaining.
A point would have sent Brazil to the semifinal on goal difference, as it had beaten Argentina 3-1. However, Rossi was not finished.
The Italian completed his hat-trick six minutes later and Brazil could not find a way past the stubborn Italian defense for a third time.
Italy would go on to win the World Cup, while the 1982 Brazil team would become fondly remembered as one of the greatest sides never to become world champions.
No. 1: France 1 Brazil 1 (1986)
The Brazilian side were the stars of the 1982 World Cup but were eliminated by eventual winner Italy, while France lost the semifinal on penalties to West Germany.
For Brazil, the 1986 finals in Mexico was the last chance for this classic team to become world champions.
France, having been crowned European Champions in 1984, had advanced by putting holders Italy out of the World Cup.
When these two great sides met at the quarterfinal stage in Guadalajara, it produced one of the greatest World Cup matches of all time.
Brazil took an early lead after 17 minutes, as star striker Careca finished a brilliant passing move.
A swift counter-attack almost put Brazil 2-0 ahead when Muller hit the post.
Then France equalized when birthday boy Michel Platini scored.
The second half saw both sides continue to attack one another, calling on the opposing keeper to make save after save.
After Careca hit the post with a header, Brazil brought on its aging star Zico who immediately set up a penalty.
Even though both Careca and Socretes scored from penalties earlier in the tournament, Zico stepped up but his tame shot was saved by Bats.
Zico then had a header saved at point blank range before the game went into extra-time.
Despite the heat, the action remained relentless as both teams attacked and counter-attacked, forcing the most controversial moment of the game.
A superb Platini pass put substitute Bruno Bellone through on goal and the striker took the ball past Carlos, who then grabbed onto the Frenchman to prevent him from finishing.
The referee waved play on and Brazil went down the other end where a tired Socrates missed an open goal.
Bellone was involved in further controversy as extra-time ended and the game was decided by a penalty shoot-out.
After Socrates missed Brazil's first penalty and Zico courageously stepped up to convert another, Bellone's spot-kick came back off the post, hit Carlos and went in.
Under the rules of penalty shootout the ball cannot rebound, but the referee did not rule out the goal.
The French looked to be heading for the win until Platini spoiled his birthday celebrations by blazing his penalty over the crossbar.
But it didn't affect the result as Julio Cesar hit the post and Luis Fernandez slotted his penalty home to win this classic encounter for France.
Keep Reading