NBA Free Agency 2010: Possible Suitors for Paul Pierce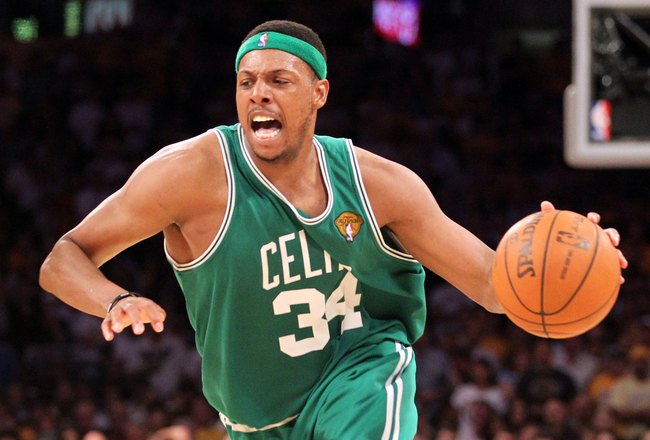 In a move that shocked some—though it was kind of expected by experts—Paul Pierce announced early this week that he would be opting out of the the final year of his contract to test the market this offseason.
Pierce joins the already ridiculously talented pool of players that all 30 teams will be going after, starting at 12:01 AM ET tomorrow.
Some think Pierce is just looking for more money and a longer term commitment from the Celtics, but what if he ends up somewhere else?
Let's look at some possible landing spots for the 32-year old.
New Jersey Nets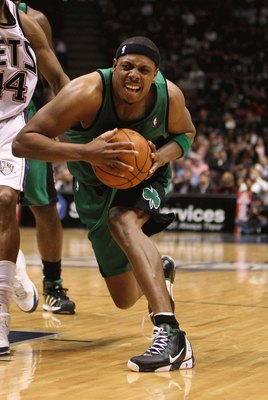 The Nets have a lot of money to spend and they are going to spend it on someone.
Right now, it looks like they are going to be left out of a lot of the bigger names in free agency—LeBron, Wade, Bosh, Nowitzki, Stoudemire—so Pierce could start to come into play here.
Even though New Jersey had the worst record in the league last season, they have some talented players in Brook Lopez and Devin Harris, so maybe they are only a couple of pieces away from a playoff type team in the East.
The Nets could use a perimeter scorer, and that's what Pierce could give them, as well as helping improve the defensive play of the team.
Chicago Bulls
Derrick Rose needs an outside shooter to compliment what Joakim Noah does down low. Paul Pierce could be that guy.
Only one team will be able to sign LeBron, and if the Bulls are left out of the sweepstakes, they will still need to find another outside scoring threat, especially since they just traded Kirk Hinrich.
A starting five of Rose, Joe Johnson, Paul Pierce, Loul Deng, and Joakim Noah would look pretty good when the season tips off in October.
Miami Heat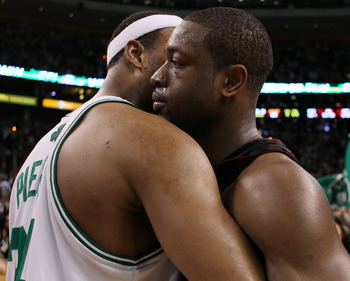 If Wade decides to come back, and LeBron signs somewhere else, Miami could have a good backup plan with Pierce.
He would bring a good defensive mindset to the Heat, while also adding a legit scoring threat alongside Wade on the wing.
It might not please Heat fans to see their team sign Paul Pierce instead of LeBron James, but it could be a smart move to pick the guy who can stand on the outside and shoot, rather than the guy who likes to score by driving the lane.
LA Clippers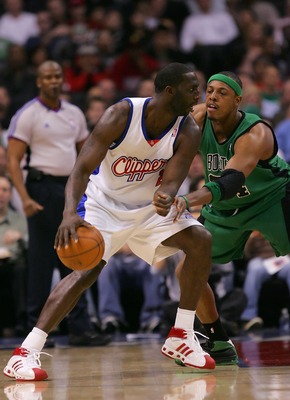 Pierce's Los Angeles ties are the reason the Clippers make this list.
For obvious reasons, I don't see any way that Pierce signs with the Lakers during the offseason, so the next choice in LA would be the Clippers.
With a good core of young players, the Clippers may just be one piece away from a pretty good playoff team.
Pierce would love to play in LA and I bet he would love the challenge of bringing the Clippers back from the dead. This one could be a stretch, but it would definitely be an interesting story.
New York Knicks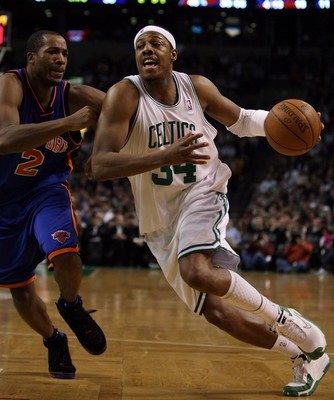 The Knicks are also a team with a ton of cap space, but it is starting to look like they aren't going to get two of the top free agents in this class.
The team is basically being built from scratch, so I don't know if Pierce would want to end up here, but you never know what the lure of New York can do to a person.
If the Knicks were somehow able to land Chris Bosh, Dirk Nowitzki, or Amar'e Stoudemire, then Pierce would be a good fit to bring a dynamic duo to the Big Apple.
This is a bit of a stretch, but it is still a possibility, because of the cap space that the Knicks have.
Boston Celtics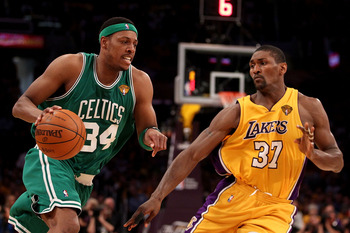 While this is still the most likely landing spot for Pierce, it isn't a lock that he will be back next season.
The Celtics could decide that they are ready to move on without Pierce, and they could avoid offering him a expensive, multi-year contract.
Rajon Rondo is ready to take over the team, so it may be time for the front office to decide to go into rebuilding mode and do it without Pierce or Ray Allen.
Still, Pierce is a life-long Celtic and I bet he wants to stay in Boston if at all possible.
Where Will He End Up?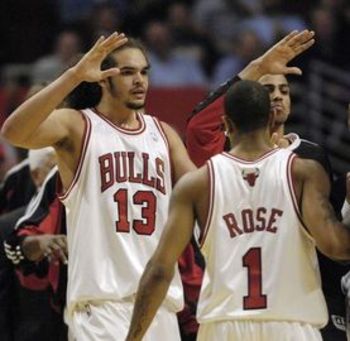 I'm going to go out on a limb here and say that Pierce ends up in Chicago.
I believe Wade is going to stay with the Heat, with Bosh coming with him.
I think LeBron is going to stay in Cleveland, surprisingly.
That would leave the Bulls scrambling to find talent with only five players under contract.
Pierce is going to test the market and I think he will find that the Bulls would be the best fit for him, especially if they can add another guy like Joe Johnson, Amar'e Stoudemire, or Carlos Boozer.
It's anyone's guess, though.
Keep Reading

Boston Celtics: Like this team?