The 2010 MLB All-Star Game Rosters, or What They Should Be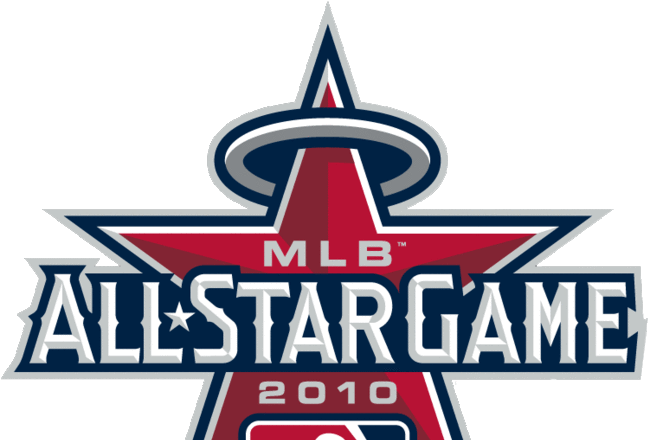 With fan voting ending tomorrow, I wanted to share my take on what the 2010 MLB All-Star Game rosters should be.
Considering this game determines who gets home field advantage in the World Series, I would hope that this is what the rosters would look like.
Unfortunately, due to fan voting (which I hate, by the way), it's not how the rosters will wind up. But that's another rant for another time.
Admittedly, I haven't looked at how fan voting is going because I am afraid I would be appalled by some of the players that are in first place. So some of my predictions may actually come true.
Click through to see my list. First, the format of player selections, followed by my AL starters, NL starters, and then AL reserves and NL reserves.
The Format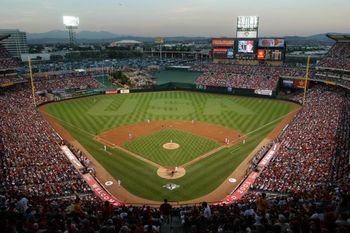 There must be at least one representative from each team selected to the roster.
The Starters
They get selected by fan voting; the leading vote getter at each position for each league is deemed the starter for the game.
Player voting
Players, coaches, and managers collectively vote for 16 players—eight pitchers (five starters, three relievers), plus eight position players (one per position).
Manager selection
The manager of each team selects nine players, whoever he wants, whatever positions he wants. This year, the Phillies' Charlie Manuel will be making the selections for the NL, and the Yankees' Joe Girardi for the AL.
Final vote
After the first 33 players are given roster spots, the fans get to vote for one player out of a list of five to fill the final roster spot. The five players are determined by the manager of the ASG and the Commissioner's Office.
Replacements
If a player is injured, refuses to play, or a pitcher pitched on the Sunday before the All-Star Game (new rule for 2010), their replacement is picked by the manager of the All-Star team and the Commissioner's Office.
American League Starting Catcher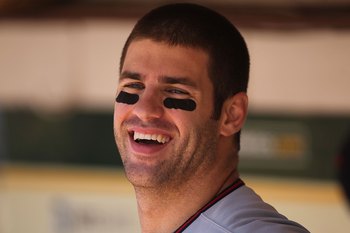 Joe Mauer
Last year's MVP is the best catcher in the AL, plain and simple. While he's having a little bit of a down year in 2010, his .300 average and .378 OBP put him on top of the rest of the AL catchers.
American League Starting First Baseman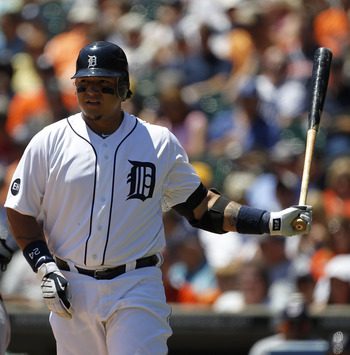 Miguel Cabrera
Cabrera has always been a great hitter who this year is having perhaps his best hitting season yet. You can't argue with 20 HRs, 66 RBI, a .335 average, and a .412 OBP.
He's the league leader in a ton of categories, and he's also an early front-runner for AL MVP. The man is unreal.
Note: It was a tough decision between him and Justin Morneau, but Cabrera's overall production is what did it for me.
American League Starting Second Baseman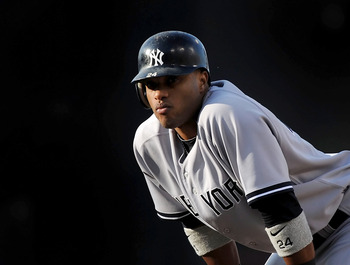 Robinson Cano
The league's leading hitter has proven not only that he can flat-out hit, but that he's a bona fide Triple Crown threat as well. His .359 average and 107 hits make him the easy choice for starter here.
American League Starting Third Baseman
Adrian Beltre
Beltre is having himself a year. A .349 batting average, plus 12 HRs and a team-leading 52 RBI for the Red Sox.
Everyone in Seattle is wondering where this production was when he played for the Mariners.
American League Starting Shortstop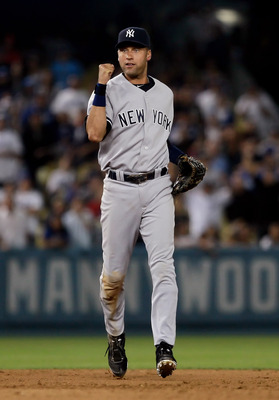 Derek Jeter
Remember when the AL had Jeter, Nomar Garciaparra, and Miguel Tejada, and the best shortstops in all of baseball?
Now, Jeter is the only man still standing, and while he certainly is not the player he was earlier in the decade, his consistent production earns him another start.
American League Starting Outfielders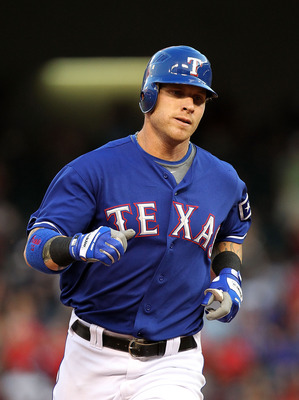 Josh Hamilton, Carl Crawford, Alex Rios
Hamilton's putting up the type of power and productive numbers, including a .343 average, that put him up there with Cabrera as an early favorite for MVP.
Crawford's got the average and the speed. He's become one of baseball's best spark plugs with his .315 average, 27 stolen bases, and 57 runs scored.
Rios is quietly having a superbly well-rounded offensive year for Chicago. He's got the power, run production, average, and speed that merit him a start.
American League Starting Designated Hitter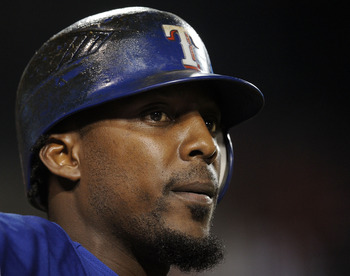 Vladimir Guerrero
Vlad already has as many HRs and more RBI than he did in all of 2009. Oh yeah, he's hitting .327 too.
He's putting up the type of numbers that we had become accustomed to seeing from him during his days with the Expos and Angels.
American League Starting Pitcher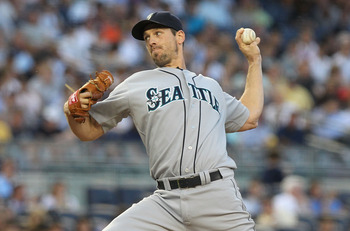 Cliff Lee
Lee is putting up Cy Young Cliff Lee numbers—low ERA, great win percentage, and an unbelievable K/BB ratio. He has walked only four batters in 86.2 innings! Plus, he already has four complete games.
It's amazing, though, that the best pitcher in the AL right now may not even be on the same team for much longer.
National League Starting Catcher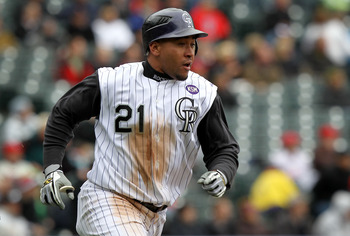 Miguel Olivo
Not the name you'd expect to hear, but out of all of the NL catchers, he has the most HRs and RBI. Plus, he has a .308 average.
Olivo is a prime example of a player who certainly deserves to be in the All-Star Game, but due to the fact that he is relatively unknown, he may not even be given a spot, much less a start, in the game.
National League Starting First Baseman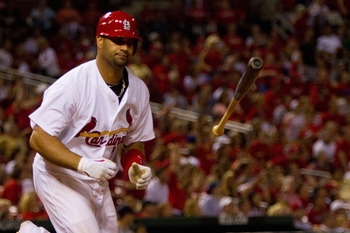 Albert Pujols
I had such a hard time deciding between him and Joey Votto here. They have almost identical stats, but I think Pujols has a slight edge.
Pujols: 18 HR, 57 RBI, 44 runs scored, 87 hits, .312 average, .424 OBP
Votto: 17 HR, 54 RBI, 49 runs scored, 84 hits, .313 average, .415 OBP
National League Starting Second Baseman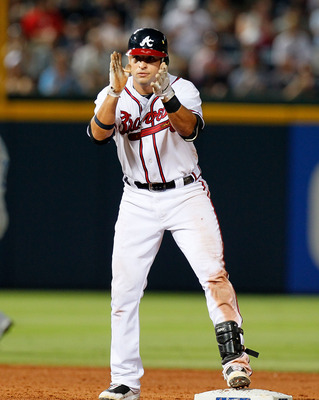 Martin Prado
He's got a .334 average and leads all of baseball with 110 hits. The guy hits doubles like it's his day job (24). Also, with Chase Utley on the DL, it pretty much solidifies that Prado should start.
National League Starting Third Baseman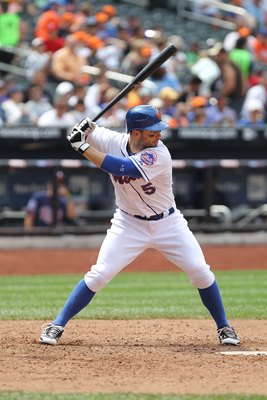 David Wright
Wright is back from the aberration that was his 2009 season. He's hitting for power (14 HRs), average (.310), and leads the NL with 61 RBI. The Reds' Scott Rolen was a close second.
National League Starting Shortstop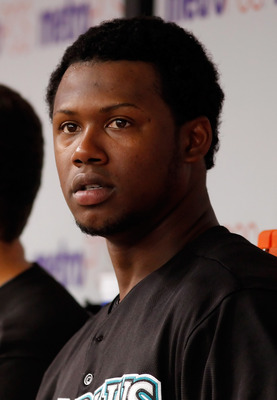 Hanley Ramirez
Ramirez may be the best shortstop in the league. He hits for power, drives in runs, has a close to .300 average, and steals a lot of bases with his speed.
While character problems may have caused a rift between him and former Marlins manager Fredi Gonzalez (which may have factored into his firing), Ramirez still deserves the start at short.
National League Starting Outfielders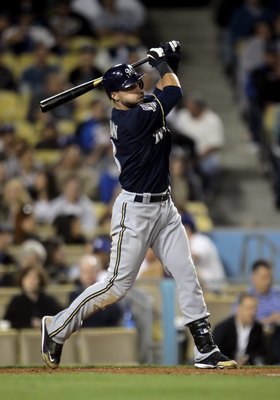 Ryan Braun, Corey Hart, Matt Holliday
National League outfielders aren't having nearly as good of a year as some of the outfielders in the American League.
Admittedly, I had a pretty tough time picking three here, and I kind of ended up just throwing three names out there.
All of them are still having good seasons and are invaluable to their respective teams, but their numbers are just not as good when compared to the AL outfield starters.
National League Starting Designated Hitter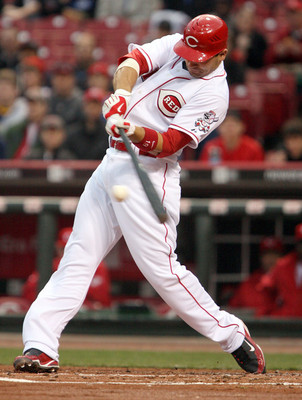 Joey Votto
Another rule new to the 2010 All-Star Game is that there will be a DH whether or not the game is played in an American League ballpark.
Since Votto was that close to becoming a starting first baseman but was beaten by Pujols by that much, I think he at least deserves to start as DH.
National League Starting Pitcher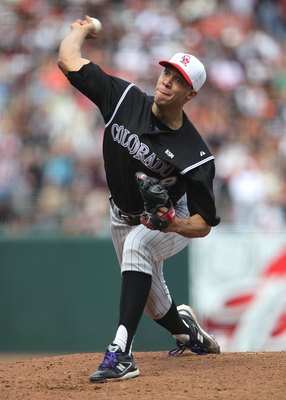 Ubaldo Jimenez
Jimenez has been unreal this year. That's well known at this point. 14-1 record, 1.83 ERA, 102 strikeouts, and a no-hitter.
He's put himself in position to be the favorite for the Cy Young down the stretch, and he earns a start in the ASG over Josh Johnson, Adam Wainwright, and the rest of the NL pitchers who are having amazing years as well.
The Rest of the American League Team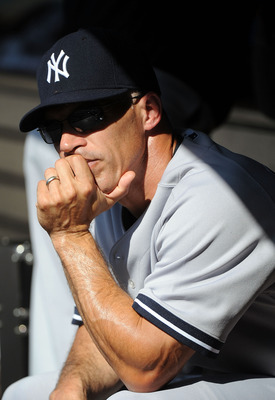 Kurt Suzuki, C
Justin Morneau, 1B
Billy Butler, 1B
Kevin Youkilis, 1B
Dustin Pedroia, 2B (currently on DL)
Evan Longoria, 3B
Michael Young, 3B
Elvis Andrus, SS
Magglio Ordonez, OF
Vernon Wells, OF
Shin Soo-Choo, OF
Nick Markakis, OF
Torii Hunter, OF
Paul Konerko, DH
David Price, SP
Phil Hughes, SP
Andy Pettitte, SP
Jon Lester, SP
Jeff Niemann, SP
Clay Buchholz, SP
Jose Valverde, RP
Mariano Rivera, RP
Neftali Feliz, RP
Rafael Soriano, RP
The Rest of the National League Team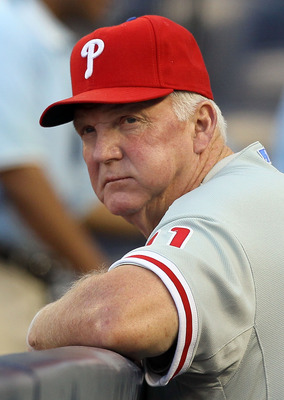 Ivan Rodriguez, C
Adrian Gonzalez, 1B
James Loney, 1B
Ryan Howard, 1B
Chase Utley, 2B (Currently on DL)
Brandon Phillips, 2B
Scott Rolen, 3B
Jose Reyes, SS
Carlos Gonzalez, OF
Justin Upton, OF
Andrew McCutchen, OF
Jayson Werth, OF
Marlon Byrd, OF
Mike Pelfrey, SP
Josh Johnson, SP
Roy Halladay, SP
Adam Wainwright, SP
Yovani Gallardo, SP
Mat Latos, SP
Tim Lincecum, SP
Billy Wagner, RP
Carlos Marmol, RP
Matt Lindstrom, RP
Heath Bell, RP
Keep Reading