B/R Poll: Robinson Cano, Miguel Cabrera Lead in Staggeringly Close AL MVP Race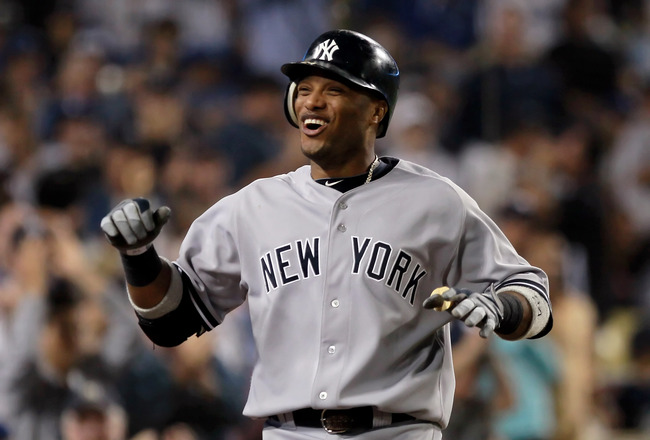 Tomorrow, we turn our calendars to July. The start of the seventh Gregorian month isn't the precise midway point of the MLB season, but it's a symbolic transition, one that causes fans to say, "Wow, only three months left!"
Even if it's not precisely the halfway point, it's still a great time to start thinking about individual awards. Last week, Bleacher Report's Featured Columnists kicked off the celebration with Cy Young voting for both the AL and the NL.
And so, this week, we put on a mock MVP vote. The AL results are here, and the NL results will be posted tomorrow.
The top 10 vote-getters are highlighted in this slideshow. This contest was insanely close—in a system where a first-place vote is worth 14 points, the winner's margin of victory was only four points.
If your favorite player isn't among the leaders, click through to the full results. Chances are, he got at least a couple votes.
Thanks to everyone who voted and submitted commentary!
Note: I sent this survey only to the Featured Columnists who have been active in previous polls. If you are a new FC or you have changed your mind about wanting to participate, send me a message and I'll be sure to keep you in the loop for next time!
Before the Results...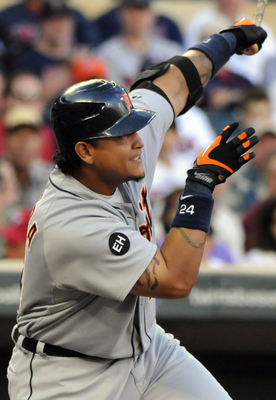 I asked each voter to guess who would end up winning the poll. We correctly predicted a three-way showdown among Cabrera, Cano, and Morneau, but we got the order wrong.
Miguel Cabrera—39%
Justin Morneau—30%
Robinson Cano—26%
Evan Longoria—4%
10. Paul Konerko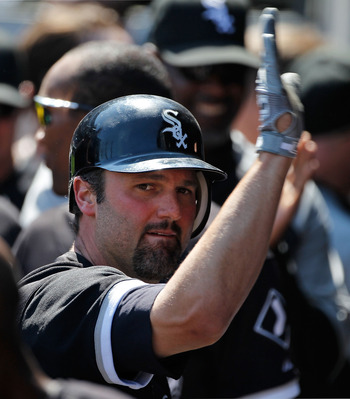 Featured writer: Adam Rygg
Paul Konerko is having a career year for the Chicago White Sox. His play has been consistent all year long and has carried his team back over the .500 mark.
While his team was nine games under .500 as recently as June 8th, Konerko's career high OBP (.389) and SLG (.580) fed by his best batting average (.296) since 2006 have strapped a rocket to the Good Guys' back, as they've rattled off 15 wins in their last 19 games.
Konerko has played in all but six games this season, and it has been his steady bat, solid glove, and veteran presence that has kept his team from wallowing in its own self-pity.
Leadership, production, putting the team on your back, and helping your team win a lot lately. If that's not valuable to you, you're not a fan of competitive team sports.
9. Carl Crawford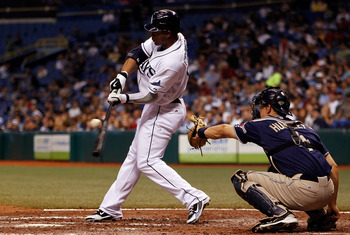 Featured writer: Jordan Schwartz
Carl Crawford is one of the two most important hitters on the team with the third-best record in baseball entering Sunday.
He leads the Rays with a .306 average and 56 runs scored. In fact, he and Evan Longoria are the only players on a club whose .251 batting average is ranked 22nd in baseball who are hitting over .300.
Crawford leads the American League with six triples, is tied for second in runs and steals (26), and ranks 15h in hitting. His .369 average with runners in scoring position is fourth-best among those with at least 75 plate appearances in those situations, so Crawford is awfully clutch.
And the left fielder excels defensively as well. His seven assists are tops among all others at his position in the Majors, as is his 2.33 range factor.
8. Alex Rios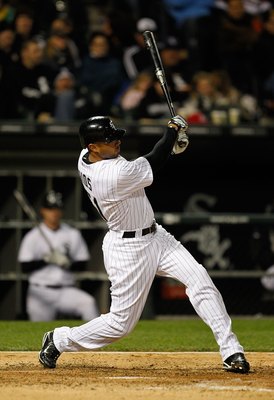 Featured writer: Jon Presser
Alex Rios has had a strange career. He had a breakout 2006 campaign in Toronto, making the All-Star team before a staph infection derailed his season.
He made his second straight All-Star team in 2007, but his Blue Jays' career had peaked. After getting a six-year contract extension in 2008 he had a decent season, but then a terrible 2009 season forced the Blue Jays to put him on waivers, inviting the White Sox to take him and his bloated contract essentially for free.
Now in 2010 Rios is back to being an All-Star-caliber player. He's third among MLB outfielders in WAR (3.3) and ninth overall among all major leaguers—a .312/.368/.534 line will do that (the SLG would be a career high).
His BB percentage is up, his K percentage is down, and he even has a 17.2 UZR/150 and 6.4 UZR. Needless to say, 2010 has been a redemption season for Alex Rios.
7. Kevin Youkilis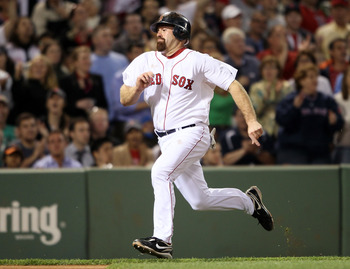 Featured writer: Thomas Pinzone
As the season reaches the halfway point the Boston Red Sox offense has been the best in all of baseball—surely a shock to most "experts" who expected the Sox's offense to struggle.
Kevin Youkilis has led the offense almost from day one. He's hit 15 homers while batting .306 with the AL's second best on-base percentage.(425). Youk is also fourth in the game with a .433 wOBA.
With former MVP Dustin Pedroia and leadoff hitter Jacoby Ellsbury on the DL, and with the early-season struggles of David Ortiz and Victor Martinez, the weight of carrying the offense has fallen on Youkilis' shoulders, and he's responded with his best season of his career thus far.
6. Vladimir Guerrero
Featured writer: Todd Hayek
"Vlad the Destroyer" is back and healthy and is helping the Texas Rangers in their attempt to take the AL West division title away from his former team. He's eighth in the league in home runs (15) and batting average (.327), second in RBI (60), and ninth in OPS (.912).
One of the most consistent and dominant hitters of the last decade, Guerrero somehow made everyone forget how great he has been by having one injury-laden "off year." He has four Silver Slugger Awards and an AL MVP Award in his trophy case. He hit 25 or more home runs in 11 straight seasons, and did I mention the .322 career batting average and 422 career homers?
Vlad is showing he can still hit the ball no matter where it is pitched. He has been clutch for the Rangers with runners in scoring position and has rounded out their already potent offensive attack.
5. Evan Longoria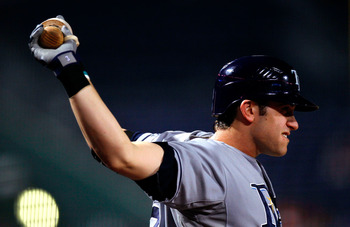 Featured writer: Nino Colla
Evan Longoria is the MVP because he's the best player on one of the best teams.
Not only are his offensive numbers (.297/.376/.514 with 12 homers and 46 RBI) some of the best in the AL, he's a big reason for the Rays' lineup being as potent as it has been this season.
The Rays' pitching has been a big reason for their success, but in order to battle it out with New York and Boston the Rays need offense, and Longoria leads a bunch that can put up runs with the best of them.
4. Josh Hamilton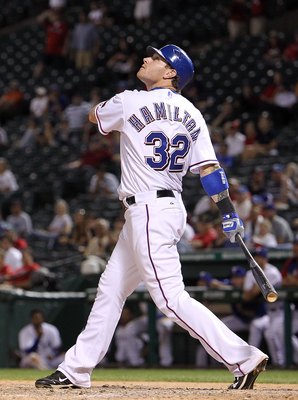 Featured writer: Asher Chancey
When Hamilton won the Home Run Derby a few years ago and became the toast of the baseball world, I was disgusted. To me, Hamilton's life story was more pathetic than inspirational, and he has been such a hometown hero during his career that pretending his numbers don't reek of Ballpark at Arlington inflation is like pretending Mark McGwire's numbers don't reek of steroid inflation.
But you know what? In 2010 Hamilton is healthy again and has been a masher: He's hitting .346 with a 1.008 OPS. He has 18 home runs with 52 runs and 57 RBI.
The Texas Rangers are in first place in their division and lead their division by a greater margin than any other first place team does. Hamilton is still a Home Town Hero (11 HR at home, six on the road; 1.139 OPS at home, .879 on the road), but we'll let it slide. For now.
3. Justin Morneau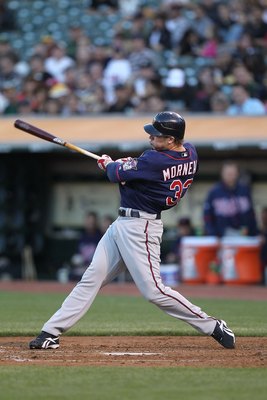 Featured writer: Dan Tylicki
The Twins have maintained their place near the top of the AL Central, and leading the charge is not last year's MVP Joe Mauer, but 2006 MVP Justin Morneau.
Despite having a relatively cool June compared to his first two months, he has kept his pace and remained a top-level MVP candidate. He is second in the game in batting average (.350), his high walk total gives him the best on-base percentage in baseball (.449), and according to his 4.6 WAR, he's the best player in the game.
His HR (15) and RBI (49) numbers may not be at his 2006 level, but they are very solid in this year of the pitcher, though he's not quite reaching the league leaders. Morneau has been here before though, unlike the other frontrunners. He knows what he needs to do to remain in the race come October.
2. Miguel Cabrera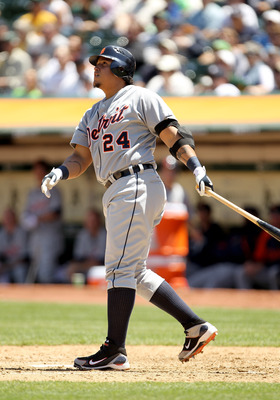 Featured writer: Jeremiah Graves
Miguel Cabrera is playing better baseball than anyone else on the planet. Period.
It may seem like blasphemy given that Albert Pujols is still alive and kicking, but it doesn't matter—right now, Pujols has nothing on Cabrera. Nobody does.
Cabrera is currently hitting .335/.412/.629 for an outstanding 1.041 OPS. All of that is accompanied by a league-leading 20 HR and 66 RBI.
Following the drama of last season's alcohol-fueled embarrassment and late season collapse, Cabrera quit drinking and re-dedicated himself to baseball. In doing so, he also seems to be carrying a chip on his shoulder as he looks to prove himself on the diamond night in and night out.
He has been a mainstay atop every "best of" list since he broke into the league as a scrawny 20-year-old in 2003, but now—at still just 27 years old—he may be playing at his absolute best.
1. Robinson Cano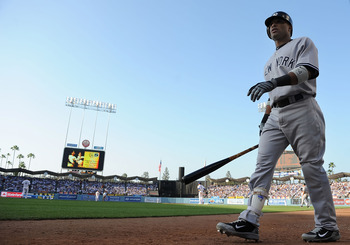 Featured writer: Todd Hayek
The rich get richer. On a team filled with superstars and Hall of Famers with contracts that would rival the GNP of most third-world countries, the MVP for the first half of the season is a 27-year-old second baseman.
Robinson Cano has stepped up his game a few notches this year and, if the season ended today, the AL MVP Award would come down to him. Cano's .359 average leads the league. He leads the Yankees in homers with 15. His 53 RBI ranks sixth in the league. He is fourth in both slugging and on-base percentage and his OPS is over 1.000!
Alex Rodriguez, Mark Teixeira, and Derek Jeter aren't getting any younger. Cano looks to be the heir apparent who will lead the next generation of superstars in New York—maybe even as soon as this year as the AL MVP.
Full Results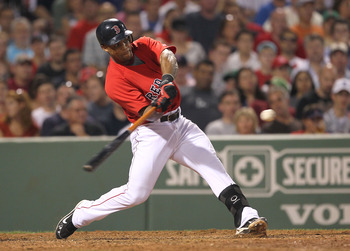 1. Robinson Cano—215 (7)
2. Miguel Cabrera—211 (7)
3. Justin Morneau—197 (7)
4. Josh Hamilton—135 (1)
5. Evan Longoria—102
6. Vladimir Guerrero—83
7. Kevin Youkilis—73 (1)
8. Alex Rios—53
9. Carl Crawford—50
10. Paul Konerko—45
11. Adrian Beltre—43
12. Vernon Wells—25
13. Magglio Ordoñez—18
14. David Price—17
15. Cliff Lee—12
16. Joe Mauer—11
17. Billy Butler—10
18. Shin-Soo Choo—9
T19. Torii Hunter—8
T19. Francisco Liriano—8
T21. Jose Bautista—6
T21. Phil Hughes—6
23. Ichiro Suzuki—4
24. Jon Rauch—3
T25. Elvis Andrus—2
T25. Nick Swisher—2
T27. Brennan Boesch—1
T27. Clay Buchholz—1
T27. Brett Gardner—1
T27. Dustin Pedroia—1
Voting on a 14-9-8-7...etc. basis. First-place votes are in parentheses.
Recent FC Polls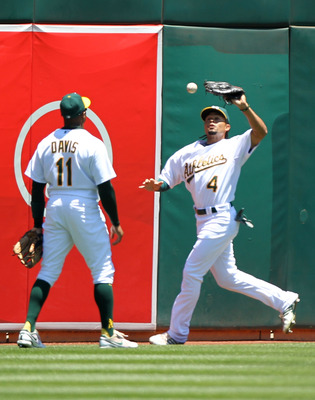 Keep Reading

New York Yankees: Like this team?