Cleveland Browns 2010: 10 Concerns Going into Training Camp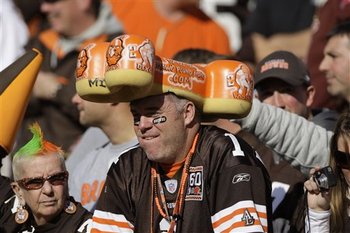 The Cleveland Browns ended 2009 on a surprising four game winning streak, but that still only left them with a 5-11 record. During the offseason, owner Randy Lerner took a swing for the flag and hired former Super Bowl winning coach Mike Holmgren as the Browns' team president and basically gave him total control over football operations.
Holmgren in turn made a stunning move by retaining dictatorial head coach Eric Mangini and hired a new General Manager, Tom Heckert. Heckert and Holmgren acquired a number of new players through trades, free agency and the draft.
Defensive Coordinator Rob Ryan returns with a number of new faces to incorporate into his complex version of the 3-4 defense while Offensive Coordinator Brian Daboll is being tutored by former Seahawks Coordinator Gil Haskell.
Fans and writers alike have treated the offseason with the unabashed optimism of a child's birth or a long awaited first date, but there are still concerns surrounding this team heading into training camp.
10. Can the Browns Find a Way to Implement Evan Moore?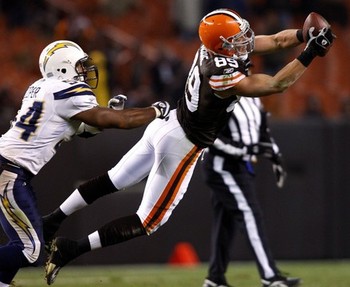 One of the highlights at the end of the 2009 season was the play of young tight end Evan Moore. The former Stanford Cardinal showed an innate ability to get open down the seam and an excellent pair of hands when targeted.
However, during the offseason the Browns added tight ends Ben Watson and Alex Smith which relegated Moore to third string.
There has been some talk about playing Moore as a wide receiver which makes sense for two reasons. It would allow the Browns to keep only five receivers and therefore, keep an extra one of their prized linebackers. The team would also benefit from being able to exploit Moore's size against mismatches they wouldn't have with him at tight end.
9. Will T.J. Ward Be Healthy for the Start of the Season?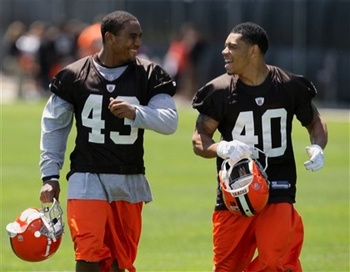 Second round pick T.J. Ward is a hard hitting safety who reminds some of Indianapolis Colt Bob Sanders. Unfortunately for Ward he resembles Sanders all too well when it comes to injuries.
Dating back to high school, Ward has battled one injury after another and he ended the last Browns minicamp with what was called minor tightening of the lower leg.
It very well may be a minor issue but any time Ward and the stationary bike used by injured players are mentioned in the same sentence I can't help but hold my breath. Hopefully, this was just a minor blip and not a precursor of things to come.
8. How Many Rookies Are Too Many in the Secondary?
The Browns drafted three rookies who play in the secondary and all three have legitimate, if unlikely, shots to start on opening day.
Cornerback Joe Haden is battling with Sheldon Brown and Eric Wright for a starting job with the loser becoming the nickelback.
Rookie safeties Larry Asante and T.J. Ward are battling Abe Elam, Michael Adams, and others for the starting spots.
Is this a good thing or will the Browns' secondary be even more vulnerable early with so many rookies in the mix for key positions?
7. Defensive Line Depth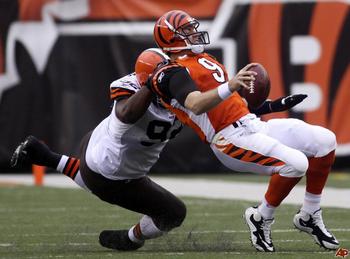 The Browns are likely moving Shaun Rogers from nose tackle to defensive end and starting Ahtyba Rubin at the nose. Rogers is probably facing a suspension from the league for a gun possession charge and the Browns are thin on the line going into training camp.
Brian Schaefering, Kenyon Coleman, and C.J. Mosley are the projected backups. The Browns also have draft pick Clifton Geathers but still need at least one more player heading into the season to compensate for Rogers. Coleman and Mosley were disappointments last year.
There are a number of young candidates who will compete in training camp and the Browns need to identify one or more as a backup plan for Rogers.
6. Will Mangini Overwork His Players?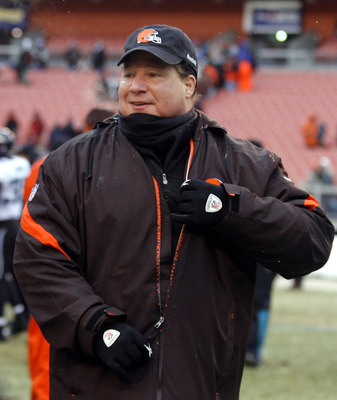 Will Head Coach Eric Mangini conduct more inane experiments like bus rides to games?
Will he work his players so hard that they publicly complain like last year or will he find the right balance?
Will he continue to use extra motivational sessions like the one that injured running back James Davis?
Will there be more thousand dollar bottles of water?
It will be interesting to watch and see if Mangini and the players have reached a mutual understanding of each other.
5. Who Will Start Opposite Matt Roth at OLB?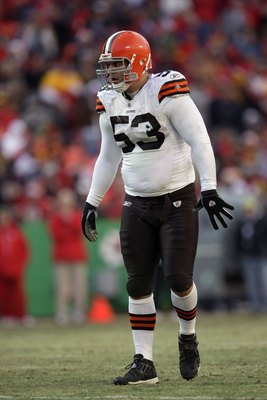 Outside linebacker is a critical position in the Browns' 3-4 defense for applying pressure on the quarterback and the Browns traded away their best OLB, Kameron Wimbley, in the offseason.
Matt Roth is likely to start on one side but the other side is ready for a no-holds barred street scrap and it is a critical fight for the team's potential success.
Although I see Chris Gocong more as an OLB, Cleveland Plain Dealer Columnist Terry Pluto sees differently, "New inside linebacker Chris Gocong has been impressive and the Browns believe he'll be a factor against the run."
The other players capable of playing outside are Scott Fujita, David Bowens, Jason Trusnik, and Marcus Benard. Personally, I believe if Benard progresses against the run and pass during the year he will be the starter at the end of the year.
Just being capable doesn't make you the best choice, so I believe that Gocong will be the starter at the start of the season—he has the most pass rush ability aside from Benard.
As a purely personal and non-analytical aside, Bowens is my favorite player on the entire defense, but I think Mangini will keep him in reserve in case anybody goes down with an injury.
4. Is Robiskie Ready to Be a Starter?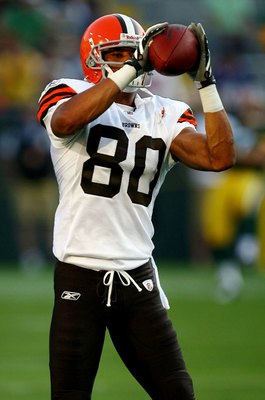 After a hugely disappointing rookie season that reminded some Browns fans of the Mike Phipps debacle, Brian Robiskie has been the MVP of the offseason workouts so far.
"I thought so far Brian Robiskie has had an outstanding camp," Mangini said. "He's showed up quite a bit."
As one Browns coach said, "He started strong, and then got better. He never let up. He's made a huge jump."
Despite those sentiments, Robiskie has yet to strap on the pads and show he is ready to perform against opposing NFL corners. Josh Cribbs is a phenomenal athlete who supposedly made strides as a receiver this offseason but Robiskie was drafted to start on this team and the Browns need his precision route running and 4.49 40-yard dash speed on the field opposite Massaquoi.
3. Colt McCoy's Potential Playing Time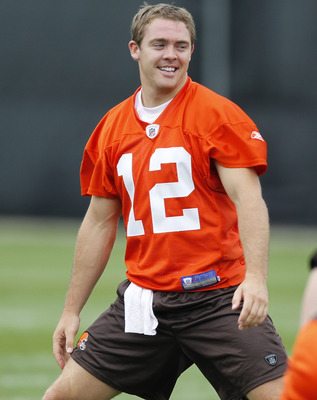 There is no better way to pick a fight between diehard Browns fans than to bring up McCoy's potential playing time as a rookie.
Team President Mike Holmgren says he won't play this year.
Coach Eric Mangini says he might.
Personally, I think he needs to be told he might play this year and to be ready. That way if it happens he's ready, if it doesn't, then he was focused all year long.
I believe he needs a full training camp, preseason, and at least ten games of the regular season before he's ready to make his NFL debut. McCoy needs to acclimate himself to the cold weather, which won't roll around till November, and run the scout team every week so he gets used to the speed of NFL players before the Browns think about turning to him.
2. Will the Offensive Line Have Time to Gel?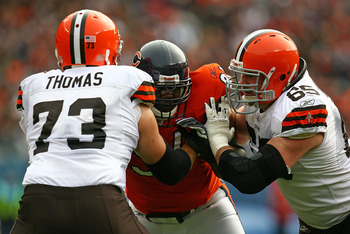 Heading into training camp there are still three positions on the offensive line theoretically up for grabs: left guard, right guard, and right tackle. Left tackle Joe Thomas and center Alex Mack will be fixtures for the next ten years but the rest of the line is unsettled.
Free agent signee Tony Pashos, draft pick Shawn Lauvao, veteran Floyd "Pork Chop" Womack, veteran Eric Steinbach, free agent signee Scott Kooistra, veteran John St. Clair, and others will be pulling, trapping, zone blocking, mauling, pancaking and doing whatever it takes to impress the coaches.
Ideally, the Browns will have the line in place for the last two preseason games so the first team can get a little time together before the report cards start to count.
1. Jake Delhomme's Health and Confidence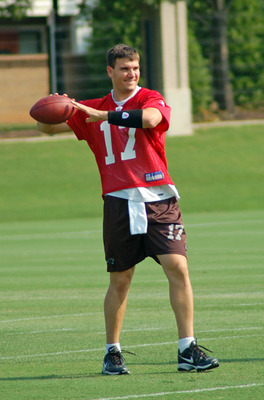 Cleveland quarterback Jake Delhomme must have a healthy, productive training camp and preseason for the Browns offense to get off to good start in 2010. He doesn't have to be an all-pro but he does have to display an NFL caliber arm.
Delhomme has to be able to get the ball downfield occasionally since the Browns are running more of a downfield package than a traditional West Coast. If he doesn't show opposing teams he can get the ball upfield they will key on the shorter routes and run game and the Browns will be stymied offensively.
Seneca Wallace is an excellent backup who has a defined role in the Cyclone package. The Cyclone will work best with Wallace coming off the bench with fresh legs to give the defense a different look. The Browns need the threat of the Cyclone to give them an edge against opposing defensive coordinators, and if Wallace starts, we lose that edge.
Keep Reading

Cleveland Browns: Like this team?