2010 Weekly SEC Football Schedule: Expectations and Predictions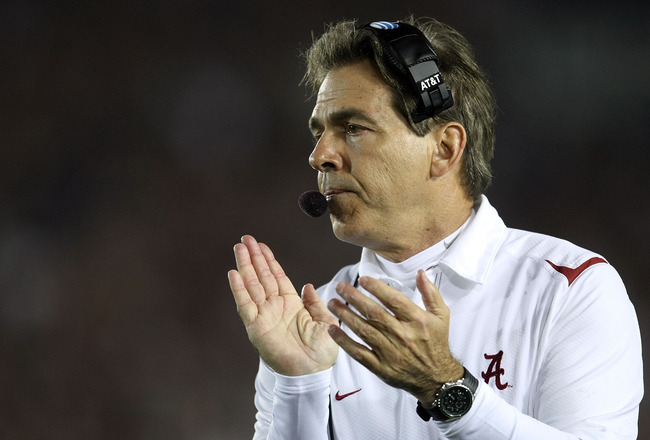 Before we know it, September 2, 2010 will be here and we will tune in to ESPN to watch the kickoff of the 2010 SEC football season.
The SEC is arguably the top conference in college football, and again a team from the SEC is favored to win (and repeat) the national championship.
However, the road is long and turbulent between now and January 10, 2011, when the next National Champion will be crowned in Glendale, Arizona.
Let's take a look at the key match ups each week in the SEC and point out trap games that could dictate which team has a shot at a trip to Atlanta or Glendale.
Week One: Southern Miss at South Carolina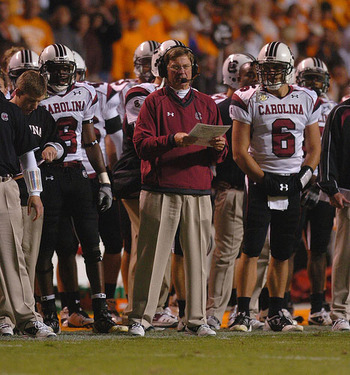 Let's start with the first SEC game of the season.
This may be the year that the OBC, Steve Spurrier, leads the Gamecocks to the top of the SEC Eastern Division.
Coming off a 7-5 season in 2009, the Golden Eagles will give the Gamecocks all they want to start the season. Don't be surprised if Southern Miss gives South Carolina a real scare.
South Carolina wins 28-24.
Week One: North Carolina at LSU (Kickoff Classic in Atlanta)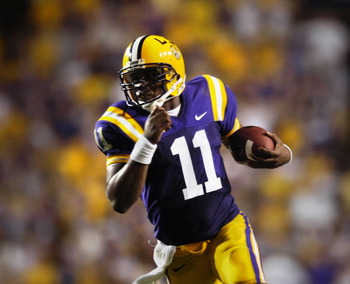 ACC vs. SEC—the Tar Heels and Tigers meet up in Atlanta for the Kickoff Classic 2010.
Both teams have much to prove this year as LSU struggled in 2009 and UNC head coach Butch Davis continues to rebuild the program.
A loss for LSU in the season opener could spell the end for coach Les Miles in Baton Rouge.
Normally, an early season loss could be recovered from later on, but it may be the final nail in Miles' coffin.
Another close game, but LSU prevails at home, 21-14.
Week One: Kentucky at Louisville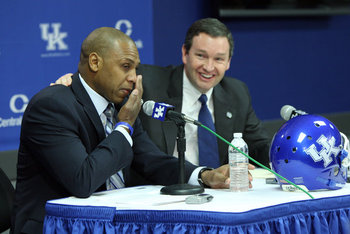 The state of Kentucky has two rookie football head coaches in Joker Phillips and Charlie Strong, and this game will be interesting from start to finish.
Phillips was the coach in waiting, and coach Charlie Strong waited for years to be given this long overdue opportunity to be a head coach.
The advantage has to go to Kentucky since Coach Phillips is taking over a program he was a part of, whereas Strong is starting from scratch.
However, Coach Strong has an excellent pedigree and coming from the Florida Gators, he has experience winning championships.
Kentucky wins 17-7.
Week Two: Penn State at Alabama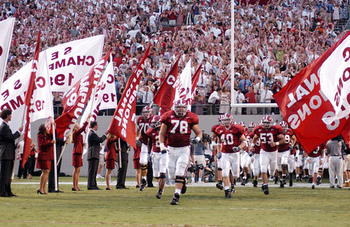 Joe Paterno brings his Nittany Lions to "The House Bear Built," when these two traditional powerhouses meet in week two. The defending national champions will have to be ready to go when Penn State comes to town.
Some questions surround Alabama's defense, but they shouldn't be too worried since Penn State isn't expected to be an offensive juggernaut.
Alabama wins 31-17.
Week Two: Georgia at South Carolina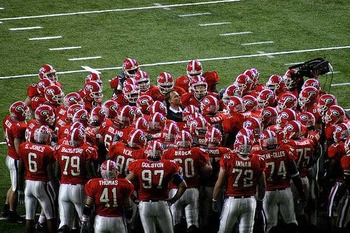 It doesn't get easier for the Gamecocks when UGA arrives in Columbia on September 11th.
Again, many feel that this is South Carolina's year, and this is the game to prove it. By defeating the Bulldogs in week two, the Gamecocks get an early jump on the Eastern Division standings.
It would also start the possible downfall of Mark Richt in Athens.
Do remember that the OBC dislikes UGA big time. Coach Spurrier will bring his "A" game when he faces the Bulldogs.
That being said, Georgia will not lie down. This has the potential to be a serious dogfight—no pun intended.
Prediction — South Carolina 28-24.
Week Three: Arkansas at Georgia
Arkansas brings future NFL QB Ryan Mallett between the hedges when they face Georgia in the third week of the season.
Will coach Bobby Petrino's return to the state of Georgia be triumphant or a letdown?
It is way too early to know how this one will play out, but a new defensive staff may not be prepared to handle Arkansas' firepower.
Arkansas 28-27.
Week Three: Clemson at Auburn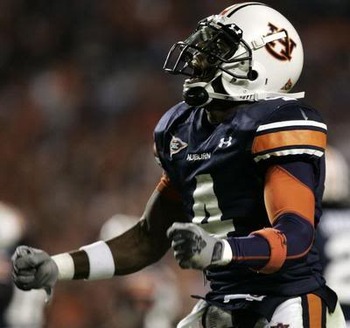 Another ACC-SEC match up looms when the Clemson Tigers arrive on the plains to face the Auburn Tigers and second-year head coach Gene Chizik.
Chizik's hire as was less than popular, but he had a very respectable first season. With Auburn almost upsetting Alabama in the Iron Bowl in 2009, Coach Chizik may have earned some well-needed time to bring the Tigers back to prominence.
Clemson will have to overcome losing all-purpose running back C.J. Spiller to the NFL. Most importantly, the Tigers of Clemson will have to negotiate the noise of Jordan-Hare Stadium, which happens to be one of the loudest and most underrated stadiums in the country.
Auburn wins in a close one, 17-10.
Week Three: Florida at Tennessee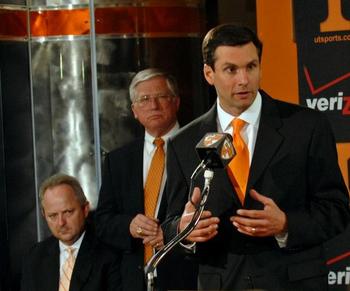 The defending SEC Eastern Division champion Florida Gators arrive in Knoxville to face a Volunteer team that is still reeling from the loss of Lane Kiffin and the hire of their second head coach in as many years.
Derek Dooley, son of Georgia legend Vince Dooley, takes over the Vols football program, and he inherits a roster that's a little thin on talent.
The Gators begin their post-Tim Tebow era with QB John Brantley leading the offense on his first road trip as a starter. In this case, the Volunteer fan noise may be more difficult to deal with than the actual football team.
Normally this is an early-season classic, but don't expect too much drama in this one.
Florida 31-10.
Week Four: Alabama at Arkansas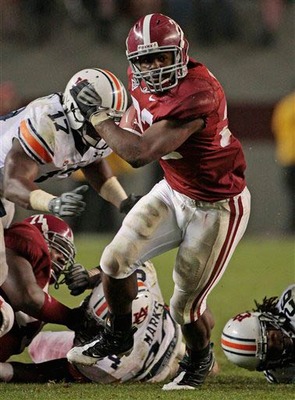 This is the first true trap game of the season. Alabama may possibly look ahead to Florida coming to Tuscaloosa the following week and allow Arkansas to sneak in with a victory.
This could be Ryan Mallett's coronation game.
Arkansas 23-20.
Week Four: Auburn at South Carolina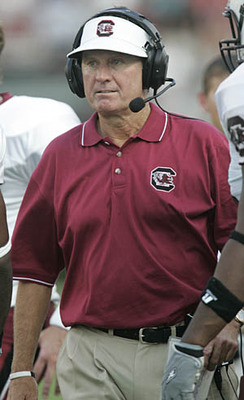 This is a potential upset for Spurrier's Gamecocks. If South Carolina is going to lose a SEC game, this would be the one. A Western Division loss would sting, but not end the Gamecocks' trek to win the East.
In Gene Chizik's second season, Auburn will come into Columbia ready to give the Gamecocks all they can handle. This game will be a battle to the end.
Auburn wins 28-27.
Week Four: West Virginia at LSU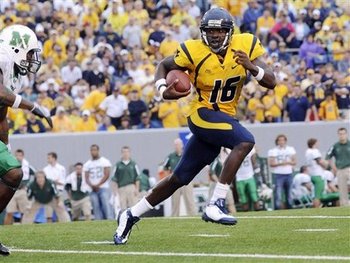 The Big East comes calling on Baton Rouge when the Mountaineers play LSU in this inter-conference match up.
LSU will have to prepare for RB phenom Noel Devine, however, LSU's defense should be able to contain him.
The Mountaineers will come out of the gates strong, but the Baton Rouge crowd and atmosphere will end any hope they have for a victory.
LSU 30-14.
Week Five: Florida at Alabama
A rematch of the 2009 SEC Championship very well could be a preview of the 2010 game. The Tebow-less Gators arrive in Tuscaloosa to do battle with the defending national champions.
This time out, the Crimson Tide will have a very different Gator offense to deal with, but should be well prepared. Nick Saban will surely do everything in his power to have Alabama ready to defend its home turf.
Alabama 24-20.
Week Five: Georgia at Colorado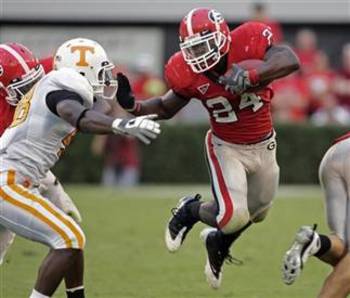 Colorado makes its way to Athens, Georgia to face the Bulldogs between the hedges.
Normally, this would be an exciting inter-conference meeting, but since Colorado has struggled recently, this should be a relatively easy game for Mark Richt's squad.
Georgia 40-10.
Week Five: Tennessee at LSU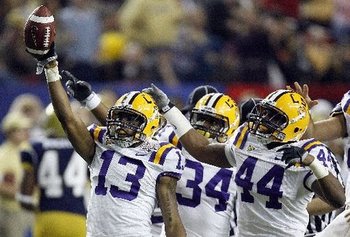 Coach Dooley returns to the Bayou to face LSU. This year will be tough for the Vols. They should do fairly well, but in the end, they will come up short against the Tigers.
LSU 31-14.
Week Six: Alabama at South Carolina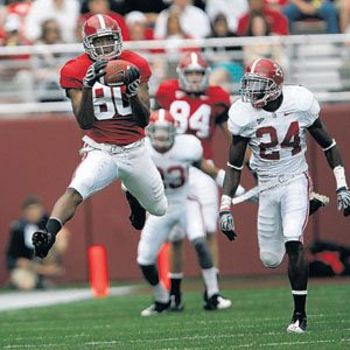 The Tide rolls into Columbia after a very tough game against the Gators. Will the OBC be able to leverage the emotions that could still be riding high on the Alabama team?
Yes.
South Carolina wins in an upset, 24-21.
Week Six: Texas A&M at Arkansas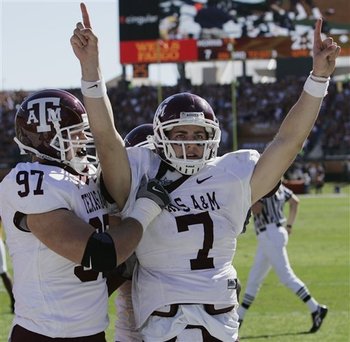 This ex-Southwestern conference rivalry should be another great game when the Aggies come to Fayetteville. Will they bring enough to overcome Petrino's high-powered offense?
Unlikely.
Ryan Mallett will show the country again why he will be a great future QB in the NFL.
Arkansas 35-10.
Week Six: LSU at Florida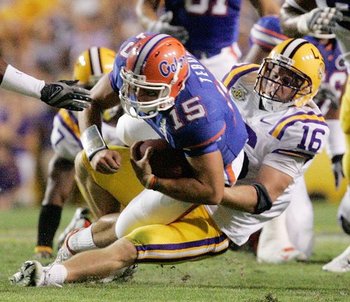 Florida returns home after losing in Tuscaloosa to the Crimson Tide, looking to return to its winning ways.
LSU will arrive with fight and pride, but the Gators will be ready and, more importantly, angry that they suffered their first loss of the season.
Florida 23-14.
Week Seven: Arkansas at Auburn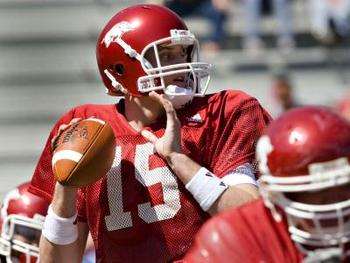 If there is a team in 2010 that could possibly unseat Alabama in the West, it will be one of these two teams. Perhaps this game will dictate which team it will be.
Now that QB Ryan Mallett and Coach Petrino will have been together for two seasons, they should have the offense in sync. Auburn will have to play mistake-free football and play stellar defense to win this game.
Arkansas prevails, 23-17.
Week Eight: Georgia at Florida (Cocktail Party in JAX)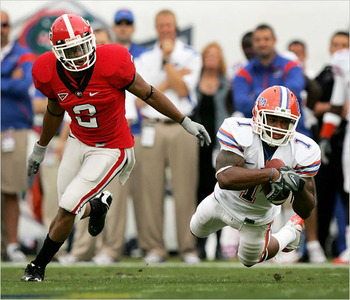 The annual World's Largest Outdoor Cocktail Party is still a reason to head over or down to Jacksonville, Florida every year. For Georgia fans, it must be getting old.
Florida has dominated the series for the last 20 years. It doesn't seem like it's going to swing back Georgia's way any time soon, and definitely not in 2010.
Florida 30-20.
Week Nine: Alabama at LSU
Even Nick Saban feels some emotion when he returns to Baton Rouge after winning his first national championship as head coach of LSU back in 2003.
This time, he returns with Alabama, defending his second national championship.
A great rivalry for many years, the LSU crowd will be ready to let the world know that it's their house; unfortunately, the Tigers will not. Alabama will simply be too much.
Alabama 30-17.
Week Nine: Arkansas at South Carolina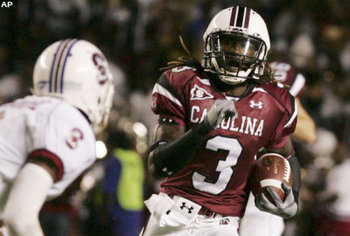 Two offensive geniuses meet in Columbia week nine, as Bobby Petrino and Steve Spurrier send their respective teams into battle.
QB-wise, Arkansas definitely has the advantage in having Ryan Mallett. The question is, can the Gamecocks stop him? Probably not.
Razorbacks 33-20.
Week 10: Georgia at Auburn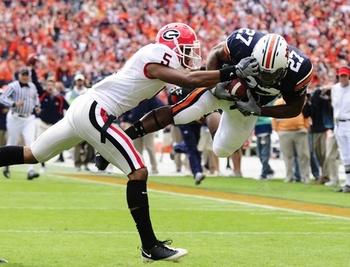 The oldest SEC rivalry resumes in week 10 when the Bulldogs visit Jordan-Hare stadium. When it is said and done, Mark Richt's team should leave with a victory, but not by much.
Georgia 18-14.
Week 10: South Carolina at Florida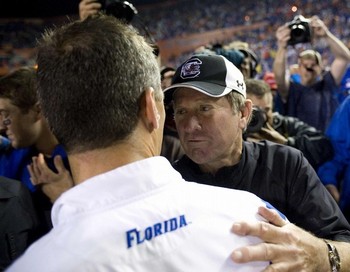 Whenever Steve Spurrier returns to Ben Hill Griffin Stadium, aka "The Swamp," it's guaranteed that a great game will be seen. This season will be no different.
Many feel this could be South Carolina's year to win the SEC Eastern Division, and perhaps the SEC Championship. For the Gamecocks, they will have to go through Gainesville.
Unfortunately for the OBC, the Gamecocks will hit a major roadblock that weekend.
Florida 40-20.
Week 11: Ole Miss at LSU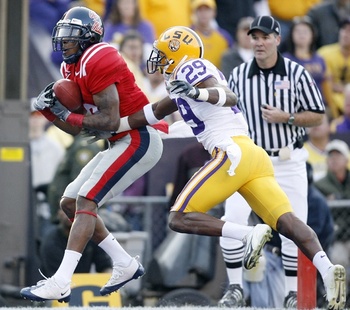 By the time this game plays during week 11, coach Les Miles may be on his way out of Baton Rouge. Will Houston Nutt help punch his ticket?
Unlikely.
LSU will most likely be in third place in the SEC West, but they will not go down without a fight, and that fight will be in Death Valley against the Rebels.
LSU 18-7.
Week 12: South Carolina at Clemson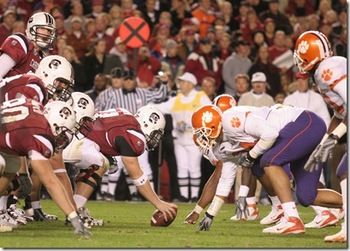 This could be Steve Spurrier's last regular season game as the head coach of South Carolina. By week 12, the Gamecocks will be out of the SEC running, but hopefully they will be in a position for a January bowl game.
Clemson, on the other hand, will be in a position to play in Jacksonville for the ACC Championship and will be prepared for their in-state rival.
South Carolina will play their hearts out for the OBC and will win convincingly.
Gamecocks 31-21.
Week 12: Florida at FSU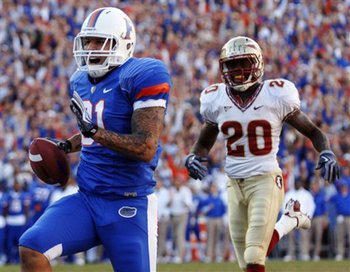 The Gators travel to Tallahassee to face coach Jimbo Fisher's FSU Seminoles in Week 12. Will this be a trap game catching the Gators looking ahead to the SEC Championship Game the next week?
No.
Seminole fans have high hopes for the upcoming season. Experts predict that FSU quarterback Christian Ponder will be a first-round draft pick in the NFL, but he will not have the weapons to compete against Florida's defense.
It will be a great game, but the Seminoles will come up short.
Florida 28-21.
Week 12: Auburn at Alabama (Iron Bowl)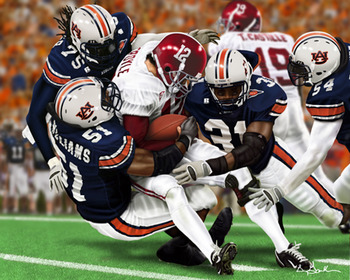 The Iron Bowl is by far the best annual rivalry game in college football.
Everyone has heard the stories of how this match up dictates the lives of those in the state of Alabama, and this game will live up to the hype.
The 2009 season saw then first-year coach Gene Chizik lead his Auburn Tigers to a near upset over the Crimson Tide.
Just like in 2009, Coach Saban will have to have his team focused on this game, hoping to not get caught looking ahead to the SEC Championship game. That's easier said than done.
When this game is over, the Arkansas Razorbacks will be Auburn's biggest fan. This will be the game that catapults Arkansas into the SEC Championship Game.
Auburn 17-14.
Keep Reading