NBA Free Agency 2010: Why the Lakers Won't be Beaten by Potential Teams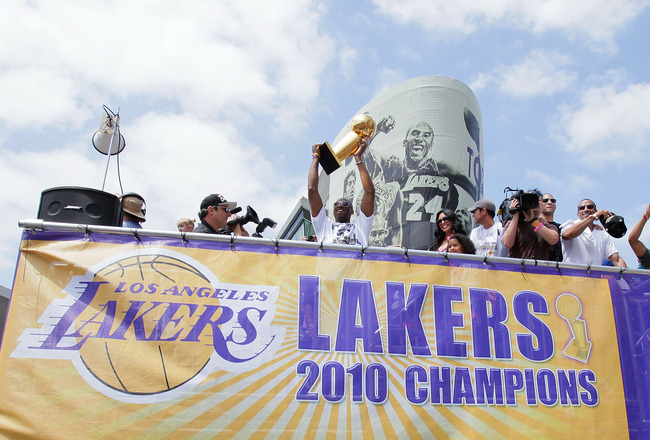 Like many young girls who waited on Tuesday night for the new Twilight movie, the NBA GMs, owners, and fans will have the same sense of anxiousness.
Lives will be changed, money will be made, but the championship stays in the City of Angels.
This free agency period is meaningless if you want to determine a champion. The Lakers are still a better team than any of the possible scenarios. In fact, just to prove it to you, here are the five potential scenarios that Kobe and Co. could be facing next June.
LeBron and Joe Johnson to Chicago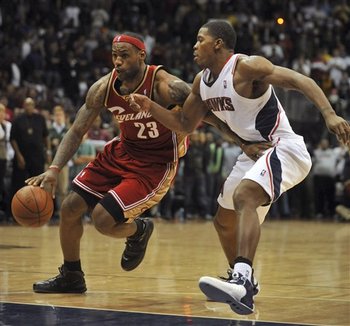 Scenario 1: Lebron signs with Chicago, and assuming Luol Deng is not traded. That puts the starting lineup for Chicago looking something like this:
PG Rose SG Pargo SF James PF Gibson C Noah
Here is the Lakers projected lineup:
PG Fisher SG Bryant SF Artest PF Gasol C Bynum
Except for point guard and small forward, tell me where the Bulls are better in that starting lineup? They still have no option to stop Bryant, while the Lakers at least have some physicality against James.
However, on the offensive end, Joe Johnson can get it done. He's a solid shooter, and has some driving ability. But he failed miserably in the playoffs, and is a poor man's Dwyane Wade.
While Taj Gibson had a wonderful rookie year, he still is no Pau Gasol. And putting Noah on Bynum, gives the Lakers a big height advantage.
Now that Heinrich has been traded, the guard depth has been depleted. This looks like a pretty weak matchup for the Lakers.
On another note, I always wonder what will happen when the Bulls have to sign Rose and Noah to extensions. What money will they have to pay them?
Finals prediction: Lakers 4, Bulls 1.
Bosh/Stoudemire/Boozer and Ray Allen signs with the Heat, w/ Wade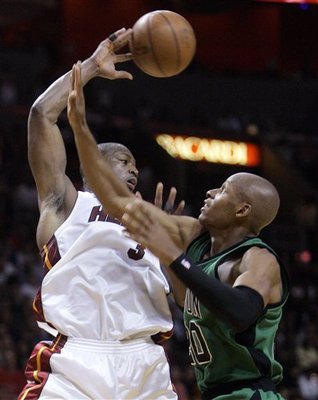 By the way, I'll assume Ray Allen isn't a max contract, and this becomes complicated if Beasley is traded. This is their potential starting lineup:
PG Chalmers SG Wade SG Allen PF Bosh/Stoudemire/Boozer PF Beasley
Well, it would be interesting to see the potential match-ups. I think Fisher would guard Allen, Kobe would guard Chalmers, and Artest would try to match up with Wade. The Lakers could also put Shannon Brown on Wade.
This would be a closer matchup than the potential Bulls matchup. However, all three of those potential max guys would be torn apart by Gasol. In fact, Gasol proved it in these past playoffs.
Finals prediction: Lakers 4, Heat 2
LeBron James Sign-And-Trade With The Mavericks
This is the potential sign-and-trade: Lebron James for Caron Butler, JJ Barea, and Eric Dampier.
This is the potential starting lineup:
PG Kidd SG Terry SF James PF Nowitzki C Haywood
This is a damn good starting lineup, with Shawn Marion and Rod Beuabois coming off the bench. Yet, this is probably Fisher's best defensive matchup against a declining Kidd.
Terry has been extremely valuable as a bench guy, but his numbers wouldn't be as good if he was still the starter. While Nowitzki is a fantastic offensive player, he's a liability on the other side of the floor.
I don't think the same thing can be said about Gasol. Gasol, at this point, is tougher than Nowitzki.
This is still a solid matchup for Artest, but there's no stopping LeBron. Whether it's him scoring, blocking you, or shunning you if you're the media. Yes, the cheap shot is needed.
The worst thing about this team is that it's a bunch of losers. The Lakers have the winning pedigree, while nobody on this potential team has ever won anything in their careers. Nowitzki and LeBron are both coming off of underwhelming playoffs.
People often overlook that winning factor.
Finals prediction: Lakers 4, Mavericks 3
Bosh and James Sign with Chicago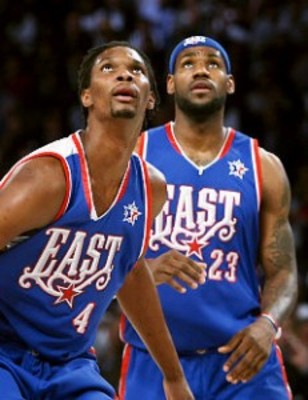 Top to bottom, this is the second best roster in the NBA. James and Bosh would play really well off budding superstar Rose.
The Lakers can match up with both James and Bosh, however. Odom would present a formidable matchup offensively and defensively. While I already documented James vs. Artest, what about a guy like Devin Ebanks?
While Ebanks won't get many minutes, he is a long body who can help defend James off the bench.
The Lakers bench would be times ten better than the potential Bulls bench. I don't think Acie Law, James Johnson, and Hakim Warrick (if he's resigned) provide much fear for the Lakers.
I don't know that the GMs realize you can't play your guys 42 minutes a game and get away with it. You do need solid bench players that will come in and do their job for 10-15 minutes.
Finals prediction: Lakers 4, Bulls 3
James, Bosh, and Wade sign with Heat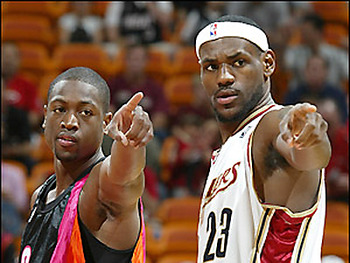 This is the result of a pending Michael Beasley trade. This is basically the Heats roster:
PG Chalmers SG Wade SF James PF Bosh C?
There are several problems with this scenario:
1) James and Wade would demand the ball at all times 2) You have to sign five to six minimum money guys to fill out the roster
3) I'm still not sold that this lineup is as good as the Lakers starting lineup.
Final prediction: Lakers 4, Heat 2
Any Other Potential Match-ups?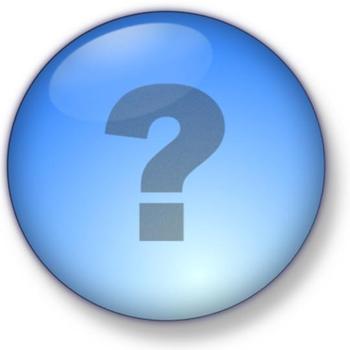 If you have any other potential teams that can beat the Lakers, leave it in the comment section. Thanks for reading.
Keep Reading

Chicago Bulls: Like this team?