Miami Dolphins Training Camp Preview: Secondary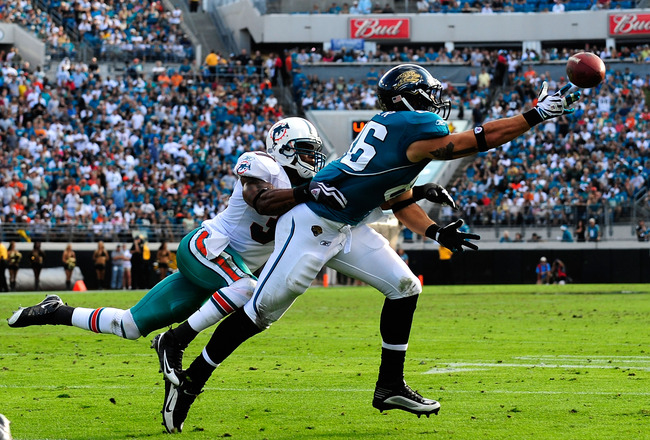 The theme for the 2010 MIami Dolphins secondary should be "Wait and See".
Why? Because that is literally all that Dolphin fans can do with respect to a unit that was ranked 24th against the pass in 2009 in allowing 234.6 yards per game through the air.
Not that there isn't cause for hope. Miami started two rookie cornerbacks in Sean Smith and Vontae Davis for the majority of the season. Former starter Will Allen is returning from injury. Highly paid, but low producing safety Gibril Wilson was released.
Still there are a number of questions in a secondary that has to face Randy Moss, Braylon Edwards, and Santonio Holmes twice a year. If Wes Welker, as reported, comes back quickly from a serious knee injury then Miami will have yet another Pro Bowler to worry about.
The following slides showcase the strengths and weaknesses of the 2010 Miami Dolphins secondary.
Strength: An aggressive Vontae Davis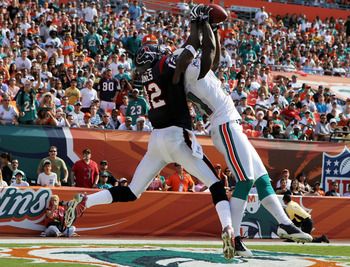 Vontae Davis has the capability to be a playmaker on defense as shown by his four interceptions last season and strong support against the run.
But, Miami has to be extremely realistic about its expectations for Davis. He is going to get beat occasionally because of his gambling style and occasional lapses. Randy Moss proved this with his six catches and 147 yards against Davis in the Patriots and Dolphins first meeting last year.
Vontae is a physical player and should play press coverage, but having a safety over top is a necessity until he gets more game experience.
Perhaps the best thing about Davis is that he has a short memory. After surrendering a 58-yard touchdown pass to Moss in the teams' second meeting, he allowed the future Hall of Famer just one more catch the rest of the day.
He also ensured the 22-21 Miami victory with an interception in front of Moss in the endzone early in the fourth quarter.
Weakness: Giving Up the Big Play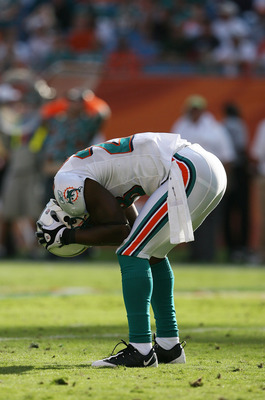 In 2009, only the Raiders and Browns gave up a higher percentage of receptions 20 yards or longer than the Dolphins' 11.66 percent (57 plays in 489 attempts).
The Raiders were the only team that gave up a higher percentage of pass plays 40 yards or longer than Miami's 3.48 percent (17 plays).
With a cornerback such as Nnamdi Asomugha (and yes I had to look up the spelling, but I was close), you would think Oakland wouldn't have this problem either. After all, you match your shut down corner on the other team's best receiver and you should have the makings of a good pass defense.
However, the Dolphins and Oakland share at least one similar problem when it comes to giving up the big play. That fault is the tendency of their safeties to bite on the action in front of them instead of staying with the deep route.
This was a multi-faceted problem for the Dolphins last season. For starters their linebackers were atrocious in coverage so the safeties had to play closer to the line of scrimmage.
The other identifiable concern was that both Yeremiah Bell and Gibril Wilson were strong safeties who were better in run support and in delivering the hit rather than being a 'true center fielder' at the position.
In 2010, Mike Nolan has replaced Paul Pasqualoni as the Dolphins defensive coordinator. Nolan reportedly likes to be aggressive with blitzing. He will have to be judicious on whether to send a safety. Regardless, when he does call a safety blitz, someone on defense better get to the quarterback quickly because a wide receiver will be open down the field.
A good sign is that Nolan's Denver defense allowed only four plays of more than 40 yards or more and none in a game against the New England Patriots in 2009.
Strength: Depth at Cornerback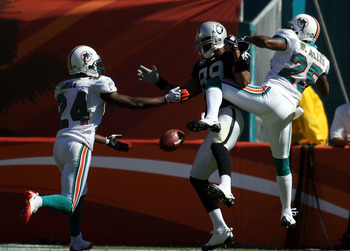 The Dolphins have arguably three starting quality cornerbacks in Davis, Smith and Allen.
In addition, I feel much more comfortable with Tyrone Culver likely seeing most of his playing time as a dime cornerback rather than as a starting safety.
Add in fifth round draft pick Nolan Carroll, who shows glimpses of significant athletic ability, and you have the ability to mix and match and perhaps survive an injury.
Much ado will be made about whether Allen cracks the starting lineup with Smith and Davis, but with the pass heavy attacks in the NFL, a third cornerback is necessary to cover the slot receiver in so many of today's offenses.
Weakness: Depth at Safety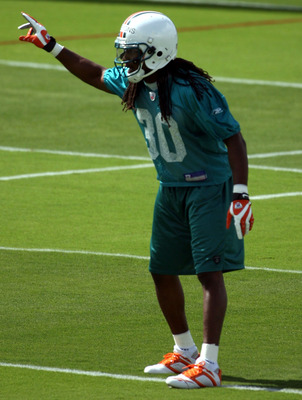 Yeremiah Bell is a good strong safety. He had 114 tackles last season. He had three interceptions, but make no mistake he is much better 'playing in the box' as an extra run defender or blitzer.
Free safety is in the hands of Chris Clemons. Arguably, his performance in training camp will be as important as that of any other Dolphins' player.
The second-year product out of Clemson has plenty of speed, but there remains questions about his leadership and more importantly his ability to recognize plays.
He played sparingly in 11 games last season and had a whopping 13 tackles. Clemons only registered these tackles in four of the games.
This isn't exactly what you want to hear about your starting free safety. Clemons might be nothing more than a special teams player and haven't we heard that before with Jason Allen?
If Bell or Clemons suffers an injury Miami will likely regret its failed attempt at signing Pittsburgh safety Ryan Clark or not being more aggressive in pursuing St. Louis Rams safety O.J. Atogwe when the two players were free agents.
Culver is again better suited as a backup wherever he lines up. Rookie Rashad Jones reportedly does not look healthy, and it's asking a lot for undrafted rookie free agent Jon Amaya to even make the team.
I wouldn't be shocked to see Bell and Clemons as the only pure safeties on the roster at the end of training camp (in addition to Culver, Jason Allen can line up at either safety or cornerback).
Intangible: The Development of Sean Smith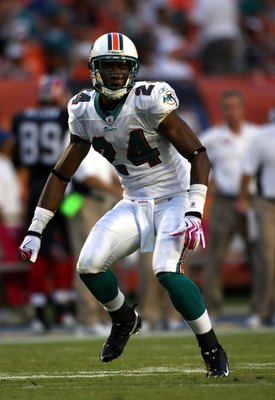 There seems to be a given assumption that Sean Smith will develop into a solid or Pro Bowl starter opposite Vontae Davis
Actually, Smith is more of an enigma than a sure thing for the Dolphins and his progress this year will be both imperative and fascinating to watch.
On the plus side, Smith has unique coverage ability. His lengthy frame gives him a natural advantage even when he is beaten by a step or two, especially by tall receivers.
If he learns to be more physical, and he apparently has added bulk, he could at least tie up receivers at the line of scrimmage.
Smith had a tremendously impressive pre-season in 2009 and then seemed to lose confidence after he was beaten for a few big plays in the regular season.
The cornerback that you saw at the end of the year did not look like a starter. Smith is not tremendously quick to accelerate and he clearly seems afraid to give up the big play. While he might provide tighter coverage than Davis at times, he only made 39 tackles and for a player his size he plays soft.
There will be the argument until proven otherwise that he is better off at safety because shifty slot receivers with the ability to cut quickly will eat him alive coming in and out of breaks.
He deserves to stay at cornerback, but he has yet to produce a regular season interception and that must change dramatically for him to continue as a starter.
So here it is, the training camp outlook for the Dolphins' secondary in 2010. Talent-wise, they should improve statistically from last year. Will they turn out to a strength or weakness for Miami this season? Wait and see.
Keep Reading

Miami Dolphins: Like this team?