Philadelphia Eagles Top Five Plays of the 2009 Season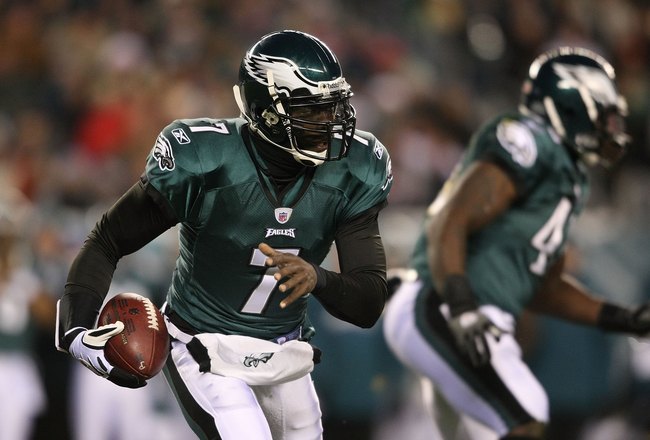 For the Philadelphia Eagles, the 2009 season was once again filled with ups and downs, and a full list of injuries.
However, the Eagles still managed, once again, to make the playoffs, even with all the struggles that surrounded them.
Here is my list of the top five plays from the 2009 season!
DeSean Jackson Breaks Loose And Tears Off!
During the 2009 home opener against the Carolina Panthers, WR and PR man DeSean Jackson zigged and zagged his way to an 85-yard punt return TD.
What a way to start off the season!
Jeremy Maclin Proves To Be a Threat—Twice!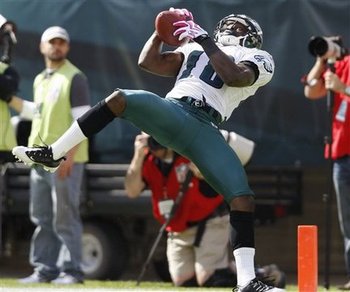 Rookie WR Jeremy Maclin missed the beginning of the 2009 training camp, and it may have hindered him a little bit, but for the most part Maclin was a true competitor who picked up the playbook quickly.
In the game versus the Tampa Bay Buccaneers, Maclin recorded two TDs of 40 or more yards and needed to shift his body to make the catch — something many veterans still have problems with!
QB Kevin Kolb Hits DeSean Jackson Deep Again!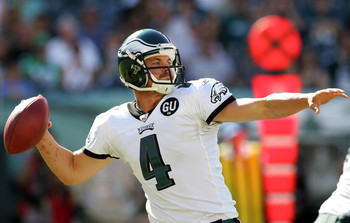 I get it, it was only the lowly Kansas City Chiefs, but for the Philadelphia Eagles fans it was so much more than that.
It was the second start of his career, the second straight week he hit WR DeSean Jackson deep for a touchdown, and the second straight week Kolb threw for over 300 yards.
Now I'm not here to say that because of those two games he proved to be better than McNabb, nobody can judge that until after their careers are long over — or at least until this season is over with.
But what Kolb showed in those two games is that he can remain calm in the pocket, release the ball before getting hammered, and lead a receiver into open space.
I'm sure there were other things involved that made the Eagles front office feel confident enough to trade away their franchise QB, Donovan McNabb.
But he did enough to land a starting job!
RB LeSean McCoy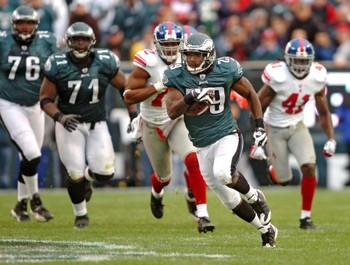 One thing is certain — in 2009 the Philadelphia Eagles owned the New York Giants, putting up 30 or more points and winning both games.
However, in the match-up between the two on Nov. 1, 2009, RB LeSean McCoy displayed he is more than capable of being the No. 1 back for the Eagles, as he tore off a 66-yard rushing TD — a welcomed sight with Brian Westbrook on the sideline.
Now, McCoy is the main man in the backfield and looks to expand on his 2009 production!
QB Michael Vick Hits WR Jeremy Maclin In Playoffs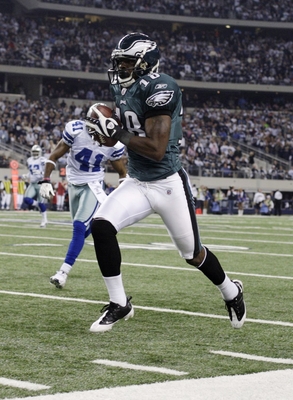 It was yet another horrible loss to the hated Dallas Cowboys, but if there was a glimpse of what QB Michael Vick is capable of other than running for his life, it was on this play.
On a slant route pattern run by Maclin, Vick hit him on the sideline and Jeremy ran it the rest of the way for a 76-yard TD.
The play set an Eagles record for longest TD reception by a rookie in a playoff game.
More Eagles Related Articles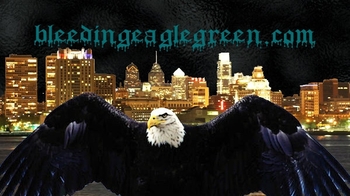 Be sure to check out www.bleedingeaglegreen.com for more Eagles related columns!
Keep Reading

Philadelphia Eagles: Like this team?