College Football's 10 Highest Ranked Recruiting Classes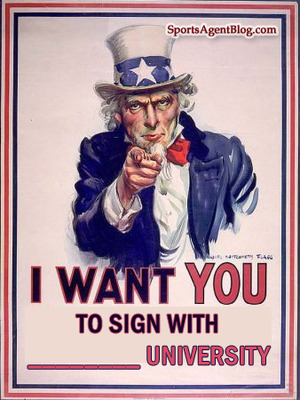 With the start of the final summer semester, the 2010 recruiting classes are beginning to pop up on campuses across the country.
With expansion settling into uneasy truces and missing the illogical behavior of earlier in the month, I suppose it's time to talk about pseudo–on-the-field stuff.
Today, I'll cover the recruiting class rankings.
These are the highest ranked recruiting classes since 2002 according to Rivals; I guess I can't use the phrase "of all time" since recruiting class rankings are a relatively new measure.
Why Rivals?
They have the deepest archive. I don't particularly like them any more than any other recruiting ranker; in fact, I consider the team points system they use to tally up their final ranking ridiculous.
That said, something is better than nothing, and Rivals has the longest collection of something. So here are the top recruiting classes according to people who have been ranking recruiting classes since 2002.
No. 10—2007 USC Trojans(2,761 points)
Five stars—Six
Four stars—10
Three stars—Two
The smallest class on this list also holds the distinction of having the highest average star rating, which gives it enough of an edge to beat out a couple of larger Texas classes for the 10th spot.
Despite not playing in a BCS title game, this class has two Rose Bowl victories and three bowl wins. The jury's still out on how this class will be viewed historically, but verdicts can be rendered on a few players.
Panned out: Everson Griffen, Joe McKnight, Malcolm Smith, Chris Galippo
Busts: Aaron Corp
No. 9—2009 Alabama Crimson Tide (2,786 points)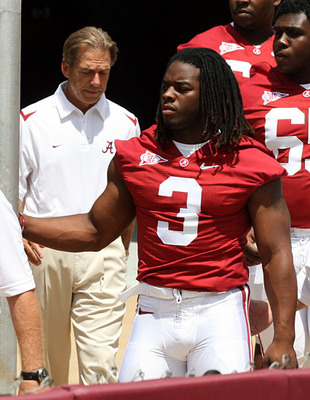 Five stars—Four
Four stars—14
Three stars–Nine
It wouldn't be SEC football without teams signing over the 25 scholarship limit.
Alabama clocks in with 27 recruits and the ninth best recruiting class, according to Rivals.
This class is too new to definitively say whether or not anyone is a bust, although it's safe to say that Trent Richardson has panned out.
No. 8—2002 Texas Longhorns (2,792 points)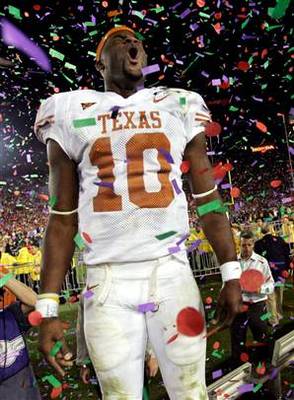 Five stars–Six
Four stars–15
Three stars–Five
Ahh, Vince Young's class, and the first class that you could claim was responsible for a national championship (2009 Bama barely saw the field during its championship run).
I must note that one player listed in this class actually ended up at Texas Tech. Still, the classes are "as is" and I don't know if the loss of Marquis Johnson would knock the Horns out of the top 10.
Overachievers: Vince Young, Aaron Ross, Justin Blalock
Panned out: Rodrique Wright, Aaron Harris
Busts: Bryan Pickryl, Albert Hardy, Edorian McCullough
No. 7—2008 Alabama Crimson Tide(2,836 points)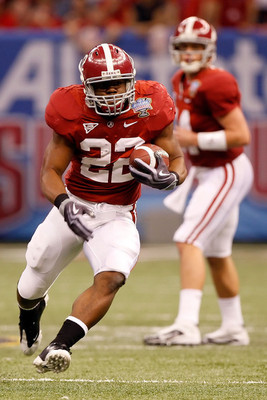 Five stars–Three
Four stars–19
Three stars–Eight
And the really big class award goes to...Alabama! This 32 person class stomps all over scholarship limits.
However, results are results, and the class that included Terrence Cody, Mark Ingram, and Julio Jones resulted in an Alabama national championship.
Like the '09 class, this one still is too young to pass a final verdict on most of its members. But it's safe to say that Ingram, Cody, and Jones panned out or overachieved.
No. 6—2006 Florida Gators (2,901 points)
Five stars–Four
Four stars–17
Three stars–Five
Urban Meyer's first full recruiting class was a doozy, and will go down in Gators history as one of the best collections of talent ever assembled in one year.
The '06 Gators are responsible for the most wins in university history (47), two national championships, a Heisman trophy, a handful of All-Americans, and a number of other accolades.
Overachievers: Percy Harvin, Tim Tebow, Brandon Spikes, Brandon James
Panned Out: Carl Johnson, Riley Cooper, Jermaine Cunningham
Busts: Jarred Fayson, Jamar Hornsby, Chevon Walker
No. 5—2004 USC Trojans (2,908 points)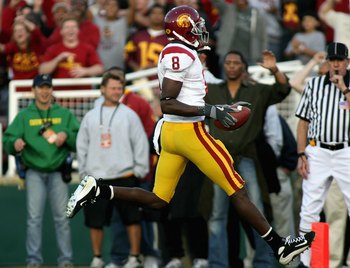 Five stars–Eight
Four stars–Seven
Three stars–Three
The Trojan classes don't have the size of the other teams listed here, but they make up for it in quality. While the 2004 USC Trojans will be remembered more for what happened in 2010 than what happened on signing day, this is an impressive class.
Overachievers: Fred Davis, Dwayne Jarrett, Keith Rivers
Panned Out: Taitusi Lutui, Jeff Bowers
Busts: Rocky Hinds, Derrick Jones, Jeff Schweiger Jr.
No. 4—2010 Florida Gators (2,938 points)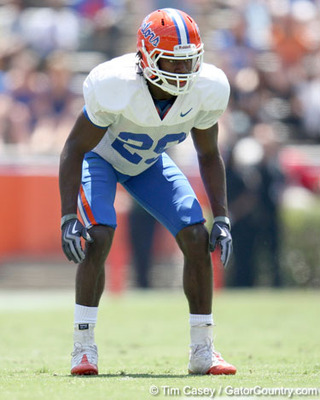 5 stars– four
4 stars– eighteen
3 stars– five
If this class doesn't overtake the 2006 class as the Gators' most impressive haul, it will go down as the most improbable.
Urban Meyer held together what some call the finest class in history despite retiring for a day in the week leading up to the Sugar Bowl.
Nobody from this class has stepped onto the field yet, but this class could be immediately important with the departure of roughly 85 percent of the Gators' talent from last year.
No. 3—2007 Florida Gators (2,959 points)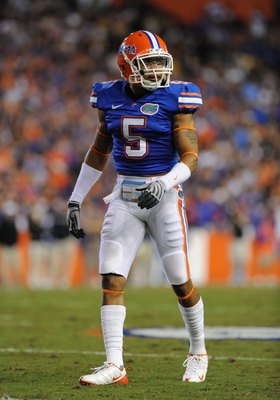 Five stars–Four
Four stars–16
Three stars–Seven
The Gators' best haul, according to Rivals, is neither the storied 2006 class nor the hyped 2010 class—it's the under-appreciated 2007 class.
This class is a little bust–heavy, but still stacked with many players who panned out or have potential in 2010.
Overachievers: Pouncey twins, Joe Haden
Panned out: Carlos Dunlap, Ahmad Black, Major Wright, Aaron Hernandez, Chris Rainey
Busts: Torrey Davis, Cameron Newton, John Brown
No. 2—2010 USC (3,003 points)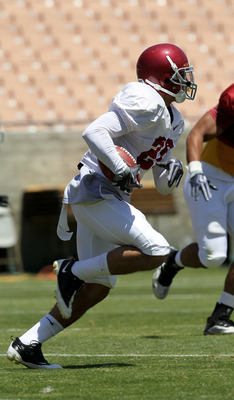 Five stars–Five
Four stars–14
Three stars–One
Lane Kiffin's debut class may have provided a little insight into why the hell the Trojans would pay someone whose never done anything at all from a coaching standpoint so much money.
He managed to pull Rivals' top class despite having less than a month as the Trojans' coach. Like the Gators' class, this class has not seen the field.
No. 1—2006 USC Trojans (3,010 points)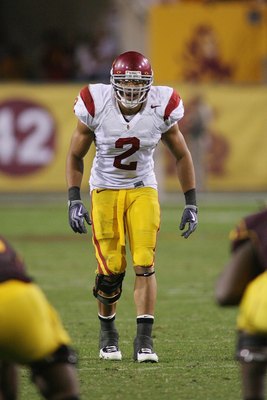 Five stars–Five
Four stars–14
Three stars–Six
It's fitting that USC's only over-signed class on the list is also Rivals' top class.
The 2006 Trojans have gone undefeated in bowl games, including three Rose Bowl wins.
Despite the Rivals ranking, this class could go down as an example on how not to recruit. Many of the recruits transferred away from the Trojans, a fact that could be attributed to the heavy signing at a few positions.
Overachievers: Taylor Mays
Panned out: Anthony McCoy, Stafon Johnson,
Busts: Emmanuel Moody, Vidal Hazelton, Jamere Holland, Antwine Perez, Josh Tatum
Keep Reading