Detroit Red Wings: Five Reasons To Be Optimistic About Next Season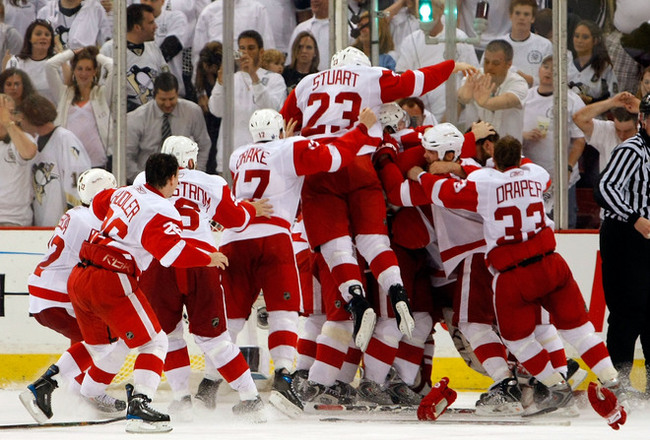 As a general hockey follower, or a mild Red Wings fan, it might be easy to think the Red Wings are in decline. This past season was the first year since the lockout that Detroit lost control of their division and failed to have a 50-win season. But after a closer look, I hope you will come to understand why next year could be a great one for the Red Wings.
Last year the Wings seemed to be plagued. Detroit started off going through a massive transition in the offseason, which saw the departures of Hossa, Samuelsson, and Hudler, three very valuable players to the Red Wings. Not to mention, for the second straight season, the Wings had a very short offseason to rest.
While attempting to adjust to the current roster, they endured injuries to key players. So needless to say, last year was an off year, which leads many to believe Detroit's era of dominance is over. But I strongly disagree and will give you just a FEW of the many reasons why Detroit will win the cup next year.

Keep in mind that this is my first article.. so there will be mistakes.
Jiri Hudler's Return
Yes, if you can't already tell by the title, this is a picture of Jiri Hudler scoring a game winning goal in a highly intense and close Stanley Cup Finals game.
There are many reasons why I STRONGLY believe this man can and will be the key to another Stanley Cup...
He has shown consistent and steady improvement each year:
2006-2007 - 15 Goals 10 Assists = 25 Total Points
2007-2008 - 13 Goals 19 Assists = 42 Total Points
2008-2009 - 23 Goals 34 Assists = 57 Total Points
He is still a youthful 26, and the energy he brings has been a game changer in the past, and will continue to be so in the future. He has been maturing each year. His penalty minutes have declined each season and he has grown confident, as his shot totals have risen each year.
He tore it up in Russia, and was a consistent contributor to the Moscow Dynamo, averaging a point a game.
Coach Mike Babcock also has stated that Hudler has been "training like crazy" in preparation for this upcoming season. Now call me crazy, but I think a 70+ point season is possible for this up-and-coming star.
A Fresh Franzen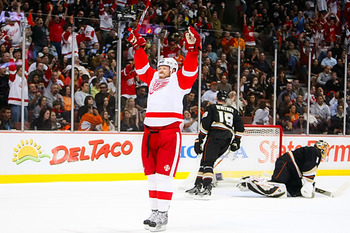 Similar to Hudler, Franzen has consistently improved each year. After having a great 2008-2009 season scoring 59 points in only 71 games, it looked as if his next season had potential to be great.
But the Red Wings were stunned when their star and best pure goal scorer tore his ACL at the beginning of the season. While in the midst of a tough transition, this only made matter worse... much worse.
You would expect someone to start slow after returning from an injury like that, but Franzen certainly didn't. He jumped right back in and amassed his totals to 21 points in only 27 games. Do the math and that's 63 in a season. And it probably would have been more had he not just recovered from an ACL tear. The playoffs saw Franzen lead the team with 18 points in just 12 games.
The rest he had may in fact be a major bonus this year, as Franzen will look to continue to produce for the Red Wings.
Much Needed Rest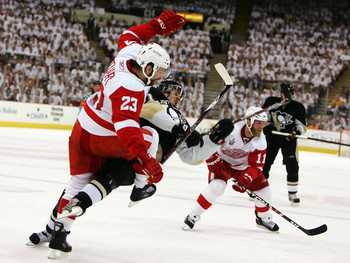 I think this is overlooked. What people overlook and fail acknowledge is the wear and tear a team endures during the season/postseason. A team that makes it to the Stanley Cup Finals most likely will have an offseason that is TWO months shorter than the teams that fail to make the playoffs (which is half the league). It's also about a month shorter than teams that lose in the first and second rounds.
The Red Wings had to endure this ultra short offseason two consecutive years (three if you consider the 2007 playoffs that resulted in a conference final loss). This past year was the quickest the Wings were eliminated since the 2005-2006 season. It is my opinion that this rest is key for the Red Wings' core.
Home Improvement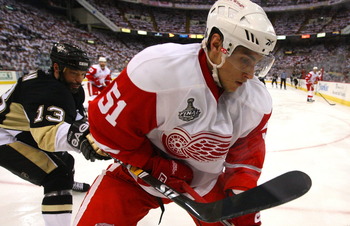 Red Wings coach Mike Babcock thinks the most important offseason goal is improving his own team from within. And it is time for certain players to step up and be the players that they are capable of being. I'm only going to mention a few of the many players that should improve this next season.
Players like Valtteri Filppula, who Babcock thinks should become a 65+ point player. Last season he amassed 35 points in 55 games. He has been a good but inconsistent contributor, who dealt with injuries which affected his play this past season. We should expect much more this next season from Filppula, who is making $3 million a year. He knows and acknowledges the fact that he need to mold in to a consistent contributor for this team.
Players like Darren Helm and Justin Abdelkader (assuming they are in red and white next year), look to improve and hope to become solid contributors to this team. Darren Helm skated in 75 games this past season and produced 24 points. The 23-year-old has unmatched speed and game changing energy, but endured injuries and overall was inconsistent. Despite these inconsistencies, the speedy Darren Helm screams potential, and the Wings would be wise to help develop his skills fully.
Justin Abdelkader is another young talent that has shown the potential to become a star. This physical forward led the team in hits, despite only playing in 50 games. His numbers weren't good, but if this kid can improve his offensive game, he has the potential to be a nightmare for opposing teams.
Defenseman Jonathan Ericsson is another player who needs to take a big step next year. He went through a frustrating "sophomore slump" and failed to live up to expectations. He has shown the capability and potential to be a top defenseman for the Red Wings, but it's time he developed his skills to a higher level.
These are only four of the many that can improve on the Red Wings.
Big Three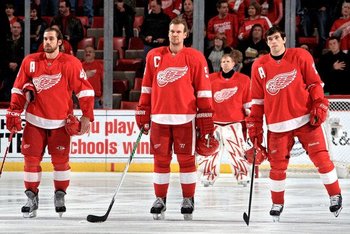 Despite less productive seasons from each of these three (Pavel Datsyuk, Nicklas Lidstrom, Henrik Zetterberg), I see no reason to panic. With all of the changes the roster endured, and the overall inconsistency from the team in many different aspects, I think it is okay to discredit this past season.
Lidstrom is still without a doubt one of the NHL's top defenders, and his leadership and experience is unmatched anywhere else in the league. His decision to return is the paramount reason why I think the Wings will hoist the cup next year. His presence alone is a game changer. Fans can always breathe a little easier when he is on the ice in close games.
Datsyuk in my mind is the best all around player in the NHL. Although he was absolutely outstanding defensively this year, his offensive numbers declined. This in my mind is due to the overall inconsistency of the team, and the injuries to his teammates and wing mates. If Datsyuk had Franzen by his side during this past year, his numbers would have definitely been different. I again think it's safe to discredit his offensive inconsistencies last year, and I predict an 85+ point season, and another Selke.
Now to my favorite player, Henrik Zetterberg. Another player who makes me panic a little less when I know he's on the ice. Hank is the player you can count on at any second of any game. The once Conn Smythe winner has of the best work ethics in the NHL. He, like Datsyuk, is an outstanding two-way player who usually gets matched against other teams top offensive lines. Just ask Sidney Crosby, and he will attest to his unbelievable defensive abilities.
This past year, he dealt with injuries to himself, and his wing mates. I think the extra rest is crucial, and I see him having a great year next year. I predict an 80+ point season, assuming he stays reasonably healthy.
Keep Reading

Detroit Red Wings: Like this team?