College Football Predictions: Pre-Season Top 25 for 2010
At the conclusion of the 2009 college football season, it was the Alabama Crimson Tide holding up the BCS National Championship after a 37-21 win over the Texas Longhorns.
This season, there are many questions and storylines brewing throughout college football.
Can Alabama repeat as national champions?
Can Boise State and/or TCU once again crash the BCS party?
Will any darkhorse teams emerge and snatch away BCS bowl bids?
With the beginning of the college football season fast approaching, we take a look at the Pre-Season Top 25.
Let the debate begin.
25. Texas A&M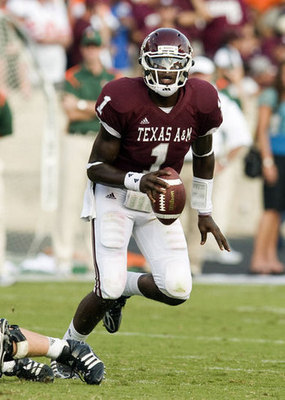 2009 Record: 6-7
Returning Starters: 15: Five offense, eight defense, punter, kicker
Quarterback Jerrod Johnson, who had a stellar year last season, could build on his numbers because of the number of playmakers on the A&M offense.
Christine Michael and Cyrus Gray lead the Aggie running attack with blazing speed and raw power.
The defense will need to improve from its 105th place finish in total defense last season but possesses plenty of speed.
It definitely has the opportunity to improve as eight players return on defense, led by Von Miller, who led the nation last year with 17 sacks.
There are too many concerns to make a run at Texas and Oklahoma for the Big 12 South crown, but the offense can light up the scoreboard and has the ability to keep the team in many games.
24. Penn State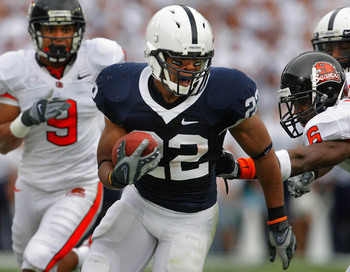 2009 Record: 11-2
Returning Starters: 13; Seven offense, five defense, kicker
The Nittany Lions could face early adversity as Kevin Newsome, Matt McGloin, and Paul Jones are competing for the quarterback position, in which only one has completed a pass in a college football game.
RB Evan Royster will have to continue to take pressure off Penn State's signal caller. He has posted back-to-back 1,000 yard seasons and will attempt the school's all-time leading rusher.
With the departure of the 2009 Big 10 Defensive Player of the Year in Jared Odrick, look for DT Devon Still to attempt to a big impact this season.
The defensive line once again has a lot of size and, the secondary could be one of, if not the, deepest in the Big 10.
With three tough road games against Alabama, Iowa, and Ohio State, Penn State will show its worth and whether it can push Ohio State for the Big 10 crown.
23. Houston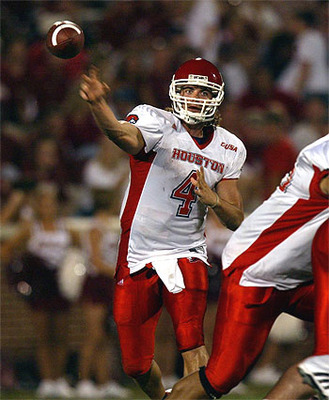 2009 Record: 10-4
Returning Starters: 15; Nine offense, five defense, kicker
The Houston Cougars return most of their offense that ranked first in the nation last season, including senior quarterback Case Keenum.
The Cougars can score in bunches, and with three 1,000-yard receivers from last season—Tyron Carrier, James Cleveland, and Patrick Edwards—back on offense, look for Houston to continue to pose problems for opposing defenses.
Former Dallas Cowboys defensive coordinator Brian Stewart has come in to help a unit that finished 111th in total defense last season.
With only five starters returning on offense, a lot of contributors will need to step up, including transfers, DE Matangi Tonga and LB Sammy Brown.
Look for Houston to win the C-USA title and, if they can stay healthy, a possible crash into the BCS party.
22. Cincinnati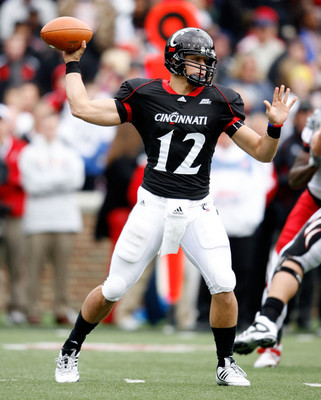 2009 Record: 12-1
Returning Starters: 13; Seven offense, five defense, kicker
QB Zack Collaros is more than capable of handling the Bearcat offense, as he went 4-0 in his four starts last year for an injured Tony Pike.
Even with the departure of Mardy Gilyard, the wide receiver position remains deep and athletic with Armon Binns, D.J. Woods, and USC transfer Vidal Hazelton leading the receiving corps.
The Bearcats will need to drastically improve on its defense, which gave up an average of over 39 points over its final five games.
Head coach Butch Jones, who was brought in to replace Brian Kelly, is installing a 4-3 defense that should help the defense greatly.
With 23 wins over their last two seasons, Cincinnati knows how to win, but the defense could be the key to a Big East title.
21. Miami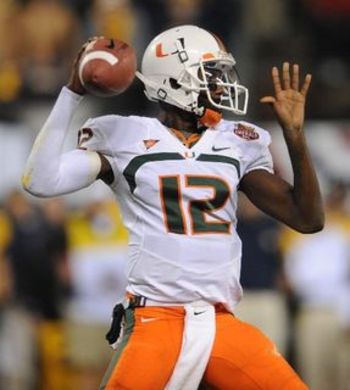 2009 Record: 9-4
Returning Starters: 16; Six offense, eight defense, punter, kicker
After passing for more than 3,000 yards last season, Jacory Harris returns to lead the Miami offense and will attempt to become one of the best quarterbacks in college football.
The Hurricanes are also talented at the receiver position as Leonard Hankerson and LaRon Byrd lead a corps with plenty of speed to pose threats to opposing defenses.
The defense remains fast and has one of the nation's premier defensive lines, led by Allen Bailey.
The secondary has plenty of speed and athleticism that can limit an opposing offense's production.
A brutal opening schedule awaits Miami, but if they can weather the storm early, this could put the Hurricanes in prime position for their first ACC title game.
20. Georgia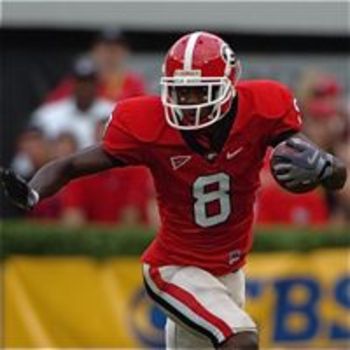 2009 Record: 8-5
Returning Starters: 17: 10 offense, five defense, punter, kicker
The Bulldogs definitely have the experience on offense to help either Aaron Murray or Logan Gray make the transition into the quarterback position.
With WR A.J. Green, who caught 53 passes despite only starting eight games, look for this offense to become more dynamic.
With a new 3-4 scheme installed on defense, look for Georgia to be able to swarm the quarterback from different directions.
The linebacker and cornerback positions are showing a lot of promise in the off-season and could help ignite the defense into becoming a dominant one.
Although they may not catch Florida in the SEC East division, there is still plenty of talent on this team. How a new quarterback and a revamped defense produce could dictate how far this team goes.
19. Georgia Tech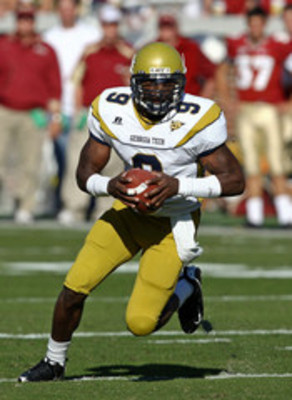 2009 Record: 11-3
Returning Starters: 16: Six offense, eight defense, punter, kicker
Dynamic QB Josh Nesbitt will help lead this Yellow Jacket offense to attempt to continue to dominate on the offensive end, where they finished third in the nation in time of possession.
Anthony Allen will now be the feature back with the departure of Jonathan Dwyer to the NFL Draft.
On the defensive side, the linebacker and secondary positions remain experienced and are very talented.
Look for the LBs to be the anchors of the defense, as defensive coordinator Al Groh is installing a 3-4 scheme that will suit the defense perfectly.
If the defense improves under Groh's new scheme and the offense remains productive, Georgia Tech should once again be in contention for the ACC title.
18. LSU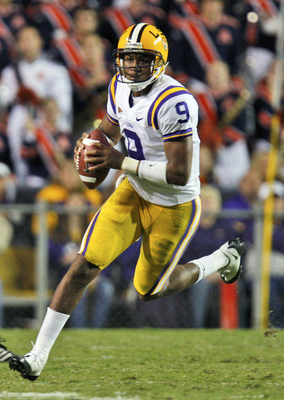 2009 Record: 9-4
Returning Starters: 12: Six offense, four defense, punter, kicker
Junior quarterback Jordan Jefferson returns after he posted 2,166 yards and 17 touchdowns last season.
Despite not much experience at the running-back position, the trio of Stevan Ridley, Michael Ford, and Richard Murphy could help Jefferson with the offense.
The defense is very much improved, but with only four returning starters, its athleticism may have to attempt to hide its weaknesses.
Patrick Peterson is the anchor of the Tiger secondary and an excellent cornerback, but teams will avoid throwing to him, instead focusing on other inexperienced targets.
The Tigers need offensive players to break through this season, particularly Ford. If they can stay calm and play strong in late game situations, this team could attempt to push Alabama and Florida in the SEC.
17. Oregon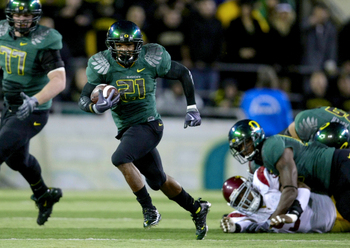 2009 Record: 10-3
Returning Starters: 18: Nine offense, eight defense, punter
The Oregon offense has as explosive of an offense as anyone in the country, but with the quarterback position unsettled due to the season long suspension of Jeremiah Masoli, expectations may have to be lowered.
Running back LaMichael James will carry the load of the offense, at least for the beginning of the season, as they rushed for 1,546 yards last season.
The defense, which may be underrated, brings back eight starters but has been tweaked with in the off-season to attempt to become more productive.
The secondary is deep and very talented and can help the defense avoid giving up big plays.
The defending Pac-10 champ Ducks were a lock to repeat until the suspension of Masoli. They will have to address the quarterback position quickly, or they could lose the Pac-10 crown.
16. Arkansas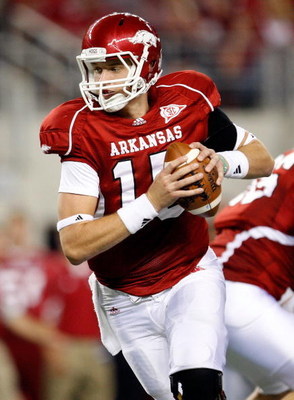 2009 Record: 8-5
Returning Starters: 18: Nine offense, seven defense, punter, kicker
The Arkansas offense will continue to assert its dominance as fourth-year junior quarterback Ryan Mallett and his 30 touchdowns from last season return to lead a Razorback team stacked on offense.
Top receivers Joe Adams, Greg Childs, and Jarius Wright all return at Mallett's disposal and will give opposing defenses plenty of trouble.
The defense has improved but still needs work, especially when defending big plays.
Led by junior end Jake Bequette, the defensive line has the ability to make plays and force offenses to become one-dimensional.
Arkansas will have a spectacular offense, but with early games against Alabama and at Georgia, their defense will have to prove itself, or hopes of an SEC title will be lost early.
15. Pittsburgh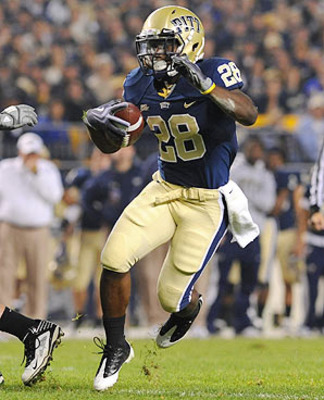 2009 Record: 10-3
Returning Starters: 13: Five offense, six defense, punter, kicker
The Panthers have a strong running game, led by Big East Offensive Player of the Year, Dion Lewis.
Lewis, who averaged over 138 yards per game, and an athletic receiving corps, will help new quarterback Tino Sunseri adapt to the position.
Six starters return on the defensive side of the ball and will continue to make its presence known.
The defense finished in the top 20 in the nation in scoring and rushing defense last season and will look to build on that.
The Panthers have had opportunities to capture the Big East crown only to fall short in big games. With a strong defense and a more than capable offense, Pittsburgh should finally break the Big East glass ceiling and win the conference.
14. West Virginia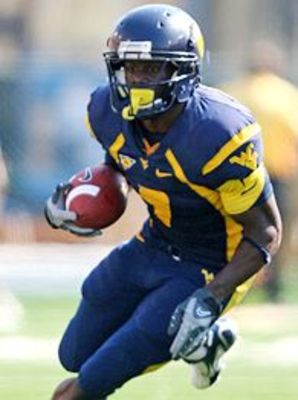 2009 Record: 9-4
Returning Starters: 19: Nine offense, nine defense, kicker
The Mountaineers, despite returning nine starters on offense, are not assured at the quarterback position. QB Geno Smith suffered a broken foot in the off-season and could be pushed at signal caller by Coley White.
RB Noel Devine, who rushed for 1,465 yards and 13 touchdowns last season, may have to carry the offense until either quarterback takes the reins.
West Virginia brings back great depth and athleticism on defense.
With playmakers DE Julian Miller and FS Robert Sands anchoring the defense, they have a solid chance to improve on a defense that finished 36th in the nation last season.
West Virginia has great balance on both sides of the ball and could very well be in contention for the Big East Championship.
13. North Carolina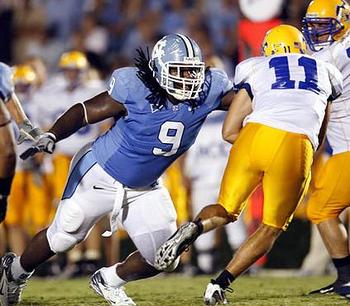 2009 Record: 8-5
Returning Starters: 21: 10 offense, nine defense, punter, kicker
North Carolina needs to improve its offense, but with redshirt freshman Bryn Renner poised to take the quarterback position from senior T.J. Yates, it could be an upgrade.
With a young, athletic receiving corps led by Greg Little and Erik Highsmith, they should help either quarterback make big plays.
The defense, which finished sixth in total defense, is the strength of this Tar Heel team.
This defense, which could have had up to seven players selected in the first three rounds of last year's NFL Draft, return to wreak havoc to opposing offenses.
The Tar Heels will need to stay healthy and play up to a tough schedule. If they can do this, there will be no excuse for not making a serious run at the ACC crown.
12. USC
2009 Record: 9-4
Returning Starters: 12: Six offense, five defense, punter
Sophomore quarterback Matt Barkley had a nice season last year, but needs to improve his numbers.
Ronald Johnson is the only receiver capable of stretching a defense, but look for running back Dillon Baxter to be called on a few times a game. The true freshman has the explosiveness of Reggie Bush and could help the offense.
The defensive line is as deep and athletic as they come and will help anchor the defense.
Expect the defense to improve drastically and help alleviate pressure from the offense.
Due to off-season sanctions put on the program, they will not be eligible for postseason play, but this team could rebuild itself and help re-establish the program for players wanting to play for USC.
11. Virginia Tech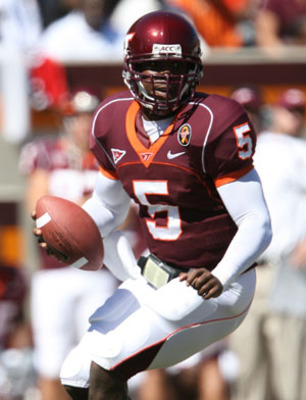 2009 Record: 10-3
Returning Starters: 12: Seven offense, five defense
The Hokies bring a stacked offense to the table this season, led by senior quarterback Tyrod Taylor.
He is a winning quarterback and also has help in the form of one of the top running back duos in the country, Ryan Williams and Darren Evans.
Virginia Tech's speed on the defensive end does not necessarily come with experience, something that needs to be addressed quickly.
The Hokies do have a couple of experienced players ready to anchor the defense in defensive tackle John Graves and cornerback Rashad Carmichael.
This team, especially the defense, will have to mature in a hurry if it wants to win the ACC title and contend for a national championship. Its opener against Boise State will set the tone for the season.
10. Iowa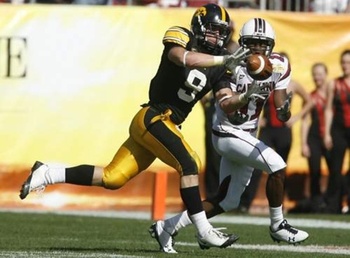 2009 Record: 11-2
Returning Starters: 16: Six offense, eight defense, punter, kicker
Quarterback Ricky Stanzi has posted an 18-4 record as the starting signal caller for the Hawkeyes despite throwing 15 interceptions last season. He will need to improve those numbers to continue to help Iowa win games.
He will have the help as key playmakers running back Adam Robinson and the duo of receivers Marcus McNutt and Derrell Johnson-Koulianos will help provide the offense with some stability.
However, the defense is the strength of this squad.
The front four all return for the Hawkeyes, including Adrian Clayborn, who is projected as an All-Big 10 First Team this season. Strong safety Tyler Sash is a ball-hawk and will force offenses to think twice before throwing in his direction.
Iowa could very challenge Ohio State for the Big 10 crown, but lack of experience at the offensive line could prove the difference for the Hawkeyes. Look for the black and gold to reach a New Year's Day bowl.
9. Nebraska
2009 Record: 10-4
Returning Starters: 17: Eight offense, seven defense, punter, kicker
Returning quarterback Zac Lee was poised to retain his position before undergoing arm surgery this off-season.
Sophomore Cody Green and redshirt freshman Taylor Martinez will make a claim for the starting spot, leaving this position wide open.
Defensive tackle Jared Crick and cornerback Prince Amukamara lead a strong defense capable of smothering opposing offenses.
With the departure of one of the most intimidating players in Nebraska history, defensive tackle Ndamukong Suh, a large hole is left in the middle of the defense, but defensive coordinator Carl Pelini will make sure that hole is filled.
The Cornhuskers once again look to be the team to beat in the Big 12 North. With Nebraska departing to the Big 10 next season, they look to leave a lasting image on the Big 12.
8. Wisconsin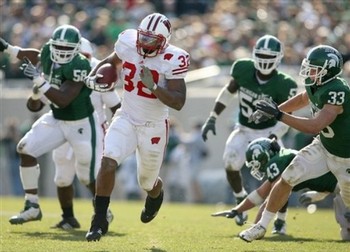 2009 Record: 10-3
Returning Starters: 18: 10 offense, six defense, punter, kicker
The Badgers will be a successful team this year due to great blocking and the explosive running of the Big 10 Offensive Player of the Year from last season, John Clay.
Quarterback Scott Tolzien was very efficient last season and could produce better numbers with Nick Toon also primed for a breakout season.
Last season, the defense did a terrific job of pressuring the quarterback and shutting down the run.
Their fifth ranked rushing defense can help the team control game tempo and win close games.
With tough back-to-back games at Ohio State and against Iowa, they will prove to the nation whether they are capable of winning a conference championship.
7. Oklahoma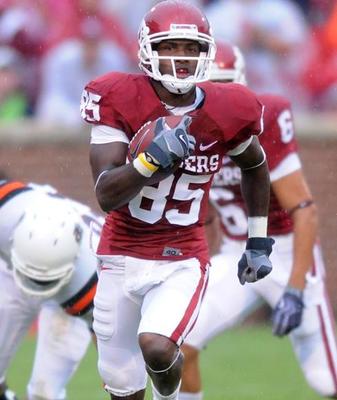 2009 Record: 8-5
Returning Starters: 16: Eight offense, six defense, punter, kicker
Landry Jones, who filled in nicely for an injured Sam Bradford last season, returns to hopefully play a full season at quarterback for the Sooners.
He will have plenty of weapons, as running back DeMarco Murray, who has nearly 2,500 career rushing yards, and receiver Ryan Broyles will assist in the ground and air attacks.
All-American candidates DE Jeremy Beal and LB Travis Lewis anchor a unit that ranked in the top 10 in scoring, rushing, and total defense last season.
The safety position is another strength. However, an injury to Adrian Taylor in last season's Sun Bowl may hurt depth at the defensive tackle position.
A tough schedule awaits the Sooners this season with Texas, Cincinnati, and Florida State, but if Oklahoma can escape this trio of games with at least two wins, they could have the inside track to the Big 12 Championship.
6. TCU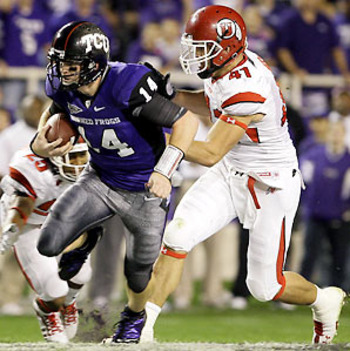 2009 Record: 12-1
Returning Starters: 18: Nine offense, seven defense, punter, kicker
The offense had a breakout year in which it finished seventh in the nation in total offense last season.
The Horned Frogs' success on offense was in large part due to senior quarterback Andy Dalton, who has broken nearly every passing record in the school's history and game-breaking threats at the skill positions.
TCU ranked No. 1 in total defense last year and will be just as good as their 2009 version.
Potential stars Tanner Brock and Tank Carder lead the linebacker position, and TCU has incredible depth in the secondary.
TCU should not have to make too big a jump in the rankings this season, as they should begin the year in the top 10. With an early tilt against Oregon State, darkhorse Heisman candidate Andy Dalton could lead the team to another BCS title berth.
5. Florida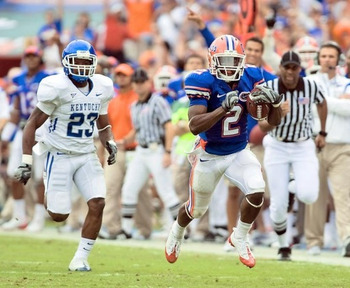 2009 Record: 13-1
Returning Starters: 15: Six offense, seven defense, punter, kicker
Quarterback John Brantley may have the most pressure of any player in the country, as he has to fill the enormous shoes of Tim Tebow, one of the greatest players to ever play college football.
Brantley should be fine, as he will have playmaking running backs Jeff Demps and Emmanuel Moody at his disposal to keep defenses modest.
The secondary is the obvious strength of the defense, as they possess the speed and athleticism to prevent opposing offenses from connecting on big plays.
The front four of the Gators provide stability to the defense and could become a deep position if recruits Dominique Easley and Sharrif Floyd can become contributors right away.
After losing one of the greatest players in the school's history, it will be expected for Florida to have some sort of a drop-off in production, but with key players on both sides of the ball, the Gators will still be a national championship contender and a favorite to win the SEC East.
4. Texas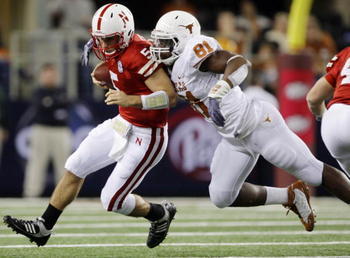 2009 Record: 13-1
Returning Starters: 12: Five offense, seven defense
Quarterback Garrett Gilbert will have his first full season as the Longhorns signal caller after replacing an injured Colt McCoy in last year's BCS National Championship Game.
That game will prove to be valuable to his maturity and his productivity, as will the fact that playmaking receivers Malcolm Williams and James Kirkendoll return to lead the offense.
Texas finished third in total defense last season and with defensive end Sam Acho leading the charge, the Longhorn defense will look to duplicate and perhaps build on that feat.
Even with the departure of Earl Thomas to the NFL Draft, Texas may have the best secondary in the entire nation. Curtis and Chykie Brown possess an incredible amount of speed at the cornerback position, which is necessary to limit the big play ability of opponents.
Gilbert should fit nicely into the quarterback position, and with stability on both sides of the ball, do not be surprised to see Texas once again contending for the Big 12 title and possibly, another national championship game.
3. Boise State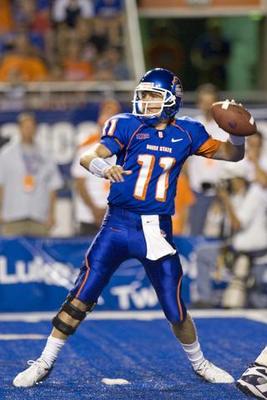 2009 Record: 14-0
Returning Starters: 22: 10 offense, 10 defense, punter, kicker
Junior quarterback Kellen Moore returns to lead the Boise State offense, but this could very well be the most talented Bronco offense we have ever seen.
Wide receivers Titus Young and Austin Pettis combined for 29 touchdowns last season, and the tailback triumvirate of Jeremy Avery, D.J. Harper, and Doug Martin accounted for 25 touchdowns in 2009.
The defense, which produced 35 turnovers and 26 sacks last year, brings back 10 starters which will result in a very experience squad.
The defensive line could produce four All-WAC selections and in their two highest profile games, against Oregon and TCU, the defense only allowed a combined 18 points.
Boise State will have a big test right out of the gate when they play Virginia Tech in the season opener. If they can win that game and run the conference table, they would be heavily considered for a BCS championship opportunity.
2. Ohio State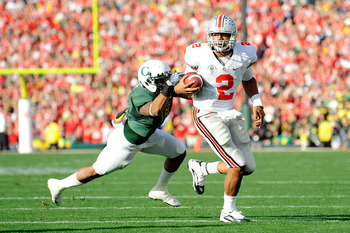 2009 Record: 11-2
Returning Starters: 16: Nine offense, seven defense
Quarterback Terrelle Pryor led the team in rushing yards, but has put more emphasis on developing his skills as a passer, especially with a five deep, athletic running back squad.
All skill position players are returning for the Buckeyes, which gives the offense a nice complement of blazing speed and sheer power.
Potential All-American defensive end Cameron Heyward leads the line and anchors a defense that finished last season fifth in total defense and points allowed.
The defense has the speed and athleticism that will compliment the offense nicely and will constantly put pressure on opponents to score.
Ohio State has won five consecutive Big 10 titles, and if Pryor leads the offense to play the way it is capable of playing and the defense makes big plays, the Buckeyes could be playing for another national championship.
1. Alabama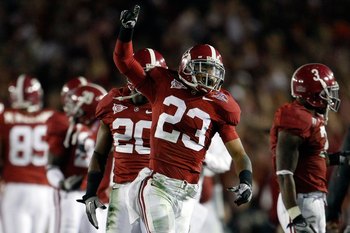 2009 Record: 14-0
Returning Starters: 10: Eight offense, two defense
The Alabama Crimson Tide will attempt to defend its national championship with great offensive play and a stifling defense.
Running backs Heisman Trophy winner Mark Ingram and Trent Richardson, who combined for 25 rushing touchdowns and three more through the air, lead an Alabama attack that looks to pound defenses into submission.
Senior quarterback Greg McElroy looks to keep his perfect record as a collegiate starter intact. His 17 touchdowns from last season should improve as receivers Julio Jones and Marquis Maze highlight a talented corps.
The defense could become a mystery, as only two starters from last year's championship squad return. Playmakers need to emerge quickly for Alabama to keep its second ranked defense from last season strong.
Safety Mark Barron, who will be an anchor in the secondary, and linebacker Dont'a Hightower, will lead the dominating Crimson Tide defense.
The high-power Alabama offense is there and is capable of producing big plays at will.
The question is: Will the defense be able to fill the massive void that was left from the conclusion of last season?
If they can address the issues on defense, the Crimson Tide could very well be hoisting up another national championship.
Keep Reading