Riches To Rags: 10 College Football Teams That Will Backslide in 2010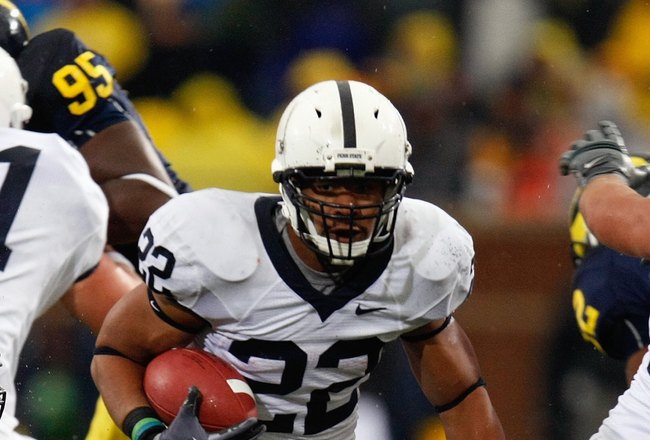 College football can be unpredictable. One moment a team looks like a sure thing—unbeatable, untouchable—money in the bank. However, as the saying goes, on "any given Saturday, anything is possible." Success is not promised from season-to-season.
It doesn't necessarily matter how many returning starters are on a roster, or, how much experience is had by the quarterback, sometimes it's about who wants it more and how prepared they are to prove it on the field—period.
So, if the line between victory and defeat is razor thin for a team that's loaded with talent, what happens if obstacles are introduced (i.e. new coaching, new scheme, new sanctions, or new players)?
Many college football fans view the landscape through a homer-colored pair of glasses but the truth can be a bitter pill.
This article will list a few teams who may see the road to victory marred by more losses this season than the last.
Does that mean said team won't go bowling or will fail to make an impact? No, it just means that this is a season where expectations should be lower than before because the vibe around the program doesn't look good based on the mix.
As always, I appreciate the feedback and the intelligence of those who choose to comment and, never fail to recognize this as my opinion—by all means, feel free to express yours.
Oklahoma State—2009 Record, 9-4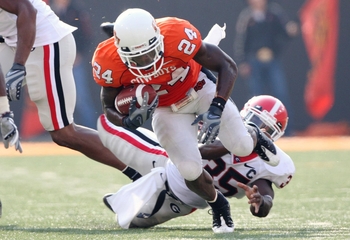 Quarterback Zac Robinson is gone—as are both Perrish Cox (DB) and Russell Okung (OT). The Cowboys have little experience to offer at the quarterback spot, and, even if they did, the offensive line is going to be young (four starters are gone).
Kendall Hunter's return is a positive but that greatly depends on his ability to stay healthy. His lackluster 2009 was forgiven thanks, in part, to the success of Keith Toston. However, with Toston gone, the Cowboys will lean on Hunter again and there is some question as to how effective he will be with the spotlight resting totally upon his 5'8" shoulders.
Also, how will the team do under new offensive coordinator Dana Holgorsen?
Holgorsen coached the Houston Cougars' offense in 2009—the most potent offense in the nation last season. He is a welcome addition to a Cowboy's offense that found trouble scoring down the stretch.
That said, the Cowboys lack the signature pieces necessary to make Holgorsen's spread system a success—a star wide receiver and a gun-slinging quarterback. 26-year old Brandon Weeden could be the answer, but it definitely looks like the Cowboys will be in rebuild mode for 2010.
2010 Regular Season Prediction: 7-5
Potential Upset Alert: vs. Baylor. Robert Griffin is back for the Bears and, if he is healthy, he could be an achilles heel for a Cowboys defense that has some serious questions—both in the secondary and on the defensive line.
Cincinnati—2009 Record, 12-1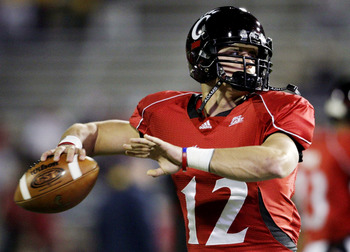 The main argument for the continued success of the Bearcats, in light of coach Brian Kelly's departure, is the fact that Butch Jones has followed in Kelly's footsteps successfully before.
Well, no offense to either coach Kelly or his successor but this isn't Central Michigan and that guy playing quarterback isn't Tony Pike.
The Bearcats have the good fortune of two quality quarterbacks in both Zach Collaros
and Chazz Anderson, but neither have had to maintain their performance-level for the duration of a season, nor will they have Mardy Gilyard soaring through the air to trap their passes.
Cincy's new coach will have to navigate the waters of an ultra-competitive Big East that includes a determined Pitt, a legit West Virginia, and a pesky Connecticut team that suddenly has new life at the quarterback spot with Zach Frazer's return.
Oh, and did I mention, their September schedule includes opening on the road at Fresno State and playing Oklahoma as well?
Expect to see some growing pains for the Bearcats in 2010.
2010 Regular Season Prediction: 6-6
Potential Upset Alert: at Louisville. Aside from a blowout in 2009, these two teams have played some close games over the last four years—with Louisville taking two. By this point in the season, Charlie Strong could be looking for a signature win for his rebuilding program and this game could prove to be just that.
Tennessee—2009 Record, 7-6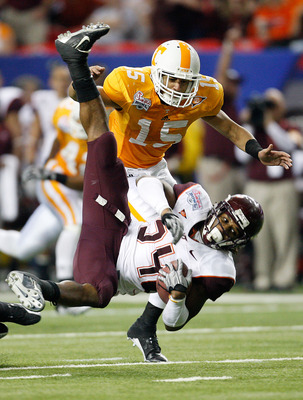 The Vols have been through the fire this off-season.
First, there was the somewhat disappointing bowl loss to Virginia Tech to end their post-season, then came the tsunami that was the Lane Kiffin decision to bolt the SEC for the Pac-10—leaving the team, its players, and the fan base stunned and angry.
Derek Dooley has arrived on the scene with calm assurances that he won't mirror the regime of old and he will set the program back on the winning track. He got well on his way to keeping that promise by securing the Vols' 2010 recruiting class—which stopped the bleeding for the Knoxville faithful. That said, there are still questions as to how good Tennessee can be in their first season under Dooley.
Quarterback Jonathan Crompton and leading rusher Montario Hardesty are both gone—so the offense will take a hit. Add to that defensive playmakers Eric Berry (DB) and Dan White (DT) that have moved on to the pro ranks. That leaves some fairly big shoes for Montori Hughes (DT) and Janzen Jackson (DB) to fill next season. Can they do it?
Tennessee has a very challenging schedule this season and it will take some time for Derek Dooley and his staff to get accustomed to coaching in the SEC. The foundation is being built, particularly with the great defensive talent at the end position, but it's not quite there yet.
2010 Regular Season Prediction: 6-6
Potential Upset Alert: at Vanderbilt. The Commodores won't be better than Tennessee in 2010.
There are holes in their offensive line and no guarantee that quarterback Larry Smith will be any better. However, Vanderbilt has a good run game in Warren Norman and some fairly decent receivers for Smith, or JUCO player Jordan Rodgers, to throw it to. If the Commodores come out with purpose, they could steal a win from the Vols.
Penn State—2009 Record, 11-2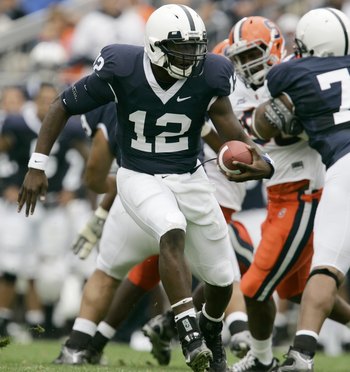 Joe Pa is like the Energizer bunny, he just keeps coaching...and coaching...and coaching. However, this could be the season that finds the legendary icon of the Big Ten taking a step back to re-evaluate just how much longer he intends to patrol the sidelines in Happy Valley.
The Lions managed to skate through 2009 by steamrolling the mostly unworthy competition, and despite hiccups against Iowa and Ohio State, Joe Pa's program ended on a good note—defeating LSU in the Capital One bowl.
However, with senior quarterback Daryll Clark out of the picture and six spots to fill on the defense—including the entire linebacking corps—Penn State may find their dominating ways a bit less evident in 2010.
2010 Regular Season Prediction: 8-4
Potential Upset Alert: vs. Michigan. Whether it's Tate Forcier or Devin Gardner, the Wolverines may have one of the better, if not the best, offenses in the Big Ten this coming season. If Penn State can't find some new playmakers to bolster their depleted linebacking corps, it could be a long day for the Lions.
Stanford—2009 Record, 8-5
The popular opinion seems to be that the arm of Andrew Luck can lead Stanford to a Pac-10 Championship in 2010. That seems like a good bet on the surface; especially given the probable parity in the Pac-10 this coming year.
However, in making such a bold prediction, some dismiss the major reason the Cardinals, and Luck for that matter, were so exceptional last season. I'll give you a hint: his name was Toby Gerhart. He didn't just run the ball—he ran over the river and through the woods with the ball.
His consistency was a huge factor for the Cardinals in time of possession. They held the ball, on average, six minutes longer than their opponent. That ability to control the clock kept games within reach and, if the Cardinals had been able to win the close ones, there is no doubt 2009 could have been a championship one.
So, riddle me this, how on earth is Stanford going to be better without Gerhart? I'm simply not buying the logic.
Luck may be outstanding, but Stanford needs a little more than Luck to duplicate their 2009 success.
Even more, despite the return of six players, on a defense that trended toward awful on more than one occasion, the Cardinals are making the transition to the 3-4 this fall—uh huh.
Jim Harbaugh did great things with this team last season, but a step back is more likely than a step forward in 2010.
2010 Regular Season Prediction: 6-6
Potential Upset Alert: at UCLA. Despite the issues the Bruins have faced over the last two seasons under Rick Neuheisel, this is a matchup that has been close and could end up swinging towards the home-field advantage.
With no Gerhart (he rushed for 134-yards and 3 TD's in 2009) to take advantage of what may be a soft defensive front by UCLA, Stanford could lose this early Pac-10 contest.
Florida Gators—2009 Record, 13-1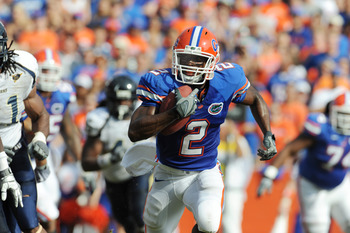 The Gators have had a stranglehold on the SEC East over the last three seasons as they made fools of just about every team they played. However, with Tebow now gone, the team suddenly seems less other worldly than in years prior.
John Brantley is the new phenom at quarterback and, although talented, he has not been tested in the SEC (particularly on the road). Furthermore, he will enter 2010 minus the offensive presence of either Aaron Hernandez (TE) or Riley Cooper (WR)—the team's two leading receivers in 2009.
Add to that the loss of defensive coordinator Charlie Strong along with the NFL departures of Joe Haden, Carlos Dunlap, and Brandon Spikes, and you have a team that isn't rebuilding but definitely readjusting in 2010.
If some of the hungrier teams in the East want to take advantage of a possibly hungover Gator program, this will be the best year for doing so because the reload beckons.
2010 Regular Season Prediction: 9-3
Potential Upset Alert: vs. South Carolina. Look for the requisite bumps along the way as a new team of Gators get acquainted with playing in the SEC without No. 15 leading the way.
This could be Steve Spurrier's last year in Columbia and nothing would please him more than to come away with a big win over the Gators in Gainesville.
California—2009 Record, 8-5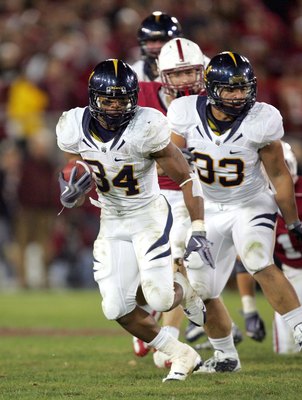 Will Kevin Riley be able to right the ship?
He wasn't blowing the doors off anyone last season, but he was consistent and didn't make costly turnovers. However, as the season wore on, he seemed to regress and fall into an annoying rut of inconsistency—throwing six interceptions in his final five games (he only threw two in his first eight). He needs to fix whatever ailed him and get his game back on track if he's going to be of any value to his team.
The presence of an experienced offensive line will help, but the loss of Mike Tepper cannot be discounted. Also, there is some question as to the depth at running back if Shane Vereen gets injured. There is little depth at this position for 2010.
The introduction of a new defensive coordinator means a new defensive approach for the Bears and that's a good thing. The Bears had trouble containing the pass last season (they were ranked seventh in the Pac-10), and in a conference where throwing the ball around is akin to running it in the SEC, that's a bad deficiency to own.
2010 Regular Season Prediction: 6-6
Potential Upset Alert: vs. Arizona State. The Sun Devils played the Bears down to the wire last season. Kevin Riley played one of his best games of the year in leading the Bears to the victory in Tempe.
The Sun Devils offense isn't likely to make any major improvements, but, if the defense can play up to expectation and the offense makes few mistakes, this game could fall the Devils' way.
BYU—2009 Record, 11-2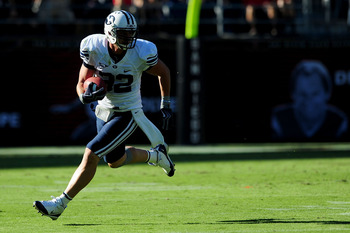 With Max Hall gone, it will be either Riley Nelson or, incoming phenom, Jake Heaps taking over the quarterback role. The most pressing factor will be how quickly Heaps can learn the playbook.
Nelson, a junior, has the most experience with the system, but his limited snaps make him just as green as Heaps where taking the lead is concerned—either guy could assume the job come fall.
Another glaring question is who will replace Harvey Unga (RB)? He was set to be one of the signature pieces of the offense again this season, but his dismissal has left a hole at the tail spot—JJ Di Luigi and Bryan Kariya will have their hands full trying to replace his production.
The defense lost a bit of its luster with the loss of both Jan Jorgensen (DE) and Coleby Clawson (LB).
Jorgensen led the team in both tackles for loss (10.5) and sacks (6.5), while Clawson was key in a linebacking corps that produced more than 240+ tackles, seven sacks, and 19.5 tackles for loss—leading BYU to the second ranked rush defense in the conference.
Also gone is Dennis Pitta (TE); he led the team in receiving last year with 811 yards and eight touchdowns.
BYU has work to do to find replacements for the playmakers they saw depart.
2010 Regular Season Prediction: 9-3
Potential Upset Alert: at Air Force. You have to figure Air Force is due to win, right? After all, they dismantled the Houston Cougar's high-powered offense in the Armed Forces Bowl and Tim Jefferson will be back at quarterback. They have a lot of momentum coming into 2010, and if BYU is still sorting out personnel chemistry, particularly on defense, by the time the two meet in week two, this game could be interesting.
Houston—2009 Record, 10-4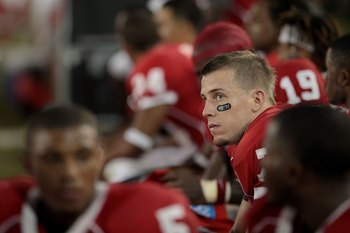 The Cougars won five games last season by a total of 21-points—two by just one point. Their defense was something shy of horrendous and most of the components of that defense will return in 2010.
Who wants to place a bet that there will be just as many last-possession games this coming season as there were in the last?
Houston has a great quarterback in Case Keenum, but he cannot be expected to continue pulling out last-minute victories. The defense has got to get better and, in the future, there is hope that they will.
That said, the Cougars are moving to a 3-4 this season and transitioning what was a bad defense into a new one, using a new scheme, doesn't come without a price—in this case, more losses.
Offensive coordinator Dana Holgersen has moved on and new coordinator Jason Phillips (who spent last season as the receivers coach) will have to transition seamlessly into his new role. Can he do so without disrupting the high-powered scoring prowess of this team?
2010 Regular Season Prediction: 8-4
Potential Upset Alert: vs Tulsa. The Hurricanes are feeling good about 2010.
G.J. Kinne makes his return (2,732 yards, 22 TDs, 10 INTs, and 399-yards rushing) along with Damaris Johnson (WR) and DeAundre Brown (DB). All were members of a team that nearly went bowling last season.
The one-point loss to the Cougars all but sealed their fate. Don't think they won't remember that when they square off again, this time in Houston. This game could be one of the biggest shoot-outs of the season for these two teams and it wouldn't surprise me to see Tulsa come out on top.
USC—2009 Record, 9-4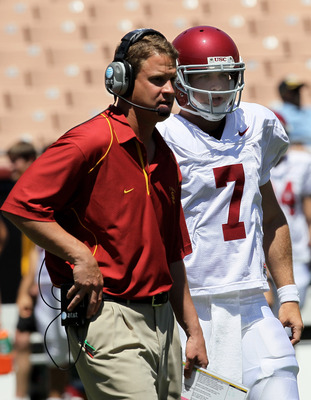 The Trojans will win at least nine games this season. Anything less would be surprising.
Their schedule is fairly uncomplicated, their coach is endlessly determined, and there is enough talent in USC's cupboard to handily beat the pants off almost any team the Pac-10 has to offer in 2010.
That said, outside of Southern California, Lane Kiffin's name is castor oil—the guy just leaves the worst taste in your mouth. He's great for a sound bite and is one of the most competitive coaches west of the Mississippi.
On the other hand, he's arrogant, pushy, and talks way too much.
Why does this matter?
For one, every team that plays the Trojans this season will do so with an eye towards making Lane Kiffin look bad—call it an added bonus of a victory. Furthermore, how well will this team of young men respond to both the scrutiny and the expectations heaped upon them following the sanctions?
USC may be primed for greatness but that in no way means they will be great.
Both the team and its coaches have huge targets on their backs and the pressure of having that much expectation, in the post-Carroll era, may prove to be the hardest obstacle to overcome.
2010 Regular Season Prediction: 8-5
Potential Upset Alert: vs. Notre Dame. The Trojans have some question marks in the secondary with the loss of Taylor Mays and, one might think, that by the time these two hit the field, Brian Kelly's crew could have a handle on the spread. The game in South Bend was decided by a point in 2009 and this game could be every bit as close. If USC gets caught sleeping, the Irish could leave with their eyes a'smiling.
(This article was submitted by courtesy of The Lady Sportswriter—Check it out!)
Keep Reading