Landon Donovan: What's Next for U.S. Soccer's Golden Boy?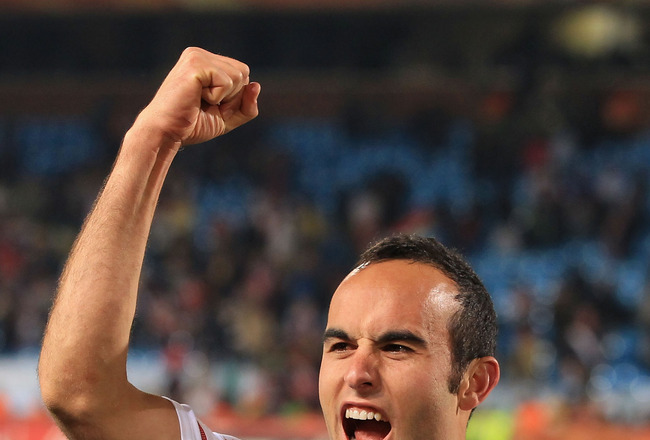 Landon Donovan scored one of the biggest goals in U.S. soccer history.
His exhilarating stoppage-time tally against Algeria gave the Americans a hard-fought 1-0 victory in their final group stage game at the World Cup and sent them on to the second round.
The U.S. went on to lose to Ghana 2-1 in extra time on Saturday, with Donovan netting the lone American goal, but it was Donovan's game-winner several days before that's still lingering in many soccer fans' minds.
Now, everything from viral videos to tabloid rumors are floating around about U.S. soccer's golden boy.
What's next for the 28-year-old Donovan?
Click ahead to find out.
Media Swarm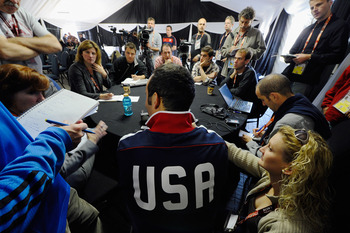 There was media aplenty following Donovan around after his miraculous tally against Algeria, but it's nothing he wasn't already used to.
Making the Rounds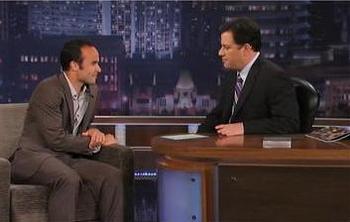 Donovan was on Jimmy Kimmel before the World Cup, and is likely to get plenty more late-night talk show spots when he and his teammates return from South Africa.
Reconciling With His Wife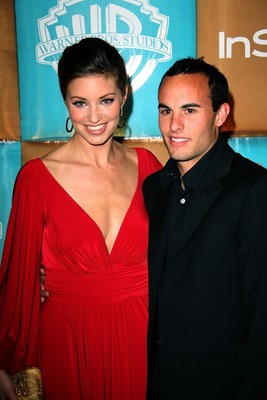 Donovan made waves after the win over Algeria when he gave a shout-out and blew a kiss to rumored-to-be ex-wife Bianca Kajlich, an actress who currently stars in Rules of Engagement. Kajlich and Donovan tied the knot on New Year's Eve 2006, but reportedly split up about a year ago.
The two are not officially divorced, said Donovan last week. Yahoo Sports
In fact, Donovan mentioned in several interviews that he and Kajlich remain close and that their relationship is very amicable.
So is the adorable couple on the mend?
"It would surprise no one if Landon and Bianca were back together very soon," a friend of Kajlich told Yahoo. "They have remained in contact and are very close to one another."
The anonymous friend said Donovan's gesture after the Algeria game was meaningful, "The fact that Landon wanted to share his special moment with her is very significant."
A Child With Another Woman?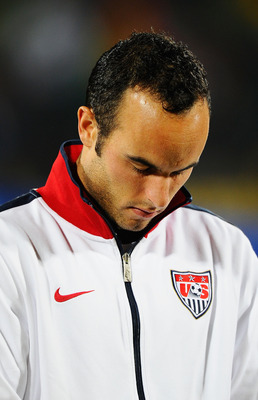 The talk of a possible reconciliation with Bianca was quieted when news broke this past weekend that a British tabloid is set to run a story in which a U.K. woman says she is pregnant with Donovan's child.
"I was informed of the possibility during the World Cup, and if I need to take responsibility, then I will provide the appropriate support," Donovan told SI.com. "This is a private matter and I will refrain from further comment at this time."
Landon, Go to Her!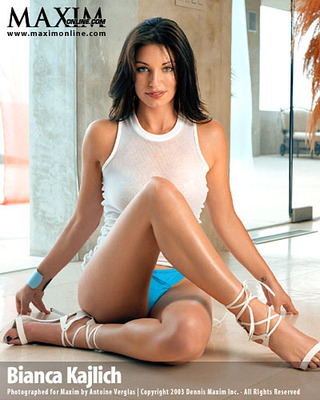 But, I think we all know which scenario we're rooting for. If this picture is any indication, it should be a pretty easy choice for the U.S. national team leader.
Bianca and Landon, can't you two crazy kids just get back together?
Standing By Her Man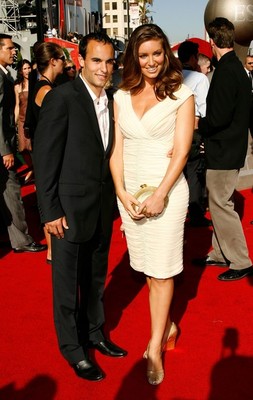 For what it's worth, Bianca has even been "supportive" of Landon since the news broke about the possible child in the U.K.
"She was not blindsided by this and isn't angry," a source told US Magazine.
That's one amazing woman to stand by her man.
Soccer in Sun and Sand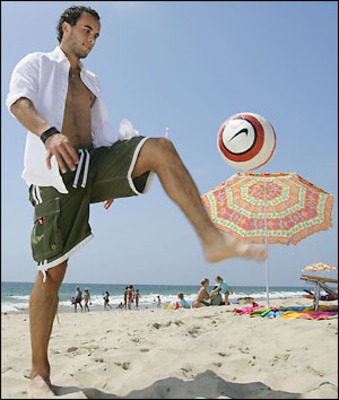 Still, after the craziness of the last couple of weeks, you'd have a hard time blaming the California native if he just wanted to head to the beach and relax for a while.
Landon's Return to MLS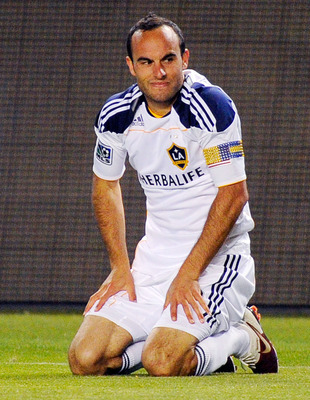 Whatever the case, Donovan will soon return to his Major League Soccer club, the Los Angeles Galaxy, which currently sits atop the Western Conference, nine points clear of second-place Real Salt Lake.
But rumors abound, and with Donovan's incredible performance for the U.S. in South Africa, could bigger European teams come calling?
Entertaining at Everton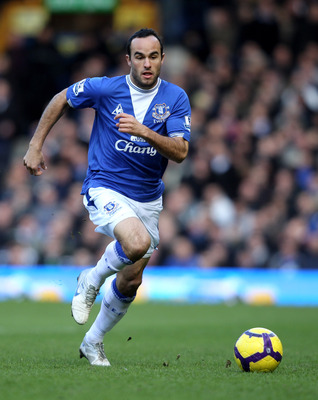 Donovan scored two goals and added three assists in 13 games (across all competitions) during a loan stint with English Premier League side Everton in 2009-10.
With his continued improvement at the international level, could he be ready for a big-money move to a larger EPL team?
Manchester City Coming Calling?
Could Donovan join Manchester City before its season begins in August?
They have plenty of money to spend, and could team him with either Carlos Tevez or Emmanuel Adebayor up front to create a potent scoring duo.
Stopping By Stamford Bridge?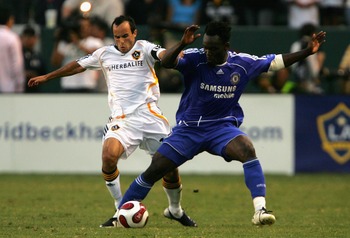 Or could an even larger side target the American?
Multiple media outlets in England reported a few months back that Chelsea was targeting Donovan to replace Joe Cole in the offensive midfield.
The Bachelor?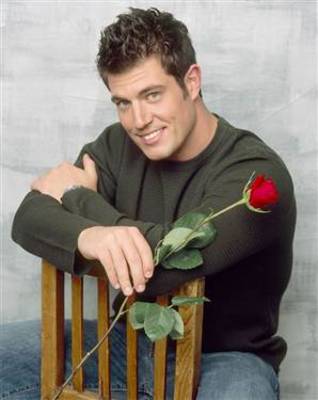 Or maybe Donovan could go a different route altogether.
If things regrettably didn't work out between Landon and Bianca, there are always other options for finding the love of his life.
What if Donovan went the Jesse Palmer route and agreed to go on The Bachelor?
Dancing With the Stars?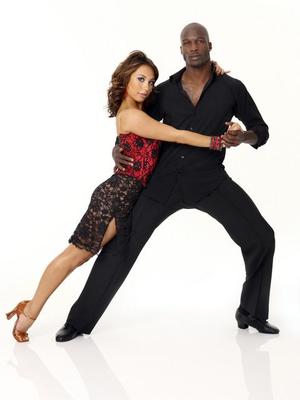 Or maybe another reality show?
He's got great footwork on the pitch, so maybe his skills would translate well to Dancing With the Stars.
What do you think, Chad Ochocinco? Can Donovan hang in your neck of the celeb-reality woods?
Survivor?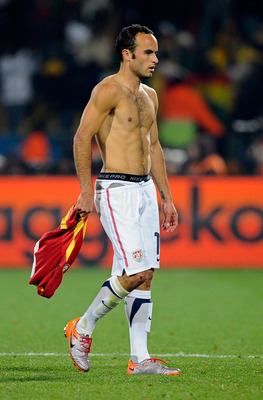 Or possibly the granddaddy of all reality shows?
He's a tough guy. He seems to play pretty well with others. Maybe he's a better fit for Survivor: South Africa?
He certainly doesn't have a problem with being on television half naked.
The Marriage Ref?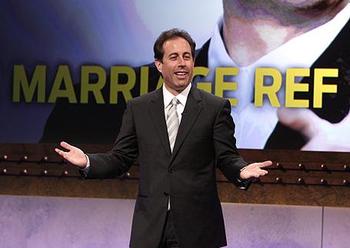 I hate to bring it up (especially because it's such a bad show), but maybe he and Bianca would be best off joining up with Jerry Seinfeld and getting it all sorted out on The Marriage Ref.
Coaching a Possibility?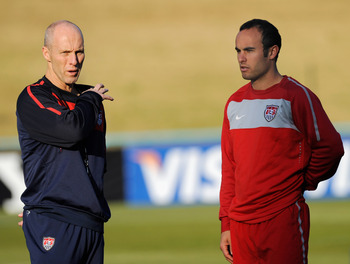 With his coolness under pressure and his keen understanding of the game, Donovan could follow in the footsteps of U.S. head man Bob Bradley and go into coaching.
See You in Four Years!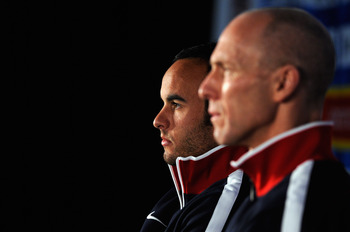 Donovan has been through a lot and has given all American soccer fans a memory that will last a lifetime.
But, all that really matters is that four years from now, Donovan will be back, leading the U.S. squad into the 2014 World Cup in Brazil.
Keep Reading