2010 NHL Draft: Buffalo Sabres Bolster Blue Line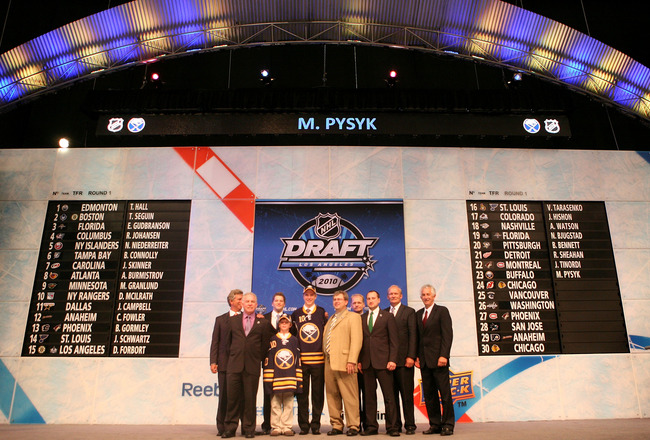 Mark Pysyk (Defenseman—First Round, 23rd overall)
Jerome Gauthier-Leduc (Defenseman—Third Round, 68th)
Kevin Sundher (Center—Third Round, 75th)
Matt MacKenzie (Defenseman—Third Round, 83rd)
Steven Shipley (Center—Fourth Round, 98th)
Gregg Sutch (Right Wing—Fifth Round, 143rd)
Cedrick Henley (Left Wing—Sixth Round, 173rd)
Christian Isackson (Right Wing—Seventh Round, 203rd)
Riley Boychuk (Left Wing—Seventh Round, 208th)
Well, the 2010 NHL Entry Draft may not have gone how fans had expected, but the Sabres have brought in some serious talent—especially on the blue line.
"Of course we came in looking for some forwards, but we're real happy with what we got," Sabres director of amateur scouting Kevin Devine told the Buffalo News on Saturday. "When I went to bed last night, if somebody would have told me we got those three guys I would've been pretty happy...We had them higher than they went, so it was a good day."
If the Sabres were honestly going in with the intention of drafting a group of forwards then this should be considered one of the worst drafts in recent memory, but I can't take that statement from Devine at face value—especially when the Sabres passed on left-winger Quinton Howden in the first round.
Overall, eight of the nine players drafted are Canadian. Four players play in the Western Hockey League, two players are from the Ontario Hockey League, two are from the Quebec Major Junior Hockey League, and Christian Isackson—the only American player drafted by the Sabres—plays for the Saint Thomas Academy High School in Minnesota.
First Round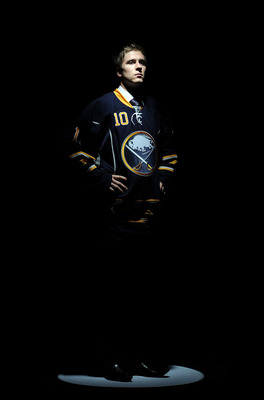 Not enough emphasis can be put on how important the Sabres' first-round pick was, especially since they didn't have another pick until the third round.
Mark Pysyk is an intelligent defenseman who can join the rush with ease. His strongest skill is his ability to move the puck up ice quickly and effectively.
While it does baffle me as to how the Sabres could talk about targeting forwards in the early going like they had and then pass on players like Howden and Emerson Etem. Pysyk was ranked seventh among North American skaters by the NHL Central Scouting Bureau and is still a solid selection.
His offensive numbers are great, but he isn't a forward. Pysyk is coming off of a minus-19 season. Playing with blue liners like Tyler Myers and Mike Weber could greatly improve Pysyk's defensive game.
At 6'1", 175 pounds, there is still plenty of room for growth. Pysyk could develop into an offensive threat that head coach Lindy Ruff could put on a separate line from Myers, giving the Sabres a much more well-balanced attack from the blue line.
Overall First-Round Grade: B+
Third Round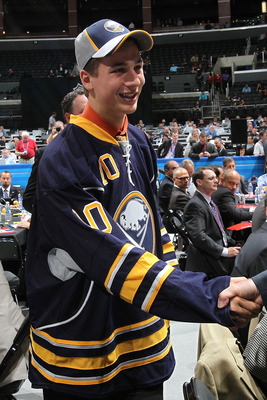 Two more defensemen in the third round continued the surprise draft for the Sabres.
Jerome Gauthier-Leduc was a steal for the Sabres in the third round. Like Pysyk, Gauthier-Leduc is another offensive-minded defenseman. His vision on the ice is very similar to that of Pysyk, as is his 6'1", 176-pound frame.
Gauthier-Leduc finished with 20 goals, 46 points, and a plus-26 rating for the Rouyn-Noranda Huskies in the QMJHL.
The first forward taken in the draft by the Sabres was center Kevin Sundher.
Sundher has played for the Chilliwack Bruins. He finished the 2010 season with 25 goals and 61 points, to go along with 101 penalty minutes in 72 games. He claims to have a similar game to that of the Detroit Red Wings' Henrik Zetterberg.
The other defenseman taken in the third round was Matt MacKenzie, yet another defenseman with great vision. However, he is slightly more defensive-minded than the other two blue liners selected and at 6'2", 198 pounds, is also the biggest.
MacKenzie won the WHL Championship with the Calgary Hitmen during the 2009-10 season. He finished the regular season with six goals and 40 points in 64 games. He was also a plus-16 and had 62 penalty minutes.
Again, many were expecting the Sabres to draft offensively early on.
Regardless, Buffalo had a good third round and should have a solid defensive core for years to come. Sundher has the size to fit right in at the NHL level.
Overall Third-Round Grade: A-
Fourth-Seventh Rounds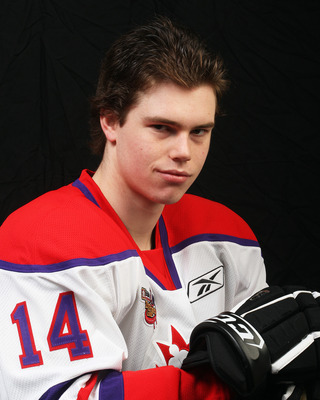 With the final four rounds of the draft the Sabres filled out their offense.
Steven Shipley was another steal for Buffalo. The 204-pound center finished with 23 goals and 63 points in 68 games for the Owen Sound Attack in the OHL. He was second on the team in scoring. He is, however, a minus-40 in two seasons.
Gregg Sutch was an interesting choice in the fifth round to say the least. Sutch was born with severe hearing loss, but has overcome the difficulties by using several different means of communicating with coaches throughout his career.
Sutch is another player with good size—6'2", 190 pounds—but will need to further develop his two-way game to become an effective checking line player in the NHL. He finished the 2010 season with three goals and eight points in 43 games for the Mississauga St. Michael's Majors in the OHL.
Sabres' sixth-round pick Cedrick Henley is slightly more offensively gifted than Sutch, but also needs time to develop.
Isackson is fresh out of high school and will be further developing his outstanding offensive talents at the University of Minnesota next year.
The Sabres' last pick in the draft might be my favorite.
Riley Boychuk had an amazing season with the Portland Winterhawks in the WHL. He finished with 14 goals and 30 points in 66 games—this is amazing because Boychuk is 6'5", weighs 205 pounds, and is a natural born fighter, just type his name into YouTube. He had 167 penalty minutes for the Winterhawks this season.
The Sabres did a nice job drafting from round four onward. However, it was obvious that the team may have taken too many defensemen early on and could not get the forwards they were looking for.
Overall Late Draft Grade: C+
Final Grade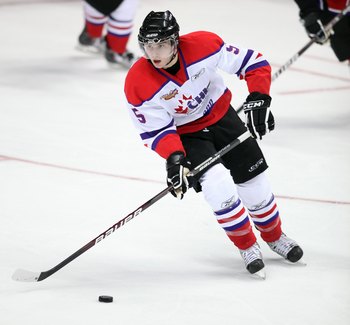 It might not have been what the Sabres originally had in mind, but the team still had a good draft. Defense can win just as many games as offense if it's done correctly.
Overall Grade: B+
Keep Reading