World Cup 2010: Reasons Why Germany Will Beat Argentina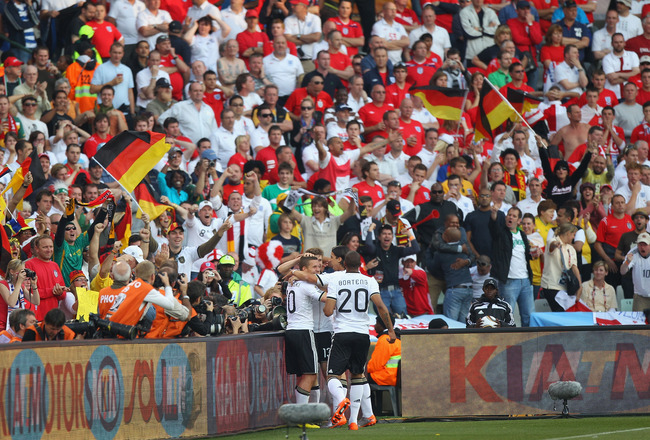 Germany or West Germany have met Argentina five times in the World Cup finals. The first was in 1958 in the group stage--West Germany won 3-1. They met again in the Group stages in 1966 playing, to a goalless draw.
1986 was their next meeting in the final when Diego Maradona led Argentina to a 3-2 victory.
Four years later they met again in the dullest, most cynical final of all with Germany winning 1-0 with an 85th minute penalty.
They dueled once more in the 2006 quarter final, winning on penalties in a much more entertaining game.
The meet again on Saturday in the quarter finals in what could be a classic.
German Defense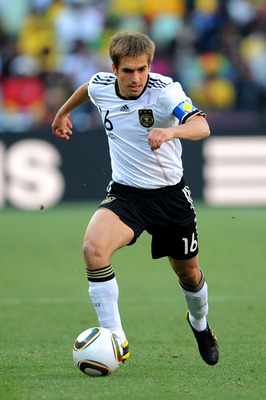 Lahm, Mertesacker, Friedrich, Boateng, - that's as solid a defense as you will find at the World Cup.
Philipp Lahm is the complete footballer, tenacious on defense, with the ability to cover a lot of ground as well as move into the attack.
Per Mertesacker is 6'6" and is strong, rarely makes mistakes, and rarely gives away fouls. He could be troubled by Lionel Messi who looks shorter than his 5'7", as Mertesacker could have trouble seeing him from his altitude.
Veterans Arne Freidrich and Jerome Boateng are both ferocious tacklers. The back four have given away very little thus far and will make the talented Argentine forwards work for every opportunity.
Argentina has yet to face a defense as strong as Germany's. They will get opportunities but they won't be gifted goals the way Mexico did.
Argentina Defense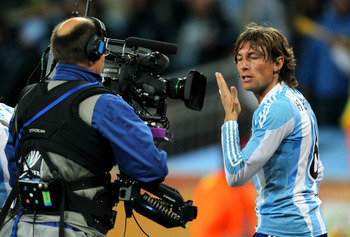 Diego Maradona has been shuffling his defense since the first game with only Martin Demichelis playing in all four games. Unfortunately, he was beaten a few times in the Mexico game. Admittedly, Maradona had the luxury of resting some players for the game against Greece.
Gabriel Heinze is the one world class defender who has been solid in defense and dangerous moving forward.
Nicolas Burdusso and Nicolas Otamendi both performed capably against Mexico and will probably start against Germany. They will both have to step up their game to contain the German attack.
Advantage Germany on defense.
German Midfield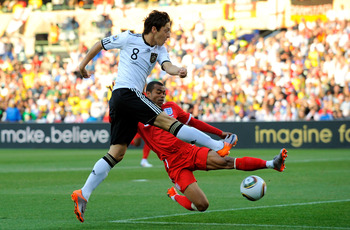 It doesn't get any easier for Argentina in the midfield. Bastain Schweinsteiger was all over the field against England despite carrying an injury. He rarely loses the ball and is equally capable on defense. Alongside him, Sami Khedira controls the midfield with a maturity beyond his years.
Mesut Oezil is on his way to becoming one of the great midfielders and has already stamped his authority on the competition. Thomas Mueller is also pretty good.
Argentina could be on the back foot, something they are not used to.
Argentina Midfield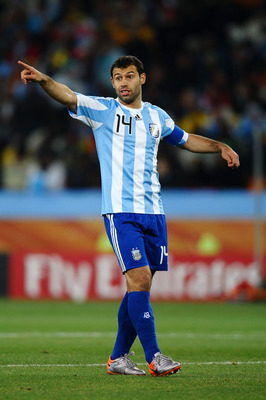 The Argentine midfield, other than Lionel Messi, was not particularly effective against Mexico.
They allowed Mexico too much possession and were able to attack successfully on the right against Maxi Rodriguez who couldn't command a regular spot for Liverpool this past season.
Javier Mascherano was his usual solid self but will need more support to contain the German midfield. Angel Di Maria was dangerous at times against Mexico but could struggle against Germany.
The old war horse Veron has experience but could struggle against the pace of the Germans.
Messi is on another planet but we have yet to see him perform his magic for Argentina. At times I though he was pressing too hard and tried to do to much, often being dispossessed by the third or fourth defender.
Midfield advantage to Germany.
German Attack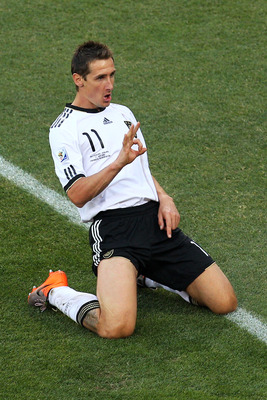 Lukas Podolski and Miroslav Klose might not be as spectacular as Gonzalo Higuain and Carlos Tevez or even Diego Milito but as they showed against England they are lethal given the chance.
They are both veterans who seem to perform better for country than for their clubs. They know only one path and that is directly at goal.
With service and support from Oezil and others they won't be short of opportunities. They generally take advantage of most of them.
Argentina Attack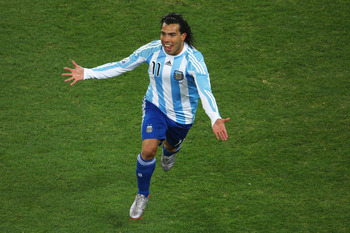 Gonzalo Higuain has been less heralded with Tevez and Messi playing alongside him but he has shown why he scored more goals for Real Madrid this past season than Christian Ronaldo. He has an innate sense for goal as well as the composure that separates the best strikers from the rest.
Carlos Tevez is a workhorse who can be brilliant at times such as on the final goal against Mexico.
While he was credited with the first goal, it was already going in and by heading he was saved only by the appalling call of the officials..
Advantage Argentina.
Lionel Messi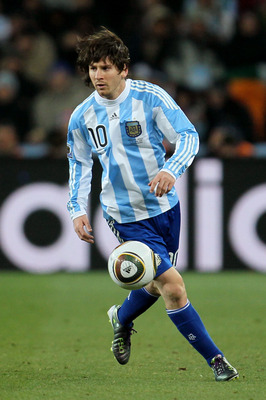 Lionel Messi is the best player on the planet. There is no dispute. He can destroy any defense and turn a game around with one move. He does this regularly with a Barcelona side that could quite easily win the World Cup were it a national team.
He creates goals as well as scores goals with regularity. His low center of gravity, his work rate and his ability to take on multiple defenders and beat them is unequaled.
At the same time he has more pressure on him at the World Cup than ever before and I get the sense that he is pressing a little too hard. Against Mexico he often tried to take on one too many defenders and was stopped.
That could change and he has the potential to destroy Germany with a few brilliant moves.
He is the one reason Argentina can win.
Joachim Low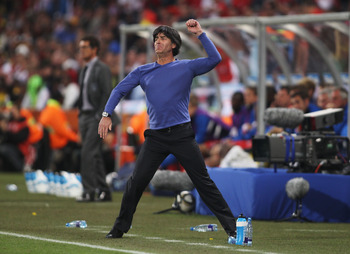 Joachim Low paid his dues coaching in Turkey and Austria at the club level before being appointed to the German team in 2004. He did a sterling job guiding a weaker German team to the semi finals in 2006, albeit with home field support.
Low is held in high esteem throughout the soccer world for his personable style and class, and more importantly, his outstanding technical knowledge, demonstrated by his meticulous match preparations and razor-sharp analysis has really impressed.
He was at the Brazil - Chile game taking notes in case Germany get to the final.
Diego Maradonna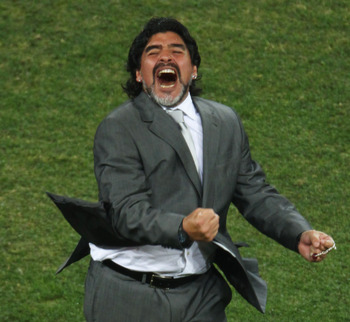 Few great players have made the transition to great coaches. Two exceptions: Johann Cruyff and Franz Beckenbauer were also great tacticians on the field. For all his brilliance, Diego Maradona was not.
To his credit, he has earned the respect of his players and has them believing and playing their hearts out.
On the minus side, his coaching credentials are minimal. His only experience, prior to taking over the job for Argentina was two less than successful; one-year stints with club teams in Argentina in the mid 1990's.
His tenure with the national team has been contentious as they struggled to secure qualification for the finals. He chopped and changed the team throughout, never finding the right formula catching a lot of flack from the media.
In press conferences at the finals he has been constantly asking the media to apologize.
Too soon Diego. The team was in a relatively easy group and his task against Mexico was made a lot easier with dodgy officiating and Mexico's self destruct mode.
If you get to the final you will deserve your apology.
Advantage Joachim Low.
Intangibles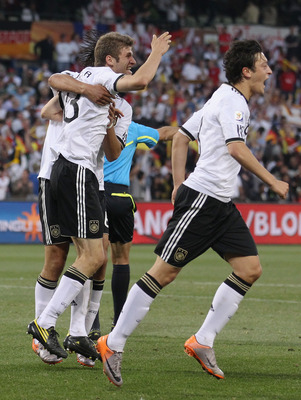 The game could be a classic with two teams that are not afraid to attack.
Germany has historically performed as consistently as Brazil. They know how to win and they do it with Teutonic efficiency. The 2010 version is no different but has the added dimension of skill. Their talent is spread from defense to attack unlike Argentina which has most of the talent up front.
It will be clash of contrasting styles with Argentina using their considerable skills to break down the German machine.
Argentina has all their talent up front and not enough at the back. Joachim Low will figure out how to exploit that. I am not sure Maradona can do the same for Argentina.
Argentina will have to use all their resources to win and I am not convinced they can. It could be one for the ages with Germany prevailing. In the end coaching will make the difference.
Keep Reading