Top 15 2011 NFL Prospects in the ACC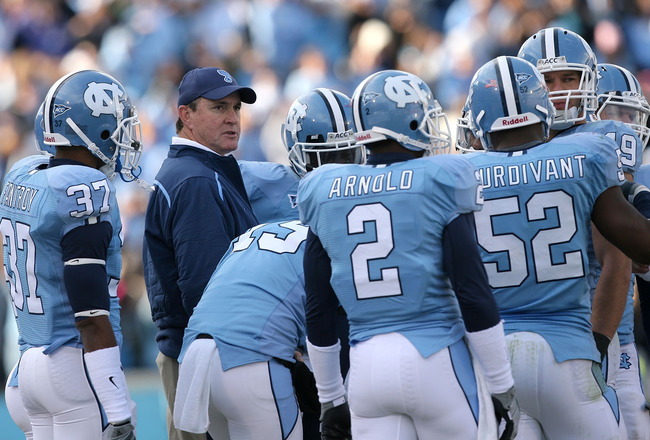 You don't need to know much about college football to know that the ACC does not always get a lot of love.
It has been quite some time since the conference could claim a national champion. The 12 teams continue to search for respect with some of the best out of conference games slated this 2010 season.
However, as any ACC fan can tell you, these teams are absolutely stacked with freakish athletes who can make it at the next level.
Indeed, 31 players taken last year in the NFL Draft were from the ACC. Since 2005, the only other conference to boast 30 players taken each and every year besides the ACC is (you guessed it) the SEC.
So who are going to be the players we are likely to hear have their names called in the 2011 NFL Draft?
More importantly, which of these names are most likely to make waves once they reach the professional ranks?
The following 15 players represent not only the best the ACC have to offer for 2011, but those likely to build a solid career in the NFL.
Oh, you might notice a few trends on this list. It appears that defense could reign supreme in 2010. It also shows that one team has an inordinate amount of pressure to perform this season.
Let the debate begin!
Best of the Rest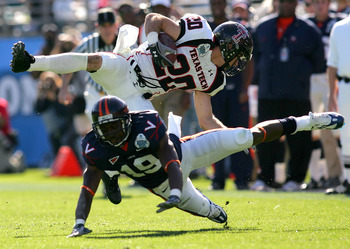 Ras-I Dowling, CB, Virginia
When Dowling is good, he's really good. When he is not though, he can be a big problem for his team. Dowling has the talent of a first-rounder, but he also allows players like Virginia Tech's Danny Coale to own him in the annual rivalry game.
He's just too inconsistent for me to believe he will find sustained success in the NFL.
Deunta Williams, S, UNC
Let's see, he's a freakish athlete with speed and experience for the Tar Heels. This will be a common theme in the slideshow.
I know some people have fallen in love with Williams, and Carolina fans will demand I rank him higher.
Williams still needs some more fine-tuning in the backfield, he has great play-making ability, but I think it will take him some time to adjust to the speed and talent of the NFL. When he does though, he could boom.
Darren Evans, RB, Virginia Tech
If he declares early, someone will take him in the third- or fourth-round, and he could easily work his way up the depth chart.
He has many of the records Ryan Williams broke and could re-establish himself in 2010.
Anthony Allen, RB, Georgia Tech
He will put up great numbers this season in the Yellow Jacket offense. Scouts will treat it like receivers in Texas Tech's offense though.
Allen has pro talent and can make plays, but he'll probably be the complementary back in a two-back system. He can change that with a strong performance this season though.
15. Cameron Chism, CB, Maryland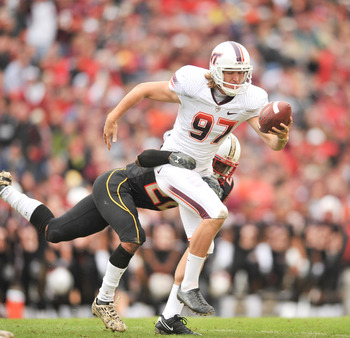 Cameron Chism is used to tough situations.
He was thrust into playing time earlier than expected due to injuries.
He had to deal with the death of his cousin in an automobile accident last season.
He has dealt with on the field frustrations as the Maryland Terrapins continue to fall backwards in the ACC pecking order.
Yet, as a sophomore, he still had 65 tackles and four interceptions.
Chism has the tools to become a shutdown corner and now he is learning the leadership skills necessary for success, as he is the only returning starter in the secondary for 2010.
If Maryland is to have any success, he must help develop his proteges as well as enhance his own game. Even then, it may not be enough.
If this is the final season for head coach Ralph Friedgen, Chism would likely declare and avoid a transition his senior season.
Chism has talent that puts him in the upper third of the class, but he has the heart and tenacity to make himself stand out in the professional ranks.
I expect Chism to turn a few heads in the NFL, and be a strong contributor on defense.
He will probably go to a team where he will sit for awhile and learn the pro game but he will make some big plays and help provide valuable depth to an NFL contender.
14. Marvin Austin, DT, UNC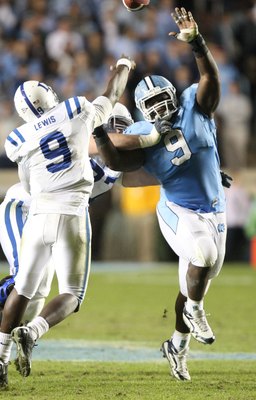 The star defensive tackle may not always be the headliner on the Carolina defense, but he may get the last laugh.
Austin was a freshman All-American at Carolina, and backed up a four sack rookie campaign with overall solid numbers his sophomore season.
With two years under his belt, Austin is looking to have a breakout campaign in 2010. With guys like Robert Quinn on the line, you better believe Austin will get his opportunities.
You also have to believe that Quinn will get a chance, considering his speed is among the best in college football. He has a great motor, played well against the run and the pass and is rather versatile.
Of course, people want to see more out of him before they're sold but I think Austin will be a solid NFL player. While he will probably be drafted higher than he pans out, I expect him to have some good seasons under his belt and probably have some big moments.
It is up to him to improve though if he wants to be a starter in the NFL over the next few years.
13. Da'Quan Bowers, DE, Clemson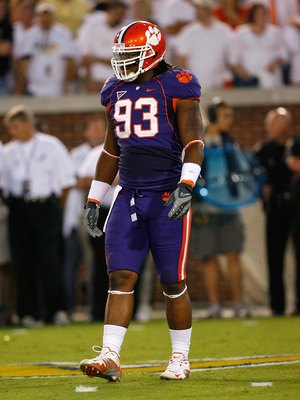 Here's another case of talent vs. production.
Bowers has had the spotlight the second he set foot on campus. Starting from day one, Bowers has made some great plays but still has only four sacks in two full seasons.
Yes, he has pressured the quarterback, and, yes, he has some nice tackle for losses statistics. However, given all the hype, people would expect more.
Bowers still has the frame and numbers that would make any NFL scout drool but a breakout-season in 2010 could really help his draft stock.
Considering how close the Tigers were to an ACC title last season, this could be a big step forward for Bowers with all the experience under his rather big belt.
Bowers is a big man and could certainly play at the next level. Running back C.J. Spiller believes in him, I think I will too.
12. Allen Bailey, DL, Miami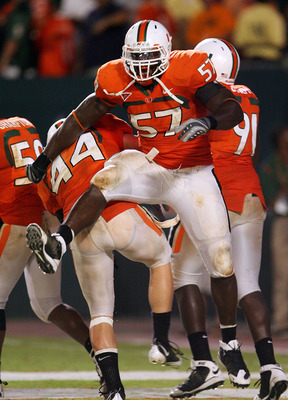 The first-team All-ACC defensive lineman has the frame of an NFL player.
At 6'4" and over 280 pounds, Bailey possesses both the strength and speed to make it at the next level. It's an athleticism that bears with it the weight of heightened expectations.
While his freshman year resulted in some growing pains, Bailey has grown up and the Hurricanes are reaping the rewards.
Having a great deal of experience playing at both the end and tackle positions for the past two seasons doesn't hurt, either.
Bailey led his team in sacks and tackles for loss last season. He also has a penchant for making big plays, forcing fumbles against Oklahoma and Clemson last season.
Bailey needs to work on his consistency, but when he has played well he has been dominant.
He has the talent to be an NFL veteran, the question is if that will be enough?
11. Rodney Hudson, G, Florida State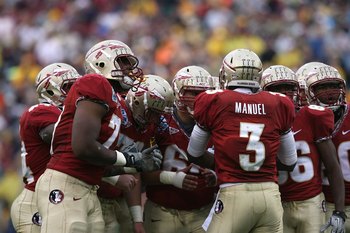 Hudson won the 2009 Jacobs Blocking Trophy and with good reason.
The offensive lineman not only works hard but he works efficiently, being one of the least penalized guards in the country.
Hudson may need to add on some weight to become a true stalwart in the NFL but he has a great attitude and a passion that translates to success.
Scouts are impressed by his footwork and he appears to be a first- to second-round selection in 2011.
I think Hudson will be fine in the NFL, though it's tough for just about any offensive lineman to leave a legacy. Offensive guard is one of the most under-appreciated positions in the game.
Hudson will probably have to split duty until he bulks up, but if he stays disciplined then there will always be a roster spot for him somewhere.
10. Anthony Castonzo, OL, Boston College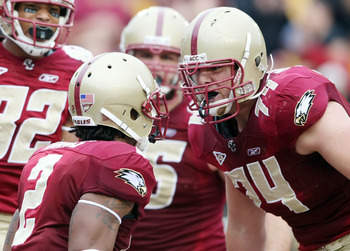 As we all know, offensive lineman are money in the first round.
NFL teams always need to replace their aging players and a skilled young man can expect to see a long, if perhaps unheralded, career if they continue to work hard.
Castonzo knows a thing or two about work ethic and longevity. With 41 starts for the Eagles, Castonzo has become a great pass-blocker.
With running back Montel Harris emerging last season, the rising junior got to work on his run blocking and will get even more chances in 2010.
While he may need to add a little more weight, at 6'7", he has an impressive frame for NFL scouts to admire.
Castonzo seems to be a good guy and many have him as a borderline first or second round pick. However, his experience should give him an opportunity to make it at the next level.
9. Jarvis Jenkins, DT, Clemson
Jenkins came into Clemson with tons of hype.
However, the Tigers inability to make the national spotlight has hurt his draft stock over the years.
It took the defensive tackle time to become a stalwart on the defensive line, but he has always taken opportunity of his chances.
Jenkins has an NFL body and a superb ability to crush runs. He is also part of a defensive line that can pressure quarterbacks and shut down the passing game.
If Clemson breaks through this season, Jenkins could see his stock rise more than just about anyone else.
Nevertheless, I think he has the skill to be an NFL starter and contribute early on.
8. Quan Sturdivant, LB, UNC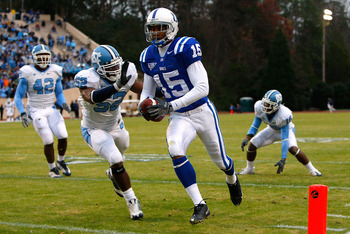 Let's face it, doesn't Quan Sturdivant just sound like an NFL name?
Sturdivant led the Tar Heels' defense in tackles last season with 12 tackles for loss.
Despite all the talent around him, Sturdivant is the leader. He calls the plays, he uses sound fundamentals and he has the most experience among his brethren.
The first team All-ACC linebacker may not have the over-the-top athleticism of others, but he has a strong mind and a good frame to be a very good defensive player at the next level.
If the Tar Heels succeed, he will be the one responsible for it.
His instincts and his versatility are some of the best in college football, and that will help him make some plays at the next level.
I expect Sturdivant to get some major playing time and will establish a reputation as a consummate team player. An important glue guy for any NFL team.
7. Brandon Harris, CB, Miami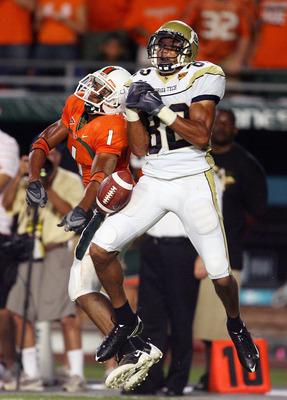 Let's see, what is a cornerback supposed to do again?
If you said break up passes, Harris would like to thank you. His 15 deflections was second in the country last season.
If you said, interceptions then Harris will not be so kind.
Despite great speed and a strong ability to read offenses, Harris only had two interceptions to his credit in 2009.
If he wants to be on people's NFL radars, he needs to up that number.
Harris has the athleticism to be a corner in the NFL, maybe even a shutdown one considering his willingness to take on the best and the brightest.
However, his NFL legacy would hinge on his ability to make something out of all those stops. It's what separates the good from the great.
6. Ryan Williams, RB, Virginia Tech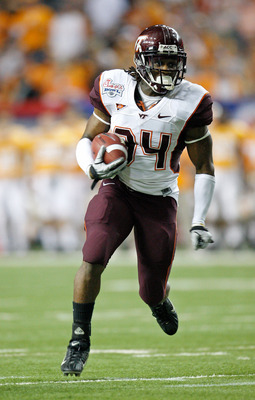 When you rush for 1,655 yards and 21 touchdowns in your freshman year, you must be doing something right.
In fact, those 1,655 yards is the sixth-best total by a freshman in NCAA history.
Williams has already established himself as a premiere running back in college football, easing the pain of losing his backfield mate Darren Evans to an ACL injury last summer.
Now the Hokies have two great running backs and one backfield. While Williams' numbers may take a hit, you better believe that he will get plenty of NFL draft consideration if he decides to declare early.
Williams has a toughness that supersedes his 5'10", 211-pound frame. This season, he must look to improve his catching ability and build upon his 16 receptions in 2009.
If Williams and the Hokies find success yet again, he will be an early-round selection. Of course, we also know that can be a death sentence for running backs who have to play behind substandard offensive lines.
While some running backs flame out, I expect Williams to be a good back because of his toughness and speed.
Will he be the next Adrian Peterson? Doubtful.
However, he would be a good complementary player in the two-back system that is taking over the NFL.
The next DeAngelo Williams or Darren Sproles would be a good harbinger for the Hokie.
5. Greg Little, WR, UNC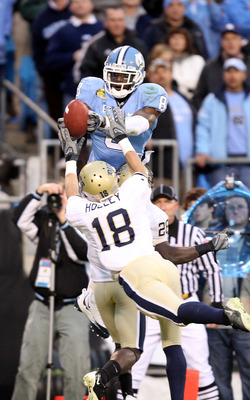 If T.J. Yates had an offensive line that could have protected him last season, we would have seen just how dynamic a playmaker Greg Little really is.
Little has worked his way up the depth chart and now become a leader of a Tar Heel team that many people are expecting great things from.
Little has no glaring weaknesses in his game, he has good speed, can block well and broke out for 724 yards last season.
Coach Butch Davis has been impressed with his maturity this offseason, as he becomes a more complete player.
Little's biggest draft problem is just how many good wide receivers will be eligible in 2011. Pitt's Jonathan Baldwin, Georgia's A.J. Green and Alabama's Julio Jones are just a few names that come to mind.
This could work in Little's favor though, if he falls to late in the first round he will be around a team that actually has a servicable quarterback.
After all, we've seen teams like the Colts and the Saints take less touted players and make them fantasy team MVPs.
I expect Little will get lucky and land with a good team that will give him opportunities since he will probably be a two or three on the depth chart.
I expect Little to put up good numbers and show off some of his playmaking ability, because people will not be expecting him to carry the load. Heck, with a little luck, he might just find himself playing in a Super Bowl.
4. Christian Ponder, QB, Florida State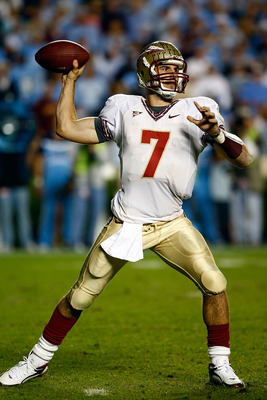 Oh, Mr. Ponder. I've waxed poetic about you throughout this offseason, so I'll spare you this time around.
Christian Ponder is the only pure quarterback prospect coming from the ACC in 2010, since Tyrod Taylor and Josh Nesbitt simply do not have the arms to stay under center in the NFL.
Ponder may not have the long-standing career of his contemporaries, but he has a pro-style build of 6'3" and 230 pounds to go along with a whopping completion percentage of nearly 70 percent.
The rising senior put up good numbers despite missing time due to an injury. Now that he is back and fully healed, Ponder has offensive weapons galore next season to put up some ridiculous numbers and boost his draft stock.
Now, Ponder may not have the long ball capability of other NFL quarterbacks, but he has a high football acumen and the ability to drive a team down the field.
While he may not be the next Brett Favre or Peyton Manning, he certainly can be a Chad Pennington or Joe Flacco.
If Ponder finds himself on a team with weapons around him, I think he could find some sustained success.
As a quarterback, you get used to the spotlight. If Ponder plays like people expect him to this season, the spotlight could become his second home.
3. Bruce Carter, LB, UNC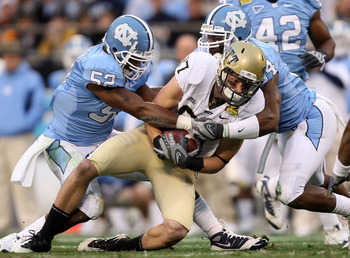 In order to be a success in the NFL, you have to work hard.
Everyone is fast in the pros, everyone is athletic. The difference comes in preparation and maturity.
Well, Carter knows a thing or two about hard work. The Tar Heels rave that he is the hardest worker on his team, running with 60 pounds of cement on his back.
Carter pushes himself to the very limit to become a stellar athlete and it's worked. Mel Kiper, the ESPN NFL Draft guru, says that Carter is the No. 1 freakish athlete of the 2011 class.
The linebacker has a 40 time of 4.39 seconds and a bench press of 440 pounds. Need I say more?
Third on the team in tackles last season, and an impressive interception return for a touchdown, Carter will have plenty of opportunities with the NFL defense he already has surrounding him at Carolina.
If he can avoid too many McDonald's meals in the pros, he has the toughness to be a Pro Bowl-type player.
2. Deandre McDaniel, S, Clemson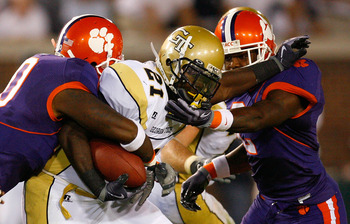 Anytime you can register a season-total of 98 tackles, two sacks and eight interceptions, you must be doing something right.
Deandre McDaniel is very talented, but he also has a good frame and NFL speed.
McDaniel is simply fast enough in college to be around the ball and make plays with great frequency.
He could really play either strong or free safety in the NFL, because he has the ability to read plays with the tenacity to execute.
That's a winning combination.
McDaniel has been questioned for his character. Assault charges in the Roger Goodell era could make him a risky pick but his decision to stay an extra year at Clemson does show good judgment.
McDaniel enters this season as the top-rated safety in nearly every 2011 mock draft, and could continue to rise up the big board if he displays maturity.
It's a risk worth taking.
1. Robert Quinn, DE, UNC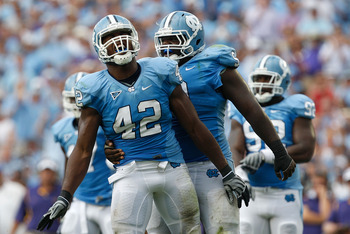 Robert Quinn is a bad man.
At 6'5" and 256 pounds, the North Carolina defensive lineman is a nightmare for opposing offensive lines.
As a sophomore, Quinn had an incredible 11 sacks and 19 tackles for loss en route to an All-ACC first team performer.
This year he has already been tabbed as a preseason All-American.
Considering the heightened expectations for the Tar Heels, Quinn could become a household name, particularly if he lays the lumber to quarterback Jordan Jefferson and the LSU Tigers in the nationally-televised opener.
Quinn is projected by most services as a top five selection if he leaves early, some even think he will be the No. 1 overall pick.
Quinn has great athleticism but he also has a good head on his shoulders.
The risk in drafts are that you do not how people will respond to all the money and fame that comes with it. Quinn is an incredibly grounded individual, someone who has faced more than his fair share of adversity.
In high school, Quinn received brain surgery and battled back to become a starter at Carolina as a freshman. His efforts earned him the ACC Brian Piccolo award for the most courageous player in the conference.
Quinn has the talent but he also has the maturity to be a great defensive force for years to come.
Keep Reading

UNC Football: Like this team?