The Yankee Years: Joe Torre's All-Time New York Yankees!
With the weekend series between the New York Yankees and the Los Angeles Dodgers coming to a close last night, the MLB and its fans are finally ready to move on with the post-Joe Torre Yankees.
While Torre may not be as loved and cherished by New Yorkers as he was once was, there is no denying that he brought the Yankees from a mediocre team to becoming the premiere franchise in all of professional sports.
This is what his starters would look like, if Torre selected individuals from his tenure with the Yankees and put them together on one team.
Remember that Joe took over as manager in 1996 and left the New York Yankees after the 2007 season. All of these players played multiple seasons under Torre as their manager with the Bronx Bombers!
Begin Slideshow

»
There is no question that Jorge Posada is the best catcher and only real consideration at that position, in the Joe Torre era.
Under Torre, Posada played in 1431 games and batted for an average of .277. During that time, Jorge collected 1334 hits while blasting 218 home runs and driving in 861 runs. He also scored 744 runs for the Yankees.
2003 was his best offensive season, when he hit .281 with 30 home runs and 101 RBI.
Posada was also a vocal leader in the clubhouse, along with being the starting catcher and an offensive powerhouse that hit from both sides of the plate. He was a proud and very integral member of the four World Series championships from 1996-2000.
Tino Martinez was one of the players that started his career in Pinstripes during the same season that Joe Torre became the mananger. Tino would become a huge fan favorite in the Bronx for his excellent play with his bat and his glove.
During his seven seasons in the Bronx; Martinez batted .276 with 1,039 hits, 192 home runs, 739 RBI, and 566 runs scored. Batting 5th in the Yankees line-up, Tino had plenty of opportunities to collect some big hits and he rarely failed at those attempts.
In his best season in pinstripes (1997), Tino batted .296 with 176 hits including 44 home runs and 141 RBI.
The "Bamtino" continues to be a huge fan favorite in New York!
With Robinson Cano not having played many tremendous seasons for Joe Torre at 2nd base, Soriano is the obvious choice here.
During his 5 years in the Bronx, Alfonso batted .284 with 571 hits. He also drilled 98 home runs, drove in 270, and scored 326. His biggest threat, aside from his bat, was his speed on the bases. Soriano stole 121 bases while he was with the Yankees.
Soriano's best offensive season was 2002 when he had an absolute monster season for the Yankees, batting an even .300 and being a league leader in hits (209), runs (128), and stolen bases (41). He also knocked out 39 home runs and collected 102 RBI.
Soriano was a superstar 2nd baseman that was sent packing in the Alex Rodriguez deal. The emergence of Robinson Cano has since wiped everyone's memory of the way that Soriano once was, when he played in New York.
In what is the easiest pick in the entire roster, The Captain would be the obvious selection for the all-time shortstop for Torre's Yankees.
With nobody else even having a chance to play that position since 1996, there are not even any other possibilites.
Jeter played in 1820 games under Joe Torre, on his way to becoming the face of the franchise. In that time, he collected 2344 hits while batting an average of .318. He also had 195 home runs, 926 RBI, and 1374 runs scored.
1999 was Jeter's best season, where he posted a batting average of .349. He collected 219 hits that season, with 24 home runs and 102 RBI. He also scored 134 runs for the Bombers.
Derek Jeter not only was a four-time World Champion, but he was also the 1996 Rookie of the Year, the 2000 All-Star Game MVP, and the 2000 World Series MVP.
Joe Torre and Derek Jeter are the only people left with single digits for the Yankees, and will probably both have their numbers retired by the organization in the coming years.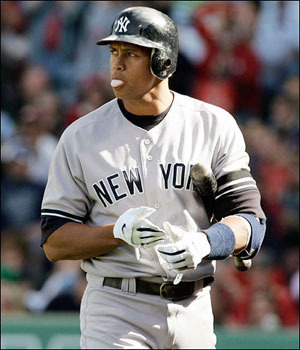 While they may have had off the field issues, A-Rod played very well for Joe Torre during his time in the Bronx.
A two-time MVP for Joe, Alex batted an average of .303 in his four years with Torre as the manager. In those seasons, he had 715 hits and 173 home runs while driving in 513 runs.
The post-season may have been a different story, but A-Rod was a beast during the regular season.
Joe Torre's last season, 2007, was the best for A-Rod. He batted .314 while leading the league with 54 home runs, 156 RBI, and 143 runs scored.
A lot has been made about their current relationship, but A-Rod is undoubtedly one of the best players that ever played under Joe Torre.
Matsui lived up to his "Godzilla" nickname when playing under Joe Torre for the New York Yankees.
He batted .295 in his five seasons with Joe, collecting 753 hits along the way. He also had 103 home runs and 462 RBI mixed in.
2005 was Matsui's best season, when he batted .305 while appearing in all 162 games for the Bombers. He had 192 hits, 23 home runs, 116 RBI, and 108 runs scored.
From his extra-inning, grand slam against the Twins, Joe Torre knew he had something special in the Japanese outfielder.
This is another no-doubter when it comes to Yankees that played for Joe Torre. Bernie Williams played 1538 games under Torre and was consistantly a major force in the middle of the Yankee line-up.
In his tenture under Torre, Bernie batted .303 while collecting 1744 hits. He had 237 home runs, drove in 990 RBI, and scored 1044 runs.
In his best season under Joe (1999), Bernie batted .342 with 202 hits. He had 25 home runs, 100 walks, 115 RBI, and 116 runs scored in that season.
Not being a huge power guy, Bernie still found a way to be a very productive clean-up hitter during the Yankees' dynasty. He will likely have his jersey no.51 be retired by the Yankees in the coming seasons.
Paul O'Neill lived up to his "The Warrior" nickname with the Yankees, leading the way for Torre's Yankees.
In his six seasons under Joe, Paul became a huge fan favorite with his offensive production. He had 1001 hits, batted .297, hit 122 home runs, drove in 604, and scored 499 times.
O'Neill's best season came in the great 1998 season, where he batted .317 and had 191 hits. He also hit 24 home runs, drove in 116, and scored 95 runs while batting 3rd in the Yankee line-up.
While Gary Sheffield had some monster seasons in right field under Joe Torre, he did not do it as consistantly or for as long as Paul O'Neill did during the Yankee dynasty years.
As a left-handed batting DH, Jason Giambi has to be the man for the Yankees. Even though he was wrapped up in steroid issues, Giambi produced some mighty numbers while in the Bronx.
Giambi had 651 hits under Joe Torre, posting an average of .267 in those 6 seasons. He drilled 177 home runs, knocked in 508 RBI, had 543 walks, and scored 447 runs.
2002 was Giambi's best season with the Yankees, batting .314 with 176 hits. He had 41 home runs, knocked in 122 runs, and scored another 120 runs that season.
While Giambi was surrounded by a lot of controversy during his time with the Yankees, nobody can deny that he was a major offensive threat in the middle of the Yankees' line-up.
Gary Sheffield was one of the most feared hitters in all of the MLB and that did not change when he came to the Bronx.
In his three seasons in New York, batted .291 with 381 hits. He blasted 76 home runs, while driving in 269 runs and scoring 243 more.
In 2004, Sheffield batted .290 with 36 home runs and 121 RBI. He collected 166 hits and scored 117 runs that season for the Yankees.
While he had some issues off the field with Torre, Sheffield proved to be a major offensive factor for the Yankees in his tenure with the Yankees.
Without a doubt, Andy Pettitte was the most consistant pitcher that Joe Torre had during his 12 seasons as the manager for the Yankees.
During his time with the Bombers under Torre, Pettitte had 152 wins and 78 losses. He posted an ERA under 4.00 and struck out 1302 batters.
In 2003, Pettitte had a record of 21-8 with an ERA of 4.02 and 180 K's.
Even though he played 3 seasons for Houston in the middle of Torre's tenure, Pettitte returned for Joe's last season with the Yankees.
Pettitte has been a big part of the "Core Four" and one of the major parts of the Yankees dynasty during the Torre Era.
The only other guy that could even be considered for this spot would be David "Boomer" Wells, but he doesn't have the numbers that Pettitte has in the Bronx.
Mike Mussina was one of the most consistant pitchers that the Yankees had in the 2000's, at least for right handed pitchers.
The "Moose" was 103-63 during his time in the Bronx. He posted an ERA of 3.95 while striking out 1128 batters.
In his best season under Torre, Mussina was 17-11 with an ERA of 3.15 while striking out 214 opposing hitters.
Mussina pitched well enough to win, but could not get the elusive championship with the Yankees before retiring.
Mussina would get the nod over other RHPs' including Roger Clemens, Orlando Hernandez, David Cone, and Chien-Ming Wang.
The Sandman is the final member of the Core Four and arguably the most important player to play for Joe Torre's Yankees. Along with Derek Jeter, Rivera is the other surefire Hall-of-Famer from that era.
Rivera has a record of 57-41 during his years under Joe Torre, which is not all that impressive.
The really staggering numbers are his 2.11 ERA, 443 saves, and his 806 strikeouts in 886 innings.
Mariano slammed the door for Joe Torre and the Yankees, on his way to becoming the greatest closer of all-time.