Ten 49ers To Target For Your Fantasy Football Team—June Edition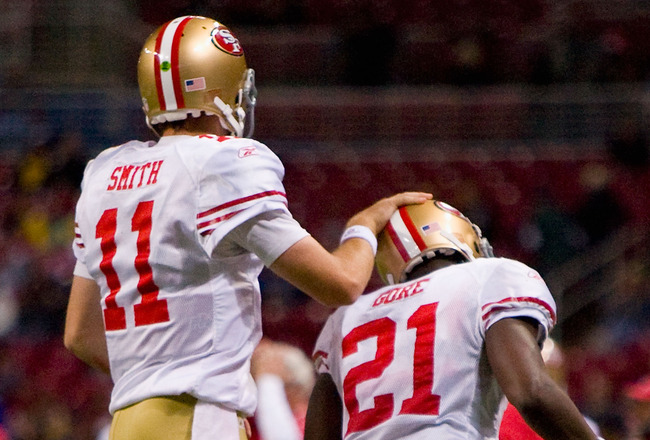 Obviously, different leagues keep different statistics.
Some penalize more for picks and fumbles, others don't penalize for them at all. Some award points for every 10 yards rushing, some bump it up to 25, and some only count touchdowns.
It's primarily a matter of the settings.
Still, there are some constants and factors to always pay attention to.
The 49ers team has grown a lot this offseason, and although the skill positions remain fairly untouched, the invisible contributers between the statistics are present: Two first round linemen, a new special teams coordinator, the same offensive coordinator (for once), and a defense insatiably hungry for wins.
This could, and should, be the best season for 49ers in fantasy football leagues in recent history.
1—Frank the Tank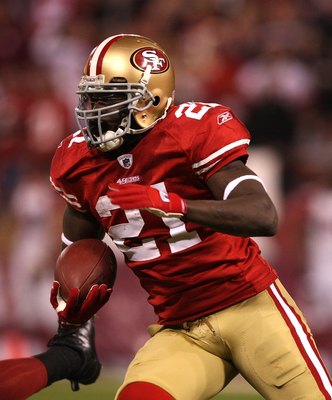 There is one player on the 49ers guaranteed to be a first round selection in just about any fantasy football league: Frank Gore.
Gore has been the sole constant bright spot for San Francisco over the past half-decade. This year, with young beef on the offensive line, Gore has a chance to chase his own career numbers.
As long as Gore stays healthy (he's been known to miss a couple games a year), he's well worth a first-round pick and probably a top five selection.
2—Burn'n Vernon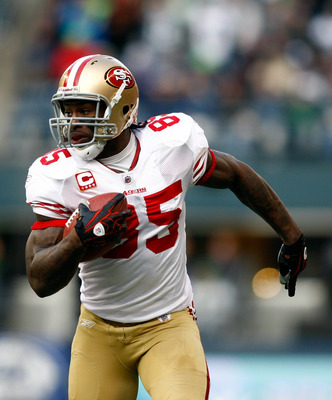 To break the chains of mediocrity, Davis is looking to repeat (or better) the success he had in 2009.
After all, he wants to show the world that he's not a one-hit wonder, and 2010 could still end up being a contract year for him.
Before his 2009 break-out season, Davis averaged around 35 catches for 377 yards and three touchdowns.
Many (most) fantasy leagues require at least one tight end, and Vernon is likely to finish the year with the best offensive numbers of any at the position.
Projections for 2010 foresee around 80 catches, 1,000+ yards, and 10+ touchdowns.
3—Alex Smith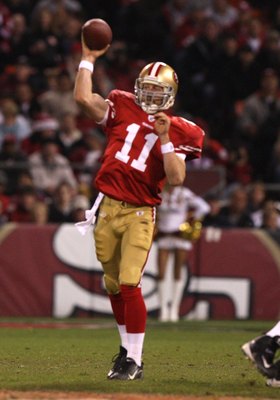 If it's ever going to happen, it'd better happen in 2010. All the 49er faithful are still holding their breath on Alex Smith. Even his believers are nervous that they're going to be proven wrong and the QB position will become a revolving door again.
Call them excuses, call them reasons for a lack of success—they're gone now.
He's not injured. He has weapons. He's finally going into a second year with the same offensive coordinator.
Most mock drafts have Smith being picked up in late rounds, and usually as a backup quarterback. For this, selecting him in a middle round makes Smith a moderate-risk-high-reward type of gamble. Most football fans agree his numbers will go up this year; 49ers fans hope they will finally begin to soar.
The best-case scenario is around 4,000 yards,30 touchdowns, and 15 interceptions.
If this seems lofty, remember he's playing in the NFC West.
4—Crabbs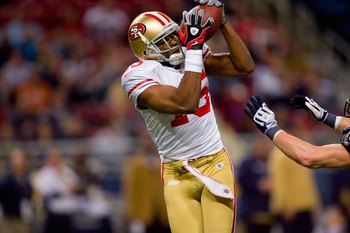 Hey NFL, welcome to the rookie.
Michael Crabtree is one hot question mark.Just how well he'll do in his first full season remains to be seen, but the expectation is that he'll take a lot of the pressure off of Vernon Davis by putting up some serious numbers of his own.
Crabtree may or may not breach 1,000 yards and 10 touchdowns. As long as he's healthy, however, he'll be the 49ers main receiving threat who's not named Vernon Davis.
There is certainly a possibility that with his skill set and a full season of production, Crabtree does reach those numbers.
5—Josh Morgan
Many leagues make you start three wide receivers every week, so it's therefore a crucial position in such leagues. Teams focusing on running backs and quarterbacks scramble for fill the WR spots in later rounds.
Josh Morgan might be a steal in such a round.
Sure, he's not the primary or even secondary target for Smith. But that really just means he's not going to draw premium coverage from defenses.
Additionally, the young receiver's statistics practically doubled his sophomore season; Josh went from 20 receptions in 2008 to 52 in 2009, and from 319 yards to 527 last year. Morgan's touchdowns have been consistent at three a year.
He's not going to be the star, but he'll post adequate numbers and can start when receivers from other teams have a bye week.
6 & 7—The Return Guys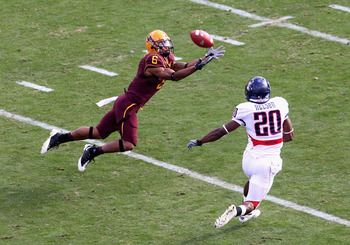 Some leagues track return yardage as well as touchdowns. Given that it's still only June, the return man position in San Francisco is far from set.
Ted Ginn Jr, Kyle Williams, and even LeRoy Vann are competing for the role.
Both Ginn and Williams could also see time at WR, but Vann (if he makes the roster) will see only limited time as a DB. Still, at least two of these guys should make the roster.
Now, no one's saying these guys are first-round material. But if you happen to have an extra spot open, look for them on the waiver wire—especially if your league counts return yards.
8—D-Fence!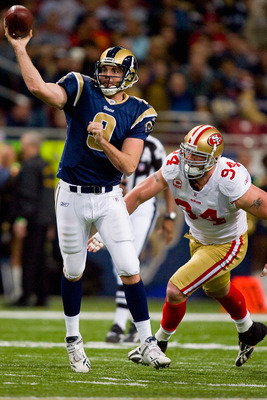 If your league rolls a team defense, the 49ers are the way to go!
Sure, there are other great defenses in the league (New York, Baltimore etc), but the group of young and growing talent on the 49ers should make some huge plays this year.
The NFC West is full of rebuilding teams, and the 49ers defense could and should feast on the mistakes their opposition makes.
The 49ers are going to be aggressive and physical when the opposition has the ball, and they aren't the sort of team to relent late in a game.
Some leagues mesh team defense with special teams, and San Francisco figures to be improved in both areas.
We're talking about one of the first defenses off the board here, whichever round they start disappearing in.
9—Bam Bam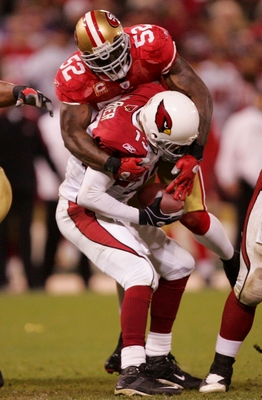 Having exhausted the major offensive and special teams options, here's THE independent defensive player (yes, some leagues do this) to have, assuming the settings count tackles.
Even if the league doesn't count tackles (big-play-defense leagues), Willis has a touchdown in each of the last two seasons, forced three fumbles, intercepted three passes, and recorded four sacks last year.
He'll make a lot of little plays, and a few big ones too. Willis has been nothing but a beast on the field, and now he's a beast with a happy eight-figure contract.
10—Dashon, Dashon, Dashon!
Dashon Goldson led the team with four interceptions in 2009. He defended six passed and racked up 76 solo tackles.
Although he's yet to record a pick-six, a revved up defense should increase Goldson's numbers this year.
A stronger pass rush (looking to add onto last year's 44 sacks) and a physical defense at all levels should create opportunities for the ball-hawking free safety.
In a contract year, Goldson has a little something to prove to the NFL. He'll be pushed by rookie Taylor Mays, but he's 90% likely to retain the starting job when opening day comes around.
Of the 49ers secondary, Goldson is ready and waiting to make a big impact in 2010.
Summation and Synopsis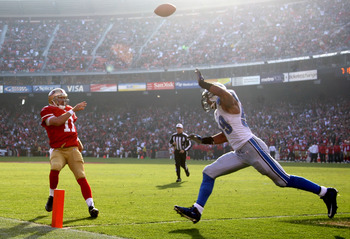 There are only a hand full of players in SF that figure to be point-scorers in all leagues.
Frank Gore, Vernon Davis, Micheal Crabtree, and we can assume Alex Smith (finally!) will be week-to-week difference makers.
Still, the 49ers defense has a chance (a decent chance) to dominated on any given Sunday as well. It will probably show up more collectively than independently, but this side has bright stars ready to shine as well.
And what is fantasy sports, other than Dungeons & Dragons for jocks, an excuse to roll back some beers (or not) and talk a little smack to friends? A game to test the breadth of one's pro-sports knowledge and a another way to kill time from Monday to Sunday.
No one is saying these players are your end-all solution to dominating your league.
All that's being said here is that they're worth considering. And plus, how many 49ers would be considered fantasy football material two years ago?
Keep Reading