Patrick Kane, Jonathan Toews: Ranking Them Amongst Chicago's Best Duos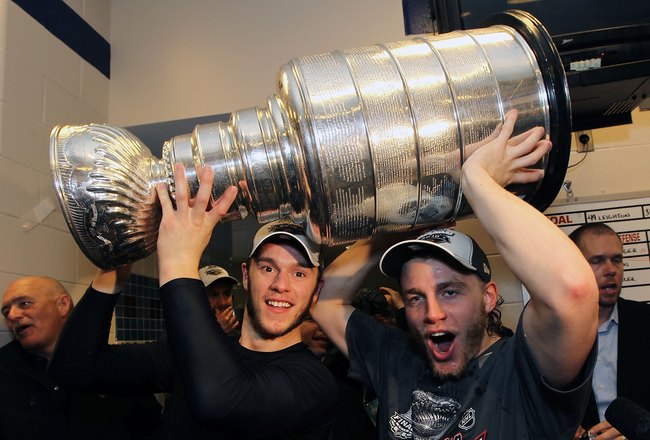 Like the song says "It takes two baby!"
Winning a championship is something that, outside of a notorious dynasty in the 1990's, has been something that Chicago does not do on regular occurrence.
Great individual performances are a key to any team's success, and are admired by all who watch.
However, there is usually a duo that ends up gaining the notoriety, as the joining of talents brings great results and long-lasting memories.
The most recent example of a great Chicago duo is that of Stanley Cup Champions Patrick Kane and Jonathan Toews.
Both players were drafted by the Blackhawks, and have quickly developed into becoming megastars on a local and national level before our very eyes.
Both of these young stars have had such amazing success and have been quick to capture the imagination and respect of all hockey and Chicago sports fans, but compared to other sports duos of the past in the city of Chicago, they still have much to prove over the future years of their careers.
There have been many duos that have had marvelous careers together playing for the Chicago teams, and here are some of the very best.
And please share some others that have done great things together for Chicago teams.
Honorable Mentions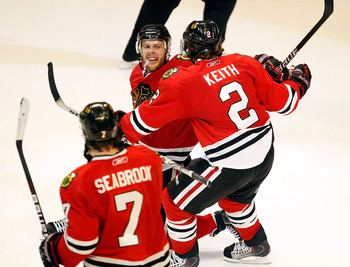 Brent Seabrook and Duncan Keith:
This pair has been the foundation of the resurgence that has been seen over the last five years for the Chicago Blackhawks.
One could argue they are best defensemen combination in the world at this point, with a Gold Medal performance at the Winter Olympics in Vancouver and their recent Stanley Cup win. Keith also recently won the Norris Trophy for the league's best defensemen, while his line mate Seabrook finished in 11th place.
These two players have been signed up to be Blackhawks for many seasons to come, and they no doubt will find there way on the list quickly.
Kerry Wood and Mark Prior:
This duo had a outstanding season as the 1-2 punch that led the Cubs to being within five wins from winning the World Series in the 2003 season.
The young Prior has a Cy Young-like season, and Wood was a strikeout machine. Both pitchers fizzled in terms of what was expected as Prior was besieged by injuries and Wood turned into a closer. For many, this duo was a symbol of the closest the Cubs have been to reaching the mountain top in this generation.
Gale Sayers and Brian Piccolo:
This may not have been the duo that produced the most significant numbers or championships, but it holds a special place in many Chicagoians hearts.
Piccolo played for the Bears as Gale Sayers fullback from 1967 to 1969.
Undersized Piccolo earned respect at the position blocking in front of the Hall of Fame Sayers. There friendship on the Bears and the struggle surrounding Piccolo's death were chronicled in the much-loved movie "Brian's Song," starring James Caan and Billy Dee Williams.
Derrick Rose and LeBron James?
This is one we will entertain if LeBron were to join the Bulls. This pairing would climb the ranks in a very short amount of time.
No. 10: Lefty Williams and Eddie Cicotte, White Sox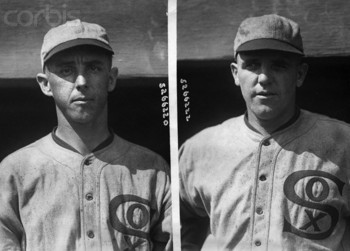 These two "Black Sox" members were as fierce as a one-two combination in a pitching rotation as it came.
Claude "Lefty" Williams was a talented southpaw, who along with Cicotte, helped the White Sox win the World Series in 1917. Williams won 17 games that season while Cicotte had his best season, winning 28 games and leading the league in almost every pitching category.
In the famous season of 1919 for these two men, Cicotte won an astounding 29 games and Lefty won 23. These two pitchers were two of the best of their time, and it is unfortunate that they were eventually implicated in the betting scandal of the '19 series (were apart of the "Eight Men Out").
Photo Courtesy of Corbin Images
No. 9: Ryne Sandberg and Andre Dawson, Cubs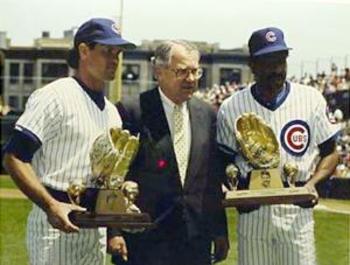 The Cubs have had fierce combinations in there lineup throughout the years, but Ryne Sandberg and Andre "The Hawk" Dawson are two of the best to ever lace them up.
These two are as accomplished as baseball players can be.
They both won MVP awards with the Cubs; Sandberg in 1984, and Dawson in 1987. Both players were not only offensive powers, but displayed unmatched defensive prowess as Dawson won eight Gold Golves and Sandberg won nine.
The greatest feat that these two players have achieved is both have now been called to Copperstown for the Hall of Fame, with Dawson's induction coming up this summer.
Photo Courtesy of Game Use Universe
No. 8: Walter Payton and Matt Suhey, Bears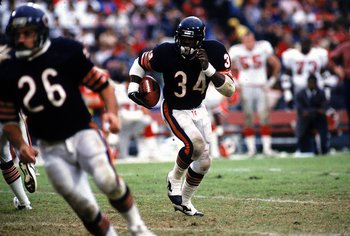 The greatest of "Sweetness" Walter Payton is still something that has not been seen by a Chicago Bear since his retirement, and many say will never be seen again.
Much of what Payton accomplished in his great career was in great result of himself, his offensive line, and his coaches. However, his fullback and good friend Matt Suhey had a huge impact on Payton and the Bears' success throughout the 80's.
Suhey led the attack for the majority of Payton's best career seasons, and was the starting fullback during the Bears memorable Super Bowl victory in 1985.
Not only was this duo great on the field, but they were also great friends as well.
No. 7: Luis Aparicio and Nellie Fox, White Sox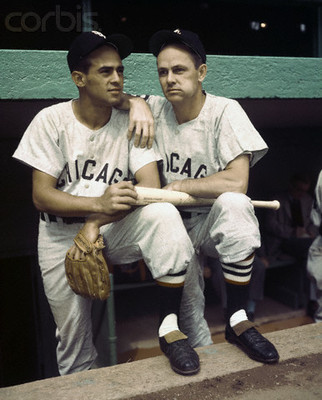 The shortstop-second basemen combination is a very important part of any successful ballclub in baseball.
When you have two Hall of Fame players, like the White Sox did in their pennant-winning season of 1959, it is something that is very special.
Luis Aparicio and Nellie Fox are two of the greatest White Sox to ever play for the organization.
The duo is one of only eight pairs to win Gold Gloves up the middle in baseball history. The duo also finished in first and second place in the MVP race in 1959, with Fox winning the award.
There is now also a statue at U.S. Cellular Field that shows both players immortalized in bronze in the act of flipping the ball to each other for a double play conversion, which they did so many times.
Photo Courtesy of Corbis Images
No. 6: Patrick Kane and Jonathan Toews, Blackhawks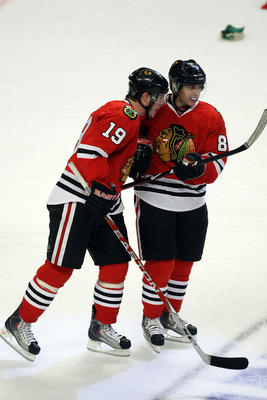 The inclusion of these two players is apt simply because they were able to do something that has been done scarcely and far between in Chicago sports, and that is bringing home a title.
No doubt they will climb the list with every record-breaking and possibly dynasty building season that seemingly lays in their future.
It is way to early to think about, but this duo may have numbers 19 and 88 hanging from the rafters of the United Center twenty-five or so years from now.
No. 5: Mike Singletary and Wilber Marshall, Bears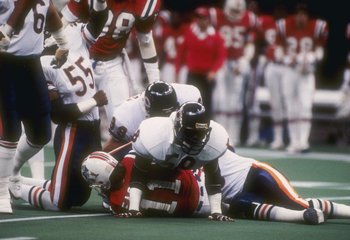 For the sack of fairness, this is perhaps the greatest trio to make the list with Otis Wilson included.
All three players were ferocious and as intimidating as linebackers can be on Buddy Ryan's 46 defense in 1985.
Mike Singletary, one of the great linebackers to ever play the game, was the "Heart of the Defense". Wilbur Marshall was a hard-hitting player who once hit a Detroit Lions quarterback so hard, some believed the QB had been decapitated. Otis Wilson was the pass-rusher of the three, and recorded 10.5 sacks in the Super Bowl season.
Few teams could ever match the pure fear that offenses suffered from the hands of these "Monsters of the Midway".
No. 4: Jerry Sloan and Bob Love, Bulls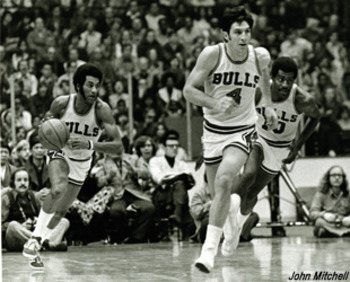 These two players retired numbers stand next to MJ and Scottie Pippen in the United Center, but they also stand as one of the best pairs in Chicago Bulls history.
Bob Love and Jerry Sloan were both tough and tenacious defenders that made the Bulls a very difficult team to play in the NBA in the late 1960's and 70's.
These guys were the first leaders and stars that the young organization had.
Bob Love still works with the Bulls to this day as the Director of Community Relations. Sloan started coaching in 1979 as coach of the Bulls, but he has cemented his place as an all-time great coach with the Utah Jazz, as he has been with them since 1988.
Photo Courtesy of: Slam Online
No. 3: Billy Williams and Ernie Banks, Cubs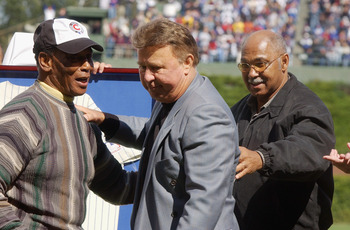 These two Cubbie legends were a duo that were the first two players to have their numbers retired in Cubs history.
Yes, these two Hall of Famers that played with each other on the Cubs from 1959 to 1971 were players that will never be forgotten.
The best team performance while the duo was together was in the 1969 season that, as everyone knows, went downhill after an encounter with a black cat.
Despite what happened that season, these two were, and still are, beloved as two of the best Cubs ever. With the structure of salaries and free agency in the game today, it is unlikely that we will see a pair stay together as long as these two were able to.
No. 2: Bobby Hull and Stan Mikita, Blackhawks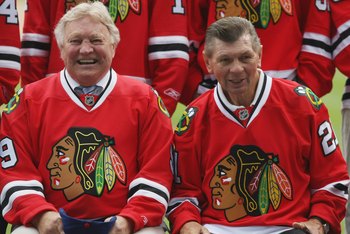 Bobby Hull and Stan Mikita are icons that mostly every hockey fan is somewhat familiar with. Having them together formed one of the greatest combos in the history of the game.
Both players accomplishments are too many to mention, as they did so much individually by themselves as well as for the team.
The Stanley Cup victory in 1961 was Chicago's first sports title in 15 years, and the Blackhawks first in 23.
The duo are now seen together regularly as team ambassadors along with other Hawks' legends Tony Esposito and Denis Savard. It is good for them to be back in the fold with the team, and being recognized for all they were able to do.
No. 1: Michael Jordan and Scottie Pippen, Bulls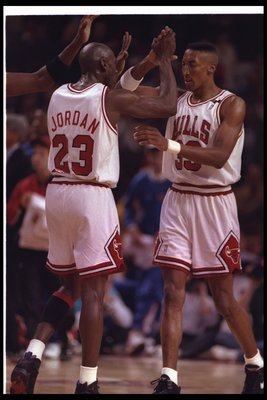 This is a no brainer for the No. 1 choice in Chicago history.
The duo of Scottie Pippen and Michael Jordan is the greatest in sports history, rivaled only by baseball legends Babe Ruth and Lou Gehrig.
The six NBA titles and the amazing record of 72 wins in a season are the tip of the iceberg in listing the feats that were accomplished by No. 23 and No. 33.
There time playing together them become synonymous with one another.
When Michael Jordan is talked about, his own merits are the topic of discussion, but much credit is given to Pippen who complemented him as his sidekick.
Scottie Pippen's name is remembered as one of the best players ever, and the man beside "the greatest player who ever played the game".
Keep Reading

Chicago Blackhawks: Like this team?