Roger Federer: Can Fed Express Still Deliver?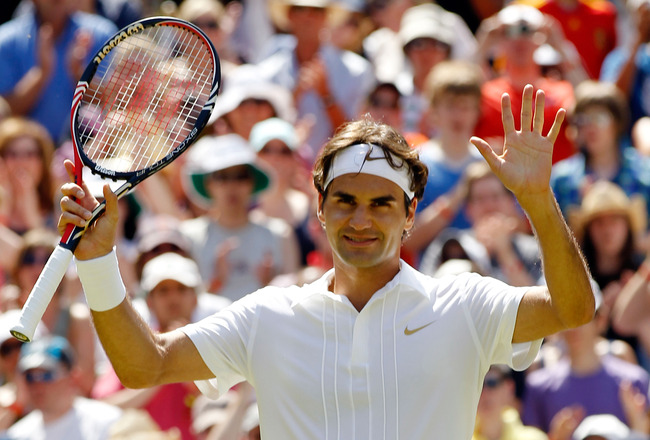 After a rocky start to Wimbeldon for Roger Federer he finally looks to have things in order.
His latest win , a 6-3, 6-2, 6-3 win over Austrian 16th seed Jurgen Melzer to advance to the quarterfinals has many people thinking he is back in top form.
But those first two rounds showed some glaring issues that can't be ignored.
Federer still must get through top competition to win Wimbledon for the seventh time in his career, and any lapses in play, may send him home earlier than he hopes.
How is Federer Serving it Up?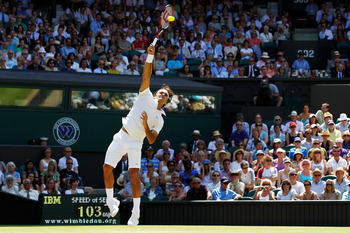 Roger Federer has always had a near perfect serve.
For some reason at Wimbledon, it is not working as well as usual. The unpredictable nature of Federer's ball has become easier for opponents to read and has made it harder for him to pile up easy aces.
So far at the tournament, Federer only has 55 aces through four matches. That not terrible, but those aren't the great numbers he usually produces.
Perhaps the more troubling though, is his relative inability to get in his first serve.
Even in his last match, he struggled with placement on the serve. He only got in 42 percent of his first serves in the opening set. Overall for the tournament he has been below 60 percent twice and over 70 percent just once.
In contrast, Andy Roddick has been above 70 percent in his first three matches.
If Federer can't get his serve back to normal, he could be facing some tough returns on that second serve. And a return back home.
Must be Hard to Focus When You're Always Winning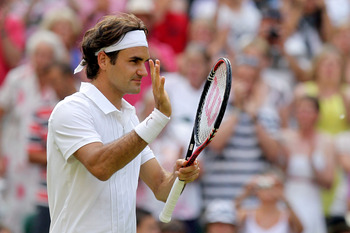 Roger Federer wins, and wins a lot.
When someone is so good at what they do, they can become complacent.
In the first two rounds of Wimbledon, this was a large factor.
Federer did not come in focused against his first opponent and it took him two full matches to remember where he was.
With 33 unforced errors in his first match, he can no longer afford to let those kind of numbers creep in.
The competition is picking up as we inch closer to the finals. Expect Federer to have the look of a champion as he continues.
Better competition and higher stakes usually get the blood pumping and the rest of Federer's matches will fit that description.
Wear and Tear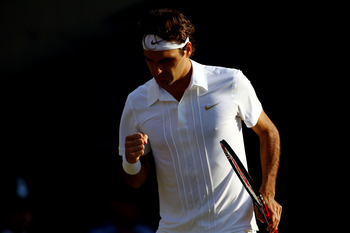 Roger Federer is still only 28-years-old, but he has been playing professionally since 1998, and has played an unbelievable number of matches.
Over time, the body wears down. Federer is still in incredible shape, but his body is not what it used to be.
He suffered back problems in 2009, has had some ankle problems in the past, and other ailments that occur with time.
He still has some good years left, but his tank is no longer full.
Of course, the injury bug can work both ways. With other players like Rafael Nadal struggling himself, Federer still has enough time to take advantage of the misfortunes of others.
Others Catching Up to Him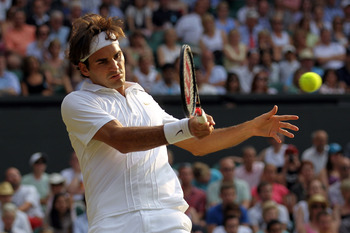 As Roger Federer gets older, he starts playing those who are younger.
Younger players have more quickness in getting to the ball. In the past, Federer consistently hit shots that nobody could touch, but that isn't as common now.
Opponents have better recovery time to the ball and Federer isn't as quick as he used to be. One of the reasons he's had to add a drop shot and improve his ability at the net is speed.
Wimbledon is a fast court to play on and that doesn't work to Federer's advantage.
While he isn't slow by any means, his opponents are catching up to him rapidly.
Familiarity with Federer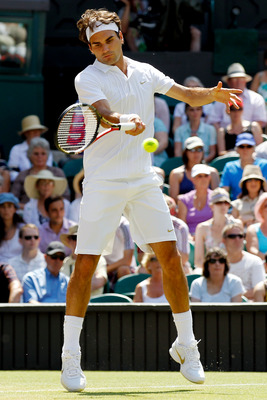 Roger Federer has been playing professional tennis for over 12 years. With that time, opponents have begun to familiarize themselves with his play.
What once was an impossible task, is no longer. Federer has mannerisms that can be read and as his game slows down even a little bit, it becomes easier for opponents to catch up to him in matches.
He is a smart player and has continued to add to his game accordingly, but there are parts of his game that are now vulnerable.
As mentioned earlier, his serve is not as unpredictable as it once was. Also his forehand and backhand that don't have the same mystique behind them.
Federer will use his own savvy to fight off opponents trying to get a better read on him, but that doesn't mean they aren't catching up.
Can He Still deliver?
Roger Federer still has some gas left in the tank.
While he may not win at the same rate he did early in his career (nobody can), he isn't going anywhere for the next few years.
Expect Federer to last about four more years before he decides to take it easy.
He is still one of the best, smartest, and physically capable tennis players today.
Federer will match Pete Sampras's seventh Wimbledon title and silence critics for the time being.
Keep Reading