The 10 Most Anticipated Fights in UFC History, Before UFC 116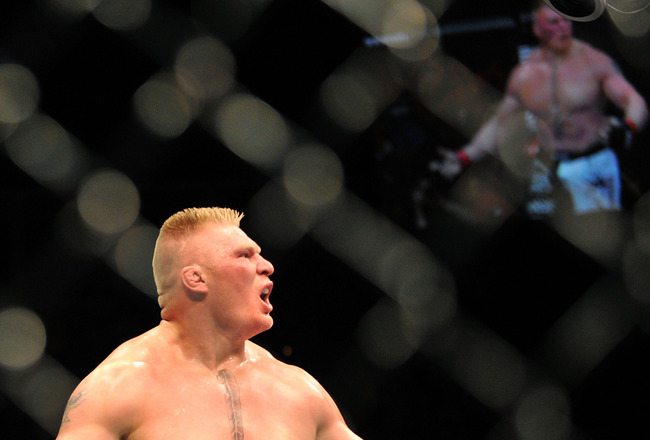 Thanks to Fabricio Werdum, the long-awaited heavyweight showdown between pro-wrestling convert Brock Lesnar and Shane Carwin on July 3 will be for the right to succeed Fedor Emelianenko as the sport's heavyweight king—a mantle that's been his since that first battle with Nogueira at the Yokohama Arena, just over seven years ago.
In anticipation of such a monumental torch passing, I thought it's best to take a look at the 10 fights that made the week before—and sometimes a whole lot longer—absolute torture.
Enjoy.
No. 10: Tito Ortiz vs. Chuck Liddell, UFC 47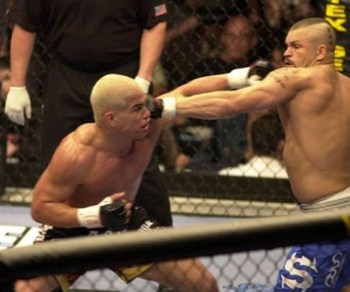 At UFC 40, Tito Ortiz took on Ken Shamrock in the culmination of the "Tito vs. The Lion's Den" rivalry. This left unanimous No. 1 contender Chuck Liddell out in the cold, unfairly having to tussle with dangerous grappler Renato "Babalu" Sobral.
The hardcore fans and media weren't thrilled.
The general public thought otherwise, giving the UFC it's biggest PPV buyrate since Ken battled Royce to an epic, yawn-inducing draw.
Nevertheless, Tito had gotten a reprieve from "The Iceman."
After two one-sided wins, the path seemed clear for the two to rumble at UFC 43—or maybe not.
Tito refused to take the fight with Chuck sighting "friendship," forcing the UFC to strip him of the title, and make an interim title fight with Randy Couture at UFC 43.
The upset was on when an inflated Chuck Liddell was dominated by the Olympic alternate. Tito was down with fighting Randy though, and at UFC 44 he was spanked—literally.
Chuck made an early exit out of the Pride Middleweight Grand Prix, being dominated by Quinton Jackson. There was nowhere for Tito to go, and the No. 1 contenders scarp was set for UFC 47.
The rest is beatdown history.
No. 9: Randy Couture vs. Chuck Liddell II, UFC 52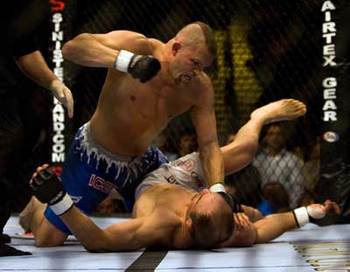 Coming off his one-sided win over Tito Ortiz at UFC 47, Chuck Liddell got his rematch with Randy Couture.
In their infinite wisdom, the two were booked to headline their new reality show on the freshly re-branded Spike TV.
The show would eventually mushroom behind the heroic performances of Forrest Griffin and Stephan Bonnar in the Finale, propelling the UFC forward.
The fight rode that wave. It also didn't hurt that the match-up was an incredibly compelling one of its own. With Chuck taking this fight as seriously as Couture, many had Chuck leveling the series in spectacular fashion, while the other half backed the timeless, dual-divisional wonder. Chuck Liddell proved the former right, leaving Couture limp in the first round.
It would spark a run of dominance, including another win over Couture, making Liddell the Hall of Famer he is today.
No. 8: Tito Ortiz vs. Ken Shamrock, UFC 40
At UFC 40, Tito Ortiz faced Ken Shamrock in a battle for the honor of The Lion's Den years in the making.
It started with Tito's loss to Guy Mezger. It was amplified when Jerry Bohlander became childish with "Gay Mezger" and was slapped onto the Frank Shamrock fight before being left to simmer while Ken became "The World's Most Dangerous Man" in the WWF.
It was always on the table just waiting for its moment, and perhaps more than any other proved the value of patience in matchmaking. The fight was a massive success that got the sport a tremendous amount of mainstream exposure, and proved to be incredibly valuable to the company's long-term future.
While Ken Shamrock was beaten down for the better part of three rounds before eventually forcing the doctors to stop the bout, it would trigger MMA's most commercially successful—if one-sided—trilogy.
No. 7: Brock Lesnar vs. Frank Mir, UFC 81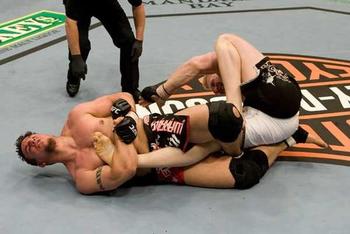 Eight months to the day after Dana White christened Brock Lesnar MMA's biggest freak-show, the man dubbed "The Next Big Thing" stepped into the Octagon.
How could you blame him? He did main-event the greatest card in MMA history, right?
To make matters worse, the woefully inexperienced Lesnar would take on former UFC Heavyweight Champion, Frank Mir, in an incredibly dangerous match-up for both.
A loss to Lesnar, and Frank Mir was no longer a fighter of title contention; a loss for Brock Lesnar and he validated his doubters (see me).
What ensued was an organism of violence that lasted a full 90 seconds. It culminated with a beautiful kneebar that exposed Lesnar's holes, without embarrassing him—a perfect outcome.
Mir went on to impressively stop the previously thought unstoppable Nogueria.
Lesnar would quickly earn a title shot against Randy Couture, setting the stage for the rematch at UFC 100.
No. 6: Chuck Liddell vs. Wanderlei Silva, UFC 79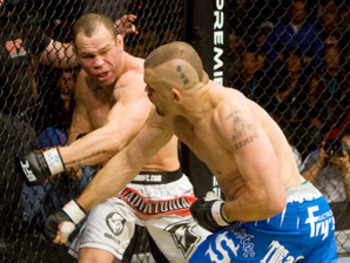 "Better late than never" was the rallying cry for fans when "The Axe Murderer" and "The Iceman" clashed in the octagon for the first time—and only time—at UFC 79.
It was a match-up that the UFC had been trying to set up for years with Dream Stage Entertainment. Thinking he had a deal, he flew Wandi out and made the surprising announcement, complete with a classic stare down, at UFC 61.
Despite the long wait and the lofty expectations, the fight lived up to the hype, in spite of both being in precarious positions in their careers.
Unsurprisingly, it remains a top 10 fight in UFC history, as far as I'm concerned, proved to be the last "hurrah" for Chuck Liddell.
No. 5: Rashad Evans vs. Quinton Jackson, UFC 114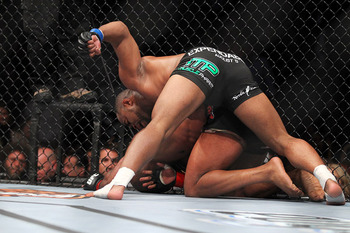 What do you get when you add epically homophobic fight hype, race baiting, big Hollywood summer blockbusters, a No. 1 contendership and Kimbo Slice's season of TUF?
A must-order PPV, that's what.
While the fight was far from enthralling, it was a solid scrap that exposed the fallacy of three-round tussles in fights of this magnitude, leaving many with a feeling of inadequacy. It was as if the book was just beginning to be written and it was closed on us.
I guess you can't win them all. Evans took a unanimous decision and will fight Shogun when he's healthy.
No. 4: Matt Hughes vs. Royce Gracie, UFC 60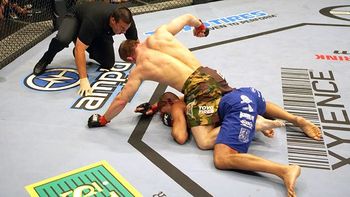 ZUFFA took a play out of the Nintendo book at UFC 60 when they backed up the Brink's Truck to have Royce Gracie come out of retirement to face Matt Hughes.
This led to a host of fans who remembered Royce as an undefeated UFC force, to come back to the sport and experience MMA rather than NHB.
What happened was a poignant moment in the sport's history.
As Hughes predictably dominated Royce, it became crystal clear how far the sport had come, and how far it still had to go.
No. 3: Chuck Liddell vs. Quinton Jackson, UFC 71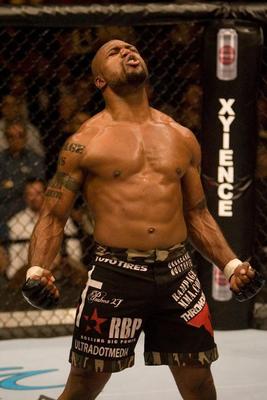 When Quinton finished off Marvin Eastman at UFC 67, the stage had been set for one of the truly special rematches in MMA history at UFC 71.
Liddell was everywhere: He guest-starred on HBO's hit series "Entourage", and was poised to become the P4P king with a win after lording over the division.
He'd avenged all of his losses prior to this one by stopping the Jeremy Horn hype train in its tracks, and flat-lining Randy Couture twice.
There was but one large, menacing black man, with a giant steel chain around his neck, left for him to dispatch.
The coronation was ready.
Liddell was a huge favorite and everything looked good until the fight started.
One minute and fifty-three seconds later, Chuck would begin a career spiral from which he'd never recover. Quinton would go on to be upset by Forrest Griffin.
It was the beginning of a LHW title swap meet that has yet to be stopped.
No. 2: Brock Lesnar vs. Frank Mir II, UFC 100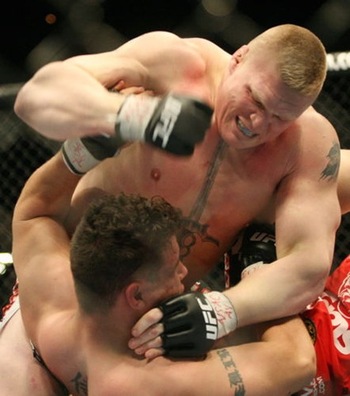 When Brock Lesnar and Frank Mir stepped into the Octagon to faux-conclude the faux-historic UFC 100 card, I legitimately, was on the edge of my seat. If I have to explain why, then you're probably not a fan of MMA.
For all my trepidation, it ended up being Brock Lesnar's defining moment.
He came, he saw, he bludgeoned.
Then he insulted a title sponsor and went home to climb on top of his woman.
What a man.
No. 1: Kevin Ferguson vs. Roy Nelson, The Ultimate Fighter Season 10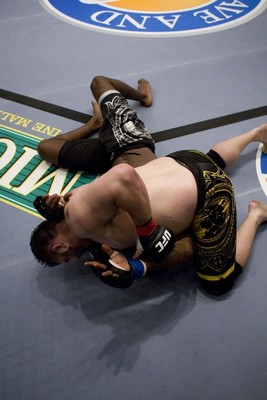 It was the moment all casual MMA fans had been waiting for.
Despite Sean Gannon's dismantling, and "Rocky" laying siege to the man's dome, Kimbo Slice made his unofficial UFC debut on TUF's 10th season. The episode set just about every MMA related viewership record you can think of, and the season was the highest rated in the show's history.
Ferguson was defeated by Roy Nelson due to stoppage because of "strikes" from the crucifix.
Roy Nelson went on to win TUF 10 and is quickly ascending the UFC's HW division. Kevin Ferguson is back flipping burgers in Miami following his defeat to Matt Mitrione.
Can't say I didn't see that one coming.
Keep Reading