2010 FIFA World Cup: Top 10 Worst Referee's Calls So Far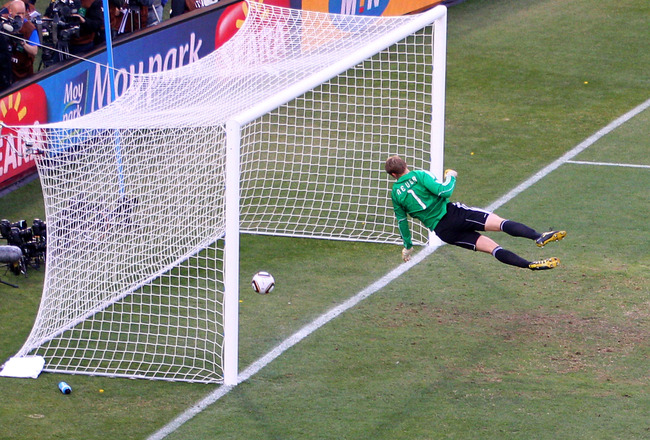 Sunday proved to be a day of controversy at the 2010 FIFA World Cup.
Both Round of 16 games featured game-changing bad calls by referees that devastated fans of England and Mexico.
As the clamor grows to allow the use of video technology to help referees get their calls correct, we look at the top 10 worst decisions made by the officials at the tournament so far.
No. 10: Harry Kewell's red card—Australia vs. Ghana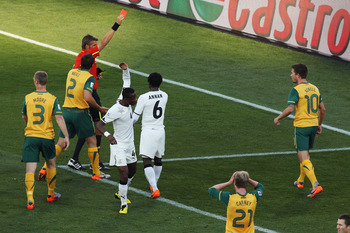 On the surface this decision looks clear-cut.
Australia was leading by an early goal from Brett Holman when a shot by Ghana's Anthony Annan was blocked on the line by Harry Kewell's arm.
The referee Roberto Rossetti immediately awarded a penalty, and applying the letter of the law, showed the Australian striker a red card for denying the African side a goal scoring opportunity.
Yet, replays showed that Kewell hardly moved his arm, so it could be described as a case of the ball hitting his hand, which is not illegal in soccer, and certainly does not call for a red card.
This is one of soccer's gray areas, but a furious Kewell certainly showed what he thought of Rossetti's decision.
No. 9: Marco Estrada's red card—Chile vs. Spain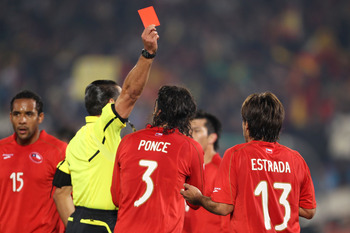 Spain had just taken a 2-0 lead over Chile in the crucial Group H decider when referee Marco Rodriguez doubled the blow for the South American side by sending off Marco Estrada.
In the build-up to the goal Fernando Torres was tripped up by Estrada, though the referee allowed play to continue before showing the Chilean his second yellow card of the game.
Replays showed the trip was entirely accidental with one of the Spanish striker's legs clipping Estrada as both players ran after the ball.
However, the player was fortunate to even be on the pitch considering Rodriguez could have given him a second yellow for a very poor sliding tackle 10 minutes earlier.
No. 8: Tim Cahill's red card—Australia vs. Germany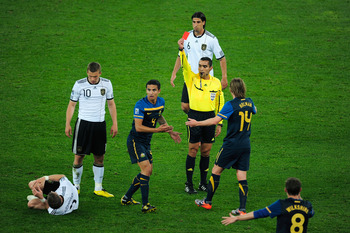 Midway through the first half of his opening match against Germany, Australian midfielder Tim Cahill was shown a straight red card for a tackle from behind on Bastian Schweinsteiger.
By the letter of the law and FIFA directives, Mexican referee Marco Rodriguez was entitled to feel that Cahill's challenge deserved a red card.
Tackles from behind have been clamped down on over the past five years as the game's governing body looks to protect its most creative players from cynical fouls and career-threatening injuries.
However, the referee could have shown a little leniency regarding this incident. Cahill was only attempting to win the ball and his tackle was not overly aggressive, just a little ill timed.
FIFA subsequently showed they feel the decision may have been incorrect by reducing Cahill's automatic two-match suspension down to one game.
No. 7: Luis Fabiano's handball goal—Brazil vs. Ivory Coast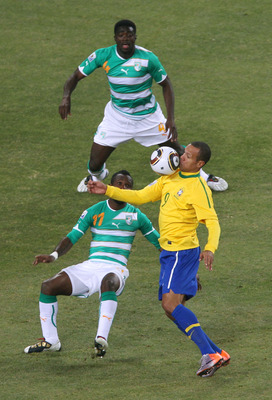 Luis Fabiano had put Brazil ahead in its Group G match Ivory Coast in the first half.
Five minutes after halftime he added a superb second goal to all but end any hopes of victory for the African side.
However, replays showed that the Brazilian striker had controlled the ball with his arm on two occasions, which helped him get past two Ivory Coast defenders.
Cameras later showed the referee Stephane Lannoy asking Fabiano if he had used his chest to take the ball down.
Naturally the Brazilian said yes.
No. 6: Shane Smeltz's offside goal—New Zealand vs. Italy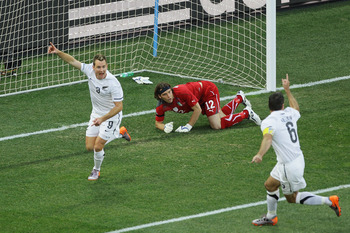 One of the shocks of the World Cup so far came courtesy of a bad call by the referee's assistant.
With only seven minutes gone in New Zealand's Group F game with Italy, the Oceania qualifiers took a surprise lead.
However, Shane Smeltz's header goal was offside. A Simon Elliott free kick was flicked on by Winston Reid to Smeltz, who was clearly ahead of the play when Reid got his head to the ball.
In fairness to the assistant referee, Reid's touch on the ball was so slight he may not have seen it.
No. 5: Miroslav Klose's red card—Germany vs. Serbia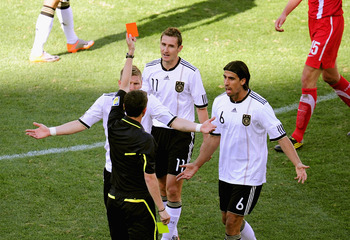 A first half red card shown to Germany striker Miroslav Klose was symptomatic of a very poor performance from referee Alberto Undiano.
Overly fussy from the very start of the game, the Spanish referee booked Klose after 12 minutes for a foul on Serbia's Milan Jovanovic, though the incident looked more like a tangle of legs than a deliberate trip.
With the bar set low so early, almost every subsequent foul earned a yellow card. With just over half an hour gone a far-from-dirty match had seen five bookings.
In the 36th minute, Klose fouled Serbia's Dejan Stankovic whilst attempting to win the ball and Undiano showed him his second yellow card, sending him from the pitch.
To make an already bad performance even worse, at halftime the Spanish referee obviously realized he was going overboard and the players got away with far worse fouls in the second half.
Undiano couldn't even claim consistency in his credit column.
No. 4: Kaka's red card—Brazil vs. Ivory Coast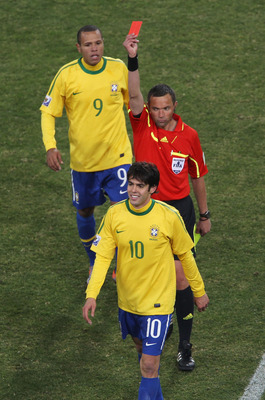 As Brazil cruised to a comfortable victory in its Group G match against Ivory Coast, the African team started becoming more reckless in their challenges.
Kaka earned a yellow card in the 85th minute for reacting to a particularly brutal foul. Three minutes later he was sent off under controversial circumstances.
Ivory Coast substitute Kadar Keita ran straight at the Brazilian star, who braced his body for impact.
Once contact was made Keita went to ground, clutching his face despite replays showing it was his chest that hit Kaka's shoulder.
Nevertheless, the referee Stephane Lannoy decided that the Brazilian had raised his elbow and the player was dismissed.
No. 3: Carlos Tevez's offside goal—Argentina vs. Mexico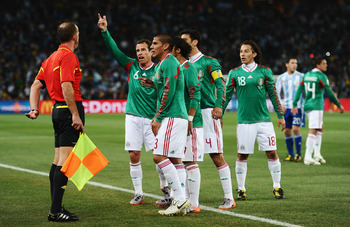 Midway through the first half of its second round match against Argentina, the underdog Mexican team seemed to be in control of the game.
Their defense had stifled the South American's much vaunted attack, and Mexico had created better opportunities to open the scoring.
That all changed when Carlos Tevez scored off a through-ball from Lionel Messi.
Mexico's goalkeeper, Oscar Perez, met the ball first, though his clearance went straight back to Messi, who lobbed it back towards goal.
Tevez used his head to complete the finish, though he was clearly in an offside position.
The assistant referee was obviously deceived by the presence of two Mexican defenders who had run back to try and deal with Messi's lob.
However, the instant replays shown on the stadium's big screen clearly proved he had made the wrong decision.
Despite this knowledge, the officials could not change their mind, as use of video evidence is not permitted under FIFA rules.
No. 2: Maurice Edu's disallowed goal—USA vs Slovenia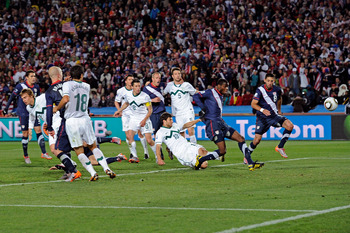 Having clawed their way back into a game they were losing 2-0 at halftime, USA thought it had completed the most dramatic comeback in its history when Maurice Edu put home a late free-kick.
However the referee Koman Coulibaly decided a foul had taken place and ruled out the goal.
While the disallowed goal ultimately did not affect the USA's final position in the group, this decision features high in our list for the sheer incomprehensibility of it.
Nobody has been able to spot a definite infringement using replays, and the referee did not explain himself after the match.
No. 1: Frank Lampard's disallowed goal—England vs. Germany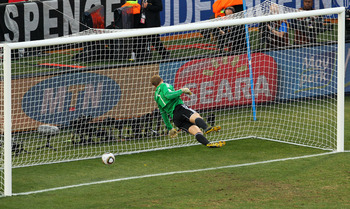 It was like 1966 in reverse.
In the World Cup final of that year, England took the lead in extra-time when a Geoff Hurst shot bounced off the underside of the crossbar.
The assistant referee ruled that the ball had crossed the line, to fierce protests from West Germany's defenders.
34 years later the same two team were involved in a similar controversy.
After Germany raced to an early two-goal lead, England looked to have completed a dramatic comeback as halftime approached.
A Frank Lampard shot beat Germany goalkeeper Manuel Neuer and hit the crossbar before landing at least a foot over the line.
Neuer quickly collected the bouncing ball and neither the referee or his assistant appeared to see that it had crossed the line.
No goal was awarded despite the fact that everyone in the stadium and watching around the world on television had seen that the ball was clearly over the goal line.
Everyone except the most important person that is.
Keep Reading