Roger Federer and Williams Sisters Dominate the Last Decade at Wimbledon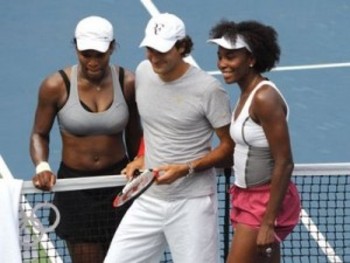 In the first decade of the 21st Century the sport of tennis saw rapid improvements in three areas: racket technology, the preparation and conditioning of players, and the style of play on the courts of Wimbledon.
As the courts slowed, players began to find success on the baseline, staying back and dictating play.
Serve and volley in its traditional form began to fade in effectiveness. No longer were the middle of courts torn up as players planted themselves far into the court. Now the baselines, the back of the courts became chewed and bare as the tournament progressed.
Roger Federer, who won his first championship in 2003, found himself in the last seven championship matches of the decade, winning six of them. The Williams sisters found themselves in eight finals, winning all eight.
Federer, Venus Williams, and Serena Williams simply dominated play on Centre Court during the last decade.
Take a detailed look at the Wimbledon finals of this first decade of the 21st Century, year by year.
2000: Sampras Wins Last Title as Venus Williams Wins Fiirst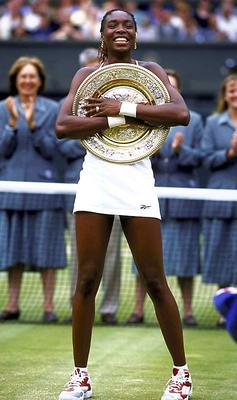 Pete Sampras defeated Aussie Patrick Rafter in a thrilling match on Centre Court 6-7, 7-6, 6-4, 6-2. It marked Sampras' seventh victory at Wimbledon, his last at the All-England Club.
It also gave the teary-eyed American his 13th Grand Slam trophy, sending him one past previous record-holder Roy Emerson. Starting 2000 slowly, the victory at Wimbledon gave Sampras only his second title of the year, his 63rd overall.
The winner on the ladies side was Venus Williams defeating Lindsay Davenport 6-3, 7-6 in the final to capture her first Rosewater Dish trophy. It was not only her first Wimbledon Championship, it was her first career slam.
Venus went on to add to her plate by teaming with sister Serena to win their first major doubles championship as wild card entries.
Unseeded eighteen-year-old Roger Federer went out in the first round to Russian Yevgeny Kafelnikov 7-5, 7-5, 7-6.
2001: Ivanisevic Scores Big Win and Venus Secures Second Crown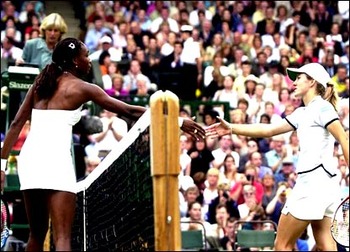 In men's singles, Goran Ivanisevic defeated Patrick Rafter 6-3, 3-6, 6-3, 2-6, 9-7. Croatian Ivanisevic won his only Wimbledon championship in 2001, defeating the Aussie Rafter who was the runner up two years in a row.
The Croat became the only wild card to win a major. After three previous trips to the finals on Centre Court, Ivanisevic secured his Wimbledon championship and his 22nd title overall. It would be the last title for Ivanisevic on the men's tour.
Venus Williams won her second Wimbledon title by defeating Justine Henin in the finals 6-1, 3-6, 6-0––a rather uneven match, to say the least. Williams captured her third title of the year, her 18th overall. By this time the elder Williams sister had three grand slam trophies on her mantle.
No. 1 seed Pete Sampras was eliminated in the fourth round by new-comer Roger Federer, seeded No. 15, in a thrilling five-set match 6-7, 7-5, 4-6, 7-6, 5-7. Federer, however, lost in the quarterfinals to England's Tim Henman.
2002: Lleyton Hewitt and Serena Williams Win First Wimbledon Titles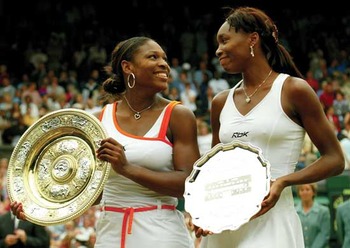 Lleyton Hewitt defeated David Nalbandian 6-1, 6-3, 6-2. It was Hewitt's one and only Wimbledon Championship, his second slam title. Hewitt won the championship from the baseline at a time when serve and volley play dominated action on the lawns at Wimbledon. I
In the process of winning, Hewitt lost only two sets, completely dominating the opposition. Argentine Nalbandian was totally outclassed in the final, succumbing to the occasion.
On the ladies side of the draw, Serena Williams defeated Venus Williams 7-6, 6-3. It was Serena's first Wimbledon title and her third career Grand slam title. Serena and Venus teamed to win the doubles title as well just as they had in 2000.
No. 7 seed Roger Federer lost in the first round to qualifier Mario Ancic 6-3, 7-6, 6-3, suffering a major disappointment after showing so much promise in 2001.
2003: Roger Federer Wins First While Serena Williams Wins Second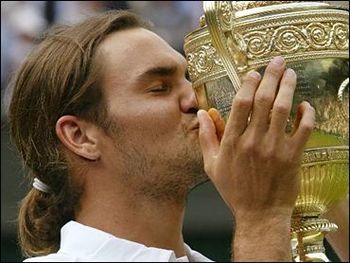 21-year-old Roger Federer defeated 6'4" Aussie Mark Philippousis 7-6, 6-2, 7-6. This was Federer's first Wimbledon Championship and his first ever Grand Slam title.
Finally the young Swiss fulfilled the promise that had eluded him all these years leading up to the Wimbledon final. He shed his first tears on court––tears of joy at finally winning. Federer climbed to No. 3 in the world with the win.
He was the seventh different man to win a major title in the last seven grand slam events. Prior to this tournament, Federer had never made it past the quarterfinals of a major.
On the women's side, once again, Serena Williams defeated Venus Williams 4-6, 6-4, 6-2 for the second year in a row to secure the ladies championship, giving her two Wimbledon trophies in singles.
By now the younger Williams sister had won six grand slam titles.
2004: Roger Federer Wins 2nd Trophy As Maria Sharapova Takes 1st Crown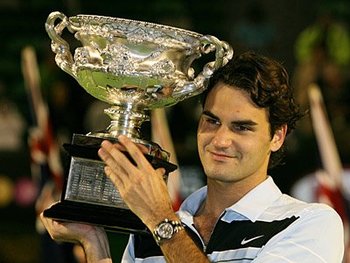 Roger Federer defeated Andy Roddick in the final 4-6, 7-5, 7-6, 6-4. Winning his 17th title overall, Federer captured his second consecutive Wimbledon Championship, his third grand slam win.
But it was not easy and Federer had to hold onto his nerves to come back from being a break down in the third to send the third set into a tiebreak. He credited a rain delay in the set for giving him an opportunity to regroup. The Swiss decided to come into the net more often to shorten points and take Roddick out of his rhythm.
Seventeen-year-old Maria Sharapova stunned Serena Williams in the final 6-1, 6-4. It was Sharapova's first Wimbledon crown and her first career grand slam title.
Most expected the younger Williams sister to have an easy time taking the title, but Sharapova played with power and poise, capturing the trophy by overpowering Williams. The lithe Russian took the first set in half an hour. It was a remarkable turn of events on Centre Court.
2005: Roger Federer and Venus Williams Both Win Third Championships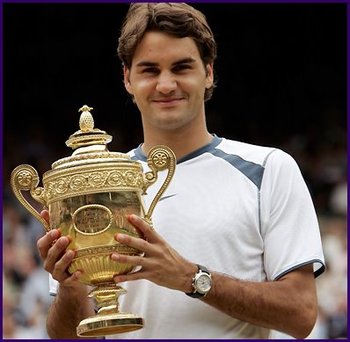 Roger Federer again defeated American Andy Roddick in the finals of Wimbledon 6-2, 7-6, 6-4, playing nearly flawless tennis throughout the match. 23-year-old Federer joined the ranks of Sampras and Borg by winning three championships in a row.
Roddick fought hard but failed to take a set from a mightily determined Federer. A rain delay once more postponed play after the second set and Roddick came back with more energy and determination, but Federer was not be be denied and closed out the match in three sets.
Winning her first major since 2001, Venus Williams defeated Lindsay Davenport 4-6, 7-6, 9-7 in one of the most thrilling women's matches of the decade.
It marked Venus' third Wimbledon Championship and her fifth career slam victory. The elder Williams sister refused to lose, fighting off match points by Davenport to fight her way back into the winner's circle.
2006: Federer Wins Fourth While Amelie Mauresmo Takes First Championship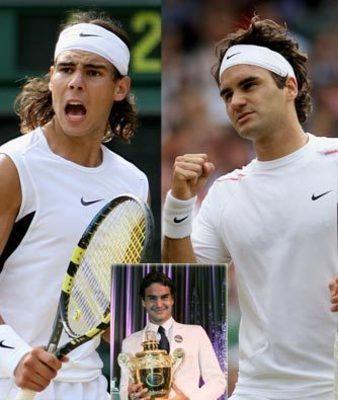 Roger Federer defeated Rafael Nadal 6-0, 7-6, 6-7, 6-3 in the finals. The tennis world was surprised to see Nadal in the finals at Wimbledon because he was regarded as merely a clay court specialist.
Federer's victory gave him his fourth consecutive Wimbledon crown and his eighth grand slam victory. But Nadal's appearance in the final announced that the Majorcan was expanding his game and his expectations.
Nadal would no longer confine his power to the clay courts and would become a force to be reckoned with on all surfaces.
In the women's final Frenchwoman Amelie Mauresmo defeated Justine Henin-Hardenne for the women's championship 2-6, 6-3, 6-4. It was Mauresmo's second grand slam victory in 2006, her first Wimbledon crown.
Finally the woman with so much talent gathered enough courage to win this tournament after previously taking the Australian from Henin-Hardenne in a bizarre finish where the Belgian retired. Mauresmo rose to the No. 1 ranking after her Wimbledon victory.
2007: Federer Defeats Nadal for Fifth As Venus Wins Her Fourth Title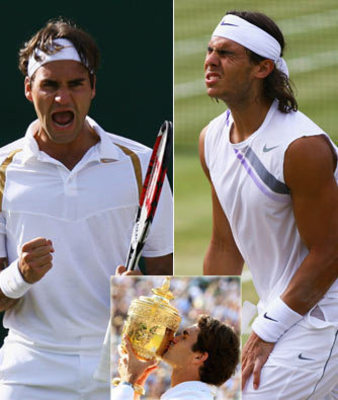 Many changes were taking place at Wimbledon in 2007. For the first time ever equal pay was rewarded for both the gentlemen and the ladies. The All-England Club had decided to put a roof over Centre Court to alleviate the many hours of lost competition because of rain. For the time being, there was no roof on Centre Court.
But one thing that was not changing was the men's champion Roger Federer who won his fifth consecutive championship, defeating Rafael Nadal, the No. 2 seed 7-6, 4-6, 7-6, 2-6, 6-2 in three hours and 45 minutes, making it the third longest men's final of all time in 2007.
With his victory, Federer tied Bjorn Borg for consecutive wins at five. It proved to be an emotional moment for the Swiss as he equaled the legendary Swede. But not everything was roses or strawberries and cream because even though losing, Nadal was moving ever closer to matching Federer on the grass.
Venus Williams defeated surprise finalist Marion Bartoli 6-4, 6-1. Bartoli had stunned No. 1 seed Justine Henin-Hardenne in the semifinals playing her unorthodox style of super aggressive tennis .
It was Williams' fourth Wimbledon crown. Williams was able to neutralize the game of the Frenchwoman and put her away easily. The elder Williams sister had struggled most of the year prior to Wimbledon, coming back from a wrist injury.
2008: Federer Suffers His 1st Loss & Venus Williams Wins 5th Trophy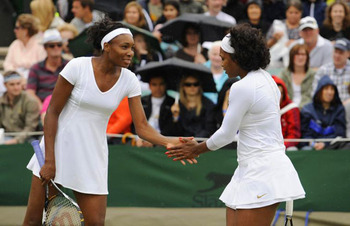 In perhaps one of the greatest matches ever played, Rafael Nadal defeated Roger Federer on a day filled with rain, wild swings in momentum and finally with descending darkness. The score was 6-4, 6-4, 6-7, 6-7, 9-7.
The match lasted four hours and 48 minutes. It marked Nadal's fifth grand slam title, his first Wimbledon championship and the only major for Nadal outside the French Open.
It also made the Majorcan the first man since Borg to win the French Open followed by Wimbledon in the same year––a feat not equaled since 1980.
It marked Federer's first defeat on the lawns of Centre Court since 2003. It kept the Swiss from surpassing Borg's mark of five consecutive Wimbledon championships.
Venus Williams defeated her sister Serena for the first time in a Wimbledon final, giving her seven grand slam titles, her fifth win at Wimbledon, and her second consecutive championship at the All-England Club.
Serena started the match, seemingly on fire but cooled considerably as the match progressed, allowing Venus to dominate. Then to add to their grass court riches, once again, the Williams sisters paired yet again to win the ladies doubles championship.
2009: Federer Regains Championship As Serena Reigns on Centre Court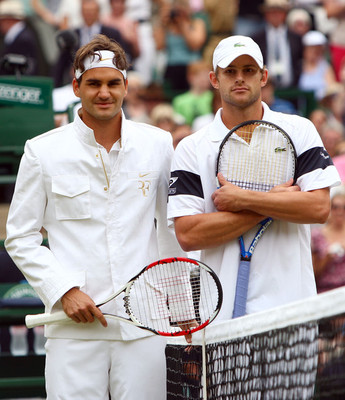 2009 marked the first year that the retractable roof was operational. The roof was closed only once during the fortnight because of rain and the only time artificial lights flooded the court allowing the match between Andy Murray and Stanislas Wawrinka to extend to 22:38.
Roger Federer who had played in seven consecutive finals on Centre Court won his sixth title and his 15th grand slam trophy. The Swiss met American Andy Roddick in the final in another historic final––the longest men's final in the history of the tournament with a fifth set that extended to 30 games. Federer won 5-7, 7-6, 7-6, 3-6, 16-14 while former champions Pete Sampras, Bjorn Borg and Rod Laver looked on.
In total Federer and Roddick played 77 games. Federer was only able to break the Roddick serve on the last game of the match. Nadal, the defending champion, was unable to take the courts because of a knee injury, sidelined for the entire fortnight.
Venus and Serena Williams again played for the championships on the ladies side of the draw. This year Serena won 7-6, 6-2, giving her 11 grand slam championships and three Wimbledon trophies. Venus defeated world No. 1 Dinara Safina to advance to the Championship match while Serena played the match of her life to get by determined Russian veteran Elena Dementieva.
It was Serena's first title on the grass at Wimbledon in six years and it kept sister Venus from tying Steffi Graf by winning the title three years in a row. Together the sisters have captured eight of the ten Championships in the first decade of the 21st century.
Then to follow up, the sisters played and won the doubles championship once again.
Keep Reading