Pittsburgh Steelers Training Camp Preview: Special Teams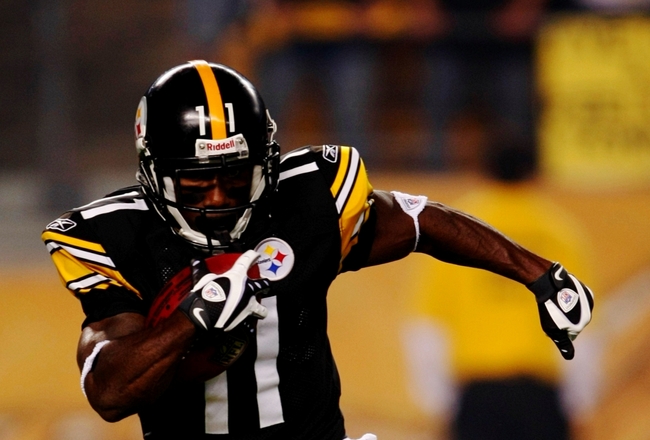 Year in and out, the Pittsburgh Steelers special teams always seems to be one of the weak links of the team. This was very evident last season, particularly in kick and punt coverage where the Steelers were susceptible to long returns on what seemed to be a weekly basis and were contributing factors in several losses.
The team will look to improve this season with the firing of Bob Ligashesky and the hiring of Al Everest.
Everest will have his work cut out for him in improving the coverage units, but will have plenty of options when it comes to the competition for returner. Rookies Emmanuel Sanders and Antonio Brown, as well as second year player Joe Burnett, should be just several of the players competing with Stefan Logan.
While Pittsburgh will be looking to upgrade the return games, once again the steady area of special teams will be found with kicker Jeff Reed and punter Daniel Sepulveda.
Kicker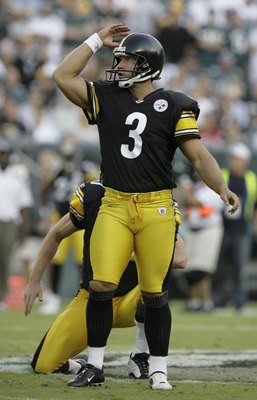 While his kickoffs leave a lot to be desired, ranking at or near the bottom of the league in kicking distance and touchbacks, Reed is one of the best field goal kickers in the game and has established himself as a clutch performer.
Reed has connected on 89.5 percent of his field goals over the past three seasons and has nine game-winning field goals throughout his career, including two in overtime. Even more impressive are Reed's 14 straight field goals made in the playoffs.
There are no true competitors for Reed entering training camp; in fact, there are currently no other kickers on the Steelers roster, though that should change prior to the start of training camp so that Reed does not have to take all of the reps.
Pittsburgh will likely try add a kicker with a strong kickoff leg with the potential to be a kickoff specialist. However, if they do, he will have an uphill battle to make the roster because the Steelers would have to justify keeping this player over one at another position.
It will be important to keep an eye on Reed's kickoff distance. Last season, Reed had his lowest kickoff average since his rookie season and this area of his game will need to be improved.
Punter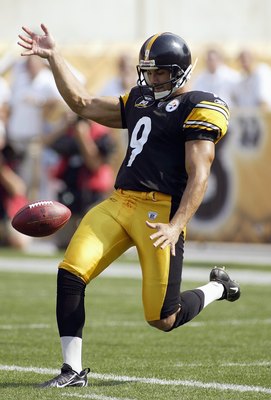 As with the depth at kicker, the Steelers currently have no backup at punter, meaning Sepulveda is set at his position, though he will be expected to improve his play.
Ranking only 23rd in the league in average, Sepulveda will need to show off his strong leg to make a more positive impact for the Steelers this season.
Part of this low average may have been because he ranked seventh in the league with 29 punts downed inside the 20. However, not nearly enough punts were downed inside the 10, so this will be an area that Sepulveda will need to work on this training camp.
Long Snapper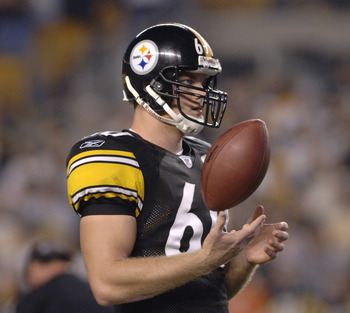 Snapping the ball for field goals and punts will come down to Greg Warren and the recently signed Matt Stewart.
The 38-year old Stewart will be an insurance policy if Warren shows that his knee hasn't fully recovered from an injury suffered last season.
Kickoff and Punt Coverage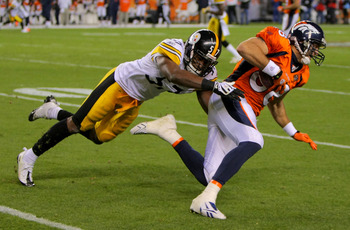 Of greater concern will be the impact seen on the kickoff and punt coverage units.
The past two drafts have brought in a number of players who will be expected to not only contribute at their respective positions, but also on special teams.
If the young players can flash talent on special teams—particularly on the kickoff coverage team, which allowed four return touchdowns last season—their chances of making the roster will greatly be enhanced.
From the 2009 draft, defensive end Ziggy Hood, cornerbacks Keenan Lewis and Joe Burnett, as well as running back Frank Summers will all seek time in this area.
Rookies from this year's draft class, including linebackers Jason Worilds, Thaddeus Gibson, and Sylvester Stevenson, in addition to cornerback Crezdon Butler, all will be looking to make a positive impression on the coaching staff with their special teams play.
The Steelers may not rely solely on young talent to man the special teams units.
Keep an eye on how head coach Mike Tomlin uses his veterans during camp.
In addition to special teams "ace" Keyaron Fox, Tomlin may use starters on the unit to prevent the disastrous outcomes that occurred last season. Brett Keisel and James Harrison are two veterans who were successful special team players in the past and could potentially see time there this season as well.
Kickoff and Punt Returner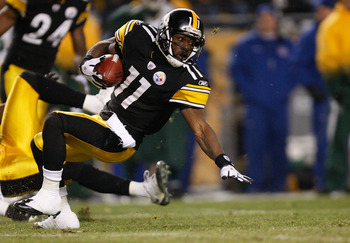 The most interesting competitions, however, will come in the return game.
Pittsburgh had a very successful returner in Stefan Logan last season, but the team is at no shortage of challengers to overtake his roster spot this season.
The Steelers brought back Antwaan Randle El, who is a capable punt returner.
While he may frustrate fans with his sideways motion on returns, he is very dependable in fielding punts and may be a safety net if the other competitors struggle.
With the loss of Santonio Holmes, they no longer have a big play threat in the return game, so this is where a young player may step in.
Logan had a relatively successful season with a 9.3 yards per return on punts, including three returns over 20 yards, and 26.7 on kickoffs, including four over 40 yards. However, Logan did not have a return touchdown.
There will be a number of challengers for Logan's spot. Besides Randle El and possibly Moore in situational spots, Burnett should once again be given an opportunity, as well as rookie wide receivers Emmanuel Sanders and Antonio Brown.
Coming out of Central Florida, Burnett was a playmaker in the return game averaging 14.5 yards on punt returns and 28.7 yards with two touchdowns on kick returns.
While he did not flash that potential as a rookie, Burnett may have more confidence as a second year player and showcase his skills.
Sanders averaged 13.8 yards on punt returns as a senior and had one touchdown, but is more of a quick player than a straight-line, speed guy.
The real potential threat is Brown.
The back-to-back winner of the MAC Special Teams Player of the Year, Brown was named All-MAC kick and punt returner several times while at Central Michigan.
For his career, Brown average 15.5 yards on punt returns and had three touchdowns. He was just as impressive as a kick returner where he averaged 23.7 yards per return and had two career touchdowns.
Keep an eye out as to who can consistently field the balls cleanly. Often times returners who are electric in college cannot transition to the NFL because they cannot handle catching the ball. If a returner has a fumbling problem, they will immediately be eliminated from the competition.
However, if a player can stand out, they will make a very positive contribution in the battle of field position. There is always room for a playmaker on special teams and it will make for a great camp battle.
Keep Reading

Pittsburgh Steelers: Like this team?