Oakland Raiders: Taking a Look at the Outside Linebacker Competition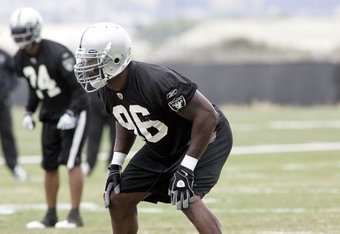 The Oakland Raiders' coaching staff emphasizes competition during training camp.
Of all positions where there is competition, the outside linebacker spot is one of the most intriguing.
There are three main players that are striving to get a starting spot: Thomas Howard, Trevor Scott, and Kamerion Wimbley.
However, there are only two spots.
Let's take a closer look at these players.
Thomas Howard
Howard was selected by the Oakland Raiders in the second-round of the 2006 NFL Draft. He's only 26, and is barely entering his prime. Thomas is a fan-favorite, and known as a brighter spot to a somewhat lackluster Raiders' defense.
He is by far one of the fastest linebackers in the league, which in turn makes him the best cover linebacker the Raiders have. Towards the end of the 2009 season, he was unexpectedly asked to move to the strong side linebacker position, where he had never previously played.
Howard is valuable to Oakland and a solid starter. However, his status as a starter is now in jeopardy as newly-acquired Wimbley has already topped him on the depth chart. Thomas had a solid 79 tackles and helped the Raiders to be ranked seventh in pass defense, and has seven interceptions in his four-year career.
He has his work cut out for him, but still isn't out of the race to start at either outside linebacker position.
Trevor Scott
Trevor Scott is known by many as being a steal in the draft, after the Raiders picked him in the sixth-round in 2008 as a defensive end. Scott put up impressive numbers as a non-starting rookie with five sacks. In 2009, he improved that number to seven sacks.
Later, Scott replaced Howard at the weak-side position. This came as a surprise to many due to the fact that Scott seemed to be more of a pass-rush specialist who had a good future at defensive end.
However, Scott is still a huge question mark, and he looked confused last season on passing downs (when having to drop back in coverage). Still, he is a coach-favorite, and should improve this season in coverage.
Kamerion Wimbley
Kamerion Wimbley is a player with a lot of potential. He was drafted No. 13 overall in 2006 by the Cleveland Browns, and had an amazing rookie performance, recording 11 sacks as an outside linebacker. Wimbley had previously played as a defensive end in college at Florida State, and it wasn't clear whether the Browns could convert him smoothly to a different position.
Nonetheless, 2007 was a disappointing year for Browns fans and Wimbley alike, as he faced numerous double teams which resulted in merely five sacks. The following year got even worse, as he recorded four sacks.
Last year, Kamerion showed a flash of hope as he got his highest sack total in three years at 6.5 for the Browns. Wimbley also posted a career-high in tackles with 69.
During the offseason, the Raiders traded a third-round pick for him, and it was said he would be the favorite to be the starting strong side linebacker. Wimbley seems like a solid player with a big future ahead of him.
Now that we got to know the players, it's a bit hard to decide who you want to start.
For me, it would be Wimbley and Howard.
Thomas would be the cover guy so Wimbley could be set loose and wreak havoc for the quarterback. They're two totally different players, it's really day and night with them.
I like Scott bur I just think he's not the best for the Raiders if they want to win right now.
Tell me what you think Raider Nation! Which two would you like to see start? Thanks.
This article is
What is the duplicate article?
Why is this article offensive?
Where is this article plagiarized from?
Why is this article poorly edited?

Oakland Raiders: Like this team?