NBA Rumors: Miami Looks To Bring Heat, Chicago Hopes To Start Dynasty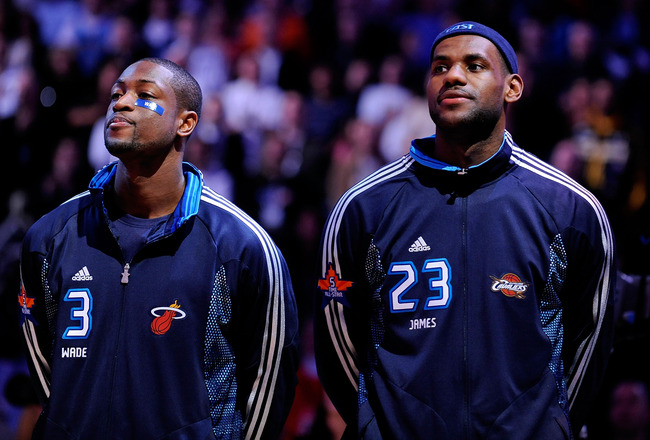 For almost a year the hype surrounding this year's offseason has been developing. The day that teams can start to negotiate with free agents approaches and the excitement from the hype is higher than ever.
The offseason's list of free agents is headlined by Lebron James, Dwyane Wade, Chris Bosh, Joe Johnson, Amare Stoudemire, Carlos Boozer, Dirk Nowitzki, Ray Allen and more. Not only is the free agent class so strong, many teams have flexibility in who they want to sign due to cap space.
The NBA has a soft salary cap which means teams are limited to spending a certain amount of money per year, with many loopholes. There are many exceptions to the salary cap which will help teams sign free agents to max contracts and fill out the rest of the roster with players using the exceptions.
Two teams in particular have three strong reasons to lure free agents to play for their organization. The reasons why these teams are so appealing are: the supporting cast, cap space and attractiveness of the city. Let's take a look at why the Chicago Bulls and Miami Heat are in the driver seat for this offseason.
Miami's Current Roster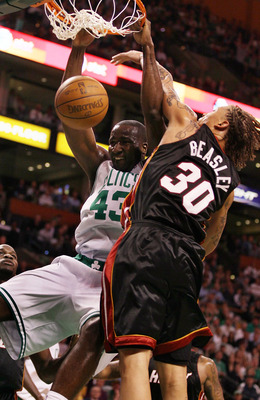 Miami's current roster only has two players with guaranteed contracts.
Michael Beasley is the first of the two and will be paid a little under 5 million dollars next season. Beasley, the former number two pick, plays both forward positions and has good range for a big man and can drive to the basket. Beasley is reportedly available but if he remains with the team he can be an asset to the roster.
Mario Chalmers is the only other player on the Heat with a guaranteed contract for next season. Chalmers plays point guard and is a decent distributor and a good shooter.
Chalmers will most likely come off the bench while Beasley could get a starting job.
Chicago's Current Roster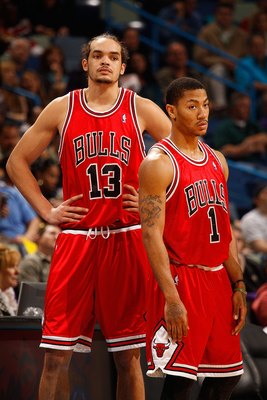 Chicago's current roster has five players with guaranteed contracts but the roster is headlined by point guard Derrick Rose and center Joakim Noah.
Derrick Rose is a top five point guard in the league. Last season Rose averaged 20.8 points, 6 assists and 3.8 rebounds per game. Rose is the most appealing player on either roster to help lure free agents to their team.
Joakim Noah averaged a double double on the season scoring 10.7 points per game while grabbing 11 boards. Noah is a hustle player that is dominant on the boards that can also score and block shots.
The remaining three players on the roster are small forward Luol Deng, power forwards Taj Gibson and James Johnson. Deng is a consistent scorer that averages 15.8 per game on his career. Gibson played better than expected in his rookie year and earned a spot on the NBA's All Rookie First Team. Johnson played a limited role in his rookie season last year.
Miami's Key Targets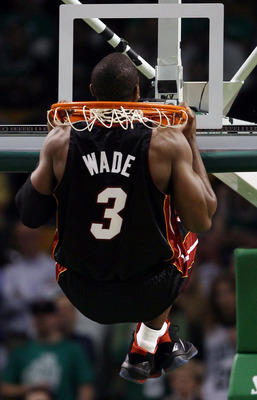 The Miami Heat have room for signing three max contract free agents this offseason. Their number one target is clearly Dwyane Wade and Wade loves Miami and is predicted to resign. Amare Stoudemire and Joe Johnson are two players that could be lured to Miami by Wade and the Heat.
Dwyane Wade is an absolute stud. In his career so far he has averaged 25.4 points per game. Wade is a top 5 player in the league and has already won a championship with the Heat. With the right supporting cast Wade could win more rings in Miami.
If Wade is resigned, the Heat will obviously go for a big man. The free agent pool for big men this year is huge but the two big man rumored to go to Miami are Amare Stoudemire and Carlos Boozer. Stoudemire is the better player and would be a great fit in Miami. STAT averaged 23.1 points and 8.9 rebounds per game last season.
Joe Johnson would be another great fit in Miami because he would bring another element to the team. Wade would be the slasher, Stoudemire would be the post player and Johnson could be the pure shooter. Joe Johnson is very talented shooter and averaged 21.3 points per game with 4.6 rebounds and 4.9 assists per game last season.
Chicago's Key Targets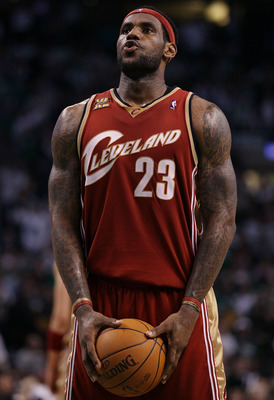 Lebron James, the King without a ring has been criticized for not being able to win a championship despite his elite play the past few years. The big problem for James was that Cleveland hasn't been able to give him a championship caliber supporting cast. James wants to win badly and his best shot at winning is in Chicago.
Lebron James averaged 29.7 points per game, 8.6 rebounds and 7.3 assists. James's size, speed and strength allows his to get to the basket and is dominant in scoring, rebounding and distributing the ball.
Chris Bosh is another player that has been playing like a stud for the past few years but hasn't won a ring yet due to the team he is on. Bosh is one of the top 5 power forwards in the league and would be a great fit in Chicago's roster.
Max Contract Situation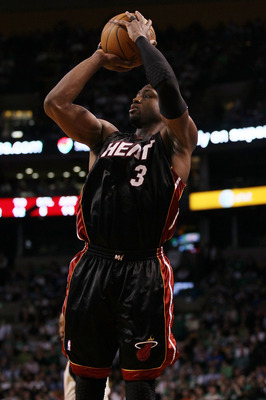 All five of these players eligible for max contracts have played in the NBA for 7 to 9 years meaning the maximum contract they can sign for is 30 percent of the salary cap. However, in order to form the best roster possible its likely they sign for a little less than the maximum of 30 percent. To look at the numbers, let's assume all five of these players sign for 15 million dollars per year.
Miami's Salary Situation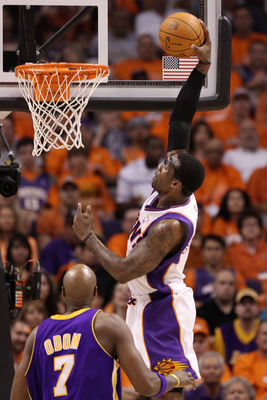 If Miami signed the three free agents mentioned on slide three, their salary situation would look like this.
Dwyane Wade: 15,000,000
Amare Stoudemire: 15,000,000
Joe Johnson: 15,000,000
Michael Beasley: 4,962,240
Mario Chalmers: 847,000
Total: 50,809,240
The salary cap is expected to decrease about 5 million dollars from last season making it around 53,700,000.
Cap Space: 2,890,760
After signing their new big three, the Heat will have very little cap space and can use the exceptions to sign players.
Chicago's Salary Situation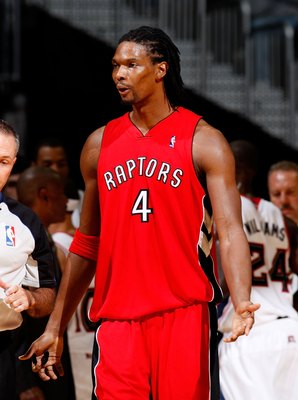 If Chicago signed the two free agents mentioned on slide four, their salary situation would look like this.
Lebron James: 15,000,000
Chris Bosh: 15,000,000
Luol Deng: 11,355,850
Derrick Rose: 5,546,160
Joakim Noah: 3,128,536
Taj Gibson: 1,713,600
James Johnson: 1,117,680
Total: 52,861,826
Cap Space: 838,174
As you can tell the Bulls have less cap space after signing LBJ and Bosh and need to get creative in acquiring more players.
Filling Out Miami's Roster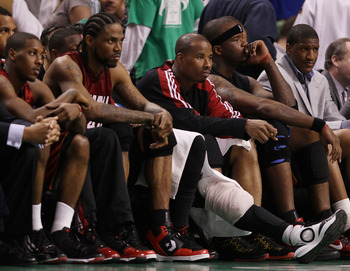 It is obvious that the Heat's big three of Dwyane Wade, Amare Stoudemire and Joe Johnson is enough to propel a team to a championship but these three players can't win it all alone. Let's take a look at their roster to identify its holes.
C: Stoudemire
PF: Beasley
SF:
SG: Johnson
PG: Wade
Two players the Heat should sign to fill out depth in big men are Jermaine O'Neal and Joel Anthony. Last season O'Neal was the highest paid center in the league and did not play up to his 21.37 million dollar contract. However, with STAT on the team O'Neal would be a role player not a starter. O'Neal can be signed with the Mid-Level exception or the Bi-anual exception.
Anthony has obtained bird rights due to playing in Miami the past three years and can be signed to the Larry Bird Exception.
Quentin Richardson is another player that the Heat should sign with the Mid-Level exception. He fit in well last season and could start at the small forward position.
If the Heat bring back these players and can also bring back Udonis Haslem, Carlos Arroyo, Dorrell Wright and sign a guard, their team could be complete.
Filling Out Chicago's Roster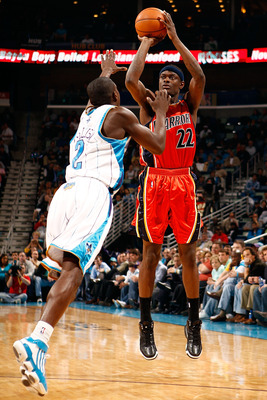 Last season proved that Lebron James can't win a championship alone. Let's see which players fit in with the Bulls roster after signing LBJ and Bosh.
C: Noah
PF: Bosh, Gibson
SF: James, Deng, Johnson
SG:
PG: Rose
If possible, the Bulls should trade Luol Deng to acquire a shooting guard. Deng is a great player but unless he could play the two, he doesn't have a spot on this team. One player that would fit great in this lineup would be Anthony Morrow as the starting shooting guard. Morrow could come cheap and is a great shooter.
The Bulls should also bring back guards Acie Law and Ronald Murray. These players are not great but could be good backups. Brad Miller would be a good fit to resign as a backup center because he brings height to the rotation. If the Bulls could unload Deng for cash then it would put them in a great position to sign Morrow and fill out their bench.
Miami's Final Roster
C: Amare Stoudemire, Jermaine O'Neal, Joel Anthony
PF: Michael Beasley, Udonis Haslem
SF: Quentin Richardson, Dorrell Wright
SG: Joe Johnson, free agent guard
PG: Dwyane Wade, Carlos Arroyo, Mario Chalmers
Chicago's Final Roster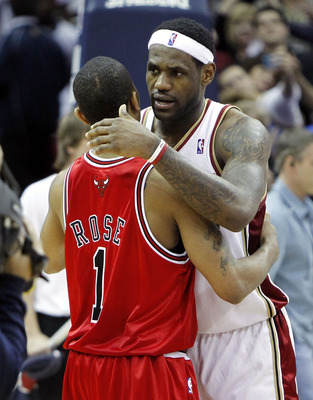 C: Joakim Noah, Brad Miller
PF: Chris Bosh, Taj Gibson
SF: Lebron James, James Johnson
SG: Anthony Morrow, Ronald Murray
PG: Derrick Rose, Acie Law
Season Outlook
Right now the Miami Heat and Chicago Bulls are in a great position. The free agency frenzy is going to live up to all of it's hype. If my proposed scenario comes true then the league can expect a shift in power in the Eastern Conference. The Magic and Celtics are probably going to look similar to their teams from last season and the Bucks could also jump up in the standings. The Hawks are going to hurt from losing Johnson but should easily be a playoff contender. The Cavaliers and Raptors will hurt the most from this scenario.
With so many factors in free agency it is impossible to guess the outcome correctly but in any scenario, the Bulls and the Heat are in a great position to improve and could run into each other in the Eastern Conference Finals next season.
Keep Reading

Miami Heat: Like this team?