What's Next For The "Dashing" Cody Rhodes?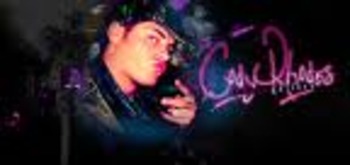 For now on you will all call me "Daaashhing" Cody Rhodes. Dashing Cody Rhodes. DASHING... Cody Rhodes.DAAAAAASSSSSSHHHHHHIIIIINNNNNG! Cody Rhodes.
And there you have it. After a year of being with Legacy with former comrades Randy Orton and Ted Dibiase to the eventual split up ealier this year, to the defeat Randy Orton gave the two at WrestleMania eventually leading Orton to a new path in his career and Ted Dibiase's growth on RAW, Cody Rhodes this past Smackdown reinvented himself, WWE (finally) gave him a gimmick. I always liked Cody better than Ted for some odd reason, I don't know why I just kind of have a soft spot for certain scrawny guys in the ring (he seriously looks like an areopostal model). Now apparently WWE Diva's voted him the most handsome guy in the WWE (kayfabe), and now Cody Rhodes has adopted the "pretty boy" gimmick which he refers to as DASHING! This can work for Cody, or in the end go against him. But I want to share what I think WWE should go with Cody Rhode's character as of now, nothing big like World Titles or something like that just something to fully developed his character. Because right now a lot of people aren't buying into it..
Keep Establishing him as the Main Heel on NXT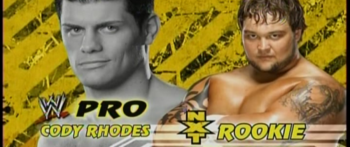 The WWE is doing a good job on establishing Cody Rhode's character as a heel on NXT. After talking down Mark Henry's rookie Lucky Cannon, Punching Matt Striker and eventually defeating Lucky Cannon under in a timed 5 minute match, he really is becoming the guy you just want to jump into the television and beat him up yourself type of guy. Hell Cody Rhodes even poked fun at his rookie on Smackdown pointing out all his inferiorities. His NXT work is great and hopefully he can bring more of that attitude to Smackdown.
Keep Delivering Those "Dashing" Promos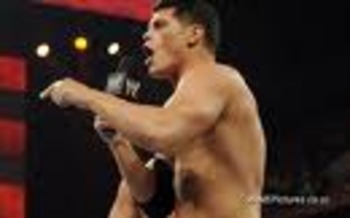 I have to say when it comes down to mic skills, Cody feels like a natural. If you don't agree fine, but I feel he's mic skills are far better than Ted's. His NXT promos get a decent amount of heat, and the "Dashing" promo he delivered on Smackdown was probably the right thing to get his gimmick started for a promising future career. His mic style is kind of similar to the Miz's in a type of fashion. He's ready to go out there and speak and the audience interaction of Smackdown was great too, just what you need to get the right amount of heat. He could use some more work though, the promo would've been a lot more memorable if he would've gone around to more crowd members and instead of the repeated "DASHING" statements. In the long run these promos can gain Cody the heat he really needs.
Continue on with the Pretty Boy Gimmick but don't take it too far...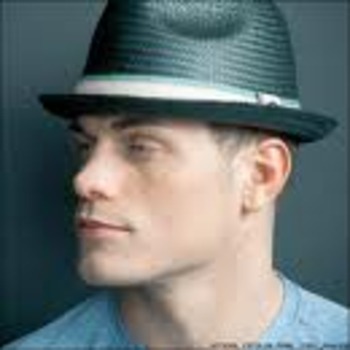 Now I have no problem with Cody's new narcisstic gimmick. So far I like it and feel this can help propel him further in his career. He can actually make a name for himself with this gimmick. Claiming to be the most handsome man in the WWE and bragging on about how gifted he is in his looks compared to the normal man and even his family. Insulting the crowd and ring announcers and such was very funny to me especially the line "I can almost hear you're getting fatter" which he said to what appeared to be a young woman at ringside. Although the little part where he removed a section of his jacket revealing abs to another young man at ringside was a bit uncomfortable, and I was at home! His gimmick is fine, but nothing too extreme WWE we get it he's handsome and all we don't need invites.
Build his status in the WWE bring in another package.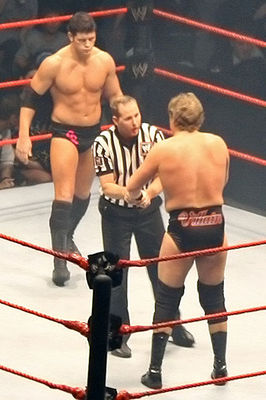 He wins matches, he loses matches, deliver great promos, get into decent fueds that'll help bring his character to new heights. Cody needs all this to accomplish ultimate gold in the WWE. But he can't do that if he's not over with the crowd. He can fued with some other midcarders with his gimmick it's real easy to fued with someone. He can put on some great matches and we know it. His match with Christian during the Intercontinental Title tournament on Smackdown was PPV quality something we don't always see with such young talent as him.
Diva Help Maybe???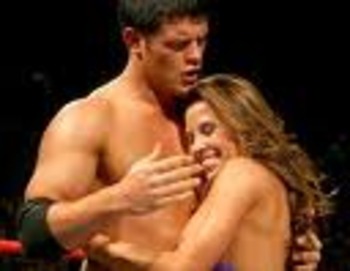 To further push the Dashing Gimmick, he has to attract at least some Divas I mean they voted him best looking right? So maybe WWE can developed him into a player type guy. So Divas can be attracted to him and he plays with some of their hearts eventually picking out one diva to be with him like Edge and Lita. But the Smackdown Diva Roster isn't quite big, so maybe some new Diva talent would help.
Being #1 Contender for Secondary Championships and Tournaments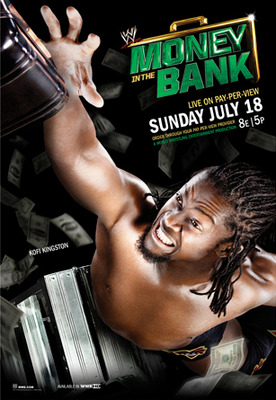 Being #1 contender for Secondary Titles can always set up good fueds such as the one Rey Mysterio and Chris Jericho had. I believe if Cody Rhodes had the oppurtunity to become #1 contender for titles such as the Intercontinental Title it would lead to some decent if not great fueds and matches. Now since The Money In The Bank PPV is coming up in the next coming weeks I can definately see Cody Rhodes participating in the match with 7 other opponents (1 is likely to be Kofi haha). Not in a winning effort though, but just to further grasp Cody's character and thrive to acheive what I believe he can accomplish in the future.
Give him Proper Management and Time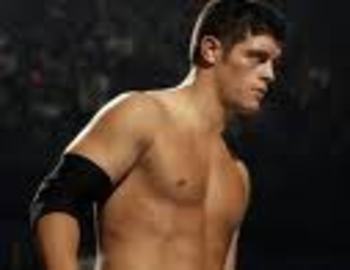 Today in the IWC we often complain how certain stars are being pushed too fast into the main event spotlight (Sheamus, Swagger). While that can be arguable, Cody Rhodes has been in the WWE for 3 years now and has had more time and atmosphere than Swagger and Sheamus had. Now while I do like Swagger and Sheamus, Cody is not the type to shove him into main events and such. He's had mild success with the WWE so far and right now I feel this is the right time to develop his character into something that'll be more of an impact in the long run. So right now I wouldn't even give him the Intercontinental Title. Just give him some time to get over with the audience and probably stick with the gimmick give him a secondary title along the months and soon you might see this dude as a World Champ someday. You never know, maybe within the next couple of years we can see a WrestleMania match with Ted Dibiase in one corner of the ring with Cody Rhodes in the other.
What's Your Take?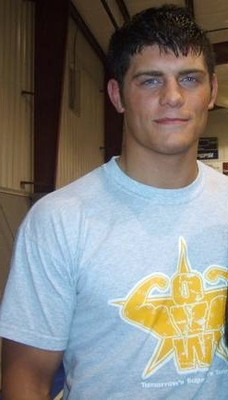 So what do you think about Cody Rhode's gimmick and character? Do you see it working out in the long run? Tell me what you think in the comments section all feedback is welcome!
Keep Reading