Buffalo Bills Training Camp Battles Part Two: Left Tackle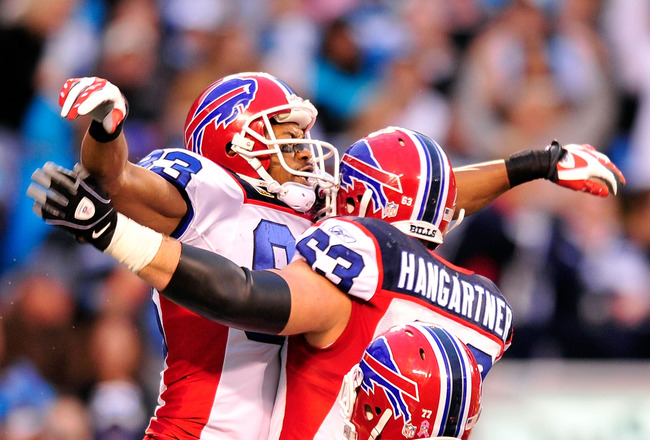 When the clock struck 8:00 pm on April 22, 2010, Buffalo Bills fans were anxious to see which quarterback or left tackle the team would select to fill one of the two most glaring positional needs on the team, due to the loss of former left tackle, Jason Peters, in a trade with the Philadelphia Eagles.
Instead, General Manager Buddy Nix decided to wait until the third day of the draft to select a player of either position, selecting Virginia Tech tackle Ed Wang in the fifth round, and the highly overlooked Iowa prospect Kyle Calloway in the seventh round.
By now, we know that new head coach Chan Gailey prefers a run-first offensive attack. So who will be called upon to protect the quarterback's blindside, as well as blocking for the run?
No. 77 Demetrius Bell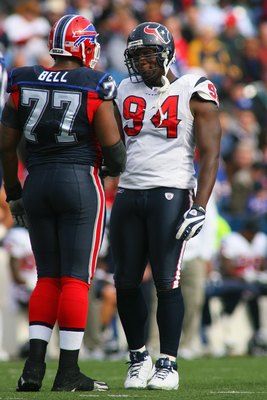 When Langston Walker was released by the Bills just prior to Week one of the 2009 season, the seventh round selection from the 2008 NFL Draft was thrown into the starting role.
Bell unimpressively and inconsistently started at left tackle for the season's first eight games, racking up way too many penalties, until he was placed on injured reserve with a torn ACL.
Bell is the seasoned veteran of the team, having notched eight career starts in two seasons for the Bills. Gulp.
While Bell is somewhat agile and exhibits decent footwork, he has very short arms, which limits his abilities in pass protection.
No. 69 Jamon Meredith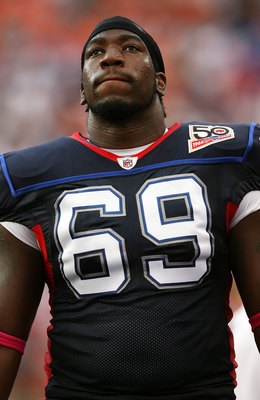 When the Buffalo Bills right tackle Brad Butler went down for the season, we found this physical specimen named Jamon wandering around on the Green Bay Packers practice squad. He was starting at right tackle for the Buffalo Bills the next Sunday.
Despite being thrust into a new system in mere days, Meredith showed extreme upside, as he was lined up across from Julius Peppers for his first career start, and performed far better than expected.
According to guard Eric Wood, Meredith's 6'5" 311 lbs frame "passes the eye test." Wood also added that Meredith was one of the strongest players he's seen.
Meredith definitely has the most upside out of any of the tackles currently on the roster, but really needs improvement in his technique, as relying on sheer strength doesn't often translate too well in the NFL.
No. 71 Ed Wang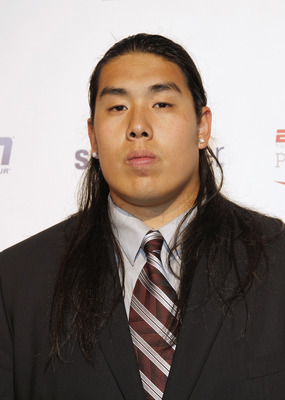 Wang is the first Chinese-American to ever play in the NFL, but unfortunately it may take some time for him to actually get on the field. He does have decent footwork and agility, but his short arms and lack of upper body strength will prove to be Wang's Achilles heel.
At Virginia Tech he established himself as a quality tackle, and I still think he can do so in the NFL...but as a fifth round rookie, he most likely will play with the practice squad until he can add some strength to his frame and solidify his technique.
Is There Anybody Out There?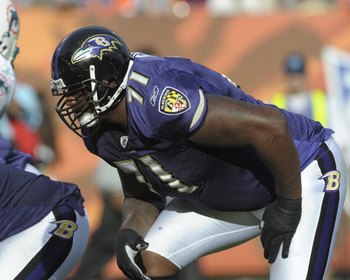 The Bills are in an ideal position financially to acquire a top-tier left tackle as Bell is slated to earn roughly $1 million over the next two seasons, Meredith was signed off a practice squad, and Wang was a fifth round pick.
Buddy Nix covets his draft picks, but I believe a second round pick for Jared Gaither of the Baltimore Ravens is a generous deal that is foolish to not jump at. At 25 years old, Gaither has already proved himself as a quality tackle, and is well worth every dollar Ol' Ralphie won't pony up.
Another player the Bills should keep an eye on is Flozell Adams, who was recently released by the Dallas Cowboys. Adams would add a veteran presence to a very young offensive line, and could serve as a mentor to Wang and Bell.
Flozell would have to be attracted to sign with Buffalo, but I believe a trade of our 2011 second round pick for Gaither would be a great decision.
Breakdown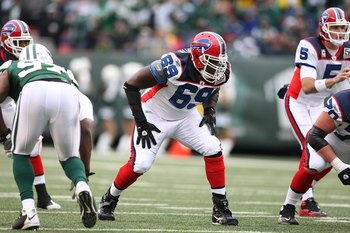 Neither Bell, Meredith nor Wang are a flashy name that brings confidence and optimism, but they are each competing for a starting job that is wide open.
Bell may have the upper hand as of now, simply due to his "experience," but when it comes time for week one, I believe Jamon Meredith will be starting, with Bell being a situational swing-tackle until he can improve his technique.
Follow Me On Twitter!! @RalphWilsonSr
Keep Reading

Buffalo Bills: Like this team?