Why TNA Won't Beat PG WWE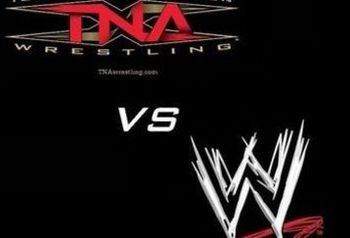 I don't watch TNA a lot, but this week I put it on with the thought of giving it a chance, my 10-year-old son Austin, and I sat to watch it with me.
This cemented for me why TNA, for all the money, gimmicks, and names that they throw at it, just won't beat the WWE and especially the PG WWE.
This is based on the Impact that aired June 24.
Hogan and Abyss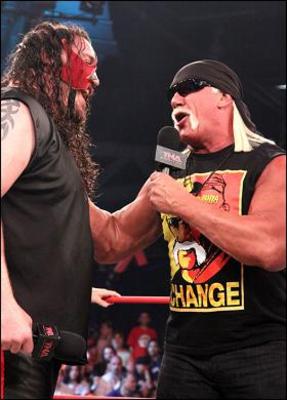 "Dad when did Mick Foley get so tall?" - A
"That's not Mick Foley, that's Abyss." - Me
"Ohhhhhh. Does Mick Foley know he's dressing up like him?" - A
"And that's Hulk Hogan, right?" - A
"Yep. He was the man who changed wrestling." - Me
"Is that what he's doing now?" - A
"No. Now he's pretty much doing whatever he wants." - Me
Its nice to see Hogan giving push to a TNA original, but I liked Abyss better when he came out with that weird Devil-looking dude who would scream "doomsday!" (Father James Mitchell - ED.)
And Hulk, wearing a "Change" shirt, take your own advice, change, don't keep doing the same old thing, change things for the better, don't change them back to WCW Thunder!
This segment seemed so forced, Hulk hitting him with a chair only to have security come out right after that. Come on, what was that about?
Sting vs. Jeff Jarrett?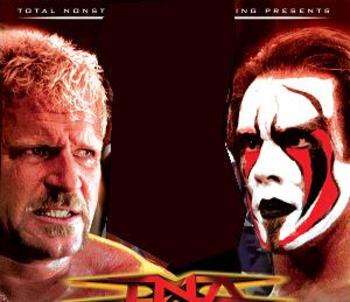 "Dad, who are these guys?" - A
"Well, Sting is an icon; he's been great for years and years." - Me
"Who's the other guy?" - A
"That's Jeff Jarrett, he, um, he was Intercontinental champion and I think he lost it to Chyna." - Me
"He looks a lot older than you."- A
"Yes, he does."- Me
This was just a train wreck, the baseball bat choking, the fake Sting, there just comes a time when stuff like this shouldn't take up so much time on TV.
I don't feel you're bringing in a draw of an older audience. It feels like you're clinging to a generation that is honoring some of the past, but has found enjoyment in new things as well.
When TNA started, there were so many great new guys, Samoa Joe, AJ Styles, Christopher Daniels, they got bumped to the side when Nash came around and now they're still not getting the time they deserve when Hogan is running the show.
That's Kurt Angle?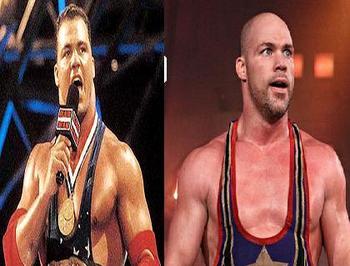 "Are you sure it isn't that guy from the movie who drives the car and Transports stuff?" - A
"The Transporter? Jason Statham? No, that's not him, that's Kurt Angle."- Me
"What the heck happened?!" - A
Even a 10-year-old can see something happened to Kurt, not only in his look but apparently a couple of the Three 'I's were thrown out the window.
He held on to intensity, but got rid of intelligence and integrity. If he had the other two, he would have stayed where he was.
Bad Gimmicks and Names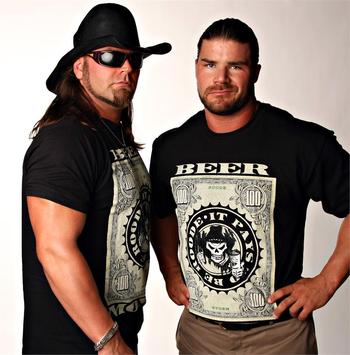 With names like Beer Money or Rob Van Dam going with the "whole F'n show," it's not easy for a kid to get into a group when he's afraid he'll get in trouble when he says their name.
Taking out the kid audience on a show where you have guys in masks hitting people, you're losing a huge audience.
The Beer Money tag match had great skills, just a shame that their gimmick is that they're a couple of drunks. The bit they did with Rhyno some time back where they made him drink again? Ridiculous.
TNA Fans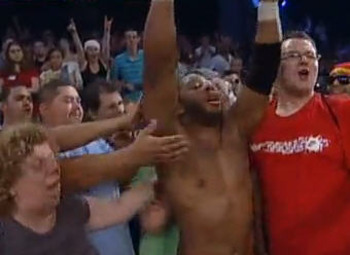 Jay Lethal jumps into the crowd to celebrate.
My son says: "Where's all the kids?"
"Um, they don't go see these shows."
Look at this crowd, yeah, that's the group I want to be with and jump into. Lethal, you have potential, what were you thinking? That's a woman in the bottom left hand corner, by they way.
WWE Fans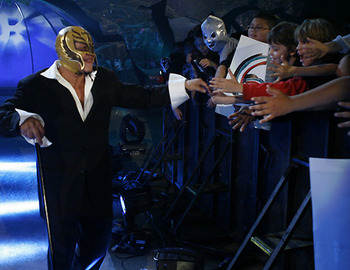 How many times have we seen Rey walk down the ramp high-fiving the kids, going mask to mask and from what I understand he says a prayer with them.
I remember when I got into wrestling, the glory days of the 80s, Hogan, Savage, Steamboat, Honky Tonk. The arena was filled with kids then as well.
When kids are involved, you're building a fan base that will stay with you for the next 30-plus years.
My son loves Rey Mysterio, looks forward to both Raw and Smackdown, plays the video games, wants the action figures and belts. The youth are what keep wrestling alive and going.
Having an outlet, an event that you can take your family to is great and when you've grown up with wrestling as well, it's even better.
Because now you're passing the torch and sharing with your kids what you found fun all those years ago.
There is Still Hope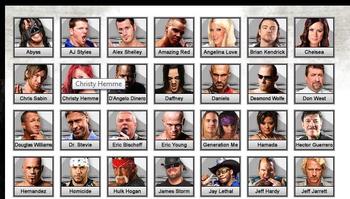 A lot of the TNA originals are still a big section of this roster, Eric Young, Chris Sabin, Alex Shelley, AJ Styles these guys are great to watch in the ring.
Maybe if they can build a show not on slinging mud, not on bringing in guys who had to leave another show due to problems, not on older wrestlers who now say I'll never retire again, we can get a third wrestling show with a different roster, great skills and a good show.
Less concentration on the things of the past and more of a focus on what you started out with, a true alternative. Because right now its not an alternative its like watching WWE classics with a couple of new guys sprinkled here and there.
It's sad when the heroes of your youth become what you don't want to watch anymore, and without a youthful audience to build on, you're setting yourself up for a short run.
Keep Reading