NHL Entry Draft: Recapping Round One, Picks 16-30
You can find my breakdown of picks 1-15 by copying and pasting the link below (or if an editor would see to actually link it, that would be great).
http://bleacherreport.com/articles/411669-recapping-round-1-of-the-nhl-entry-draft-picks-1-15
With the exception of a couple of off-the-board picks, things started falling in line after pick 15. Here is a look at the second half of the first round.
No. 16 St. Louis: Vladimir Tarasenko, RW (KHL)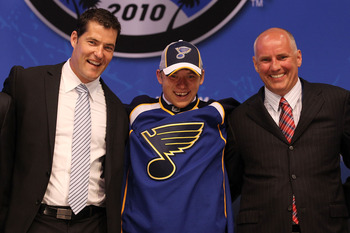 Thufferin thuck-a-tash! Bryan Murray trades away his first-round pick to the St. Louis Blues.
Tarasenko was expected to go in the early-to-mid-20s, but the Blues saw something they liked in the skilled Russian winger.
Vlad is a great all-around talent with a lethal shot and a knack for playmaking as well. Similar to Ovechkin, he loves the physical aspect of the game.
As with most Russian skaters, Tarasenko is a bit of a gamble. He has a lucrative KHL contract that has two years remaining on it. Having said that, if he gets to North America and plays up to his billing, he can be the steal of the first round.
No. 17 Colorado: Joey Hishon, Owen Sound (OHL)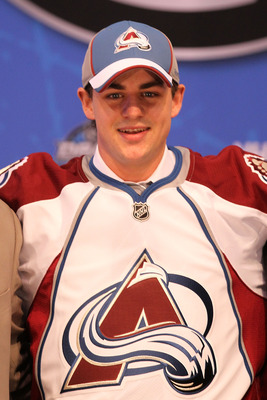 It would be tough for the Avalanche to duplicate the overwhelming success they had in the 2009 draft. Drafting Matt Duchene at third overall was a no-brainer, but they followed that up with Ryan O'Reilly in the early second round. Both players were key cogs in the wheel that saw the Avs shock the Western Conference and make the playoffs last season.
Colorado shocked a lot of people here. Hishon fell of the board due to a tough season, injury-wise. The tweaked his knee and suffered a broken foot, seeing his draft stock plummet throughout the season.
No. 18 Nashville: Austin Watson, Peterborough (OHL)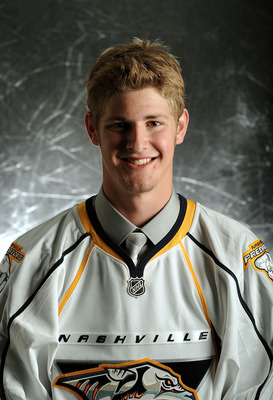 I was really hoping that Watson would fall to the Penguins at 20th overall, but David Poile and the Preds' brass smartly scooped him up at 18.
Watson is one of the best skaters in the draft and, in time, has the potential to be a premier power forward in the NHL.
He's a character guy as well, something pro teams can't get enough of. He was meddling on the third and fourth lines on a powerhouse Windsor team, but he waived his no-trade clause and was shipped to Peterborough, where he became a first-line player and produced greatly.
Great pick here by Nashville. I hope both of their fans appreciate it.
No. 19 Florida: Nick Bjugstad, C (USHS)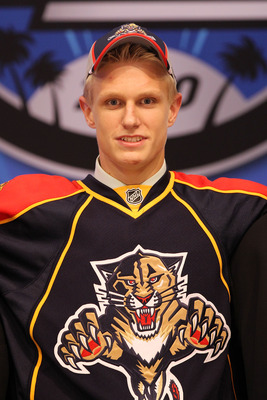 The Florida rebuild continues with the drafting of the reigning Mr. Hockey of the state of Minnesota.
Bjugstad is a phenomenal athlete and physical specimen at 6-foot-5, 197 pounds.
Nick has hockey in his blood, as his uncle Scott is a former NHL player.
No. 20 Pittsburgh: Beau Bennett, Penticton (BCHL)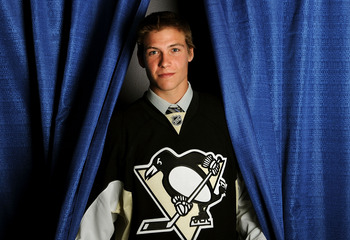 Bennett becomes the first of the Cali kids to go in the draft.
Ray Shero addresses an organizational need by going with a shooting winger here.
Bennett, headed to the University of Denver in the fall, has great vision on the ice and tremendous offensive upside.
He still needs to fill out physically and is a bit of a wild card, but some had him projecting from 10-15th overall.
No. 21 Detroit: Riley Sheahan, Notre Dame (CCHA)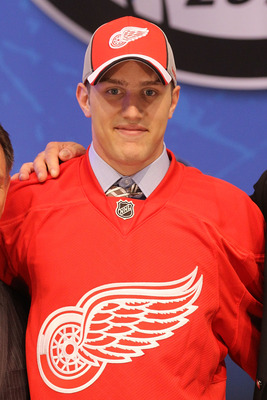 I was really expecting the Red Wings to go with the Russian Kuznetsov here, but they surprised a lot of people by taking the strong center.
Sheahan only had six goals last year, but played in a very defensive-minded system under Jeff Jackson at Notre Dame.
He's a project, but Detroit is fine with that. He has a few years of maturing to do in Grand Rapids before he gets a sniff of the Motor City.
No. 22 Montreal: Jarred Tinordi, U.S. U-18 (NTDP)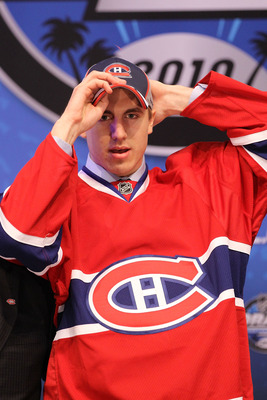 The Habs traded up to land the captain of the U.S. National Team Development Program.
A spitting image of his dad (former NHLer Mark), Jarred is a big, strong defenseman who plays a very physical game.
Montreal, often accused of being too small, makes a significant improvement in the size and strength department with this pick. Scouts also rave about Tinordi's leadership quality, something teams can't get enough of.
No. 23 Buffalo: Mark Pysyk, Edmonton (WHL)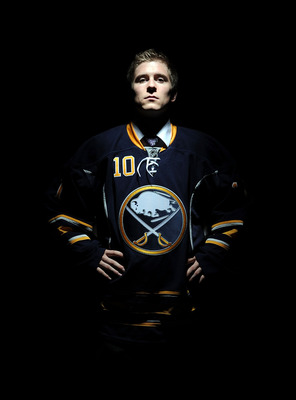 Pysyk is a smart, reliable, defensive blueliner with a tremendous hockey sense.
He was playing a bit over his head with Edmonton in the WHL last season, playing big minutes, including on the power play, which really isn't his game.
He will be a top-four, shut-down defenseman with the Sabres in a couple years.
No. 24 Chicago: Kevin Hayes, RW (USHS)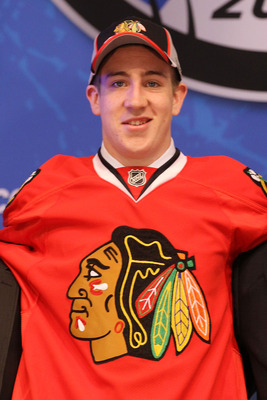 Another U.S. high schooler goes here.
Hayes was an off-the-board pick, but his impressive combine really raised his stock heading into the draft.
He is a big kid at 6-foot-2, 203 pounds, and a long-term projection for the defending Stanley Cup champs from Chicago.
No. 25 Florida: Quinton Howden, Moose Jaw (WHL)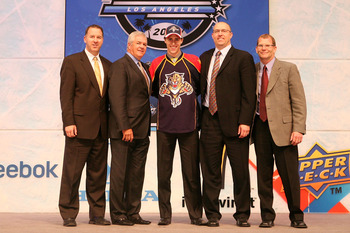 The Panthers go with the former first overall pick of the WHL bantam draft here.
Howden is a dynamic, two-way center with great speed. Having just traded a guy like Gregory Campbell, Howden should be able to replace him in a couple seasons. He's an energy guy and will be a tremendous penalty killer for Florida.
This pick was part of a trade between the Panthers and Canucks. Is it just me, or did the Canucks give up way too much for Keith Ballard? The Panthers made out like bandits, especially in getting Mikael Grabner.
No. 26 Washington: Evgeni Kuznetsov, C (KHL)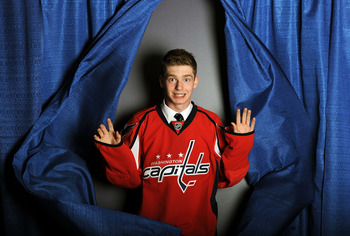 First of all, what a pic.
It's no surprise that the Capitals take the Russian center here. Kuznetsov seems to be the prototypical Russian player: Fast, electric, and dynamic in his own end. He possesses an elite skill set and natural scoring ability. His greatest attribute may be his sense of patience with the puck.
The only red flag (besides the Russian gamble) is his immaturity. He's known for bouts of diving and lack of discipline, but all that comes with growing up.
No. 27 Phoenix: Mark Visentin, Niagara (OHL)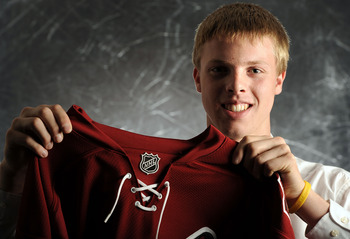 The Coyotes delve deep here in drafting the second goaltender taken in the first round.
This pick comes as a surprise to a lot of people, especially given the fact that Seattle Thunderbird Calvin Pickard was still available. It should be noted though, that after a disappointing rookie campaign in 2008-09, Visentin drastically improved this past season in the OHL and almost single-handedly got the Ice Dogs into the postseason.
No. 28 San Jose: Charlie Coyle, South Shore (EJHL)
The Sharks add some depth on the wing with the selection of the EJHL Rookie of the Year.
Coyle is a big player and plays big, not afraid to mix things up anywhere on the ice. He's a strong, powerful skater and projects as a depth power forward. Extremely hard to knock off the puck.
No. 29 Anaheim: Emerson Etem, Medicine Hat (WHL)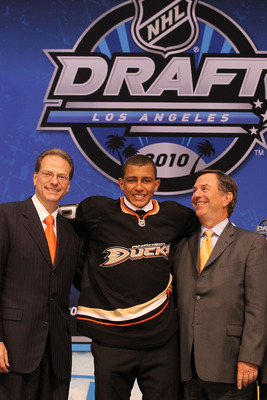 The biggest pop of the night goes to the the Ducks and Etem, a California team drafting their California boy.
Etem dropped down the list for some reason. If he was a winger, I wouldn't have been surprised if the Penguins scooped him up at No. 20.
Emerson has unbelievable speed and unreal acceleration, and if he isn't already, has the potential to be a fan favourite at the Pond.
No. 30 New York Islanders: Brock Nelson , C (USHS)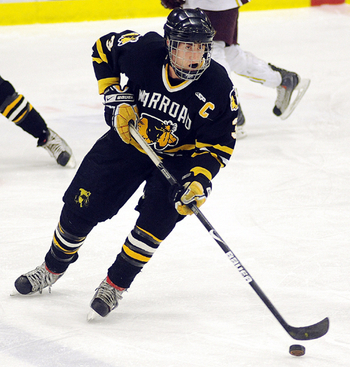 Garth Snow trades up to get this pick, and "E" from Entourage is not only still on stage with the Islanders, but he actually announces the pick.
With the drafting of the big American center, a record eleven U.S. born players go in the first round.
Keep Reading