FIFA World Cup 2010: Team of the Tournament After the Group stage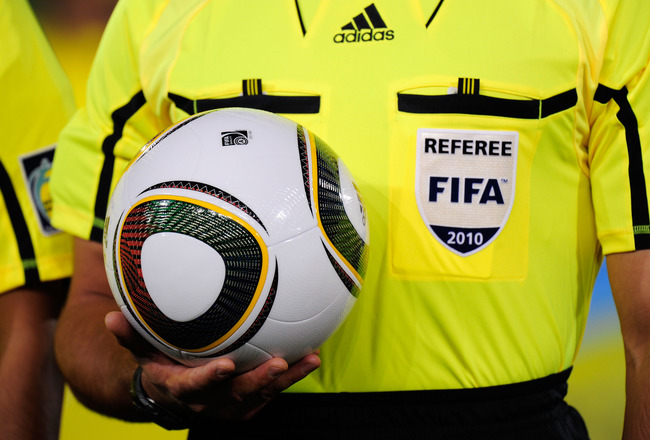 So, we've come to the end of the group stage of the 2010 World Cup in South Africa. Who have been the standout players in each position? If the tournament were to end now, which players would have made the team of the tournament?
Goalkeeper: Eduardo (Portugal)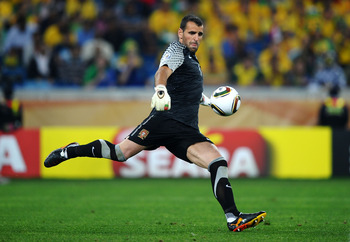 The goalkeeper position is probably the most difficult to choose at this stage, but Eduardo of Portugal probably just edges it. Portugal are one of only two teams (the other being Uruguay) to have not conceded in the opening phase of the tournament, and Eduardo beats Uruguayan glovesman Fernando Muslera due to the fact that the Portugese were in a more difficult group.
The Portugese defence is very solid, but Eduardo has done exceptionally well to not concede against the likes of Brazil and the Ivory Coast. Against the former in particular he pulled off a fantastic point-blank save to deny Nilmar in the first half. He was solid against DPRK and Ivory Coast as well, but it remains to be seen if he can keep a fourth tournament clean sheet against Spain in the next round.
Right-back: Maicon (Brazil)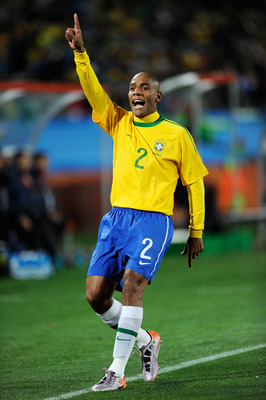 At the right-back position, there isn't really a lot of debate to be had. Maicon has been in scintillating form for Brazil thus far, showing the world why he is the greatest attacking fullback in football today.
Bombing up and down the right hand side, he is one of the crucial components to Brazil's game plan under Dunga. He opened Brazil's goalscoring with an audacious effort against a resilient North Korea side, afterwards looking stunned at himself for what he had just managed to do.
Magnificent going forward, he's also pretty handy helping out at the back too. It's amazing how he can push so far up the pitch so regularly and yet always be in position at the back at the crucial moments. Truly a star of world football, and likely to be in most "Team of the Tournament" lists come July 11th.
Centre-backs: Lucio (Brazil) and Lee Jung-Soo (Korea Republic)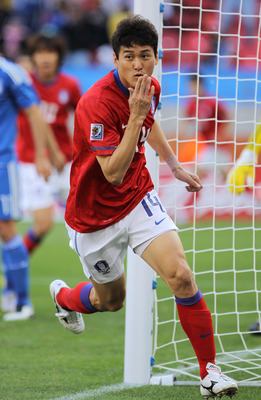 Like Maicon, one of these centre-back positions was easily filled by his compatriot Lucio. An imposing figure at the heart of defence, since his move from the Bundesliga to the higher profile Serie A, Lucio has become a household name in world football, and could even stake a claim for the best centre-back in the world. Save for one mistake against North Korea, he has been faultless in the competition so far; tackling cleanly, winning everything in the air, and staying composed at the back.
A name which you probably didn't expect to see in this list in Lee Jung-Soo of South Korea. Currently the Korean's top scorer, the never-tiring centre-back has proved to be a real threat at set-pieces as well as tidy in defence.
A former striker, Lee's goals don't come as big of a surprise as you would originally think, but nonetheless he has done a job all over the park for South Korea and is one of the main reasons why he finds himself and his side in the knockout round.
Left-back: Fábio Coentrão (Portugal)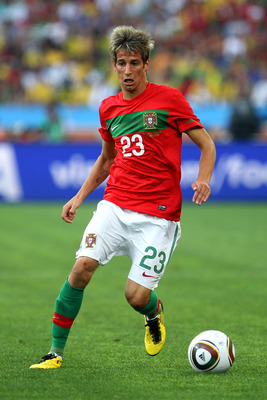 Fábio Coentrão has been a true revelation this past season. Breaking into a resurgent Benfica side that stormed the Liga Sagres this season, Coentrão also made a late push into the Portugal team. Making his debut under huge pressure in the World Cup playoff against highly-rated Bosnia-Herzegovina, Coentrão made a great impression and has made the left-back position his own.
Like Maicon, he also has a talent for pushing upfield, using his exqusite dribbling and crossing skills to full effect. If Portugal had more potent attackers, no doubt Coentrão would have two or three assists in the tournament at this stage.
An explosive fullback, but also great in defence, he came up against Maicon in the final group game and the young Portugese starlet canceled out the threat from his Brazilian rival all game long. Look out for this guy, it's doubtful he'll be plying his trade for Benfica for much longer on performances like this.
Right Wing: Alexis Sanchez (Chile)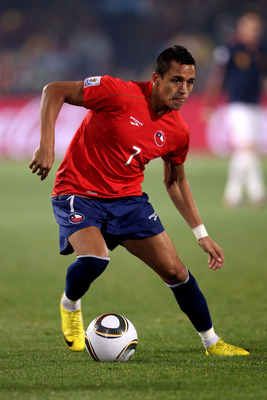 The true golden boy of a fantastically explosive Chile side, Sanchez has made his mark in South Africa without scoring a goal as of yet. His pace and trickery on the right wing has confused all three left-backs he's played against in the group phase, none more so than Joan Capdevila of Spain, who simply couldn't handle the pragmatism of Sanchez's runs.
Chile look to feed Sanchez as often as possible, and he is as effective cutting inside and shooting as he is hugging the line and getting a cross in. Like Portugal though, Chile lack a real target, otherwise this lad would have a couple of assists to his name already. And were he not so unlucky, a couple of goals too.
Currently playing for Udinese in the Serie A, it can't be long before a real European powerhouse picks Sanchez up. There were rumours of Barcelona/Real Madrid interest a few months back, and that interest is likely to rekindle after this World Cup showing.
Centre-midfield: Michael Bradley (USA) and Keisuke Honda (Japan)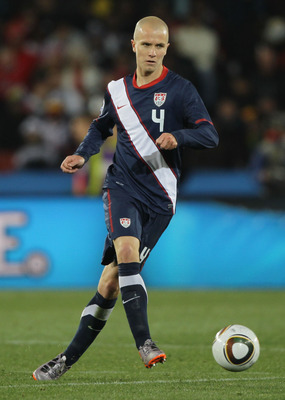 In centre-midfield, Michael Bradley has been pulling all the strings for the USA and is largely responsible for their presence in the knockout round. He scored the crucial equalising goal against Slovenia with an emphatic finish after an excellent run from deep, a goal which summed up his playing style.
Tenacious in the tackle and not afraid to get forward, an aggressive yet intelligent head is exactly what USA need in the centre of the park, with the likes of Clint Dempsey and Landon Donovan providing the flair pieces, Bradley does the dirty work while occasionally picking out some exquisite through balls. Moenchengladbach will have a fight on their hands to keep a hold of him after the tournament finishes, with Premier League side Everton reportedly tracking his progress.
On the other side of the scale, Keisuke Honda has been nothing short of superb in the competition so far, pulling all the strings with his flair play for his country during the group phase. His performance against Denmark was especially noteworthy; scoring a fantastic 35-yard free kick, then showing off some amazing skill to set up Japan's third and final goal.
Honda also has a strength in that he is a utility man able to play in a number of positions. Believe it or not, the great performance he gave as a centre-forward against Denmark is not his natural position (hence why he is included as a central midfielder in this list). Also able to play at left-back or on either wing, Honda really is Japan's secret weapon. A real rising star.
Left Wing: Mesut Özil (Germany)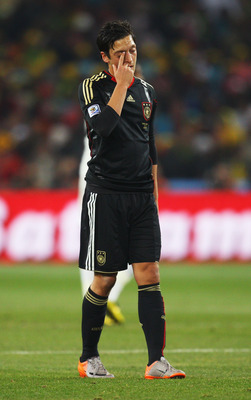 Özil caught the eye just a few minutes into Germany's opening game with Australia, in a seemingly free-roaming position in their midfield, spraying passes here, there and everywhere. Setting up two goals in that match meant he was going to be looked at as a tournament revelation from then on.
Against Ghana a week later, Özil went one better and scored a great effort from the outside of the post, as well as setting up many more scoring chances for his teammates. It's difficult to put Özil as a left winger as he seems to pop up all over when playing for the national team, but for his club Werder Bremen, he is a definite left winger.
Bremen picked him up from Schalke's youth team for a paltry fee of €4.3m two years ago. With transfer fees surpassing well over €20m being bandied about, that figure looks a right steal. A good performance against England will surely cement his place as the "find of the tournament."
Strikers: Diego Forlan (Uruguay) and David Villa (Spain)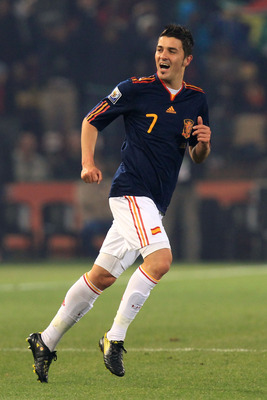 Two renowned world-class strikers have proved their worth again at this tournament.
Forlan has almost single-handedly dragged Uruguay into the last 16. In the first game against France he looked the most dangerous player on the field but just could not get the service, so coach Tabarez had a great idea: turn Forlan into the playmaking-forward. The transformation worked a treat. In the following game against South Africa, Forlan was magnificent operating from deep, scoring a deflected effort, and laying on constant chances for Luis Suarez and Edison Cavani. There's a good chance he could end up top-scorer if he carries on this form, and if it weren't for his age surely a host of European giants would be looking into signing the hitman.
Villa again has outshone his strike partner Fernando Torres (who has been poor to say the least in the competition), being joint top scorer at this stage and scoring at least one goal that will no doubt be in the "Top Ten Goals of the Tournament." Clinical as well as pragmatic and imaginative, Villa is probably the best striker in the world today. Barcelona intelligently bought him before the tournament began for €34m. If they had left it until afterwards they would probably be looking at closer to €70m. Another great bet for top scorer, providing he remains injury free.
Keep Reading