Are You in Good Hands? Power Ranking the Keepers in the Round of 16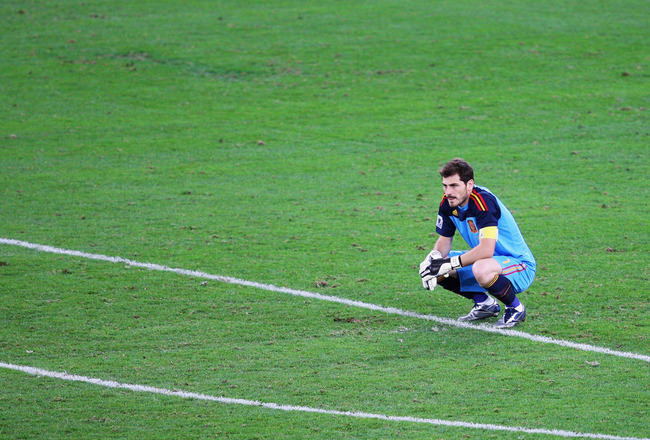 A number of things could have propelled any of the 16 remaining teams into the knockout stages. A great performance by a star player, a bit of help from another team, or a crucial mistake from an opposing defender.
No matter how they got here, one thing every team will need in the round of 16 is a stable goalkeeper on top form.
A keeper that is confident, performing well and organizing his defense effectively can go a long way in the knockout stages. Whether it's saving penalty kicks or calming everyone's nerves in a tight match. It's no fluke that behind every champion we see a successful keeper at the helm.
Here are how the remaining 16 stack up.
16. Richard Kingson: Ghana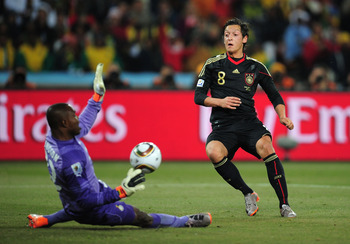 Kingson is Wigan's third choice keeper, and while he did keep a clean sheet against Serbia in Ghana's opening match, he's hardly the man I want to see at the back of my defense.
I have serious questions about his stability and consistency. His inability to smother a free kick hit straight at him against Australia resulted in the Socceroos getting their equalizer and impeding Ghana from winning the group.
15. Jung Sung-Ryong: South Korea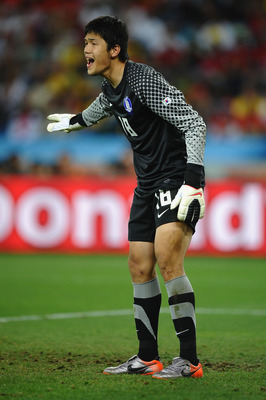 At 25-years-old, Sung-Ryong is still a budding talent and is still being groomed in the K-League like many South Koreans.
The South Koreans kept a clean sheet against Greece, but other than that Sung-Ryong looked shaky at times. Gonzalo Higuain caught him flat footed on a couple of his goals and he also allowed two goals to a Nigerian team that had only scored one goal in their first two games.
14. Justo Villar: Paraguay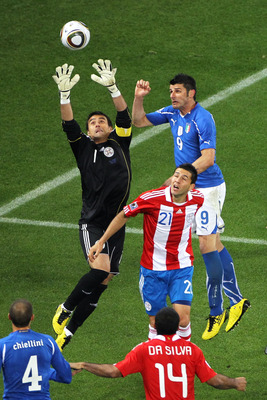 Villar's blunder against Italy was backed up by two clean sheets in subsequent games.
Slovakia hardly tested him in their game, but Villar had to remain cool against the Kiwis as they pressed hard for points to send them through.
At 33-years-old, Villar has lost some of the spring in his step, but he's still reliable, relatively speaking.
13. Claudio Bravo: Chile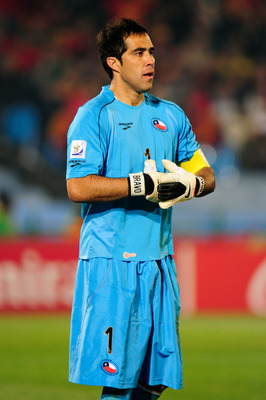 The Chilean national team captain is solid, but didn't raise any eyebrows in group play.
Bravo appeared good, but not great in net. He notched clean sheets against Honduras and Switzerland before allowing two goals to Spain today. On one of which, he came out to sweep the ball away and was unable to clear it out of bounds, leaving it right at the feet of David Villa.
Bravo hasn't really been tested yet in these World Cup games, so for that reason I can't slot him any higher than I have him here.
12. Fernando Muslera: Uruguay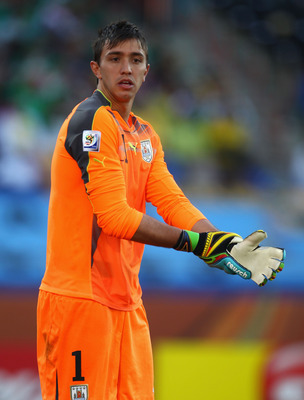 The 24-year-old Lazio man has established himself with the Italian club, but has only made nine appearances with his national team.
That said, he didn't allow a goal all through the group stages.
He got lucky on a couple of well-struck shots, most notably against Mexico when he was torched by an Eduardo strike only to get bailed out by the bar.
Despite not seeing too much action, Muslera is fresh and active between the pipes. The fulcrum of a suprisingly stingy Uruguayan defense.
11. Maarten Stekelenburg: Netherlands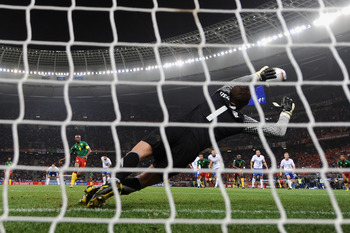 The heir to Edwin Van Der Sar has proven his worth thus far in competition.
The Ajax man posted clean sheets against Japan and Denmark, only allowing a penalty goal to Samuel Eto'o as the Oranje cruised into the knockout stages.
Stekelenburg is a good keeper, but he's another example of a player who has ridden the coattails of his team's dominating performances thus far.
Little known fact: He was born in Haarlem (Netherlands, that is).
10. Oscar Perez: Mexico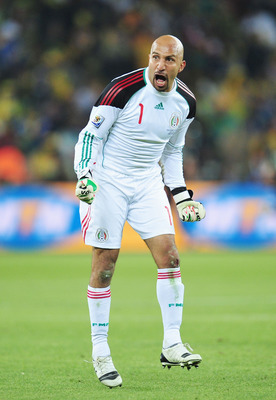 Old and short are usually not great attributes for a national team goalkeeper, but Oscar Perez makes it work somehow.
El Conejo was named the first choice keeper for Mexico over perennial superstar Guillermo Ochoa for the World Cup. His experience and play have been enough to see Mexico through.
Stumped by both Tshabalala and Luis Suarez, Perez has been solid but just hasn't seemed to pull out the big stop yet. I applaud him for reaching the knockout stage, but at 37-years-old, how much does he have left?
9. Eiji Kawashima: Japan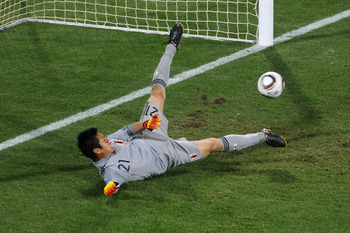 With just twelve caps to his name for Japan, Eiji Kawashima is proving he's worth his weight in gold.
Kawashima has appeared very confident between the sticks and has been at the center of Japan's "bend, but don't break" defense.
The 27-year-old was able to stifle Cameroon's rabid attack in the first game of group play, he also thwarted Denmark's Jon Dahl Tomasson from the penatly spot.
Not to mention his stuffing of Frank Lampard on a penalty during an international friendly. Kawashima's still relatively unknown, but he's got moxie.
8. Jan Mucha: Slovakia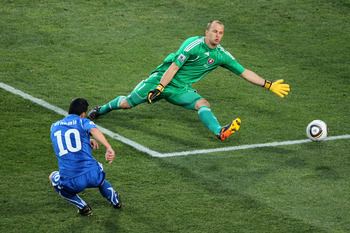 Another little known goalkeeper coming into the World Cup, Jan Mucha showed real guts in between the pipes for Slovakia during their inspired run into the Round of 16.
After spending five years with Legia Warszawa, Mucha became no stranger to winning and has carried over that bravado to his national team.
Anyone who watched Mucha during Slovakia's dispatching of Italy had to be impressed. The Italians became frantic in the last few minutes and Mucha just won the battle of wills against the Azzurri.
Mucha has already signed a deal with Everton for next year, we'll see if he can carry his country any further before he tries his hand in the Premiership.
7. David James: England
David James seemingly rose from the dead this year to lead Portsmouth to the FA Cup final and still retain the role of first chioce keeper for his national team.
At 39-years-old, James (and his hair) have seen it all. For that reason he is a calming presence for English fans and has superb control over his defense.
His shot stopping abilities and reflexes are subject to scrutiny at his age but make no mistake, he's still a very capable keeper.
6. Sergio Romero: Argentina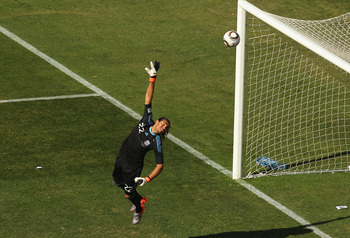 The youngster from AZ was chosen by Diego Maradona as the first choice keeper with some speculation, but he's given them nothing to complain about thus far.
Romero has been active in coming off his line and maintaining his box. His back line on the other hand, has been suspect to breakdowns, no one knows who is calling the shots back there.
Overall, Argentina and Romero have impressed, so he gets the benefit of the doubt for now.
5. Eduardo: Portugal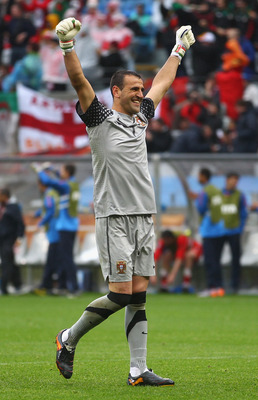 After serving as an understudy to Portugese mainstay, Quim, Eduardo has stepped in without missing a beat.
He wasn't called upon all that much for Portugal in the group stages, but he gelled well with his teammates and seemed to have everything under control at all times.
An athletic guy, Eduardo came up with his best save against Brazil's Nilmar, which is sure to build confidence going into the knockout stages.
4. Manuel Neuer: Germany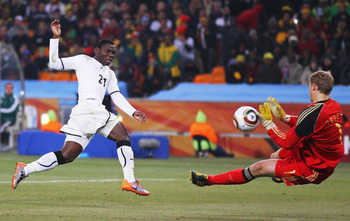 Manuel Neuer is only 24-years-old, but he fits the bill of a typical German keeper.
An indimidating, confident, commanding leader who's a great shot stopper and distributor of the ball.
Neuer has assumed his role as national-team first choice thus far. He was pegged as the top choice after Rene Adler announced he couldn't go, and German supporters really haven't given his position a second thought.
Neuer came up with some decent saves in the group stages, his good distributing skills also aided the Germans in their newfound attacking approach.
3. Iker Casillas: Spain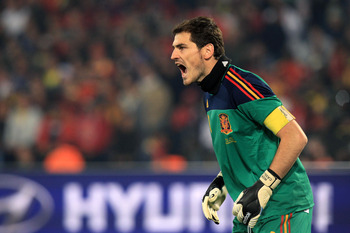 "The little goalkeeper that could", Iker Casillas has become the face of Spanish football over the past decade.
What he lacks for in size, he makes up for with sound technical skills and pure determination: More than anything he wants to deny you. After a shaky opening game against Switzerland he responded in style with two clean sheets.
Casillas is also a commanding presence in the net and knows what it takes to win on the club and country levels, plain and simple he's just a keeper that you want on your team.
2. Julio Cesar: Brazil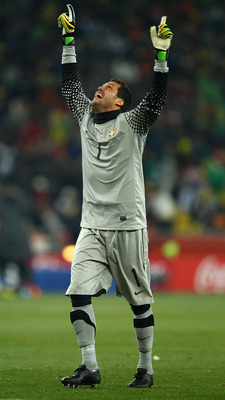 Always in the conversation when debating the "world's best goalkeeper" Julio Cesar's skills and reputation speak for themselves.
He possesses great technical skill and shot-stopping ability, he's also learned how to corral a Brazilian defense to get them to stay organized, a task in and of itself.
Cesar's loyalty to Inter Milan was rewarded this year with a treble victory. Cesar certainly didn't get a free ride as he was spectacular throughout.
1. Tim Howard: USA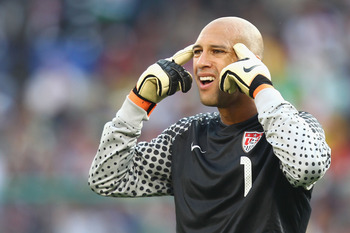 If you asked me who the best goalkeeper in the world was on June 6th, I would have given you a different answer than Tim Howard. But as of right now, Tim Howard is the best goalie on the planet.
We all know he's an athletic keeper who is a great shot stopper and has a motor that never ceases to run. He's one of the only world-class goalies that was acutally tested in the group stages.
More importantly, however, Tim Howard means more to his team right now than any other player on any other team, the U.S. needs Tim Howard desperately for every match.
That's not just because of his ability, he is the face, voice and heart of a fiesty U.S. team, and without Howard starting, the Americans lose all of those aforementioned qualities.
Keep Reading