PGA Tour Golf: Top-10 Under-Achievers
They tend to lead tournaments after the first day--then miss the cut.
They tend to win a tournament, and then go years without another victory.
They tend to reveal glimpses of brilliant golf, but suffer from rampant, mediocre play.
They are the under-achievers of the PGA Tour; archetypes of inconsistency.
From short-hitting lefty's, like Mike Weir, to gargantuan righty's, like Bubba Watson, these are the players who can surprise and thrill as easily as they can disappoint and collapse.
This batch of players have recorded wins, lead in some of the most significant stats on Tour, and some have even recorded major championships.
But be weary of the facts and figures, for they can easily deceive.
I respect, even admire, each and everyone of these players, which is why I want them so badly to take the next step and breakthrough into the elite of the PGA Tour.
A Waste of Solid Ball-Striking: Davis Love III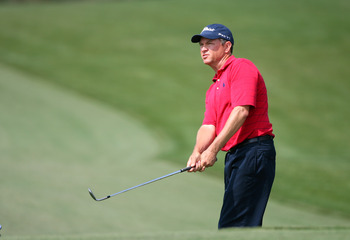 Davis Love III strikes the ball purer and produces a sweeter clip of the ball than almost anyone on Tour.
So why is he ranked No.58 in Greens in Regulation on Tour?
Maybe it's because he's ranked No.68 in Driving Accuracy Percentage.
There is a link between each and every component in golf. If you don't hit the fairway off the tee, it's going to be that much harder to hit greens, let alone hit it close to the pin for birdie opportunities.
However, even if Love III did improve his accuracy off the tee, as well as his precision for approach shots, his putting is ranked 162nd on Tour.
Though he has recorded five top-25 finishes this season, Love III has also missed six cuts.
Davis Love III's poor statistics reveal how turbulent his golf game has become.
A Mechanical Mess: Charles Howell III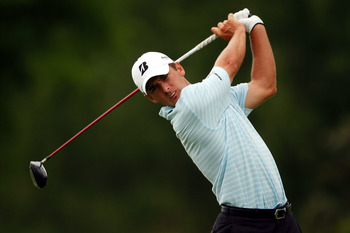 It's hard to argue that Charles Howell III owns one of the prettiest swings in all of golf.
But mechanics aren't everything.
It seems like Howell III has taken that statement into account in his putting, where he has made a miraculous transition and now ranks 11th in Putting Average.
However, when you only hit the fairway 53.8% of the time (No.165 on Tour), you may encounter a few problems making birdies and winning golf tournaments.
I watched an episode of 'Lessons from the Pros' on Golf Channel last year in which Charles said, with a straight face, that he refused to go on the driving range and practice without using a video-camera to watch his swing.
Such an over-analytical perception of how to improve one's swing, and ultimately one's overall game, cannot effectively produce results--and it hasn't.
There's no doubt that Howell III has the game to win tournaments, yet he has only won once since 2007 and amassed just two 2nd places, and one third in that time.
Who Knows His Woes? Sergio Garcia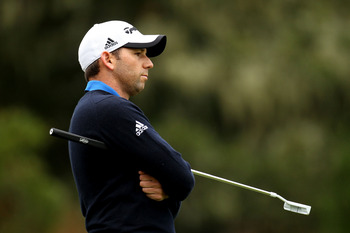 If Sergio Garcia could putt, he'd be a constant threat and would've absolutely captured at least one major championship by now.
But, putting remains Garcia's Achilles Heel.
Ranked No.127 in Putting Average on Tour, Garcia makes me cringe, cover my eyes, and pray when he stands over his ball to putt.
Whether he is too hunched over the ball, too upright, or too in his head; it's too bad Garcia can't drain a putt to save his life.
Since 2003, Weir has been Weird: Mike Weir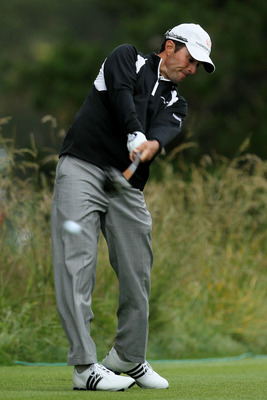 In 2003, Mike Weir not only won one of the most prestigious events on the PGA Tour, the Masters, but he won two other events and tallied eight other Top-10's.
Since then Weir has redefined the expression: 'fallen from grace.'
In 2010, Weir has produced three horrific stats.
- No.169 in Driving Distance
- No.157 in Driving Accuracy Percentage
- No.184 in Greens in Regulation
Considering Weir is already at a disadvantage because he is only 5'7 and doesn't generate as much club head speed for distance, he needs to concentrate on precision.
Those three stats above are paralyzing to Weir's progress.
Though Weir has maintained his excellent touch on and around the greens, ranking No. 12 in Putting Average, the interconnectedness of golf means one component of his game cannot shine without the rest.
Long Off The Tee and That's About It: Bubba Watson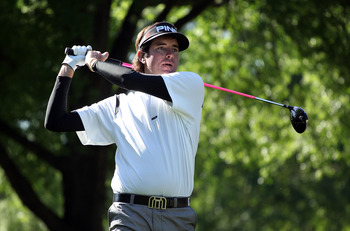 Could you imagine how dominating Bubba Watson could be if he could control his game from tee to green, and maybe drop a couple putts here and there?
The dude pummels the ball of the tee, ranked No.1 in Driving Distance at 304 yards--on average!
However, put that stat in perspective with one of the most crucial stats, Driving Accuracy Percentage where Watson ranks No.152 (56.73%).
Now you may have some clarity on why Watson is one of the most obvious under-achiever's on Tour.
Sadly, it's not just that he can't find a fairway, it's also that Watson can't locate the hole, even when he's on the green.
Watson ranked No.143 on putts per round at 29.53.
He cannot become a true threat on Tour if he cannot consistently perform.
Major Worthy: Camilo Villegas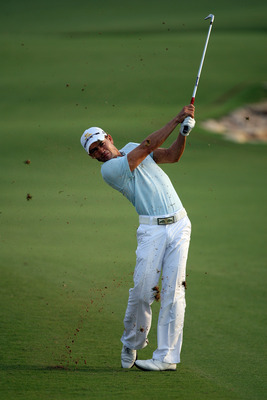 Camilo Villegas is one of those players who could be, in fact should be, in contention for the victory in almost every event he enters.
After winning twice in 2008, it appeared Camilo was emerging as one of the most exceptional, young golfers on the PGA Tour. Though he went win-less in his 2009 campaign, he carded six top-10's, and has already won once in 2010.
However, Camilo is under-achieving in a much different way than his peers.
Villegas has never performed well in the majors.
Other than a T13 in the Masters in 2009, Villegas tends to either miss the cut or totally vanish into the abyss when on the biggest stages in golf--the majors.
I am waiting for Villegas to prove me wrong and begin excelling at major championships, but his most recent appearance at the US Open, where he tied for 70th, was not so promising.
Revival Failure? Adam Scott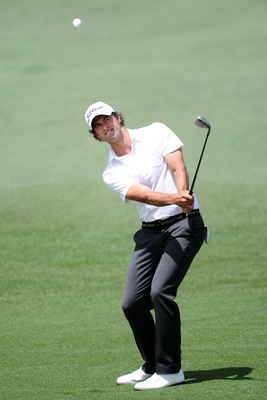 Adam Scott is better than this.
Though 2009 and 2010 have been better years for Scott, he--like Villegas--has too much potential to be a second-rate player.
When he emerged on the PGA Tour, Scott was considered a legitimate threat to Tiger Woods' dominance. When he didn't live up to that hype, which was definitely an extreme expectation, it seemed like the public empathized, but still anticipated stellar play out of the Aussie.
But instead of witnessing Scott's progression, we have watched time and again as his erratic play lost him tournaments or inhibited his entry to the weekend.
Scott has incredible power off the tee that he needs to learn to harness for the sake of accuracy. His ball-striking is also terrific, which has warranted him the No.3 ranking in Greens in Regulation.
But similar to a player like Sergio Garcia, Scott also struggles with the flat stick.
Ranked No.187 in Putting Average, Scott will never elevate his game to the next level or win a major championship until his putting skills match up with the rest of his game.
What Happened to HIm? Aaron Baddeley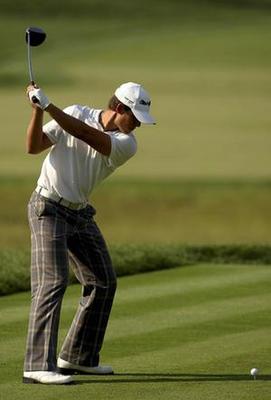 Remember that US Open at Oakmont in 2007? Aaron Baddeley was in the lead, in the final group, with Tiger on Sunday, but blew up and shot 80.
Aside from that blemish, 2007 was an incredible year for the young Australian, who had six top-10's and his first win on Tour.
You knew this was coming: Aaron has been playing badly ever since.
His 2008 season was very mediocre and I'm sure he'd rather forget 2009, where he made just 14 cuts in the 23 events he entered.
Why has he struggled so much since his impeccable season in 2007?
He has substantial length off the tee (ranked No.15 in Driving Distance) and has some of the best putting statistics among the pros; No.8 in Putts per round (28) and No.12 in Putting Average.
I guess it's everything before getting to the green that has hindered Baddeley from breaking through. He ranks 163rd in Driving Accuracy and 178th in Greens in Regulation.
Stats don't lie.
Short Game Expert Missing Ingredients: Brian Gay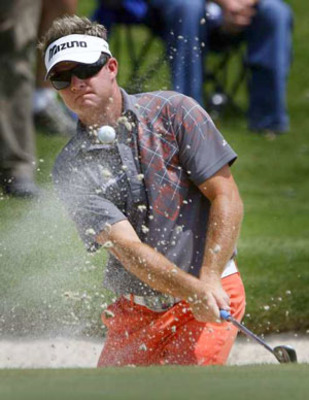 1st in Driving Accuracy.
3rd in Putting Average.
4th in Putts per round.
Why isn't Brian Gay one golf's premiere players?
He may have seven top-10's in his 13 events of 2010, but it seems like Gay has the potential to compete with the likes of Mickelson, Els, and Tiger--so why isn't he?
You can tell a lot about a player from how they play under pressure, which often is illuminated best in the majors.
Well, Gay missed the cut at both the Masters and the US Open this year.
There you have it.
Brian Gay will have to learn to bare down when the pressure gets up. His skills are far too exceptional for him not to be finishing in the top-5 of golf tournaments.
No Excuses Under-Achiever: Hunter Mahan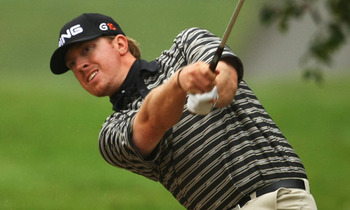 Don't get me wrong, Mahan has been playing solid golf, but he has been on the cusp of breaking through into the elite of the PGA Tour for what seems like years now.
He was a favorite by Jason Sobel, the ESPN Golf Writer, at the US Open for Pebble Beach, but missed the cut.
This week at the Traveler's Championship, where Mahan won two years ago, he missed the cut again.
As a leader in driving distance and accuracy, as well as an excellent putter, Mahan has not produced anywhere near his potential. It's almost become difficult to watch him because the expectation for him to play spectacular golf tends to be ruined on a regular basis by poor course management.
Keep Reading