Bleacher Bombers: Selecting 10 MLB Sluggers for the 2010 Home Run Derby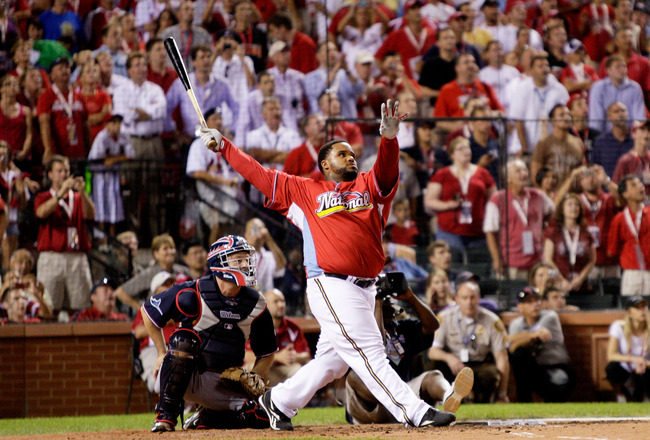 Vladimir Guerrero in 2007. Justin Morneau in 2008. Prince Fielder in 2009. Who will win the 2010 edition of the Home Run Derby?
Every year, the league's best sluggers face each other, each trying to clear the outfield wall just one more time than the last guy.
They leave us with the answer of all answers to, "Who can hit it to the cheap seats the most?"
Josh Hamilton had a crazy round of 28 dingers in 2008's Old Yankee Stadium sendoff, but it wasn't enough to land him the trophy. And remember how Bobby Abreu blamed his 24 homers in the first round of the 2005 contest for his post-All Star break slump?
It's a welcome break from the 162-game uphill battle through October for many baseball players, whether they're watching or participating.
Who will make a name for themselves and leave their mark in the annals of Home Run Derby history? Here are 10 players who deserve a trip to Anaheim to swing for the fences.
**Note** The following list is in no particular order.
Adam Dunn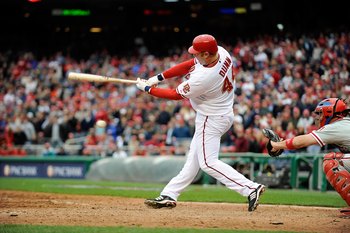 There's little doubt where that Adam Dunn swing sent a ball.
To the right-field bleachers, of course.
All Adam Dunn does is hit home runs. Seriously. This man mashes a ball when he really puts his mind to it.
This season, Dunn is tied for second place (with Mark Reynolds) in the National League at 17 homers, and he is showing his power off again, and again...and again.
What better stage to show his power than the State Farm 2010 Home Run Derby in Anaheim?
Albert Pujols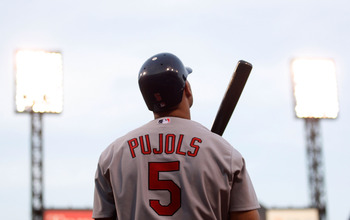 Albert Pujols is just about as dominant as it gets in baseball's batter's box, and it would be no different for him to take over the 2010 Home Run Derby. Yes, hitters do tend to alter their swings to compensate for the difference in timing, but Pujols has as good a swing as any to get the job done.
I vaguely remember an MLB Network walkthrough of why Pujols is able to get such good power and drive on his hits. The studio guys walked through his swing:
First, the start; he comes through with his elbow first, pulling the rest of his body into the swing.
He then is able to pull the bat through the zone in a "C" sort of motion, covering the most space possible. Meaning, if he's late on his swing, he'll just be flattening it out, and the pitch will likely go to right field. If he's early, his swing will power through the ball at the top, and he'll pull it to left field.
And if he were to hit the ball with perfect timing, well, it'd go right off the bat, and into a lucky fan's hands.
The "C" swing is a crucial part of Pujols' skillset, and it would help him drive through pitches in the Home Run Derby.
Mark Reynolds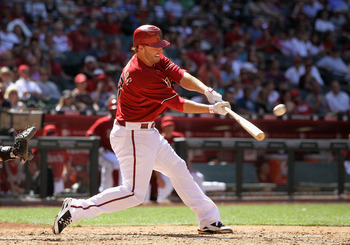 Even though Mark Reynolds looks a bit out in front of this ball, he probably powered through it for a solo shot...then struck out three times the rest of the game.
Reynolds is a confusing player. He's got gobs and gobs of talent, which will be enough to get him to the Home Run Derby (at least on this list) and maybe an All Star appearance for the D-Backs. But he's frustrating to watch, given his 17 homers and .212 batting average this season.
I'm in no way suggesting that he's a potential .300 hitter, but (cue Keyshawn Johnson voice) c'mon man! You've got to at least hit .250...
Being tied for second place in the NL in dingers, and having the "wow" factor power Reynolds has, I have no reason not to believe he's going to punch his ticket to the Home Run Derby.
Adrian Gonzalez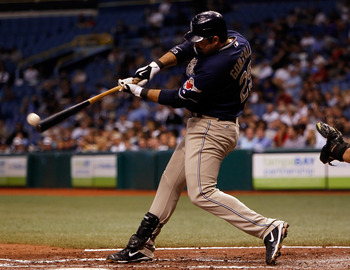 Adrian Gonzalez has to be the Rodney Dangerfield of mashers in Major League Baseball.
He's rarely the topic guy when "best ____ in MLB" comes up in conversation, but that's no discredit to him. He's a .300 hitter with 40-bomb power, all while part of a lowly San Diego offense, in which he's a one-man show.
Gonzalez has a smooth swing which should translate easily to the style required to hit homers in the Derby. Wait, then swing. His patience at the plate is a big asset, and he has a .404 on-base percentage, behind just Pujols, Joey Votto, and Josh Willingham among NL hitters.
Gonzalez could make his turn at the plate a special one, if he were selected to the Home Run Derby.
Joey Votto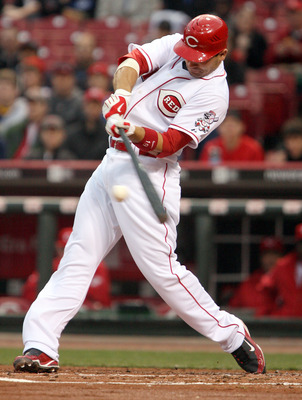 Did I mention Joey Votto?
The cog in this new Big Red Machine in Cincy has quite the pop in his bat, and it'd be no shock to see Votto punishing some 65 miles-per-hour pitches in the Derby.
Votto has raw power and is tied with Albert Pujols for sixth place with 15 homers.
Look for Votto on your list of 2010 Home Run Derby contestants this season.
Prince Fielder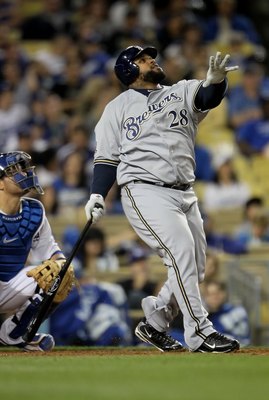 It wouldn't be fair to hold Prince Fielder back from defending his Home Run Derby title, would it?
House money is on a Fielder homer show making its way to the bleachers near you. Of course, if "near you" is...Anaheim.
Anyways, the young slugger has as much power as a V8 engine, and then some.
Fielder mashed 23 home runs in the 2009 Derby, and history tends to repeat itself with power sluggers. It's no tough sell to push for a Fielder Home Run Derby appearance.
Miguel Cabrera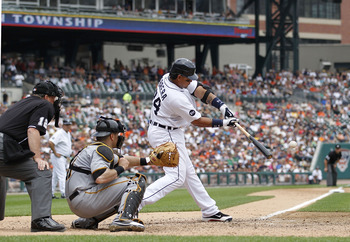 Hoping to have more success than his teammate Brandon Inge had in 2009 (when he 0-fer'ed the first round in the Home Run Derby), Cabrera could redeem the Tigers' poor Home Run Derby history with a solid performance in the 2010 edition.
Cabrera has a little more all-around game than Inge, and this would suit him well in the Derby. He has plus-power and good bat speed, both of which are must-haves in the Derby.
Josh Hamilton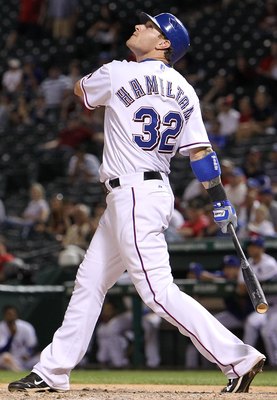 I wonder if Josh Hamilton's neck got tired of that pose after he brutalized 28 baseballs in the first round of the 2008 Home Run Derby at Old Yankee Stadium.
I know mine would have.
Hamilton is on an insane roll right now, hitting .353 and 17 home runs, eight of them coming in the month of June alone.
He could easily recapture his 2008 form in the 2010 Home Run Derby. However, he claims he would decline to participate in the Derby if selected. He is still deserving of the spot nonetheless.
Corey Hart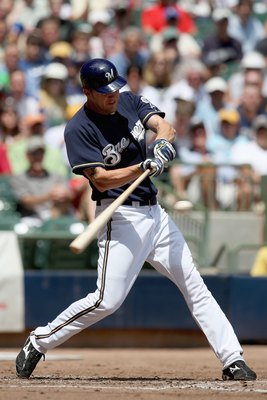 As a Brewers fan, I'm glad to include Corey Hart on this list, as he's tied for third place in MLB in homers (18). But part of me doesn't feel right about it. Hart has never shown the pop needed for a 35-plus homer season, but he's well on his way with his red-hot bat.
He's not a traditional slugger, either.
He's tall, long-legged, skinny, and he has a scruffy face to boot.
Not exactly your tan, 6'3 something who has a model on the arm, eh?
That aside, Hart is having a great year, and he is hitting homers left and right. If he were to make it to the Home Run Derby in Anaheim, I'd be glad but cautious. Not too sure how he'd do.
Also, changing up his swing might be the last thing Corey Hart should do, considering the Derby has produced plenty of second-half slumps. If Hart were to go to the Home Run Derby, it might ruin the good mojo at the plate he has going.
Jose Bautista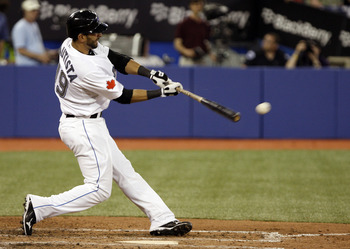 Jose Bautista could be a late bloomer (29 years old) coming into his prime, or a player who's having one heck of a flukey year.
For now, I'll give him the benefit of the doubt, but his .233 batting average isn't helping his case any. Before this year, he'd never hit more than 16 homers in an entire season. Up to this point in the 2010 campaign, he's got 20 already.
It could be interesting to see if he pulls a Brandon Inge, or if he can put together a Josh Hamilton-like performance if called to the Home Run Derby on July 12th.
Honorable Mentions and Reader Suggestions
HONORABLE MENTIONS
AL:
Paul Konerko
Carlos Pena
Vernon Wells
Justin Morneau
NL:
Scott Rolen
Troy Glaus
Ryan Howard
Dan Uggla
And with that, I leave you with my picks for the 2010 State Farm Home Run Derby. Any suggestions or players you disagree with? Let me know in the comments below.
Keep Reading