2010 NHL Draft: 10 Late Round Picks That Went On to Be Stars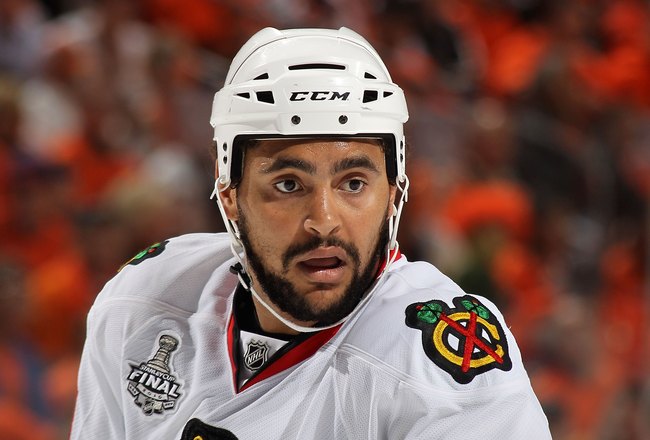 There has been a lot of hoopla surrounding the NHL Entry Draft every year, and usually it surrounds the top picks, who usually end up going on to have superb NHL careers. Of course, for every top pick that succeeds, there are also some that absolutely bomb.
On the opposite end, there are also those that don't get picked in the first, or even the second round, but turn out to be great diamonds in the rough. We will take a look at 10 of these players that were never talked about on draft day, but went on to be stars in the league.
A few notes regarding how I came to these 10 names. First, I only considered players that were drafted from 1979 on, so nobody from the Amateur Drafts prior to 1979 are on this list.
Second, I'm fully aware that there were a lot of Russians selected in later rounds during the late 80s and early 90s. I didn't include them, because back then, there was no guarantee that a player drafted would even come overseas. Therefore, I have excluded players such as Igor Larionov, Pavel Bure, Vladimir Konstatinov and Evgeni Nabokov.
Honorable mentions to the following, who had big seasons this year, but have a long way to go get on this list:
Jaroslav Halak, Dustin Byfuglien, Ryan Miller, Pekka Rinne, and Joe Pavelski
Steve Larmer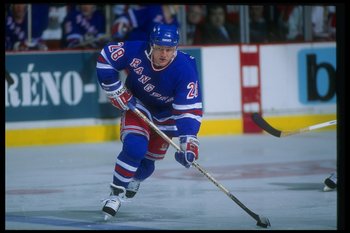 Larmer was drafted 128th overall in 1980 by the Chicago Blackhawks. Two years later, Larmer won the Calder as the top rookie that season, and showed hockey players what the word "durable" meant.
From 1982 to 1993, Larmer played in 884 consecutive games, making him known as the Ironman of hockey.
He had 12 consecutive seasons with at least 70 points, and won the Stanley Cup in 1994 with the New York Rangers.
Peter Bondra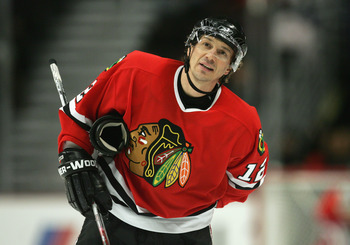 He might be donning a Chicago jersey in the picture above, but before Alex Ovechkin arrived in D.C., the Capitals were Bondra's team.
Drafted in 1990 as a 156th overall pick, Bondra was one of the most prolific goal scorers in the mid-90s, and had a run of 52,46, and 52 goals in three consecutive seasons.
Unfortunately, he couldn't raise the Cup in his one and only time he made it to the Finals with the Capitals against the Detroit Red Wings in the late 90s.
Henrik Lundqvist
King Henrik is one of the few current players to make this list.
The 28-year-old has only been in the league for five seasons, but was drafted 205th overall in the 2000 entry draft.
He is the only goalie to be nominated for the Vezina his first three seasons in the league. The Ranger has a good shot to move up on this list when all is said and done.
Daniel Alfredsson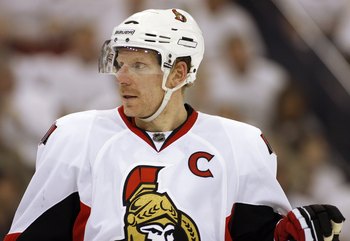 Alfredsson, the current captain of the Senators, was also a late pick in 1994. He was selected in the sixth round, 133rd overall, but the 37-year-old has not disappointed.
The four-time All-Star is considered the best player in Senators history, and just completed his 14th season in the league.
Theo Fleury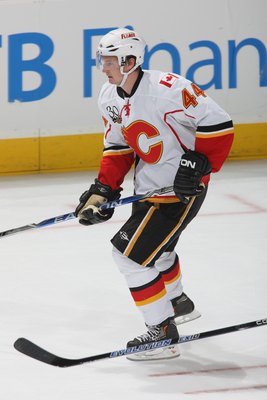 After being selected in the eighth round (166th overall) in 1987, Fleury won the Stanley Cup in his rookie season with the Calgary Flames in 1988-89.
Fleury went on to have a solid career, spending time with the New York Rangers and Colorado Avalanche, as well as the Chicago Blackhawks.
He scored a minimum of 30 goals in eight different seasons.
Pavel Datsyuk & Henrik Zetterberg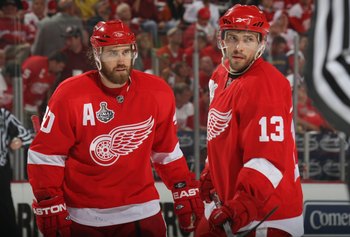 I put both of these guys together, simply because their careers mirror each other.
Datsyuk has played eight seasons in the league, while Zetterberg has played seven years.
The 31-year-old Datsyuk was drafted 171st overall in 1998, but has had a remarkable career so far. A four-time winner of the Lady Byng, the slick Russian is more known for his great two-way play, which has resulted in three consecutive Frank J. Selke trophies, given to the league's best defensive forward.
Zetterberg was drafted in 1999 in the seventh round, 210th overall. The 29-year-old has also been known for his great two-way play.
Oh, did I mention that both players have also already won the Stanley Cup, with Zetterberg winning the Conn Smythe trophy as the playoff MVP in 2007-08?
Doug Gilmour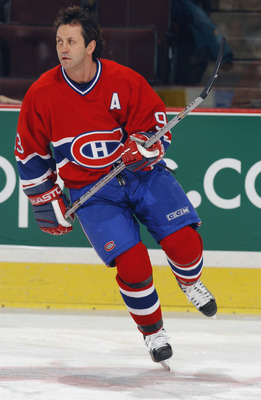 Dougie Gilmour was drafted by the St.Louis Blues in 1982, and played for seven different teams.
However, he was most famous for his play with the Calgary Flames and the Toronto Maple Leafs. He was a part of the Stanley Cup-winning team in Calgary in 1989, but had his best statistical season in Toronto.
Gilmour had six seasons of at least 80 points, not bad for a seventh round pick that was 134th overall.
Luc Robitaille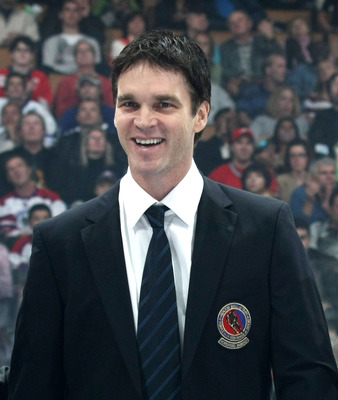 Who knew Luc would be so lucky when he was drafted in the ninth round, 171st overall, in 1984 by the Los Angeles Kings.
Robitaille went on to have a superb career, making the all star team eight times, and also hosting a Stanley Cup as well.
Lucky Luc is the highest-scoring left winger in NHL history, and was inducted into the Hockey Hall of Fame in 2009.
Brett Hull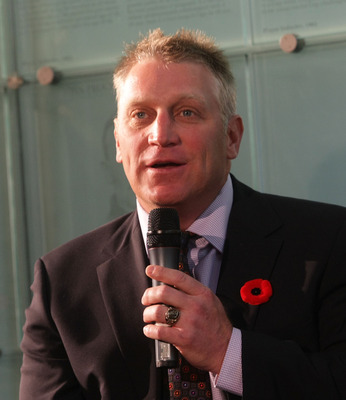 In 1984, Bobby Hull's son was drafted by the Calgary Flames in the sixth round, 117th overall.
Hull went on to score 741 goals during his career, which is good for third all-time.
He was the Hart Trophy winner in 1991, and had a run of 72, 86, and 70 goals at one point during his career.
Playing with five different teams, Hull also won the Stanley Cup twice, and was inducted into the Hockey Hall of Fame in 2009.
Dominik Hasek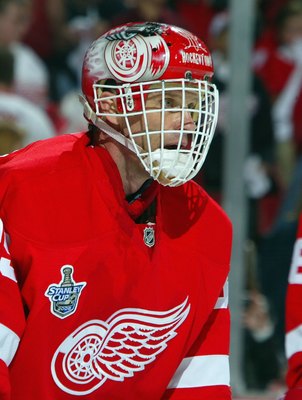 Hasek didn't get the nickname "The Dominator" for nothing.
Nobody was better than the Czech netminder in the late 90s, as Hasek was the one and only reason that the Buffalo Sabres were such a tough opponent.
It's hard to believe that Dom went 199th overall to the Chicago Blackhawks in 1983.
Hasek is a six-time Vezina winner, and also a two-time MVP, who also won the Stanley Cup later in his career with the Detroit Red Wings.
Keep Reading