San Francisco 49ers Training Camp Position Battles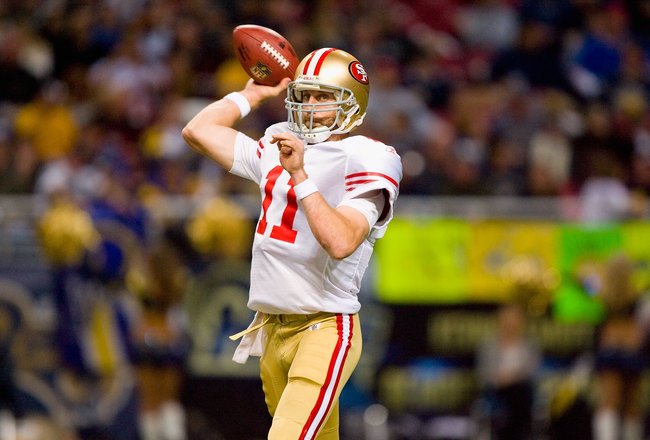 Training Camp may still be more than a month away, but that doesn't mean we can't start talking about who will be filling out the 49ers starting lineup in 2010.
Most of the pieces are in place for San Francisco to make a playoff push this fall, but they will need to improve in several areas in order to do so.
Alex Smith must continue his improvement at the quarterback position if the 49ers want to have a successful season. If he gets off to a sluggish start in training camp, David Carr will be looking to take his spot.
Many rookies, such as Mike Iupati and Taylor Mays, will also be looking to make an immediate impact in training camp.
Here are the top five position battles to look for during 49ers training camp this August.
5. Free Safety
The 49ers used their second round draft pick to select Taylor Mays, a freakish free safety out of USC.
Prior to the draft many analysts and so called draft "experts" questioned Mays' ability to play at the next level because he had an average senior season. Many people believed Mays would have been a top five selection if he came out after his junior year.
This reasoning was justifiable because Mays had only one interception his senior year for the Trojans. However, Mays does possess all of the measurable qualities that made the 49ers draft him in the second round.
Mays ran a 4.19 in the 40-yard dash and had a 41" vertical jump at the NFL Combine.
Mays will be going up against current starter, Dashon Goldson, for the starting spot at free safety. Goldson had a very impressive year while starting every game for the 49ers in 2009.
Goldson racked up four interceptions, three forced fumbles, and two sacks in addition to making 94 total tackles.
This should be a great competition to watch in 49ers camp as either safety could make a significant impact in 2010.
4. Quarterback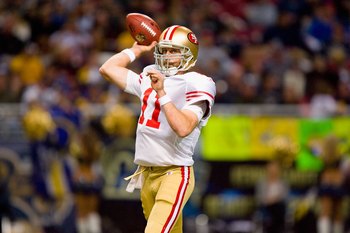 I'm not ready to jump on the Alex Smith bandwagon just yet. Smith performed well in the second half of 2009.
He threw for 2,350 yards and 18 touchdowns while accumulating a quarterback rating of 81.5. Smith completed 60.5 percent of his passes in his 10 starts last season.
However, Smith's career has been plagued by injury and inconsistency, and that's why I won't crown him the starter automatically.
Smith's career quarterback rating is 69.2, and he has thrown six more interceptions than touchdowns. Smith also has an unfortunate history with injuries.
He missed most of 2007 and all of 2008 with a shoulder injury. Fortunately for Smith, his only major competition at quarterback is Carr.
Carr has not seen significant action since he was the full-time starter for the Houston Texans in 2006. Carr's completion percentage that season was an impressive 68.3, but he threw for only 11 touchdowns.
Carr and Smith have shared nearly parallel struggles as top draft picks who have struggled mightily throughout their careers. For one of them, 2010 may be a golden opportunity to rewrite their careers by leading the 49ers to a winning season and the playoffs.
3. Left Guard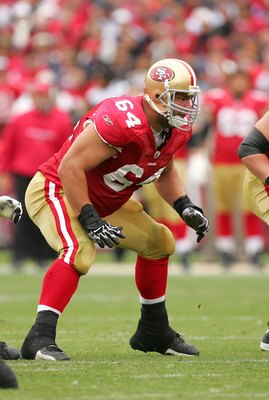 The 49ers used the 17th overall pick in the 2010 Draft to select Mike Iupati, a left guard from Idaho.
A physically imposing figure at 6'5" and 330 pounds, Iupati figures displace incumbent David Bass as the starter at left guard.
Bass started every game for the 49ers last season, but he will have to prove that he is worthy of starting over the first round pick.
Iupati has all of the natural ability to play in the NFL, but he will need to improve his technique and consistency while pass protecting if he wants to be the starter on day one.
2. Backup Running Back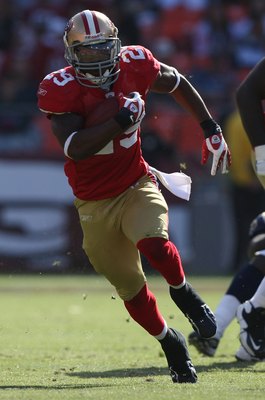 Given Frank Gore's history of injuries, this tends to be a very important position for the 49ers at one point during a season.
Last year, it was Glen Coffee who filled in for Gore. Coffee did not do anything spectacular in the time he was given. He averaged 2.2 and 3.1 yards per carry in starts against the Vikings and Rams, respectively.
Given the Coffee's struggles in limited action last year, the 49ers used a sixth round draft pick to select Anthony Dixon from Mississippi State. Many analysts believe Dixon could end up being a late-round steal for San Francisco.
Dixon rushed for 1,391 yards for the Bulldogs last season while scoring 12 touchdowns. At 6'1" and 233 pounds, Dixon has the build to be an effective short yardage back in the NFL.
1. Second Wide Receiver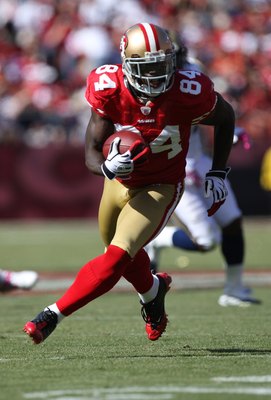 I will give Michael Crabtree the benefit of the doubt and make him the undisputed starting wide receiver. Who starts opposite him is another question.
Josh Morgan and Ted Ginn Jr. figure to be the top two candidates for the other starting receiving spot, while Jason Hill and Brandon Jones are also in the mix.
Morgan started 15 games for the 49ers last season as he grabbed 52 catches for 527 yards and three touchdowns.
Meanwhile in Miami, Ginn collected 38 catches which totaled 454 yards and one touchdown in his 12 starts for the Dolphins. Ginn also contributed in the return game as well for the Dolphins, and he could continue those duties for the 49ers also.
Given his experience in the system, Morgan should start camp as the second wide receiver, but Ginn will make a strong push to unseat Morgan from that position.
Keep Reading

San Francisco 49ers: Like this team?