Calgary Flames: Building A Stanley Cup Contender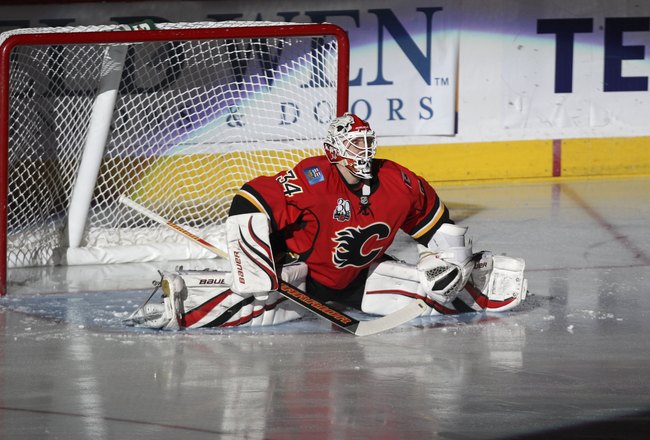 After failing to make the Stanley Cup Playoffs this year, Darryl Sutter will have a lot of pressure on him to fix the Calgary Flames and make them into a playoff team.
Although Sutter has made bad choices in the past, like trading Dion Phaneuf and letting Cammalleri go, he's gotten some good things done too.
Things like dealing that 2nd Round Draft pick for Miikka Kiprusoff highlight the some of the better decisions made by Sutter.
As any hockey fan, I have some ideas of my own on how Sutter could fill in some voids and fix some issues with the Calgary Flames. So with that let me start explaining on things that need to be fixed in the Sea of Red.
Goaltending: Same Old Story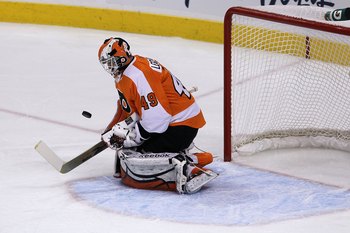 In the 2009-2010 season Miikka Kiprusoff proved that he is still a part of the goaltending elite. He posted some great numbers and had a terrific season for the Flames. With a good number of memorable saves, Kiprusoff is proving his doubters wrong.
However, Kiprusoff will once again be needing a backup. Vesa Toskala is set to become a free agent come July 1st which means the backup position in Calgary is open once again. Still, this is not a problem.
Michael Leighton is set to become a free agent this July 1st as well. My advice: bring him in and give him a shot as Kiprusoff's backup.
Leighton without a doubt showed that he is indeed capable of great goaltending in the playoffs this year. When Brian Boucher went down with an injury, Leighton took over for the Philadelphia Flyers and helped them through their run to the cup, in which they would fall just short.
Signing Leighton clears up a lot of cap space for the Flames which would help them with trades, other free agent signings, contract extensions, etc.
With that fixed, we move on to defense.
Defense: Getting Rid of Some Fat Paychecks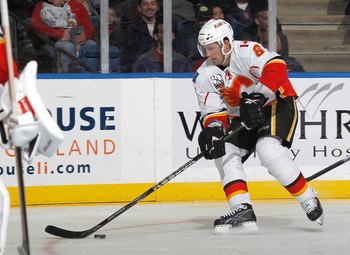 With the move of Dion Phaneuf to the Toronto Maple Leafs, the Calgary Flames have lost a top notch defenseman. The Calgary Flames still have a very good defensive players nevertheless. Still some new faces on the team could be good for the organization.
A guy like Cory Sarich needs to go though. Sarich's paycheck is too fat for his level of play. He's a good defenseman, but he's getting overpayed with 3.6 million per.
Try to get him out of the Sea of Red by getting him out with a name like Robyn Regehr. Regehr is aging and although his defensive abilities are still great, bringing in a younger defenseman wouldn't hurt.
I think if you move out Regehr and Sarich for a defenseman that's still developing and a good forward, it would be the ideal move for the Flames.
Offense: Finding Jarome Iginla a Soulmate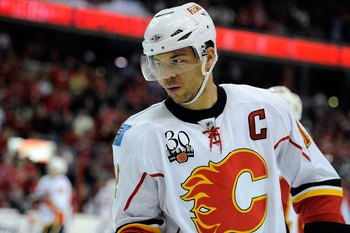 I know the title sounds very weird, but I'm sure everyone knows what I mean by it. We have yet to find Iginla his power duo partner.
Most of the forwards in the NHL have their line mate that helps them get it done. Ovechkin has Backstrom, Toews has Kane, the Sedins have each other and so on. Iginla needs one of those guys with him.
Jarome Iginla is still one of the best forwards in the NHL in my mind. However, with each day that passes Iginla gets older and older. Which means with each day that passes Iginla will be less and less capable of doing what he does on his own.
Here is what I would do. This whole time I talked about freeing up all this cap space. Do you know why? So we can bring in someone that has a big contract. Call me a big dreamer, but I was thinking of Jason Spezza. There are plenty of trade rumors surrounding him and bringing him in to Calgary would be terrific.
It gives Iginla a very talented line mate to play with and I am sure the two could put up some great numbers together. Remember when I talked about moving out Regehr and Sarich? Well here's something that could work.
To Ottawa Senators: Robyn Regehr, Cory Sarich, Daymond Langkow
To Calgary Flames: Jason Spezza, Chris Campoli
That is a great deal for both sides. Langkow is a good forward that could potentially work with captain Daniel Alfredsson. Plus you get two good defenseman in Regehr and Sarich.
Calgary gets a big name center to play with Jarome Iginla plus a good defenseman to add to their blue line.
With this done, Calgary would still have enough room on the cap to pursue some free agents of their liking. My advice is since you moved out two d-men, bring in a guy like Anton Volchenkov. It's almost like he's included in the trade too, seeing he's one of Ottawa's unrestricted free agents.
A first line of Rene Bourque, Jason Spezza and Jarome Iginla seems like quite the trio. I'd love to see it happen.
Closing Segment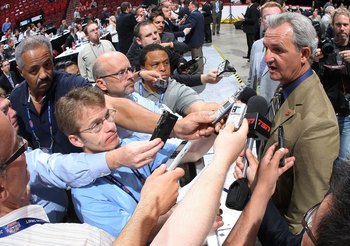 Well those are just my suggestions as to how Calgary can be molded into more of a Stanley Cup contender. We'll have to wait and see what Darryl Sutter does though. Oh and if someone does know Darryl, show this article to him (seriously). Let's go Calgary!
This article was originally posted on The Sports Dossier under the name " Calgary Flames: Building A Stanley Cup Contender." Check out more great pieces from our talented staff of writers.
If you're a writer who thinks they have what it takes to write about NHL, NBA, MLB, MMA, NFL, World Football, Pro Wrestling and more, then apply to TSD . Email me at thejerichomark@hotmail.com and we'll talk business.
Keep Reading

Calgary Flames: Like this team?