Battle of the Yankees WAGs: Minka Kelly, Joanna Garcia and Cameron Diaz
Who would have thought that such a mediocre franchise could be associated with such Hollywood royalty?
All kidding aside, it seems only fitting that the stars of the New York Yankees have hooked up with the stars of the screens, both big and small.
Minka Kelly has the seniority in this group in her relationship with Derek Jeter.
Joanna Garcia has been dating Nick Swisher for longer than we knew, but they just announced their engagement in early June.
Cameron Diaz is the oldest of the group but the newcomer to the WAG circle, reportedly the latest girlfriend of Alex Rodriguez.
We scoured the Internet to find the hottest pictures of all three to settle the argument that has literally crippled the American workforce for the last month as they ponder the question searching the Web on their work computers, only to come up with a stalemate.
Which Yankee WAG is the hottest of our trio?
Begin Slideshow

»
Cameron Diaz began her career as a model before moving to acting, so she's comfortable with showing off the assets she has worked hard to create.
We give her top marks here.
Minka Kelly takes second in this category.
She has been in the pop culture consciousness for the last six years, but we have not even been rewarded with one hot magazine spread per year.
These type of tastefully hot shots are the most skin we've ever seen with Minka.
So if you check out Ms. Garcia's body of work on IMDB, it turns out she's been slaving away in the industry since "Party of Five" was on the air.
She actually made a guest appearance on the show. She's recently been connected to the WB network at the hip, from "Reba" to "Privileged" to "Gossip Girl".
Yet with more than a decade in the industry, these are the best shots we get.
And you wonder why no one knows you, Joanna.
Ms. Diaz has made her share of bombs like "The Box", but she has had an uncanny ability ever since the days of "There's Something About Mary" to choose projects that highlight her strengths and minimize her weaknesses (such as acting range).
It has resulted in Diaz staying on the big screen and away from TV projects.
Kelly is actually 29, but she's been playing a teenager on "Friday Night Lights" for the bulk of her 20s.
Minka is either highly unmotivated or she just has bad management. Her IMDB resume is way too thin for someone that has had as much pop culture exposure as she's had over the last half decade.
There are worse ways to make a living than collecting residuals from "Reba". (That show getting to the 100-episode mark is an underrated sign of the apocalypse).
But Garcia has never been in the forefront of a gig enough to use that equity to take the step into movies.
Her IMDB resume is littered with failed TV pilots and bit parts on established series. Again, it's better than I've managed—I was an extra on an episode of "Law and Order".
But it still puts her third here as well.
I'm going to give Minka a mercy victory here, only because she's younger and wore this outfit to a recent movie premiere.
About time you stopped hiding the moneymakers, Minka.
Cameron: Um, check. Been hot, are hot, will always be hot.
I'm not going to throw her out of my hot tub.
Garcia doesn't have classic features. Her shoulders are too hulky, her face too blocky.
Another third. Sorry, Nick.
Diaz was linked to Justin Timberlake for a long time.
The idea that my man JT broke her heart is soul crushing.
It's not right. They made me choose between my poster girl and my man crush. Not cool.
Garcia actually was engaged to Timberlake, too.
Not really, but she was engaged to JT's personal assistant, Trace Ayala.
She also dated tennis star Bob Bryan and a singer named Jaron Lowenstein.
Another third, Minka. Only because John Mayer's a manwhore punk.
Minka, Jennifer Aniston, Jennifer Love Hewitt. Man, Mayer, I hate you.
Diaz's star has dimmed at times but always shined on the Hollywood stage. The tabloids care who about who she's dating and when she's at the beach.
Say "Cameron Diaz" and even the pop culture neophyte would probably know her.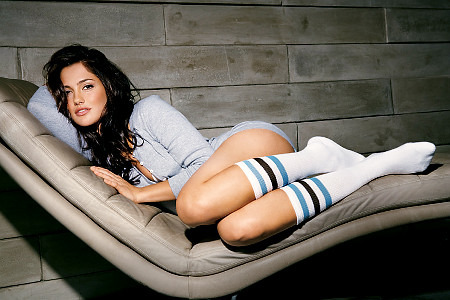 This is another category where I think Minka has totally dropped the ball.
She hasn't managed her fame properly. She had a chance to be the bona fide breakout star of "FNL".
Instead, she's faded into borderline obscurity other than being the rumored soon-to-be Mrs. Jeter.
Joanna who?
I thought she was Joanna Krupa when I first heard about the Swisher hookup.
Then again, I am among the majority that doesn't watch that much of the WB.
I've actually seen more of Swisher's acting on "How I Met Your Mother" and the funny ESPN "Sunday Night Baseball" commercial.
It would help if she stopped looking like Amy Adams. Just saying.
Most athletes have a very specific need from their WAG.
Look hot, give me a little notoriety but never hog my spotlight.
Garcia actually wins here. She's never the story. She blends in, thus Nick is usually the story.
Cameron, if you're dating A-Rod, just own it.
I probably wouldn't admit to dating a scumbag either, but your repeated "no comment" when the subject comes up is just plain annoying.
Minka's too present in Jeter's life. I know a bunch of folks that work around the Tampa Yankees complex.
They said that both in the offseason and during spring training, Jeter used to be a nice guy whenever he would come in to a Starbucks or just be seen on the street.
Now, with Minka around, he seems annoyed most of the time. Moreover, they say, Minka acts like a stuck-up diva.
So, you're a loser here, Kelly.
I've finished tabulating the votes and am ready to render my verdict.
I'm just going to need you to take off that sweater, Cameron.
A-Rod is quite possibly the most obnoxious and least liked Yankee hero in franchise history.
But his supposed girl Cameron wins our unscientific comparison study in a landslide.
She's giving up about eight years to both girls, but you'd never know it.
I don't care if her photos are airbrushed. I saw "Knight and Day". She's still as hot and WAGILFy as ever.