Fantasy Baseball: Searching for Ben Zobrist—2010's Unexpected Stars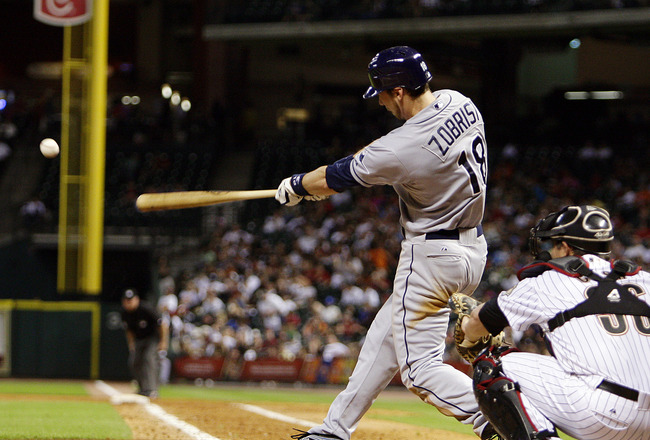 The fantasy baseball world is fictionally cruel.
In the preseason, an owner will endlessly study players to get the best value in his or her draft.
During the draft, an owner battles ulcer-like stomach pains hoping the players he "scouted" fall to their allotted slots.
During the season, an owner will either wait patiently for his prospects to pan out or dump them after they start 1-for-20.
In the end, like the MLB season, an owner's strategy works out and he/she takes home the championship, or things don't work out and he/she is one of the multiple losers.
For the losing owners, their only glory comes from the "sleeper" they selected that significantly impacted the league.
Last season, the anomaly was Tampa Bay Rays utility man Ben Zobrist.
Zobrist, at age 28, hit .297 with 27 homers, 91 RBI, 91 runs, and 17 stolen bases and finished very high in fantasy rankings.
The biggest surprise about Zobrist is he did not get drafted in many leagues—I assume he did not get drafted because in The Super League, which is the 16-team, 5x5, head-to-head, 23 active roster spots league that I participate in, nobody drafted the Rays' MVP.
That means 464 players were selected ahead of Zobrist.
The fantasy baseball season hit its midway point last week, and it's a bit murky on who's this year's Ben Zobrist.
Based on The Super League's draft, 29 rounds, and CBSsports.com's current rankings, I tried to find the next Zobrist—a player not drafted or drafted very late that is making an impact.
Here is who I found.
Note: If you're curious what The Super League is, check out www.thesuperleague.net.
Colby Lewis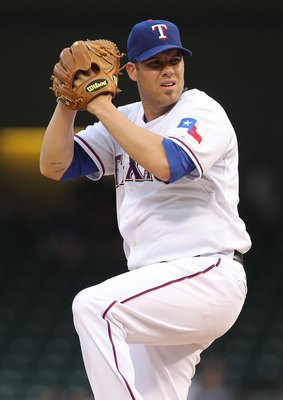 Needing to have at least one starting pitcher in the slideshow, the Rangers' Colby Lewis was an obvious choice.
Despite Nationals reliever Tyler Clippard going 8-3 with 1.58 ERA, Lewis has been a better value because of his 93.2 innings.
Currently, Lewis has a 3.07 ERA, ranked 10th in the American League, 90 strikeouts, ranked eighth, with a 1.02 WHIP.
Like other Zobrist wannabes, Lewis has had a rocky MLB history.
Lewis was selected 38th overall by Texas in the 1999 amateur draft.
In 2004, Lewis had a dreadful 7.30 ERA and was put on waivers despite winning 10 games.
For the next three seasons, Lewis bounced around to Detroit, Washington, and Kansas City.
In the winter of 2007, the Royals released Lewis, and for the next three years he was nowhere to be found.
Until this spring, when he signed a free-agent contract with the Rangers.
Eleven years after drafting Lewis, the Rangers are finally getting a return on their initial investment.
Fantasy owners, who more than likely snagged him off the free agent list, are getting a pitcher who's filling out their rotation nicely.
Angel Pagan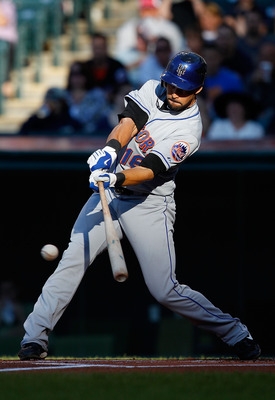 If an owner drafted or kept Carlos Beltran for the 2010 season, they have not been happy with the results.
However, if an owner had drafted or picked up Beltran's replacement, Pagan, he/she is grinning ear to ear.
Entering his fifth major league season, third as a Met, Pagan, 28, had not shown much before the 2010 season.
The platooning outfielder had hit above .275 only once during his limited time in the crowded and pricey Mets outfield.
But an injury to Beltran forced Pagan into Queens' center stage, and the spotlight has not hurt his performance. In fact, it's helped it.
This season, Pagan has proved himself worthy of a full-time spot, hitting .302 with four HR, 35 RBI, 41 runs, and 14 SB.
Despite Pagan not having huge power numbers, CBSsports.com has him ranked eighth among center fielders.
Though Pagan may lose his starting job, consider his first-half value.
In most leagues, Pagan was unselected, and if any owner snagged him, the return has been more than satisfying.
Troy Glaus
After hitting .262 with 27 homers in two seasons with the St. Louis Cardinals, many owners probably thought Glaus was finished.
The four-time All-Star lost his power stroke that used to produce 30-plus home runs and 100-plus RBI a season.
Despite the power outage, Glaus made $12 million a year with the Cardinals.
This winter, Glaus had to take a huge pay cut and signed a one-year, $1.5 million contract with the Atlanta Braves.
The Braves and fantasy owners who drafted him took a chance, thinking, "If he could play a steady corner infield position and hit .250 with 20 homers, it might be worth it."
Well, the former third baseman, now first baseman, is hitting .274 with 14 bombs and 55 RBI.
According to CBSsports.com's fantasy rankings, Glaus is ranked 11th overall out of all first basemen.
Glaus is on pace for a familiar 30-plus homer and 100-plus RBI season.
That's not too bad for a player who was picked 335th, 21st round, in The Super League, and not drafted in shallower leagues.
Aubrey Huff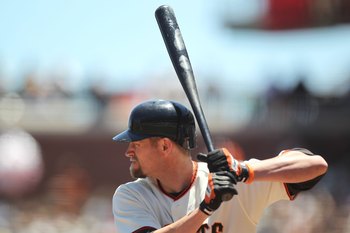 For fantasy owners, Huff has always been a shot in the dark player.
In 2008, Huff hit .304 with 32 homers, 108 RBI, 96 runs, and four stolen bases and was superb for owners.
In 2009, Huff stumbled with a .241 average and 15 home runs and was a disappointment.
But something happened during the winter, when Huff was granted free agency from the Detroit Tigers and signed a $3 million contract with the San Francisco Giants, because currently Huff is a top 10 first baseman.
This season, Huff is hitting .305 with 12 homers, 39 RBI, 42 runs, and three stolen bases, which is a big turnaround and a great return for owners who drafted him very late in drafts or grabbed him off the free-agent list.
Huff, much like Zobrist, can be an important utility man who can play third or first base and left or right field. However, this all depends on if he's producing.
So far, so good.
Jose Bautista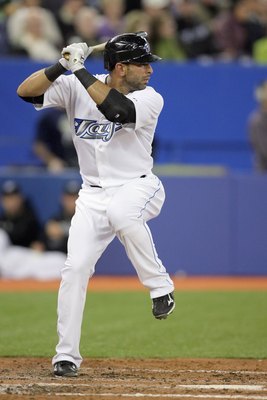 Bautista has had a hard time finding a sense of belonging.
It started during Bautista's rookie season, 2004, when five different teams—Baltimore, Tampa Bay, Kansas City, the New York Mets, and Pittsburgh—owned a share of the then 23-year-old.
After five lackluster seasons with the Pirates, which featured a .241 average and a total of 43 home runs, Bautista seems to have found a team and a philosophy that works well.
Toronto's "swing hard" motto has helped Bautista produce a league-leading 20 home runs despite a low .233 average.
However, if an owner adds 49 RBI, 47 runs, three stolen bases, and four multi-homer games. Bautista is surpassing his expectations by a lot.
Currently, CBSsports.com has Bautista ranked as the fifth-best left fielder. That's outstanding considering he went unselected in many leagues, including The Super League.
By the end of the season, there will be more diamonds in the rough to be had. Just keep your eye on the free agent list and then pray your instincts pay off.
Keep Reading